Subscribe to the Pinewood Derby Times
Maximum Velocity issues a free pinewood derby-oriented e-newsletter entitled the Pinewood Derby Times. The e-newsletter is published every other week from October to March.
Most editions contain:
Feature article
Answers to questions from our readers
Speed tip or a web site review
Reader submitted car photos
and more!
The e-newsletter is absolutely free, and you may cancel your subscription at any time.
Click here to view the current edition - March 20, 2019
The 1962 AMC Metropolitan
Free Car Plan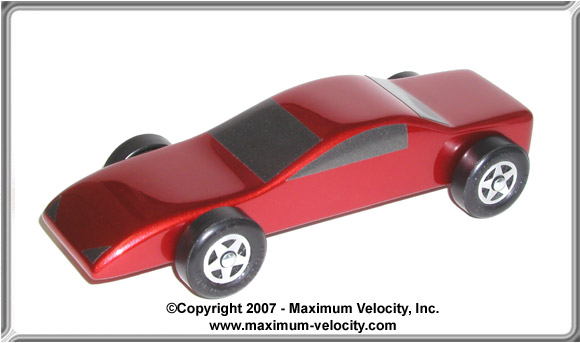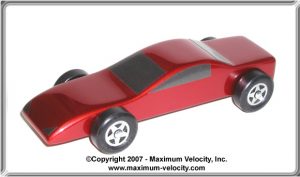 The Muscle Car
By subscribing to the Pinewood Derby Times, access to download plans for the Muscle Car will be provided absolutely free. Simply subscribe as indicated to the left, and follow the instructions for downloading.
To subscribe to the Pinewood Derby Times, simply type your name and email address into the area below and press the 'Subscribe' button.
After pressing the subscribe button, you will receive a confirmation e-mail. To complete the subscription you must reply to the confirmation e-mail.
Note on Spam Filters
Most e-mail programs allow you to designate your friends and opt-in newsletters in a "good", "approved", "safe", or "white" list. This makes sure that the e-mails don't get dumped into the Bulk Mail category or filtered out by spam filters. To ensure that you receive the Pinewood Derby Times, please add:
(which is the return address for our newsletters) to your e-mail program's approved list.
The e-newsletter is delivered in plain text. A link to a formatted version is included in the newsletter for those who prefer to read a formatted version with your web browser.
Pinewood Derby Times Index
The Most Complete Collection of Pinewood Derby Writings Anywhere!
All of the issues for Volumes 5 through 13 are posted on our web site. Click on the title of the article to access that article.
The Pinewood ClassicJanuary 9, 2019188
Article Name
Date
Volume
Issue
Aerodynamics
Aerodynamics - Front Cross Section Testing
January 25, 2017
16
9
Cover Up Those Wheels With Fenders
October 2, 2013
13
1
Open Weight Pockets - Do They Affect Speed?
November 30, 2016
16
5
Turbulators
February 23, 2011
10
11
Use Air Guides to Improve Aerodynamics
November 1, 2017
17
3
Wind Tunnel Testing
January 25, 2006
5
9
Aesthetics
Decals Etc. - How to Spiff Up Your Car
March 6, 2013
12
12
Don't Forget the Car Parts
February 6, 2013
12
10
How to Put an Automobile Quality Finish on Your Pinewood Derby Car
December 14, 2016
16
6
Let's Light it Up
January 8, 2014
13
8
Looking Good! Techniques for Finishing Your Car
November 30, 2011
11
5
The Ultimate Finish - How to Create a Beautiful Paint Job - by Kevin Baugher
February 19, 2014
13
11
Axles
Axle Installation Made Easy
November 16, 2005
5
4
Canted Axles Revisited
January 7, 2009
8
8
Grooved Axles
December 10, 2008
8
6
Preparing Nail Axles
January 12, 2013
12
8
Working with Needle Axles
January 13, 2010
9
8
Upgrading Needle Axles
November 13, 2012
12
4
Car Body
Car Build Progression
December 26, 2007
7
7
The 1962 AMC Metropolitan
March 20, 2019
18
13
Creating "The King"
January 27, 2010
9
9
Designing a Car From Scratch
October 05, 2005
5
1
Designing the Car Body for Performance
November 15, 2017
17
4
Drilling - Use your Drill for Maximum Benefit
November 15, 2017
17
6
Scaling Up: Design a Pinewood Derby Car from a Toy Car
March 07, 2007
6
12
Scaling Up Part 2: Design a Pinewood Derby Car from a Toy Car
February 20, 2008
7
11
Transforming that Block into the Ultimate Derby Car
February 10, 2016
15
10
Whoops! Fixing damaged cars
March 31, 2009
8
14
Using a Scale Plastic Model for a Pinewood Derby Car
March 11, 2015
14
12
General Interest
21st Century Changes Pinewood Derby Racing
January 25, 2012
11
9
Car Collection on the Move - by Todd Paxson
April 04, 2007
6
14
Days of Thunder
November 13, 2013
13
4
Derby Teaches Lessons On Gracious Winning, Noble Losing
December 16, 2015
15
6
Did Tom and Ray Give Good Pinewood Derby Car Advice?
October 31, 2018
18
3
Displaying Your Pinewood Derby Car
November 18, 2015
15
4
Finally Located - My Vintage Pinewood Derby Cars
February 24, 2016
15
11
Google and the Pinewood Derby
February 8, 2010
9
10
How to (almost) Win the Pinewood Derby
November 16, 2011
11
4
Lisano Enterprises Company Profile
December 14, 2011
11
6
Maximum Velocity History and Photo Tour
December 12, 2007
7
6
New Directions Company Profile
December 29, 2010
10
7
Now, How Did We Build That Car Last Year?
October 15, 2016
16
1
Pinewood Derby Kit History
March 19, 2007
7
13
Pinewood Derby Glossary Part 1
October 19, 2005
5
2
Pinewood Derby Glossary Part 2
November 30, 2005
5
5
Pinewood Derby Myths
March 4, 2009
8
12
Pinewood Derby Time
April 16, 2008
7
15
Revell Enters the Pinewood Derby Market
March 10, 2010
9
12
Sintering Tungsten
March 5, 2014
13
12
Ten Commandments of Pinewood Derby Racing - Updated
October 06, 2010
10
1
The Big Rig Kit
March 9, 2011
10
12
The Derby Worx Story - by Bill Launius
January 21, 2009
8
9
The Making of the MV Wheel
January 11, 2012
11
8
The Pinewood Derby Bling-Mobile
March 7, 2012
11
12
The Valuable Lesson My Father Taught Me
November 4, 2015
15
3
Tidbits of Wisdom - by Michelle Mitchell
February 6, 2008
7
10
Think Safety while Building Your Car
October 3 2007
7
1
Thumbs Up
December 28, 2016
16
7
'Twas the Night Before Pinewood
December 30, 2015
15
7
Unusual Tracks
November 26, 2008
8
5
Vintage Autoweek Article
November 2, 2016
16
3
What is Maximum Velocity? - by Michael Lastufka (mathematical treatise on top performance)
April 05, 2006
5
14
Your First Taste of Victory or Defeat - By Rob Krider
April 07, 2010
9
14
Lubrication
Graphite on the Tread
October 15, 2008
8
2
Graphite Questions: The Two Most Popular Questions of the 2013-14 Season
January 28, 2015
14
9
Liquid Lube Testing
November 17, 2009
9
4
Lube for Performance
February 22, 2017
16
11
Lubricant Testing
February 4, 2009
8
10
Lubricant Testing - Part 2
March 21, 2012
11
13
Lubrication: Slicker is Better
February 08, 2012
11
10
Outlaw Racing
Top Fuel Cars: CO2 Car
March 18, 2009
8
13
Top Fuel Cars: Direct Drive
October 29, 2008
8
3
Top Fuel Cars: Improved Propeller Car
December 1, 2010
10
5
Top Fuel Cars: Propeller Car
April 18, 2007
6
15
Top Fuel Cars: Propeller Car Evolution
December 26, 2013
12
7
Top Fuel Cars: My CO2 Car
November 4, 2009
9
3
Top Fuel Cars: Rocket, Rubber Band, and More
January 10, 2007
6
8
Top Fuel Cars: Two-Wheeled Cars
April 2, 2008
7
14
Top Fuel Cars: Two-Wheeled Cars Revisited
April 6, 2011
10
14
Top Fuel Cars: Wheel Bearings
November 01, 2006
6
3
Performance
Advice to the Beginner - Keep it Simple!
October 7, 2009
9
1
Cheater Bars - Do They Work?
October 20, 2010
10
2
Don't Do That! Avoiding Pinewood Derby Pitfalls
December 16, 2009
9
6
Effect of Track Configuration on Car Performance
January 24, 2007
6
9
Eliminating Race Variation
February 20, 2013
12
11
Feelers: Do they Work?
December 27, 2006
6
7
Five Keys to Performance
October 03, 2018
18
1
Grading on the Curve
February 24, 2010
9
11
I Bought Stuff From You and I Didn't Win
November 28, 2018
18
5
Rail-Riding
November 12, 2008
8
4
Rail-Rider Alignment Walk-through
February 8, 2017
16
10
Rail-Riding - Getting that Extra Speed
November 18, 2014
14
4
Setting the Gap for Performance
January 23, 2008
7
9
Modifying the Wheelbase
March 23,2011
10
13
Troubleshooting
March 08, 2006
5
12
Wax Those Wheel Bores for Top Performance
November 27, 2013
13
5
Wheel Alignment: Make it Straight!
December 14, 2005
5
6
Product Review
Aluminum 'Freedom Series' Track from Piantedosi
October 18, 2006
6
2
DVD Review: An American Race
March 21, 2007
6
13
Race Equipment
Buying a New Track? Let's Consider Some Factors
January 11, 2017
16
8
Derby Kits - Many Choices for Buyers
April 15, 2009
8
15
Is Your Finish Line Providing Accurate Results?
October 17, 2007
7
2
Light Trees - Rev Up Your Pinewood Derby Race
November 16, 2016
16
4
Pinewood Derby Car Kits
January 24, 2018
17
9
Pinewood Derby Timer Considerations - by Stu Ferguson
February 22, 2006
5
11
Pining for a Derby Track - by Steve Smith
December 15, 2010
10
6
Remote Control Race Management - by John Shreffler
November 15, 2006
6
4
Solenoid Start Gate: Are Races More Consistent?
November 2, 2011
11
3
Solenoid Start Gates - Get One for Your Track
November 29, 2017
17
5
Timer Features and Comparisons
October 18, 2017
17
2
Utilizing Video Systems in Your Race - by Randy Lisano
February 07, 2007
6
10
Race Logistics
The Big Event - Staging a Pinewood Derby Race
February 5, 2014
13
10
Handle Those Cars Carefully
December 11, 2013
13
6
Pre-Race Events Add Excitement
February 11, 2014
14
10
Raising the Performance Bar (improving the competitive level of your group)
February 18, 2008
8
11
Sorry, We Will Not Be Participating Because ...
October 3, 2012
12
1
Staging Cars - Don't Lose Speed with Bad Staging
October 21, 2015
15
2
Streamlining the Weigh-In
October 31, 2012
12
3
Weigh-in Problems (how to avoid them)
December 12, 2012
12
6
Why Do You Have a Pinewood Derby? (organize your race to meet your goals)
December 13, 2006
6
6
Race Management
Pinewood Derby Race Organization
March 5, 2008
7
12
Points or Times: Which Method Should I Use?
March 6, 2019
18
12
Runoffs - When and Why to Run Them
December 17, 2014
14
6
Race Philosophy
A Winning Philosophy (do your best vs. win at all cost)
October 1, 2008
8
1
Pinewood Derby Awards
November 05, 2014
14
3
Credibility of the Race (eliminating race bias)
November 14, 2007
7
4
Finding the Right Level of Parental Involvement
January 23, 2019
18
9
Is it Cheating?
November 14, 2018
18
4
Leader Help - How Much is Too Much?
February 9, 2011
10
10
Pinewood Derby for Boy Scouts
January 9, 2008
7
8
Pinewood Derby Car Design Award Judging
February 20, 2019
18
11
The Dark Side: eBay Cars
November 02, 2005
5
3
Rules
Do's and Don'ts for Race Leaders
October 5, 2011
11
1
Rules - Post Them and Follow Them
October 16, 2013
13
2
Rule Pet Peeves
November 17, 2010
10
4
Understand Your Local Race Before Building Your Car
October 04, 2017
17
1
Shop Talk
Bench Top Power Sanders
February 22, 2012
11
11
Choose the Right Band Saw
October 17, 2012
12
2
Choosing the Right Hand Saw
January 26, 2011
10
9
Drilling Axle Holes With Precision
January 23, 2013
12
9
Drilling Small Holes
October 19, 2011
11
2
Drilling With Accuracy
December 30, 2009
9
7
How to Tune a Band Saw
December 26, 2013
13
7
Frame and Skin Car Construction
December 3, 2014
14
5
Hand Sanding
November 28, 2012
12
5
Keep It Square
December 16, 2009
9
6
Making Weight Pockets
November 3, 2010
10
3
Measuring for Success
October 21, 2009
9
2
Shaping Wood with Hand Tools
December 28, 2011
11
7
The Best Pinewood Derby Rule
January 14, 2015
14
8
The Right Stuff - Choosing the Best Adhesive
February 10, 2010
9
10
Shop Talk - Woodworking Tips
October 30, 2013
13
3
You Can Never Have Too Many Clamps
March 10, 2010
9
12
Tools
Creating Accurate Axle Slots
October 22, 2014
14
2
Tools of the Trade (tools and how to use them)
January 13, 2016
15
8
Using a Mini-Lathe
March 24, 2010
9
13
Using The Pro-Axle Bender
January 10, 2018
17
8
Weighting
Height of Ballast Weight Vs. Performance
January 22, 2014
13
9
Height of Ballast Weight Vs. Performance: Part 2
December 31, 2014
14
7
Last Minute Weighting - Consider Steel Hardware
October 17, 2018
18
2
Maximum Weight for Performance
November 28, 2007
7
5
Moment of Inertia Revisited
December 2, 2009
9
5
Offset Weight Placement
January 12, 2011
10
8
Offset Weight Placement - Part 2
December 2, 2015
15
5
Revisiting the Balance Point
October 8, 2014
14
1
Shifting the Wheelbase
February 25, 2015
14
11
Shifted Wheelbase with Outlaw Wheels
January 27, 2016
15
9
Wedge Bodies – Where to Drill the Weight Holes
February 6, 2019
18
10
Weight Distribution: Concentrated or Distributed?
November 29, 2006
6
5
Weight: Place it Carefully
February 08, 2006
5
10
Weighting Materials: So many choices!
April 19, 2006
5
15
Weighting - How Heavy is Too Heavy?
October 19, 2016
16
2
Weighting with Tungsten Rod
February 7, 2018
17
10
Wheels
Effect of Wheel Weight on Performance
October 31, 2007
7
3
New Cub Scout Pinewood Derby Wheels
October 19, 2009
9
2
Testing Wheel Trueness
December 12, 2018
18
6
The Wheels Go Round and Round - or Do They? (wheel inspection and treatment)
February 21, 2017
17
11