PINEWOOD DERBY TIMES
Volume 16, Issue 6
December 14, 2016
In this Edition
– Editor's Notes
– Feature Article – How to Put an Automobile Quality Finish on Your
Pinewood Derby Car
– Humor
– Product Showcase – Paint Stand – 10% Off
– Pinewood Derby Memory – A Sad Story?
– Pinewood Derby Car Showcase
– Q&A
---
Editor's Notes
MV Basic & Wedge Car Kits



If you are planning a race and are not required to use a specific kit type, our MV Basic or Wedge Car Kit are just what you need. These attractively priced kits are equipped with:
– Quality Block – Unlike the blocks provided by some organizations, our blocks are soft, northwestern pine blocks, cut precisely to 7 inches long, 1-3/4 inches wide, and 1-1/4 inches tall. These dimensions, as well as the axle slots accurately duplicate the dimensions of standard pinewood derby blocks from BSA and PineCar.
– Simple Axle Preparation – Don't worry about filing off flaws, or losing hub caps. Our Speed Axles have no burrs or crimp marks, and install without hub caps. With or without polishing, they are ready to go. We supply five, so you have a spare.
– Quality Wheels – Forget cheap, out of round wheels. Our MV wheels are top-quality wheels. You will not be disappointed with the quality of these wheels.
So, if your organization does not mandate a particular kit type,
consider our MV Basic Car Kits or MV Wedge Car Kits.
Call for Photos
Help, we are virtually out of photos for the pinewood derby car showcase.  Please send us a photo of your car along with a description of any special features to:
[email protected]
Please include your full name. If selected, we will include the photo and description in this newsletter.
Photos must be sent by e-mail in JPG format (minimum size of 640×480, maximum size of 1280 x 960). Please shoot photos from the front left of the car, similar to the orientation of car shown at: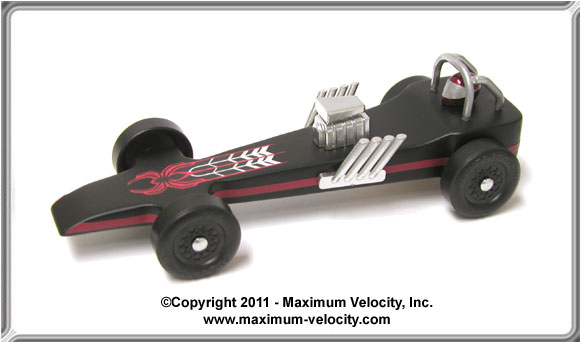 Make sure the photo is not blurry. If your photos are blurry, try holding the camera four or five feet away from the car, and then use the camera's zoom to fill the frame with the car. Also, use a solid (preferably white) background for the photo.
Send only one photo per car, unless an additional photo is needed to   adequately show a feature. Don't forget to include your name, the name of the car (if it has one), and a brief write up on any design features, inspiration for the design, and how the car performed at the race. Thanks.
Inventory Clearance Sale
We are clearing inventory on several items including:
– Discount slotted blocks
– Formula One car kit
– Wheel Flares and Paint Stencils
– Raingutter Regatta Decals
We don't have many left, so don't delay. You can find these items Here.
Can We Help?
If we can help you in any way with your pinewood derby project, or if you have any feedback regarding this newsletter, please Contact Us.
---
Feature Article
How to Put an Automobile Quality Finish on Your Pinewood Derby Car
By Randy Davis
I am going to state right up front that I am not an auto painter nor am I particularly artistic. However, after many, many years of painting  innumerable pinewood derby cars, I finally came up with a way to get a nice paint job without the need to purchase expensive painting equipment. Clearly, if you want a real auto paint job, you will have to go to a body shop and get them to paint the car for you. But if you want to do it yourself, the process below will result in a nice paint job, and all of the supplies can be found at your local Auto Parts store (AutoZone, O'Reilly, et al), except for the wood sandpaper which is available from Maximum Velocity(1), or from any hardware or home improvement store.
Supplies
You will need the following supplies:
Sandpaper
60, 120, and 220 grit
600 or 800 grit wet/dry paper
Filler
Bondo Glazing & Spot Putty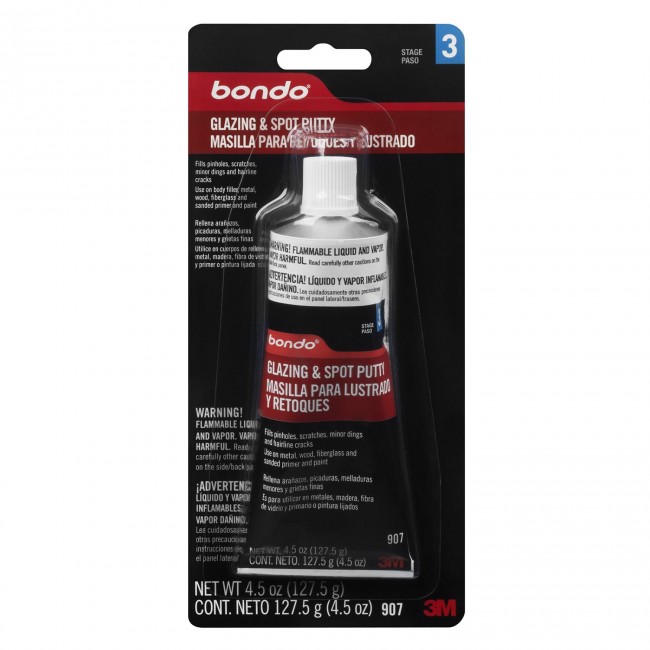 Figure 1 – Bond Spot Filler
(Source:  bondo.com)
Paint
Rust-Oleum Filler & Sandable Primer
Dupli-Color Perfect Match Premium Automotive Paint
Dupli-Color Perfect Match Protective Clear Coat Finish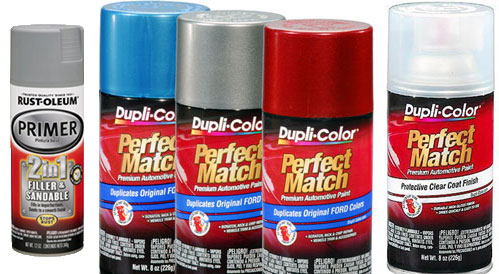 Figure 2 – Primer, Paint, and Clear
(Source:  rustoleum.com, duplicolor.com)
Car Holder
You will need a method to hold the car in place while painting and drying. I recommend our Paint Stand.(2) It securely holds the car while simultaneously keeping paint out of the axle holes/slots. The blue part of the stand is picked up for painting, then placed back on the base for drying.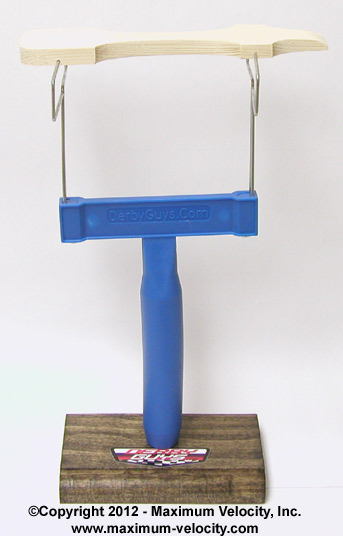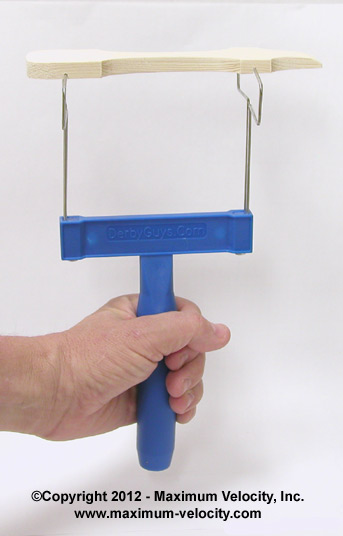 Figure 3 – Paint Stand
Sanding
First, sand the car with the 60 grit paper, removing any saw marks and creating all desired contours. Next, sand with the 120 grit paper, removing all scratches left by the 60 grit paper. Then repeat with the 220 grit paper. Remove all dust with a soft rag.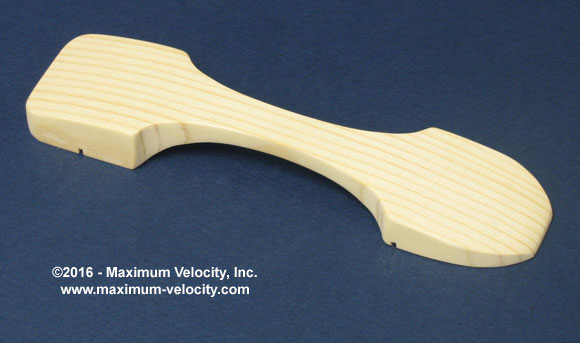 Figure 4 – Sanded
Filling
Now we will use the Bondo to fill in all the fine scratches and any flaws. Bondo is a car body filler that dries reasonably fast and can be easily sanded. Bondo does have a strong chemical order, so make sure to apply Bondo in a ventilated area. I recommend covering the entire car (except the bottom) with a thin layer of Bondo. This will ensure that all scratches are filled.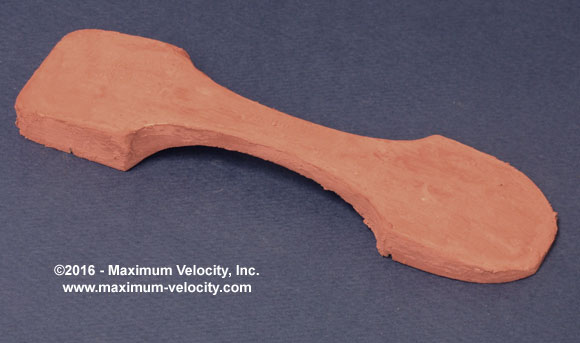 Figure 5 – Bondo Applied
Sanding Bondo
Now use the 600/800 grit paper to sand the Bondo. The goal is not to remove all of the Bondo, but to sand until the body is smooth. The result may have more or less Bondo than in Figure 6.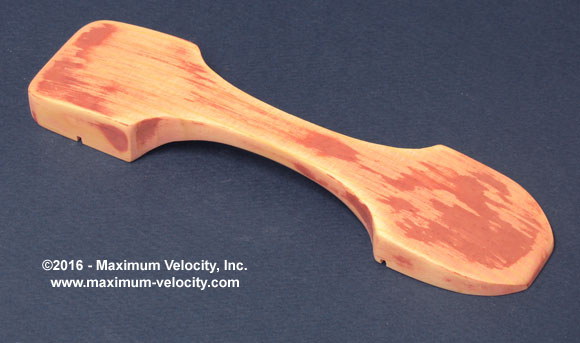 Figure 6 – Bondo Sanded
Priming
The next step is to apply several coats of the Rustoleum primer. Generally, three coats will be sufficient. Coats can be applied every ten minutes if the temperature is 70 to 90 degrees.
As with any spray paint, shake the can well (don't skimp on this), then apply several thin coats as opposed to fewer thick coats – this reduces the chance of "runs". Use a sweeping motion to get an even coat, and to make sure you do not put on too much paint in one spot.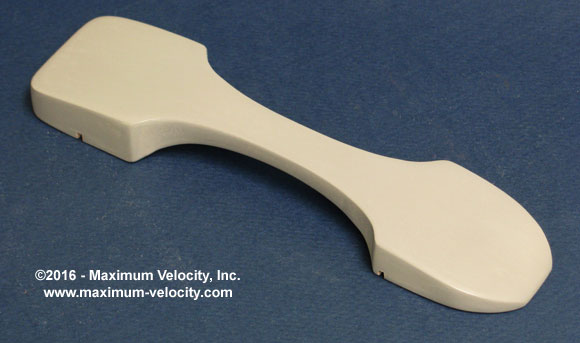 Figure 7 – Primer
Wet Sanding
After the final primer coat, allow two hours of dry time, then the primer can be wet sanded. This process gives you the smoothest finish, and much more life out of the sandpaper.
Run water on a piece of 600/800 grit paper, then sand the car in circular motions. Rinse the paper frequently. After the car is sanded, use a damp cloth to wipe off any paint residue, then dry the car with a soft rag. Allow the car to dry for several hours to ensure that all the water is evaporated.
Painting
Finally, the color can be applied. Typically, two coats of color are sufficient. Coats can be applied every ten minutes. Make sure to shake the can for a full minute after the ball starts rattling, and shake in between coats. Place the car in a dust free area while drying. There is nothing  more frustrating than a great paint job with a speck of dust in it!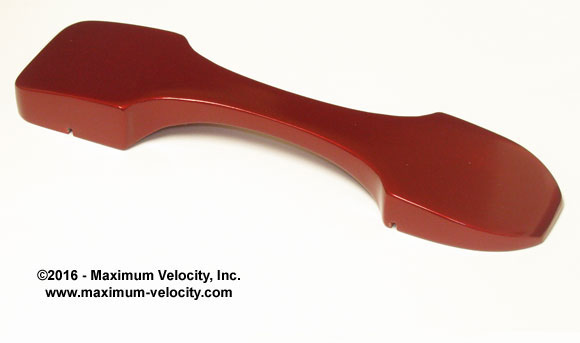 Figure 8 – Paint
Clear Coat
After thirty minutes, apply one or two coats of clear, separated by ten minutes. These early clear coats will protect the paint while performing the next step.
Decals, Pin-striping, Etc.
Next apply any decorative items, such as decals, pin-striping, etc. In Figure 9 below, I used a Maximum Velocity paint stencil (designed specifically for this car). I cut the stencil short so that the "backbone" stopped at the "head" of the car. The eyes were cut out from some gold sticker material from a craft store.
Final Clear Coats
Lastly apply several clear-coats, ten minutes apart. The more clear coats you apply, the deeper the shine.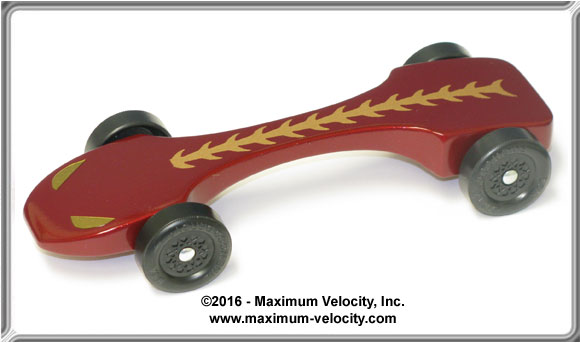 Figure 9 – Final Result
Final Thoughts
Getting a great paint job does take some time, but if you have the right materials and put in the effort, you can achieve a beautiful paint job for your pinewood derby car.
(1) A sandpaper assortment can be found Here. Find grit wet/dry paper can be found Here.
(2) A paint stand can be found Here.
---
Humor
Wisdom From Kids
HOW DO YOU DECIDE WHO TO MARRY?
You got to find somebody who likes the same stuff. Like, if you like sports, she should like it that you like sports, and she should keep the chips and dip coming.
— Alan, age 10
No person really decides before they grow up who they're going to marry. God decides it all way before, and you get to find out later who you're stuck with.
— Kristen, age 10
WHAT IS THE RIGHT AGE TO GET MARRIED?
Twenty-three is the best age because you know the person FOREVER by then.
— Camille, age 10
HOW CAN A STRANGER TELL IF TWO PEOPLE ARE MARRIED?
You might have to guess, based on whether they seem to be yelling at the same kids.
— Derrick, age 8
WHAT DO YOU THINK YOUR MOM AND DAD HAVE IN COMMON?
Both don't want any more kids.
— Lori, age 8
WHAT DO MOST PEOPLE DO ON A DATE?
Dates are for having fun, and people should use them to get to know each other. Even boys have something to say if you listen long enough.
— Lynnette, age 8
On the first date, they just tell each other lies and that usually gets them interested enough to go for a second date.
— Martin, age 10
WHAT WOULD YOU DO ON A FIRST DATE THAT WAS TURNING SOUR?
I'd run home and play dead. The next day I would call all the newspapers and make sure they wrote about me in all the dead columns.
— Craig, age 9
WHEN IS IT OKAY TO KISS SOMEONE?
When they're rich.
— Pam, age 7
The law says you have to be eighteen, so I wouldn't want to mess with that.
— Curt, age 7
The rule goes like this: If you kiss someone, then you should marry them and have kids with them. It's the right thing to do.
— Howard, age 8
IS IT BETTER TO BE SINGLE OR MARRIED?
It's better for girls to be single but not for boys. Boys need someone to clean up after them.
— Anita, age 9
---
Product Showcase
Paint Stand – 10% Off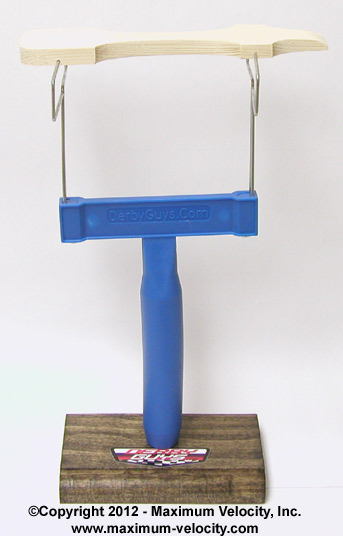 Finally, a paint stand for pinewood derby cars that is easy to use, and works on virtually any car! This paint stand by Derby Guys not only holds your car securely, but also:
– Allows you to hold the car in any position while painting.
– Works with axle slots or axle holes, and with any wheelbase.
– Keeps paint out of the axle slots or holes.
– Provides a stable base while your car dries.
Through December 27, 2016, you can get a Paint Stand for 10% off. To take advantage of this limited time offer, add part 5385 to your shopping cart and use coupon code PAINTSTAND during checkout.
---
Pinewood Derby Car Showcase
Today's cars are from Tim Norville
I started building fancy cars to show my RAs what could be made besides wedges or blocks, and it snowballed from there. Each year someone gives me a challenge to build something new. This year I built the Munster's cars which I think turned out okay. This has given my kids ideas of what they can build with a little planning.
Dragula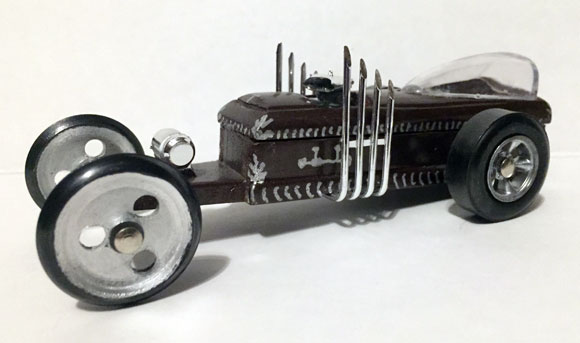 Koach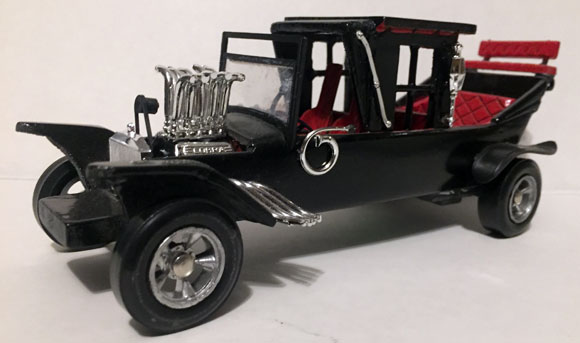 Share Your Car With Our Readers
Do you have a car you would like to "show off" to our readers? If so, send us a photo of your car along with a description of any special features to:
[email protected]
Please include your full name. If selected, we will include the photo and description in this newsletter.
Photos must be sent by e-mail in JPG format (minimum size of 640×480, maximum size of 1280 x 960). Please shoot photos from the front left of the car, similar to the orientation of this car: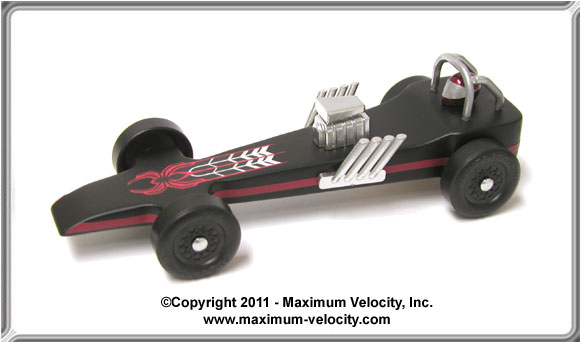 For better focus, keep the camera four or five feet away from the car, and then use the camera's zoom to fill the frame with the car. Also, use a solid (preferably white) background for the photo.
Send only one photo per car, unless an additional photo is needed to adequately show a feature. Also, only one car per subscriber per year please. Thanks.
---
Pinewood Derby Memory
A Sad Story?
Okay. I knew that the car we built was fast. I got the track and the timer, right?
We were faster this year than the car we made last year – that won the Pack race, District race, and came in 10th in the Council race.
We were so fast this year that we could have won the Council race last year!
The Den Race: We won our Webelos Den race easily.  We had the fastest time overall in our Den and the other Dens.  This was going to be easy.
The Pack Race: The top 3 of each Den race it off. We won the first 2 rounds. No problem. Third time down, we are ahead. Right before the finish line we go airborne, flip up, and smack the timer pole!  Didn't even score a time.
We lost – double elimination though.
The car was "runable", but a piece of wood was breaking near the left rear tire.
We lost again. It was over. Only the top 3 were advanced to the District Race.
My son and I were very disappointed, upset, and confused. There was no reason why the car flipped up on the smoothest, and flattest part of the track. There was no debris. No reason why. It just happened.
But, this is not a sad story. We learned a few lessons from this:
– The fastest car doesn't always win.
– Sometimes things in life happen for no reason.
– Always expect the unexpected.
Everything was okay the morning after. We will try again next year and keep our fingers crossed.
Barry Goff
Pikeville, KY
Do you Remember?
If you have a pinewood derby story that is funny, unusual, sad, heart-warming, etc., please send it to me in an e-mail. Don't worry about literary polish. We will edit as needed before publishing.
If your story is used, you will receive a $10 coupon in May of 2017.
---
Q&A
Q: What is the optimum distance between bore ID and the axle OD?
A: I recommend 5 thousandths of clearance between the axle and bore. This is enough for good spinning, but tight enough to minimize wobble. The only kit on the market that has this clearance are Awana kits. On all others, oversized axles have to be used.
Q: How thick is the optimum wheel gap tool?
A: I recommend 30 thousandths. This is the thickness of a typical credit card. But in our tests, any clearance between 25 and 35 thousandths gives the same performance.
Want Answers?
Do you have a pinewood derby-related question? If so, e-mail us your question.
We answer all questions by e-mail, but not every question will appear in the Q&A section of the newsletter.
---
Back Issues
Are you a new subscriber, or have you missed some of the previous newsletters? Don't miss out; all of the issues for Volume 5 through Volume 16 are posted on our web site Here.
---
Newsletter Contributions
We welcome your contributions. If you would like to contribute an article, a web site review, a speed tip, or a pinewood derby memory, please e-mail us.
---
Subscription Information
The Pinewood Derby Times is a free e-newsletter focused on pinewood derby racing. It is published biweekly from October through March.
If you haven't already done so, please forward this issue to your pinewood derby friends. But please don't subscribe your friends. Let them decide for themselves. Thanks.
If this newsletter was forwarded to you, why not subscribe to receive this newsletter. There is no cost, and your e-mail address is safe, as we never sell or share our distribution list.
To subscribe, send a blank e-mail to
[email protected]
You will receive a confirmation e-mail. Reply to the confirmation e-mail and you will start receiving the Pinewood Derby Times with the next issue.
---
Randy Davis, Editor, Pinewood Derby Times
E-Mail: [email protected]
(C)2016, Maximum Velocity, Inc. All rights reserved. Please do not reprint or place this newsletter on your web site without explicit permission. However, if you like this newsletter we grant permission, and encourage you to e-mail it to a friend.
Maximum Velocity disclaims any personal loss or liability caused by utilization of any information presented in this newsletter.
The Pinewood Derby Times is not specific to, and is not affiliated with the Boy Scouts of America, YMCA, Awana, or any other organization.
(R)Maximum Velocity is a registered trademark of Maximum Velocity, Inc.
(R)Pinewood Derby and Regatta are registered trademarks of Boys Scouts of America.
(R)Awana is a trademark of Awana Clubs International.
All other names are trademarks of their respective owners.