What started out as a block of wood turned into a huge tradition. When I was in first grade my family decided to have me join Cub Scouts.  I liked it, but I really started to enjoy it when we were able to make Pinewood Derby cars.  The Pinewood Derby is a race of model cars made out of a block of pinewood.  My dad and I decided to create a car that was fast, but also looked good.  My dad and I each drew up our own plans to make a car we both thought would win.  We combined them together to make what we thought, was the perfect plan. Now the real work of building this car began.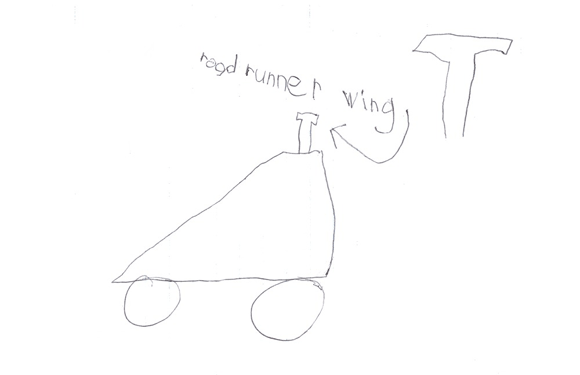 We went down to my dad's shop with the block of wood and our huge plan. First we drew out the plans and decided to make a Plymouth Superbird, which is one of the fastest race cars ever.  Once we started to cut and sand the piece of wood, we could see it begin to come to life. The Metallic Fleck Blue paint transformed this piece of wood, into a model car.  The only thing left was to put in the fine details to make it look like a real racing car.  My dad made sponsor decals and I arranged them on the car.  We painted the number "01" on the side and hood of the car.  The trickiest part was to put the decal windows on the model.  Big decals are harder to place, since they like to roll up.  I was happy this part went well.  Now it was off to the races.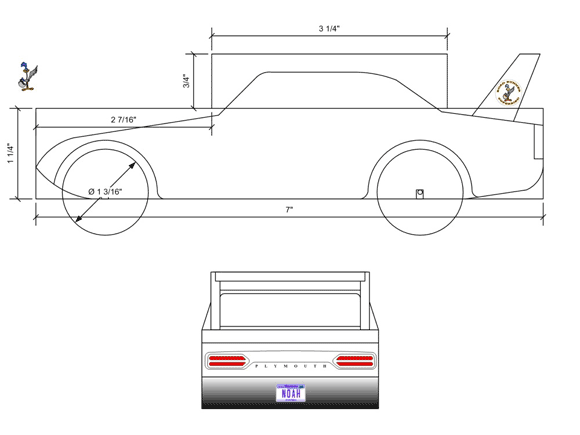 The day of the race finally came.  Once I saw all of the other racers and their cars, I thought I would get last place!  I was one of the first four racers to the starting line.  I didn't know who would win this round.  To my surprise, I won that round.  It felt so cool and I was so proud my car was so fast.  The next round came and I won that one too.  The races kept going until lunch time and we had to take a break.  It was hard to wait to race my car again.  There was another ten rounds, before I got to race again.  The next two races, I placed second.  When the races were complete, I won second place and was able to get my first trophy.  The best part was being able to go on to the district races.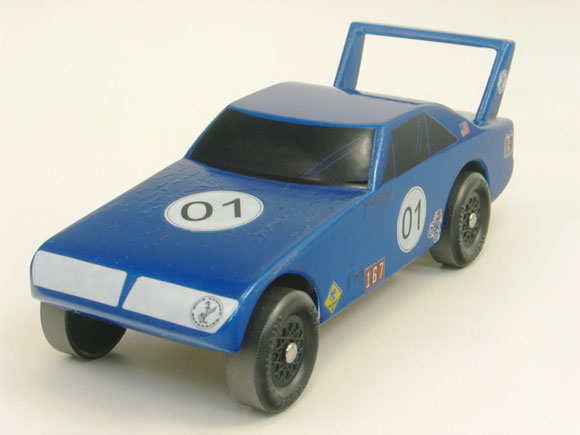 Two months later I attended the district race at the Mall of America.  There were more than 200 cars racing.  My car was not fast enough to win, but I was proud of how excellent I did.  It was nice to have the pleasure of knowing, I actually made it to the district races.  Good news did come my way when I found out this was a yearly event.  This is how the Pinewood Derby tradition started in our family.  My dad and I still build cars for fun, even though I am too old to race them as a Cub Scout.
Noah Holzer
From Pinewood Derby Times Volume 10, Issue 10
Subscribe to this Free Pinewood Derby E-newsletter
(C)2016, Maximum Velocity, Inc. All rights reserved.
Maximum Velocity Pinewood Derby Car Plans and Supplies