– Editor's Note
– Feature Article –
Weighting with Tungsten Rod
– Humor
– Product Showcase –
9/32 Inch Tungsten Rods – 15% Off One Set
– Pinewood Derby Car Showcase
– Pinewood Derby Memory –
Helping the Moms
– Q&A
---
Editor's Notes
MV Basic & Wedge Car Kits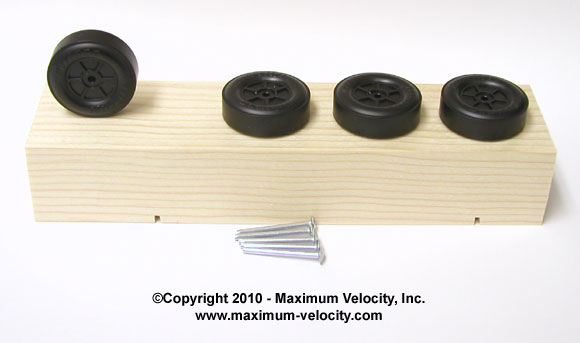 If you are planning a race and are not required to use a specific kit type, our MV Basic or Wedge Car Kit are just what you need. These attractively priced kits are equipped with:
– Quality Block – Unlike the blocks provided by some organizations, our blocks are soft, northwestern pine blocks, cut precisely to 7 inches long, 1-3/4 inches wide, and 1-1/4 inches tall. These dimensions, as well as the axle slots accurately duplicate the dimensions of standard pinewood derby blocks from BSA and PineCar.
– Simple Axle Preparation – Don't worry about filing off flaws, or losing hub caps. Our Speed Axles have no burrs or crimp marks, and install without hub caps. With or without polishing, they are ready to go. We supply five, so you have a spare.
– Quality Wheels – Forget cheap, out of round wheels. Our MV wheels are top-quality wheels. You will not be disappointed with the quality of these wheels.
So, if your organization does not mandate a particular kit type, consider our MV Basic Car Kits or MV Wedge Car Kits. We also offer bulk packs of MV kits in Pre-cut Shapes.
Call for Car Photos
Help, we are virtually out of photos for the pinewood derby car showcase.  Please send us a photo of your car along with a description of any special features to:
[email protected]
Please include your full name. If selected, we will include the photo and description in this newsletter.
Photos must be sent by e-mail in JPG format (minimum size of 640×480, maximum size of 1280 x 960). Please shoot photos from the front left of the car, similar to the orientation of this car: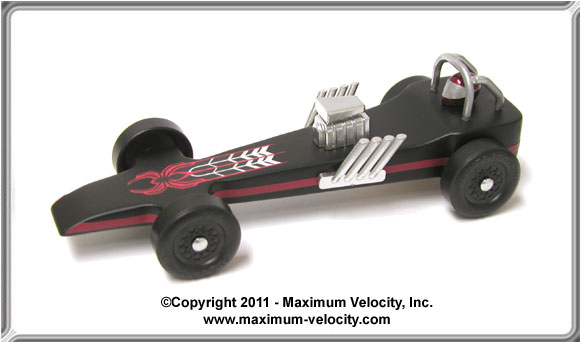 Make sure the photo is not blurry. If your photos are blurry, try holding the camera four or five feet away from the car, and then use the camera's zoom to fill the frame with the car. Also, use a solid (preferably white) background for the photo.
Send only one photo per car, unless an additional photo is needed to adequately show a feature. Don't forget to include your name, the name of the car (if it has one), and a brief write up on any design features, inspiration for the design, and how the car performed at the race. Thanks.
Inventory Clearance Sale
We are clearing inventory on several items including:
– Tundra and tungsten weights
– Formula One car kits
– Paint Stencils
We don't have many left, so don't delay. You can find these items Here.
Can We Help?
If we can help you in any way with your pinewood derby project, or if you have any feedback regarding this newsletter, please contact E-Mail Us.
---
Feature Article
Weighting with Tungsten Rod
By Randy Davis
At the end of 2017, Maximum Velocity introduced 9/32 Inch Tungsten Rod as a method of weighting cars as an alternate to Tungsten Cubes.Instead of making rectangular pockets in the bottom of the car into which cubes are epoxied, holes are drilled into the side of the car into which tungsten rods are inserted. There are two advantages to this method: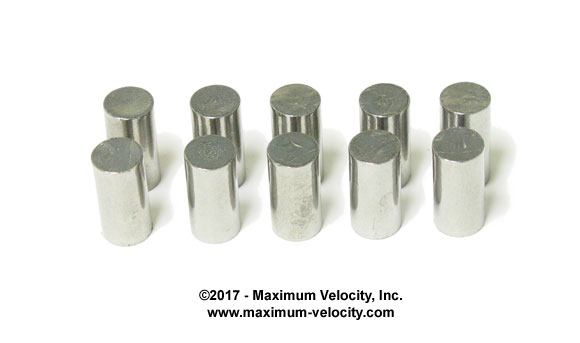 1. In general, drilling holes into the side of the car is easier than creating pockets (no chisel required). However, you will need access to a drill press with a vertical fence.
2. More weight can be added behind the rear axle: Three tungsten rods with fit across the car weighing 1.05 Ounces, while six, 1/4 inch tungsten cubes will (with difficulty) fit across the car weighing 1.03 ounces.
The only disadvantage to tungsten rods is that the rods must be inserted before painting, so some calculations are needed to insert the correct amount of weight. I also recommend drilling one or two holes under the car to accommodate tungsten putty or other small weights to perform fine tuning.
So, with that in mind let's get started.
Mark and Drill the Block
Generally, two holes are placed behind the rear axle and one or two holes are drilled in front of the rear axle. The holes are centered at 3/16 inch off the bottom of the block. From the back of the block the holes are centered as follows:
Rear hole – 1/4 inch
Hole 2 – 5/8 inch
Hole 3 – 1-1/4 inch
Front Hole – 1-5/8 inch
Mark the block with these locations, or your preferred locations.
Set the drill press fence to establish a 3/16 center for the holes, and insert a 19/64 inch Brad Point Drill Bit.
Put a thin, scrap piece of wood on the drill press table (small piece of plywood or similar), and set the drill bit depth to go into the scrap wood.
Place the block on the scrap piece of wood on the drill press table tight against the fence, line up the drill bit with the first hole, hold the block tight against the scrap wood, and drill the first hole. Repeat for the next three holes, shifting the scrap piece of wood each time to a new section.
Finally, move the fence out of the way, adjust the drill bit depth, and drill the bottom hole(s).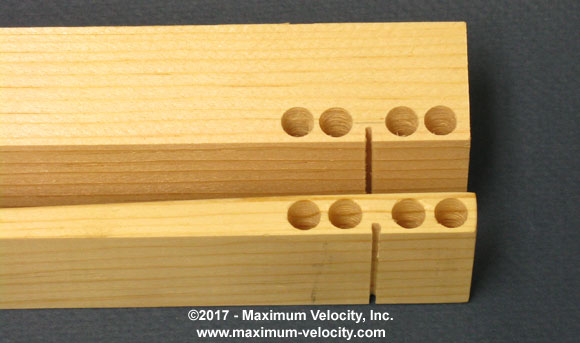 Figure 1 – Drilled Block, and Drilled and Cut Block
(Bottom Holes Not Shown)
Cut The Block
Next, the block is cut into a thin wedge.I suggest making a straight cut for the first 1-3/4 inches from the back of the block, then start the taper towards the front. This ensures that the cut does not intersect with the holes (not good).



Figure 2 – Side View of Cut Block
Determine Amount and Location of the WeightNow it's time to see how much weight will be needed.I suggest limiting the weight at this point to 4.7 ounces. This allows for body filler and paint.
Place the body, wheels, and axles on a scale. Add tungsten rods until the weight is no more than 4.7 ounces. You will need two wood plugs for each hole that has less than three cylinders. A standard wood pencil works fine, just cut some short pieces and add the required number to the scale. Then add tungsten putty or an alternate weight to bring the weight to 4.7 ounces.
At this time, you can decide where you want the COG to be placed. Of course, the most aggressive COG would occur when the rods are loaded from back to front, with three rods per hole (see Figure 2). But if you don't want to be that aggressive, then temporarily install the wheels on the car (just barely push the axles in), and adjust the location of the weights until you achieve the desired balance point.
Install the Weight and Patch
Glue the weight into the holes as identified in the previous step. I recommend epoxy, but you can use other glues (not an expanding construction glue like Gorilla Glue). For any hole that has less than three rods, center the rods, then glue a wood plug on either side -slightly recessed. Allow for the glue to dry, then wood filler or Bondo over the holes.
I like to put a thin layer of Bondo over the entire body, and then sand it off. This fills in the wood pores and minimizes grain expansion when painting.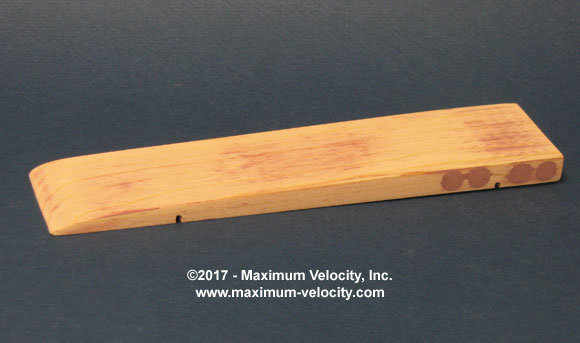 Figure 3 – Sanded Car with Bondo
Sand, Paint, and Complete
Next, sand and paint the car as desired. Make sure to keep paint out of the axle slots or holes.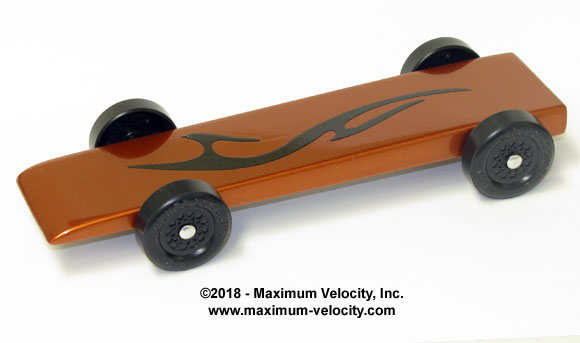 Figure 4 – Painted Car
At the weigh-in, you can use tungsten putty or an alternate weight to do any fine tuning of the weight using the hole(s) in the bottom of the car.
Conclusion
Using 9/32 inch Tungsten Rods allows anyone to build a low-profile aggressively weighted car, with less work than would be needed with tungsten cubes.
---
Humor
Science Facts from Students
(Spelling is not corrected)
When you breath, you inspire. When you do not breath, you expire.
H2O is hot water. CO2 is cold water.
To collect fumes of sulphur, hold a deacon over a flame in a test tube.
When you smell an odorless gas, it is probably carbon monoxide.
Nitrogen is not found in Ireland because it is not found in a free state.
Water is composed of two gins, Oxygin and Hydrogin. Oxygin is pure gin. Hydrogin is gin and water.
Three kinds of blood vessels are arteries, vanes and caterpillars.
Blood flows down one leg and up the other.
Respiration is composed of two acts, first inspiration, and then expectoration.
The moon is a planet just like the earth, only it is even deader.
Dew is formed on leaves when the sun shines down on them and makes them perspire.
A super-saturated solution is one that holds more than it can hold.
Mushrooms always grow in damp places and so they look like umbrellas.
The body consists of three parts – the brainium, the borax and the abominable cavity. The brainium contains the brain, the borax contains the heart and lungs, and the abominable cavity contains the bowels, of which there are five — a, e, i, o, and u.
---
Product Showcase
9/32 Inch Tungsten Rods – 15% Off ($2.69 Off) one set)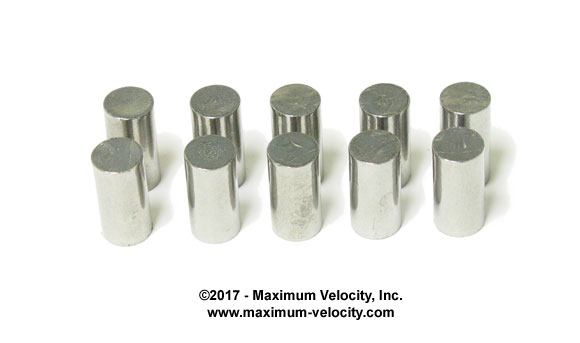 Tungsten Rods combine the simplicity of cylindrical weight with the low height benefit of cube weight. These tungsten rods allow thin cars to be built without creating under-body pockets. Your order of 9/32 Inch Tungsten Rods will consist of ten, rods weighing approximately 0.35 ounces each, for a total weight of approximately 3.5 ounces.
Through February 20, 2018, you can get one set of 9/32 Inch Tungsten Rods for 15% percent off. To take advantage of this limited time offer, add part 5067 to your shopping cart and use coupon code FEB07NL during checkout.
---
Pinewood Derby Car Showcase
Knife Car – Darren White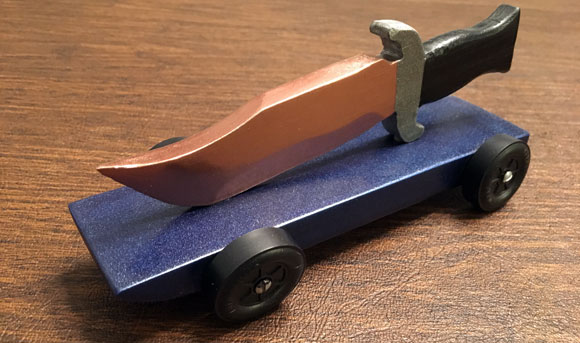 Here is James White's "Knife Car" from the DFW Indian Guides outlaw race. He plays the game "Roblox" and this is a replica of one of the items used in the game. Our group has used the Maximum Velocity basic kits for several years and it gives first time builders a more competitive base from which to build. Thanks for putting a great product on the market.
White Flash – Doug Thorne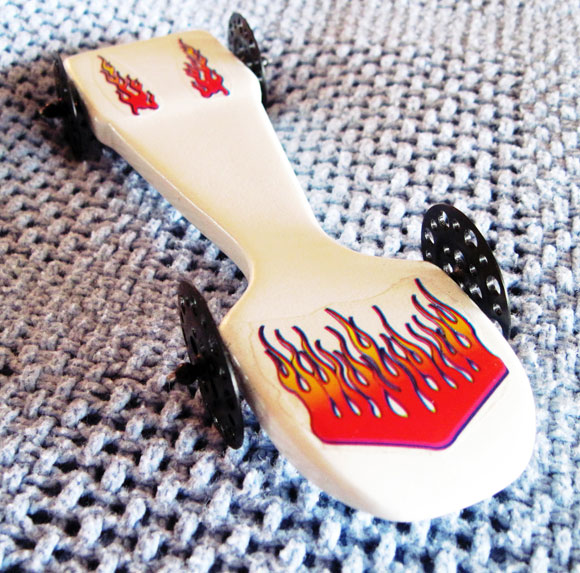 With your Annihilator Kit and Needle Axle Outlaw Wheels, I was awarded the Cub Pack Grand Champion Outlaw Class.
Share Your Car With Our Readers
Do you have a car you would like to "show off" to our readers? If so, send us a photo of your car along with a description of any special features to:
[email protected]
Please include your full name. If selected, we will include the photo and description in this newsletter.
Photos must be sent by e-mail in JPG format (minimum size of 640×480, maximum size of 1280 x 960). Please shoot photos from the front left of the car, similar to the orientation of this car: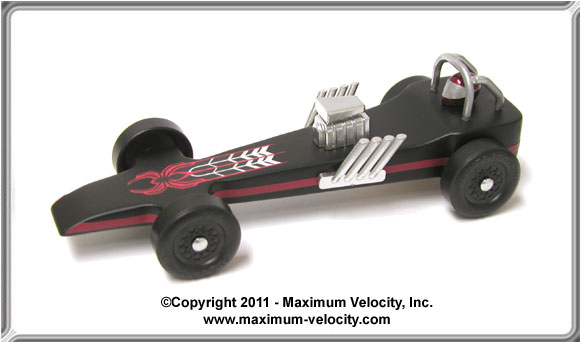 For better focus, keep the camera four or five feet away from the car, and then use the camera's zoom to fill the frame with the car. Also, use a solid (preferably white) background for the photo.
Send only one photo per car, unless an additional photo is needed to adequately show a feature. Also, only one car per subscriber per year please. Thanks.
---
Pinewood Derby Memory
Helping the Moms
I own a Hobby Store in Bellingham, Mass. Every year there are several mothers with Tigers that never get any help from the pack. I do my best to help with weights, painting, etc.
This past spring a mother came in with a car that had been cut and painted. Her question was: "What do I do now?"
Unfortunately, there would have been a lot more work to be done since she had cut the axle slots off. She had to have the car ready for Friday night inspection. I took a PineCar kit off the rack (a new design this year), opened the package, glued the weights on the car, put marks on the car around the axle slots and told her to paint the car, except around the axle slots on the side of the car. I would use a wheel and axle kit from the BSA and do the polishing. I asked her to bring the car back when she finished painting. Two days later she came back with the car painted to her Tiger's satisfaction. We glued the wheels and axles onto car, checked for visual alignment, gave it a graphite lube, etc. I told her she should have a competitive car and to go and have some fun with the Tiger.
I got a phone call on Saturday around 1 PM at the store. She could hardly stop talking as her Tiger had won the whole pack race (he won every race he was in)! She could not believe it and was very thankful for the help. As the Tiger was being announced as the champion, some of the dads were inspecting the car and were claiming it to be illegal, as it must have washers or bearings in it. They were actually going to take wheels off for inspection! But she stated that since the car would be running in the districts, how could they do that? Besides, the car had passed the inspection.
Had they taken the wheels off, they would have been embarrassed since the car was completely standard. The reason it won is that I had followed the principles very closely – sleek design, weight in rear, polished axles, sanded/polished wheels, graphite, etc.
I'm glad I could help the mother. Each year so many first-year families do not get the extra help they need to compete.
By the way, I kind of wish that the men had taken the wheels off the car – it would have been front page material!
Bob Rice
Bellingham, Massachusetts
Do you Remember?
If you have a pinewood derby story that is funny, unusual, sad, heart-warming, etc., please send it to me in an e-mail. Don't worry about literary polish. We will edit as needed before publishing. If your story is used, you will receive a $10 coupon in May of 2017.
---
Q&A
Q: How aggressive of a COG will cause a car to become unstable: fish tailing, and popping wheelies? I do not have means to test cars prior to racing. I can get between 5/8 to 1/1/8 inch COG depending on body style and type of weight.
A: If you are NOT rail-riding, then I would stick with 1 inch. If you are rail-riding, then you can go to 5/8 inch. But make sure you set a lot of drift – at least 5 inches over 8 feet. You want to make sure the car stays on the rail regardless of the levelness of the track.
Q: The grandchildren can run in an outlaw class. I found on the Internet that you had a derby car mounted with an air turbine motor that was charged with a 9 volt battery. Do you sell that type of motor?
A: Sorry we no longer offer a ducted fan car, as the "brushed" ducted fans are no longer available. You can find "brushless" fans, but these require a motor controller, LIPO batteries, a receiver, and remote control – basically the full RC loadout.
You can read about the "brushed" ducted fan cars in the feature articles in these three newsletters:
Volume 6, Issue 15
Volume 10, Issue 15
Volume 12, Issue 7
Want Answers?
Do you have a pinewood derby-related question? If so, e-mail us your question.We answer all questions by e-mail, but not every question will appear in the Q&A section of the newsletter.
---
Back Issues
Are you a new subscriber, or have you missed some of the previous newsletters? Don't miss out; all of the issues for Volume 5 through Volume 17 are posted on our web site Here.
---
Newsletter Contributions
We welcome your contributions. If you would like to contribute an article, a web site review, a speed tip, or a pinewood derby memory, please e-mail us.
---
Subscription Information
The Pinewood Derby Times is a free e-newsletter focused on pinewood derby racing. It is published biweekly from October through March.
If you haven't already done so, please forward this issue to your pinewood derby friends. But please don't subscribe your friends. Let them decide for themselves. Thanks.
If this newsletter was forwarded to you, why not subscribe to receive this newsletter. There is no cost, and your e-mail address is safe, as we never sell or share our distribution list.
To subscribe, send a blank e-mail to
[email protected]
You will receive a confirmation e-mail. Reply to the confirmation e-mail and you will start receiving the Pinewood Derby Times with the next issue.
---
Randy Davis, Editor, Pinewood Derby Times
E-Mail: [email protected]
(C)2018, Maximum Velocity, Inc. All rights reserved. Please do not reprint or place this newsletter on your web site without explicit permission. However, if you like this newsletter we grant permission, and encourage you to e-mail it to a friend.
Maximum Velocity disclaims any personal loss or liability caused by utilization of any information presented in this newsletter.
The Pinewood Derby Times is not specific to, and is not affiliated with the Boy Scouts of America, YMCA, Awana, or any other organization.
(R)Maximum Velocity is a registered trademark of Maximum Velocity, Inc.
(R)Pinewood Derby is a registered trademarks of the Boys Scouts of America.
(R)Awana is a registered trademark of Awana Clubs International.
All other names are trademarks of their respective owners.