– Feature Article – Upgrading Needle Axles
– Craft Idea – Custom Pinewood Derby Neckerchief Slide
– Pinewood Derby Car Showcase
– Q&A
---
Upgrading Needle Axles
By Randy Davis
For races that allow freedom in selecting wheels and axles, needle wheels and axles are a great choice for building a high-performance car. Cars equipped with needle axles will generally dominate over traditional axles.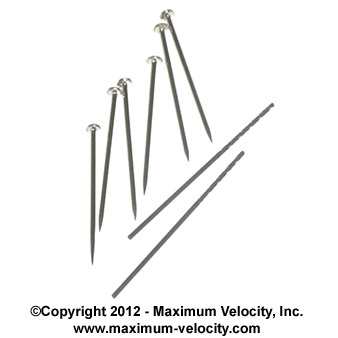 Figure 1 – Standard Needle Axles
However, needle axles can be tricky to implement. I have built cars with needle axles on a few occasions, and have discovered first hand how needle axles can be a bit frustrating to work with.1 Drilling the tiny axle holes in the block of wood is a real challenge, and keeping the axles from bending under race conditions is also a bit of a headache.

The Upgrade Kit
But now these difficulties are no longer an issue. With the introduction of the Needle Axle Upgrade Kit, installing needle axles on a car is not much different than installing regular axles.
The Needle Axle Upgrade Kit consists of four upgraded axles, retainer beads, and an installation tool. The axles are sized to fit into standard axle holes (drilled with a #44 drill bit), or standard axle slots. The upgraded axles are made from a harder stainless steel than the standard needles, so they resist bending. The installation tool is used to press the axles into place, and to bend the axles if desired.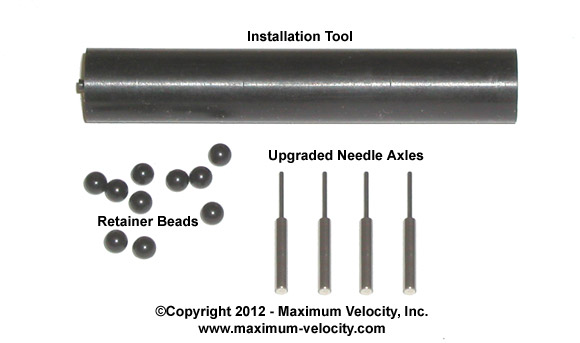 Figure 2 – Needle Axle Upgrade Kit
The retainer beads press fit onto the axles to hold the wheels in place. If desired, they can be removed with pliers for cleaning and re-lubing of the wheels and axles.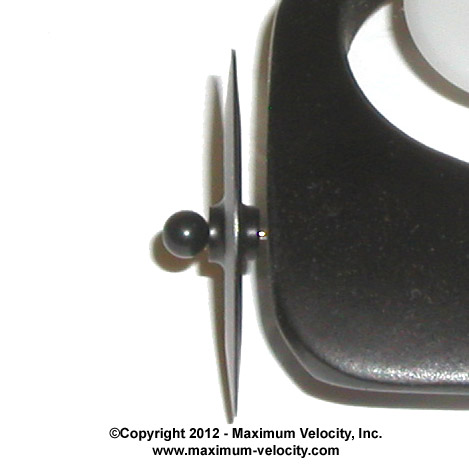 Figure 3 – Installed wheel and upgraded axle.
Implementation
The preparation and installation procedure for the upgraded needle axles is not much different than that of traditional axles:
Polish the axles with Axle Polish (part 5101), or use the two finest papers in our Axle Polishing Kit (part 5100). If desired, Diamond Polish (part 5107) can be used for a final high shine.
Select four beads that fit tightly onto the axle shafts (extras are supplied). If you don't want black beads, then purchase beaded pins from a craft store. Remove the beads, and finish drilling the hole through the bead with a #66 drill bit.
Prepare the axle hole or slot by reaming with a #44 drill bit.
Do not install the axles until the car is complete. Axle shafts will be damaged if removed.
Press each axle into place using the installation tool.
Apply lube to an axle; we recommend Kryox 100 (part 5106).
Place a wheel onto the axle with the dish-side of the wheel facing the car body.
Press a bead onto the axle shaft. Use a gap gauge to set the distance between the car body and the wheel. No glue is required for the bead.
Repeat steps 5 to 7 for the other three wheels.
To remove the wheels, grasp the retaining bead with a pair of pliers, then twist and pull.
Note that the axles are for use with RSN and RSNX wheels. They cannot be used with the wider SSN wheels.

Performance
Obviously, performance will vary from car to car. In a test I did between two similar cars, one with the upgraded needle axles and RSN wheels, and the other with standard axles and RS wheels, the needle axle car consistently beat the standard axle car by one car length. This performance advantage is consistent with what I have witnessed at competitions between needle, and non-needle axle cars.

Conclusion
Of course, needle axles cannot be used at many races, but if you have the opportunity to use them, don't hesitate. You will experience a big performance boost; and now with the Needle Axle Upgrade Kit, implementation is a breeze. Good luck!
1For an article on my previous experiences with needle axles, please Click Here.
---
Craft Idea
Custom Pinewood Derby Neckerchief Slide
From Andy Holzer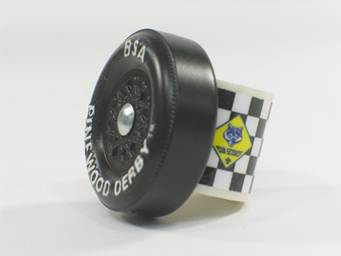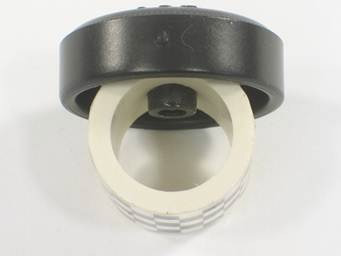 Figure 1 – Neckerchief Slide
My son, Noah, asked to make a slide using a pinewood wheel to wear at the different pinewood derby races we do throughout the year. He is a second year Boy Scout now, and is still losing neckerchief slides all of the time. We have purchased way too many slides since he was a Tiger.
Noah came up with the neckerchief slide concept, but I had to take it a little further with the checkered race theme and some Cub Scout logos.
Figure 2 – The Plan
The materials for this project are a pinewood derby wheel and axle, and 1/2 inch PVC piping (less than $2 from a hardware store or home center. A 10 foot section should make approximately 155 slides).
The PVC pipe is cut into 3/4 inch lengths and cleaned up with some fine (150 to 220) sandpaper. I have cut these on my band saw and also on a 12 inch chop saw (with a fine blade). Then a 17/64 inch hole is drilled into the side of the PVC pipe. The decoration on the PVC is sticker paper printed with the logos and checkerboard pattern. It is applied to the PVC and then laminated with 2 inch box tape.
The axle is cut with cutting pliers, and the cut end is ground smooth then epoxied into the wheel bore. The wheel lettering is colored using a white paint pen, then clear coated with a matte clear so the painted lettering does not come off if the slide is rubbed.
The slide looks great, but I wonder how long until he loses this one? There must be a big stockpile of lost neckerchief slides somewhere in this world!
---
Pinewood Derby Car Showcase
Today's Car Showcase was supplied by Joesin Guillory.
We had purchased plans and supplies from Maximum Velocity years ago when my oldest two boys were in scouts. They had made the Wing and the Rail and came in 1st and 2nd respectively. This year we made four cars from your plans.

Assimilator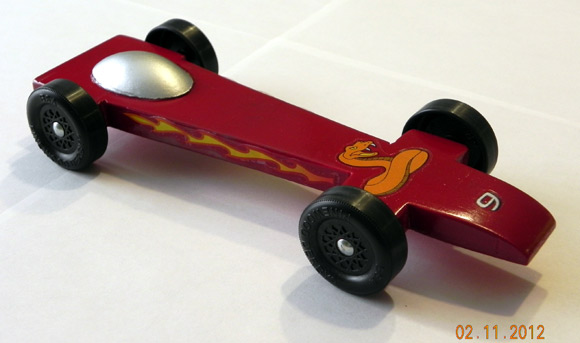 The Assimilator, made by Andrew, my Wolf Scout, came in 1st out of 40 in the scout race. His was the only car to come in under 2.5 seconds. This amazed me because he truly made the car himself with only guidance from me.

Predator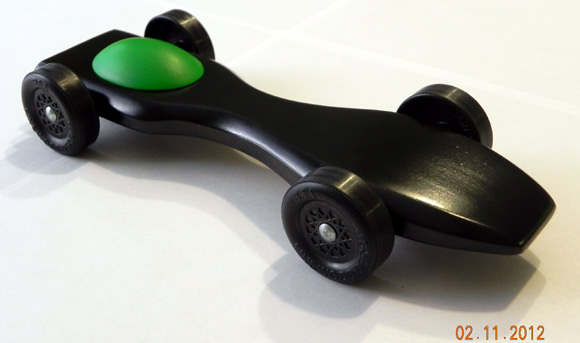 The Predator, made by me, came in 2nd out of 21 in the non-scout race

Wing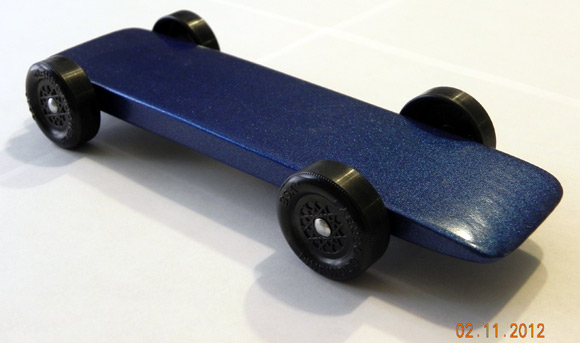 The Wing, made by my oldest son Aaron (17) (for the second time), came in 5th out of 21 in the non-scout race.
Rocket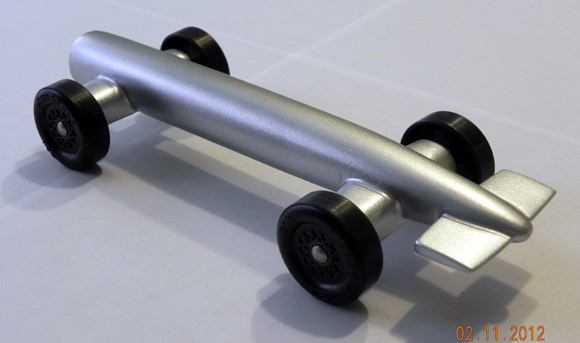 The Rocket, made by me, came in 6th out of 21 in the non-scout race.
---
Q&A

What type of paint should I use for the Cub Scout Space Derby kit?
You can use most any type. I suggest avoiding enamel paint, as the dry time is very long.
I prefer lacquer paints. At most auto part stores, you can find "Duplicolor – Perfect Match" brand. These are lacquer auto paints. that work well.
Note that balsa soaks up paint. So, if you are looking for a "perfect" paint job, then you will need to apply several coats of primer, sanding between coats. At the auto part stores, you should find "Rust-Oleum Hi-Build Primer" which works well.
Also, I recommend the same paint for pinewood derby cars.

In your newsletter and on the Internet I see photos of cars with wheels that do not look like Cub Scout wheels. What gives?
Although pinewood derby racing began with Cub Scouts and is still largely associated with scouting, the event has spread to many other kid's clubs such as Awana, RA's, and Royal Rangers, to name a few. Also, pinewood derby events are held by schools, corporations, at fairs, and many other venues. Most of the kid's clubs have their own kits with their own wheel types. In fact, Maximum Velocity offers a very nice kit for non-affiliated groups. This kit has Maximum Velocity-brand wheels, clean axles and a BSA-style block.
If you are interested in the various types of kits and wheels available for pinewood derby races, you might be interested in this article.
Want Answers?
Do you have a pinewood derby-related question? If so, e-mail us your question.We answer all questions by e-mail, but not every question will appear in the Q&A section of the newsletter.
---
Back Issues
Are you a new subscriber, or have you missed some of the previous newsletters? Don't miss out; all of the issues for Volume 5 through Volume 17 are posted on our web site.
---
Newsletter Contributions
We welcome your contributions. If you would like to contribute an article, a web site review, a speed tip, or a pinewood derby memory, please e-mail us.
---
Subscription Information
The Pinewood Derby Times is a free e-newsletter focused on pinewood derby racing. It is published biweekly from October through March.
If you haven't already done so, please forward this issue to your pinewood derby friends. But please don't subscribe your friends. Let them decide for themselves. Thanks.
If this newsletter was forwarded to you, why not subscribe to receive this newsletter. There is no cost, and your e-mail address is safe, as we never sell or share our distribution list.
To subscribe, send a blank e-mail to
pinewood-derby-times-on@mail-list.com
You will receive a confirmation e-mail. Reply to the confirmation e-mail and you will start receiving the Pinewood Derby Times with the next issue.
---
Randy Davis, Editor, Pinewood Derby Times
E-Mail: info@maximum-velocity.com
(C)2018, Maximum Velocity, Inc. All rights reserved. Please do not reprint or place this newsletter on your web site without explicit permission. However, if you like this newsletter we grant permission, and encourage you to e-mail it to a friend.
Maximum Velocity disclaims any personal loss or liability caused by utilization of any information presented in this newsletter.
The Pinewood Derby Times is not specific to, and is not affiliated with the Boy Scouts of America, YMCA, Awana, or any other organization.
(R)Maximum Velocity is a registered trademark of Maximum Velocity, Inc.
(R)Pinewood Derby is a registered trademarks of the Boys Scouts of America.
(R)Awana is a registered trademark of Awana Clubs International.
All other names are trademarks of their respective owners.