In this Edition
– Editor's Notes
– Feature Article: Finding the Right Level of Parental Involvement
– Humor
– Product Showcase: Pre-Cut Bulk Kits – 10% Off
– Pinewood Derby Car Showcase
– Pinewood Derby Memory: Derby Fun
– Q&A
---
Editor's Notes
Call for Photos
Help, we are out of photos for the Pinewood Derby Car Showcase. Please send us a photo of your car along with a description of any special features to: [email protected]
Please include your full name. If selected, we will include the photo and description in this newsletter.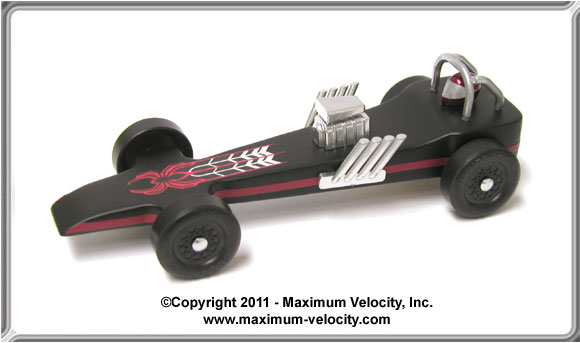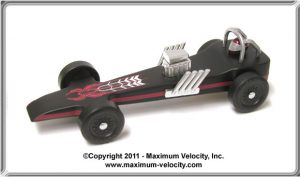 Photos must be sent by e-mail in JPG format (minimum size of 640×480, maximum size of 1280 x 960). Please shoot photos from the front left of the pinewood derby car, similar to the orientation of this car.
Make sure the photo is not blurry. If your photos are blurry, try holding the camera four or five feet away from the car, and then use the camera's zoom to fill the frame with the car. Also, use a solid (preferably white) background for the photo. Printer paper works well as a background.
Send only one photo per car, unless an additional photo is needed to adequately show a feature. Don't forget to include your name, the name of the car (if it has one), and a brief write up on any design features, inspiration for the design, and how the car performed at the race. Thanks.
Inventory Clearance Sale
We are clearing inventory on several pinewood derby items including:
Tungsten & Tundra Weights
Formula One, Vector, and Raptor car kits
Tools, including Digital Calipers, 5 ounce test weight, and more
Wheel Covers
We don't have many remaining, so don't delay. You can find these items Here.

MV Basic & Wedge Car Kits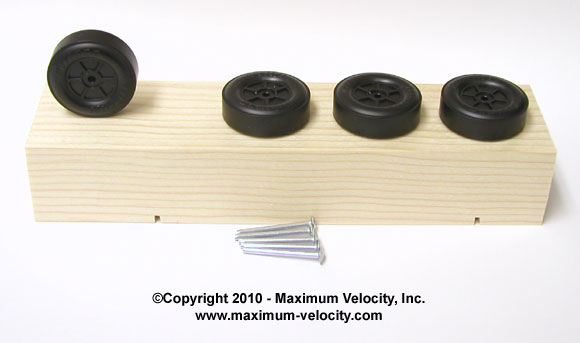 If you are planning a pinewood derby race and are not required to use a specific kit type, our MV Basic or Wedge Car Kit are just what you need. These attractively priced kits are equipped with:
– Quality Block – Unlike the blocks provided by some organizations, our blocks are soft, northwestern pine blocks, cut precisely to 7 inches long, 1-3/4 inches wide, and 1-1/4 inches tall. These dimensions, as well as the axle slots accurately duplicate the dimensions of standard pinewood derby blocks from BSA and PineCar.
– Simple Axle Preparation – Don't worry about filing off flaws, or losing hub caps. Our Pinewood Derby Speed Axles have no burrs or crimp marks, and install without hub caps. With or without polishing, they are ready to go. We supply five, so you have a spare.
– Quality Wheels – Forget cheap, out of round wheels. Our MV pinewood derby wheels are top-quality wheels. You will not be disappointed with the quality of these wheels.
So, if your organization does not mandate a particular kit type, consider our MV Basic Car Kits or MV Wedge Car Kits. We also offer bulk packs of MV kits in Pre-cut Shapes.
Can We Help?
If we can help you in any way with your pinewood derby project, or if you have any feedback regarding this newsletter, please Contact Us
---
Feature Article
Finding the Right Level of Parental Involvement
I really enjoy the Pinewood Derby. In fact, my level of enjoyment was probably greater than that of my children. Add the fact that I like to work with my hands, and you have the classic recipe for an over-involved parent. Yes, I admit I have been guilty of doing way too much work on my children's cars.
By contrast, I have seen cars at our weigh-ins that were clearly built by a younger child with little to no parental involvement. Generally, these cars place poorly, sometimes not even reaching the finish line.
I believe that neither of these extremes is the appropriate level of parental involvement. Building a car is a great opportunity for a child and parent to spend time together. Opportunities to interact with your child are too few and far between to let one slip away.
So how much should a parent be involved? I suggest that parents should serve mostly as a coach, allowing their child to do as much work on the car as he/she can physically and safely accomplish. Clearly, the level of involvement must vary based on age and physical capabilities. For example, my 12-year-old son's latest car was built on his own with only some coaching from me. He got frustrated a few times, and when he did, I showed him a different way to hold a tool, clamp his car, hold the can of spray paint, etc., but he did the actual work. On the other hand, my 9-year-old daughter also built a car. She did a large majority of the work, but I helped set up the tools, and assisted when she needed a little extra muscle power and technique.
How can you most effectively be a coach to your child? There is no one answer to this question, but here are some ideas that might be beneficial to you.
Designing the Car
A few years ago, I asked one of my younger children what they wanted their car to look like. I believe the response was "an elephant" (or some other large land mammal). I don't know about you, but making a car look like an elephant would be an impossible task for my child or myself! So instead, I sketched out some possible ideas, and fairly quickly we had a design that was much more practical. The point is that children often have unrealistic expectations of what they can create given their (and your) skills, the limitations of the car dimensions, the time remaining to the race, and the sophistication of your household tools. So here are a few ideas to help you and your child arrive at a reasonable design:
Dig the Matchbox/Hot Wheels cars out of the toy box and find an interesting design. Then sketch the profile of the car on paper, simplifying it where needed.
Have your child sketch a rough drawing of their ideas. Then work with them to make it practical.
If your child wants the car to represent an animal or other complex object, suggest building a flat and thin car with a plastic animal(s) or object fastened on top (Figure 1) This is much easier and will likely satisfy your child. For example, a few years ago my oldest son wanted to build a "rocket car." He ended up building a "rocket carrier" using a very small rocket from the hobby shop. (Figure 2)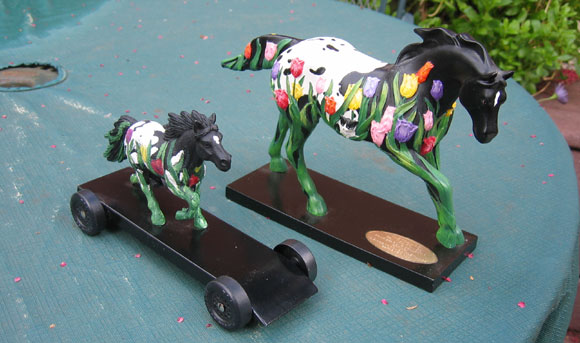 Figure 1 – Horse Car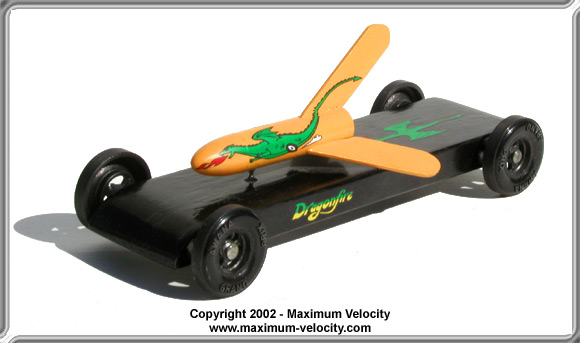 Figure 2 – The Rocket Carrier
Look on the Internet for car design ideas. There are literally thousands of photos on the internet (and you will find lots of photos on Maximum Velocity as well). Just don't get sucked in and waste to much time!
Working One Step at a Time
Children generally want to skip the "boring" steps and get right to attaching the wheels. But to get the best results, the building process should proceed in a step-by-step manner. Coach your child to take one step at a time. The resulting car will not only end up nicer, but your child will begin learning the valuable skills of organization and patience.
Using Hand Tools
Training experts tell us that people learn much more quickly by performing a task themselves, than by watching someone else perform the task. So, if your child is unfamiliar with using a tool (you can assume that your child is unfamiliar unless you have previously shown them how to use the tool), place their hand(s) on the tool in the proper position, and put your hands on top of your child's hands. Work with your child, using your hands to guide and add a little muscle power. This is especially useful when a younger child is sawing. To saw along a line takes a certain amount of strength and technique, and young children can become frustrated very quickly. By adding your hands, your child will not only be involved in creating the car, but they will also become better at working with their hands.
Sanding
Kids generally don't like to sand (I don't blame them). But to end up with a nice paint job, the car does need to be virtually smooth. In the past, my kids would sand for a minute or two and then come to me and say, "Daddy, is this enough?" I would tell them no, they would go back to sanding for another minute, and the process would repeat many times over. Then someone shared with me an amazing technique. Take a pencil and scribble on all surfaces of the car that need to be sanded (lightly on surfaces that are almost done, and heavily on very rough surfaces. Then tell your child to sand until all the pencil marks are gone. At my house, this eliminated a lot of whining!
Scheduling
If left up to my children, all the work would be done on the night before the race. Although last minute jobs do occasionally perform very well, this is not the best recipe for building a nice car. So, instead sit down with your child and write out a simple schedule. For example, if there are four weeks before the race, write down what needs to be done in each of those four weeks. The schedule might be:
Week 1 – Design and rough cut
Week 2 – Shape, sand, primer coat of paint
Week 3 – Final coat of paint, prepare wheels and axles
Week 4 – Attach weight, lubricate, attach wheels, and align
If your child is a noted procrastinator, a daily schedule might be appropriate!
Good luck in coaching your child. When you get the urge to jump in prematurely, put your hands behind your back, grit your teeth, and count to 20.
---
Humor
Fishing on the Job
My son, Scott, an insurance broker in Florida, loves ocean fishing and takes his cell phone along on the boat. One morning, we were drifting about ten miles offshore as Scott discussed business on the phone.
Suddenly, his rod bent double and the reel screamed as line poured off the spool. Scott was master of the situation.
"Pardon me," he told his customer calmly. "I have a call on another line."
Check Your Baggage
A fellow had a buzzard for a pet and decided to take him to Hawaii on vacation. He realized it was a long flight and that he couldn't afford the exorbitant fees charged by air lines for extra luggage.
He wasn't prepared for Delta to deny boarding to his pet buzzard, Buford, though. Seems Buford had too much carrion baggage.
---
Product Showcase
Pre-Cut Bulk Kits – 10% Off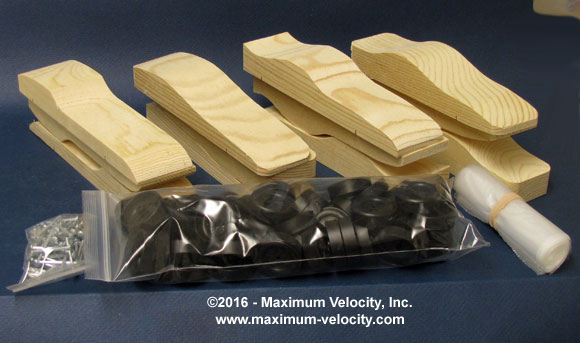 Are you looking for quality pre-cut pinewood derby kits at an attractive price? Consider the Maximum Velocity pre-cut bulk kits. Each bulk pack contains three each of four different car models. Wheels, axles, baggies and instructions are also included.
Through February 6, 2019, you can get bulk packs of pre-cut car kits for 10 percent off. To take advantage of this limited time offer, add a bulk kit to your shopping cart and use coupon code JAN23NL during checkout.
---
Pinewood Derby Car Showcase
Today we have three exotic cars from Bob Patty.
My grandkids and I just completed their Pinewood Derby cars and we wanted to share a few photos of them with you. They aren't due to race for a few weeks, so don't have any race results for you as yet but will be glad to let you know how they did when the races are done.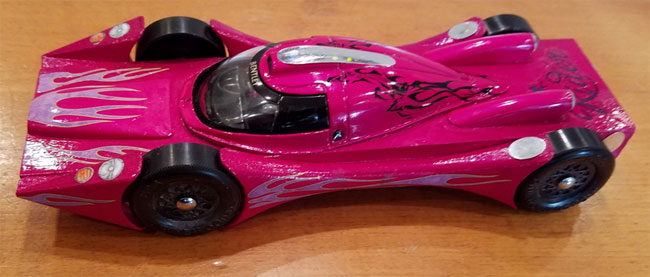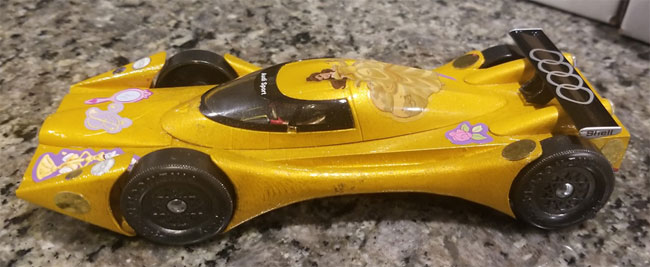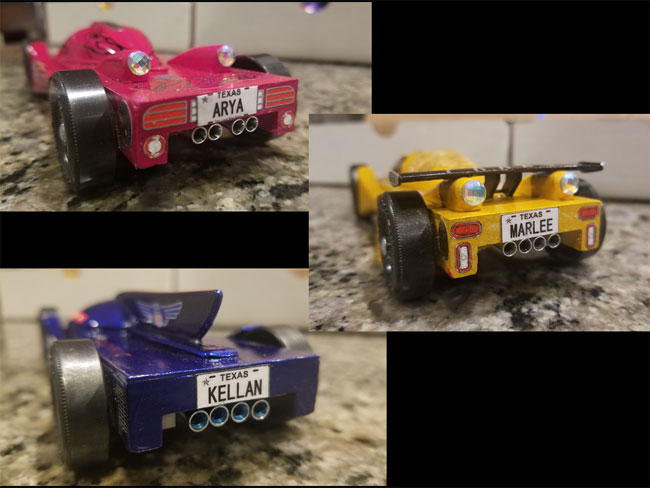 Share Your Car Photo
Do you have a car you would like to "show off" to our readers? If so, send us a photo of your car along with a description of any special features to: [email protected]
Please include your full name. If selected, we will include the photo and description in this newsletter.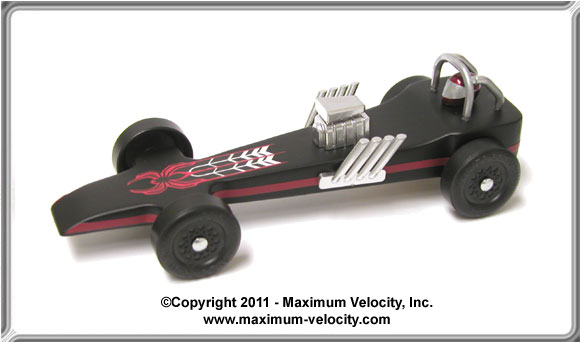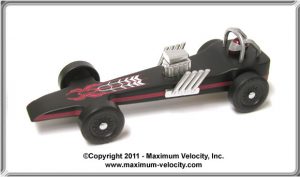 Photos must be sent by e-mail in JPG format (minimum size of 640×480, maximum size of 1280 x 960). Please shoot photos from the front left of the car, similar to the orientation of car shown at:
For better focus, keep the camera four or five feet away from the car, and then use the camera's zoom to fill the frame with the car. Also, use a solid (preferably white) background for the photo.
Send only one photo per car, unless an additional photo is needed to adequately show a feature. Also, only one car per subscriber per year please. Thanks.
---
Pinewood Derby Memory
Derby Fun
I have two sons in Cub Scouts and they both absolutely love the pinewood derby. My older son could not think of a design this year so he asked Mom; she came up with the idea of a guitar. I thought, "How can I make this?"  I drew out some plans on paper and it started to come together. The more we worked on it the more it took shape and the more excited we got.
Finally, it was done, and race day was here.  All the adults thought the design was sure to get best of show, however the kids had not voted yet. We held the race and the car held its own but failed to finish in the top three. Then the kids lined up to judge the cars for best of show. I could tell my son's anticipation was growing – so was mine. We had spent a lot of time on the car and were hoping it would pay off. In the end the kids did not vote for it and my son went home with only a participation trophy.
My other son picked an easier design and ended up with a third-place trophy and best of show for his grade.  Go figure!
The moral of the story is, have fun and enjoy the time with your kids; they grow up much too quickly.  And next time don't ask Mom for a design suggestion!
Steve Lee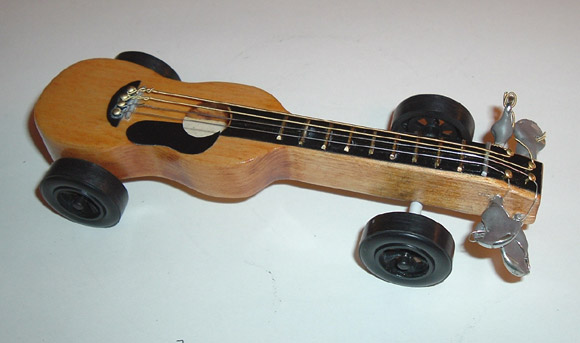 (Editor's Note – There is no accounting for taste. Mom should be commended for the inspiration for this great looking car!)
Do you Remember?
If you have a pinewood derby story that is funny, unusual, sad, heart-warming, etc., please send it to me in an e-mail. Don't worry about literary polish. We will edit as needed before publishing.
If your story is used, you will receive a $10 coupon in May of 2019.
---
Q&A
I bought Max-V-Lube and I know you guys have tested it against several other graphite brands.  Have you tested it against XLR8 Ultra Graphite?
I understand XLR8 is heavily refined and has much smaller particles or graphite versus regular graphite like Max-V-Lube.  My race is this weekend and I need to make a decision on which graphite to apply (Max-V-Lube or XLR8).
I did test XLR8 (and other people did as well) and found XLR8 quite inferior to Max-V-Lube, and even inferior to Hob-E-Lube, which is the less expensive PineCar brand. I think XLR8 is just marketing hype, and they didn't bother to test it.
What is the wheel base dimension on your extended wheelbase blocks and kits?
We drill the axle holes at 11/16 inch from the ends of the block. So, the distance between the axle holes is 5-5/8 inch. This insets the wheels just slightly from the ends of the block. So, if the block gets shortened from shaping or sanding, the wheels will not stick out past the front of the car.
I have a little girl who is starting Girl Scouts. Do you have any background knowledge of the girl scout racing derby? I think someone mentioned that their race is called the "Powder Puff Derby." Granted, all the same physics principles apply. But I was curious if they use the standard Cub Scout Car kit or have their own.
It used to be that the Girl Scouts used the official Cub Scout kit. But with the introduction of girls into Cub Scouts, many of the Girl Scout troops are moving away from using BSA supplies. So, you would need to find out what kit your daughter's troop plans to use. (Many troops are now using our MV Basic Car Kit). It's possible that if the race is not soon, they may not have made a decision yet.
But regardless of the kit type, we have supplies for most kits. So, I'm sure we can help. If you want to "push" the troop our way, the MV Basic Car Kit is a good choice.
Want Answers?
Do you have a pinewood derby-related question? If so, e-mail us your question.We answer all questions by e-mail, but not every question will appear in the Q&A section of the newsletter.
---
Back Issues
Are you a new subscriber, or have you missed some of the previous newsletters? Don't miss out; all of the issues for Volume 5 through Volume 18 are posted on our web site.
---
Newsletter Contributions
We welcome your contributions. If you would like to contribute an article, a web site review, a speed tip, or a pinewood derby memory, please e-mail us.
---
Subscription Information
The Pinewood Derby Times is a free e-newsletter focused on pinewood derby racing. It is published biweekly from October through March.
If you haven't already done so, please forward this issue to your pinewood derby friends. But please don't subscribe your friends. Let them decide for themselves. Thanks.
If this newsletter was forwarded to you, why not subscribe to receive this newsletter. There is no cost, and your e-mail address is safe, as we never sell or share our distribution list.
To subscribe, send a blank e-mail to
[email protected]
You will receive a confirmation e-mail. Reply to the confirmation e-mail and you will start receiving the Pinewood Derby Times with the next issue.
---
Randy Davis, Editor, Pinewood Derby Times
E-Mail: [email protected]
(C)2019, Maximum Velocity, Inc. All rights reserved. Please do not reprint or place this newsletter on your web site without explicit permission. However, if you like this newsletter we grant permission, and encourage you to e-mail it to a friend.
Maximum Velocity disclaims any personal loss or liability caused by utilization of any information presented in this newsletter.
The Pinewood Derby Times is not specific to, and is not affiliated with the Boy Scouts of America, YMCA, Awana, or any other organization.
(R)Maximum Velocity is a registered trademark of Maximum Velocity, Inc.
(R)Pinewood Derby is a registered trademarks of the Boys Scouts of America.
(R)Awana is a registered trademark of Awana Clubs International.
All other names are trademarks of their respective owners.