– Feature Article – The Big Event: Staging a Pinewood Derby Race
– Pinewood Derby Car Showcase
– Q&A
---
Feature Article
The Big Event – Staging a Pinewood Derby Race
by Randy Davis
So you have been put in charge of staging a pinewood derby race. Maybe you are looking forward to the prospect, or cursing your fate; but in either case you have some work ahead of you.
I have written several articles about different aspects of race staging, but have not previously put it all together. So this article will give an overview of staging a race. Hopefully, you will find some gems that will help you stage your event.

Purpose
First, let's consider what goals you are trying to accomplish. From my perspective, you should want to achieve the following goals:
Credible/fair event – The participants should perceive that the event is fair, and is not biased (intentionally or unintentionally).
Reasonable opportunity for cars to be competitive – Participants should feel that they have an opportunity to be competitive.
Well-planned and managed event – parents and racers should perceive that the event is not ad-hoc, but is well managed and thought out. This gives participants confidence.
Aesthetically pleasing/fun venue – The venue should appear fun and festive.
Exciting, well paced event – The race should generate continued excitement and be well-paced. You don't want a boring event.
Let's discuss some ways to achieve each one of these goals. Some of these topics have been covered in previous articles, so in those cases, I will refer you to the previous article.

Credibility/Fairness
Race participants should perceive that the race is fair. All participants should have an equal opportunity with no perceived bias towards any particular racer or group of racers. This topic is more complex than it first appears, as it includes rules, staffing, car handling, car staging, and more. For a thorough discussion of this topic please refer to: Volume 7, Issue 4 – Credibility of the Race
A big part of the credibility issue is the rules and how they are enforced. There are several articles on this topic including: Volume 10, Issue 4 – Rule Pet Peeves

Opportunity To Be Competitive
Racers want to have a competitive car, but are often disadvantaged by a lack of previous experience, skills, tools, and supplies. To rectify this, race leaders should provide, at a minimum, the following assistance:
One or more workshops where participants can shape and weight their car body, and work on the wheels and axles.
A tip sheet provided to every participant (along with the rules).
The contact phone number and e-mail address of the race leader so that participants can get some consultation.
Invariably, I find that people who take advantage of a workshop end up with a car that is reasonably competitive. The slowest cars are always submitted by those that do not participate in the workshops.

Well Planned And Managed
To have a successful event, you must plan out the event, staff the event, and stick to the schedule. Generally, leaders get in trouble because of a lack of planning, a lack of trained personnel, and the lack of a time table (or an unreasonable time table).
The event plan is of course quite variable depending on the group. Some thoughts on this topic were included in Volume 7, Issue 12 – Pinewood Derby Race Organization
For the race, you will need trained personnel to keep the event flowing nicely. For our race, we have the following:

Three Stagers – These people stage the cars for the younger groups (the older groups stage their own cars). One person pulls the cars for the next race, while two people place the cars for the current race on the track. One of these two people run the gate and monitor the actual race.

Two Retrievers – These younger folks (it requires good knees) retrieve the cars for the younger groups and return the cars to the staging area.

Computer Operator – This person runs the race computer with the race software.

Cameraman – This person runs the video camera, which focuses on the car staging, then follows the cars down the track.

Announcer – This person announces the participants in each heat, and then enumerates the results. More on this person later.

Sound Tech – This tech runs the sound mixer and the sound effects computer.
When I find people that are good at a job, I try to recruit them again the following year. By using "veterans", the race always goes much more smoothly.
Another important aspect to planning an event is car security. This topic was thoroughly covered a few issues back in Volume 13, Issue 6 – Handle Those Cars Carefully

Aesthetically Pleasing Venue
Having a nice venue can adds a lot of excitement to your event. You can go all out with decoration (like turning the venue into a virtual pit stop), or do it on a lighter scale. But certainly the venue adds to the success (or failure) of the event.
Seating
Seating is mostly about providing a good view of the track. Stadium seating is generally the best, but of course, not everyone has that luxury. If you don't have stadium seating, then you can either:
Place the track on the ground, and have small children sit on the ground, with older folks behind them in chairs, or
Elevate the track and then have chairs for everyone.
I prefer placing the track on the ground for these reasons:
If a car jumps the track less damage occurs,
Steps are not required to place the cars at the starting line,
Setting up the track is a little easier.
Decorations
There is lots of flexibility with decorations. Possibilities include table cloths, banners, flags, tires, cones, and much more. Really, it is just a matter of time, budget, and finding someone with the gift of decorating!
Sound
A good sound system is important for a successful race. A crowd of people rooting for their favorite car generates a lot of noise, so you must have a sound system that can handle the size of the venue, and the ambient noise level. A cheap, low-power system, or no sound system can really kill the excitement of an event.
In addition to a good sound system, sound effects can add a nice level of excitement. We use RaceFX to add sirens, screeching tires, revving engines, etc. at opportune moments.
Video
I believe that video adds a lot to the event. We have a video camera capture the race action and project it directly onto a screen (it also records the event for later critique). We project the race results from the race management software using a separate projector. If you have a good video mixer, you can accomplish this with one video projector.

Exciting, Well-Paced Event
All of the above topics add to the excitement and pace of the event. But here are a few more important points.
Pre-Race Events
Having a few pre-race events will help generate excitement, keep people entertained, and encourage them to arrive on time. Some possibilities include:
Hot wheels race,
Real race car in the parking lot for photo-ops,
Pre-race video,
Demonstration of unique cars – for an example of this see Volume 6, Issue 8,
Pre-race hot dog or pizza dinner.
Announcer
As previously mentioned, the announcer reads off the names for each heat, and then the results of the race. But the announcer is much more than that. That person is the emcee and greatly contributes to the race atmosphere. A monotone announcer will tend to put people to sleep (I attended a race like this), while an enthusiastic announcer helps keep the energy level up. The announcer needs to be able to fill in dead time such as while results are being tallied. Our announcer brings a list of kid-friendly jokes, and keeps the crowd entertained whenever there is a lull in the action.
So when you are recruiting your announcer, make sure to pick someone that is comfortable in front of a crowd, has a good voice and is an exuberant person (also make sure they can pronounce names properly!).

Photos
Here are a few photos of our race venue: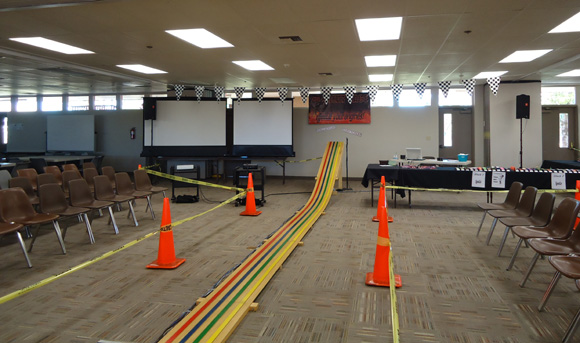 A long shot of the venue showing the two video projectors and screens, traffic cones and caution tape, and checkered flags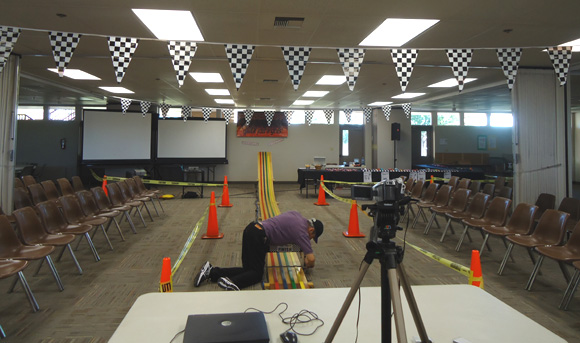 This is the end of the track with the video camera and sound effects laptop. Sorry about me being in the photo – this is the only photo I had of this angle.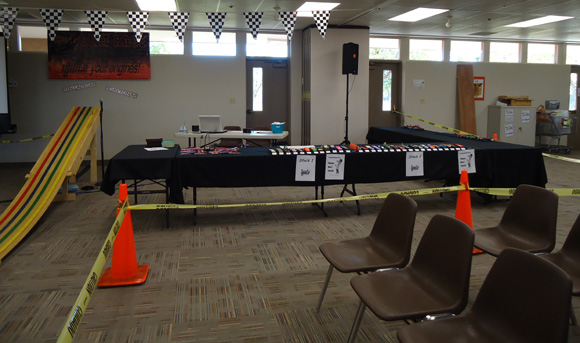 Here is the car staging area with black table cloths. The race management computer is also shown. (The small table between the track and staging tables is removed before the race.)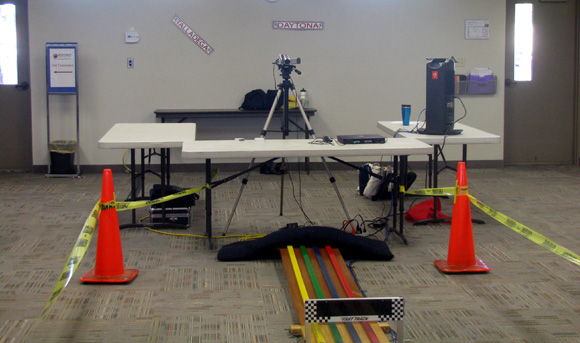 Another shot of the end of the track showing finish line and sound system.

Conclusion
Hopefully the information provided in this article will help you in planning and implementing your race. If you have any unique things that you do at your race, please e-mail them to me and I'll include them in a future newsletter.
---
Pinewood Derby Car Showcase

Chicago-style – Charles Baum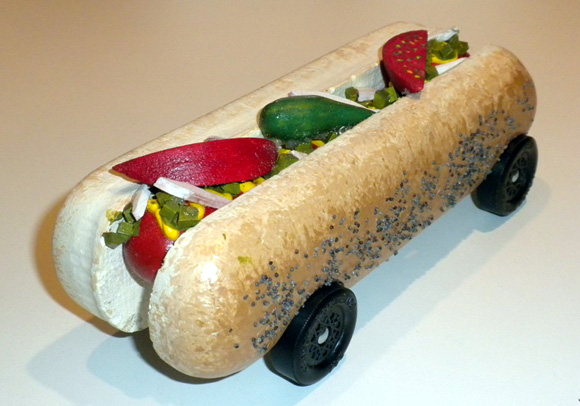 Thought you might be interested in my latest creation – a Chicago- style hot dog car. The bun was formed from a standard block with a block scrap glued on to the top. Fender wells were then drilled and the block cut in half for the top and bottom buns. The hot dog was cut from a 1 x 2 and formed into shape. The buns were shaped with a plane and sander. The relish was small cut pieces of wood mixed in with plaster and green paint. The mustard was yellow paint and plaster. The onion pieces, tomatoes and pepper were cut and formed from small pieces of wood. The only thing that is "real" are the poppy seeds.

Barracuda – Christopher Dominy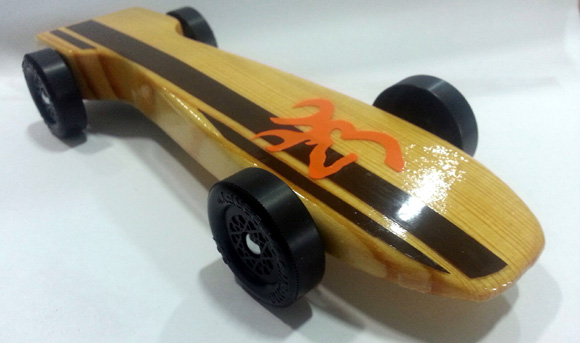 Once again we have prepared a beautiful car and I'm sure it will be blazing fast as always. We used your Barracuda design.

Driving Me Bananas – Derik Anderson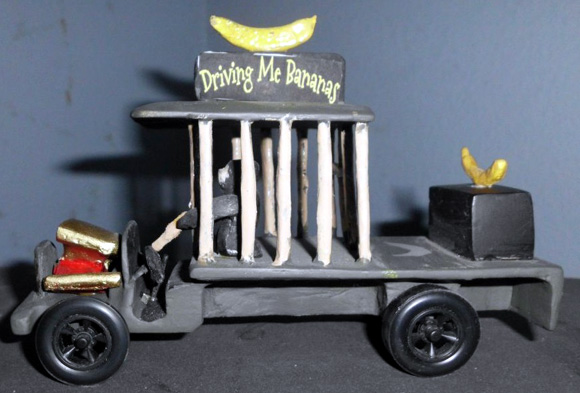 "Driving Me Bananas", is a craft car that 10 year old Derik Anderson built with his dad for the Boy Pioneer's group in Plover WI. It has an ape in a cage with a stick driving a truck load of bananas. On the back of the truck we made a decal that says "No Green Bananas".
---
Q&A

My grandson's car weighs 4.9 ounces finished. I am concerned that the Race Official may not have scales as good as mine, or perhaps mine are wrong. I used my wife's food scales. From your experience do the various Race Officials have a reliable means of checking their scales? Do they take a hard-nosed stand that it must be under 5 ounces and not, say 5.1 ounces to accommodate scale problems??
Certainly, procedures vary from race to race, but normally 5.0 is a hard fixed number. Scale accuracy also varies, so it is best to come to the weigh-in a little light, and then have the ability to add weight to bring the car up to 5 ounces. This is especially important with tungsten weight as you cannot (reasonably) drill into tungsten.

We are looking at your 4094-BSA Speed Axles versus the 4097- Official BSA Speed Axles. Both are allowed in our pack, and I understand the difference, but can you tell them apart? Why are the 4094 axles slightly smaller in diameter than the 4097 axles?
Actually, it is the other way around: the 4097 axles are smaller than the 4094 axles. The 4097 axles are the official nails that have had the flaws removed. This results in a reduction in axle diameter. The 4094 axles are BSA nail replicas without the flaws. They look like a perfect BSA nail.
Want Answers?
Do you have a pinewood derby-related question? If so, e-mail us your question.We answer all questions by e-mail, but not every question will appear in the Q&A section of the newsletter.
---
Back Issues
Are you a new subscriber, or have you missed some of the previous newsletters? Don't miss out; all of the issues for Volume 5 through Volume 17 are posted on our web site.
---
Newsletter Contributions
We welcome your contributions. If you would like to contribute an article, a web site review, a speed tip, or a pinewood derby memory, please e-mail us.
---
Subscription Information
The Pinewood Derby Times is a free e-newsletter focused on pinewood derby racing. It is published biweekly from October through March.
If you haven't already done so, please forward this issue to your pinewood derby friends. But please don't subscribe your friends. Let them decide for themselves. Thanks.
If this newsletter was forwarded to you, why not subscribe to receive this newsletter. There is no cost, and your e-mail address is safe, as we never sell or share our distribution list.
To subscribe, send a blank e-mail to
pinewood-derby-times-on@mail-list.com
You will receive a confirmation e-mail. Reply to the confirmation e-mail and you will start receiving the Pinewood Derby Times with the next issue.
---
Randy Davis, Editor, Pinewood Derby Times
E-Mail: info@maximum-velocity.com
(C)2018, Maximum Velocity, Inc. All rights reserved. Please do not reprint or place this newsletter on your web site without explicit permission. However, if you like this newsletter we grant permission, and encourage you to e-mail it to a friend.
Maximum Velocity disclaims any personal loss or liability caused by utilization of any information presented in this newsletter.
The Pinewood Derby Times is not specific to, and is not affiliated with the Boy Scouts of America, YMCA, Awana, or any other organization.
(R)Maximum Velocity is a registered trademark of Maximum Velocity, Inc.
(R)Pinewood Derby is a registered trademarks of the Boys Scouts of America.
(R)Awana is a registered trademark of Awana Clubs International.
All other names are trademarks of their respective owners.