PINEWOOD DERBY TIMES
Volume 16, Issue 9
January 25, 2017
In this Edition
– Editor's Notes
– Feature Article – Aerodynamics – Front Cross Section Testing
– Humor
– Product Showcase – Max-V-Lube Graphite – $2.00 Off
– Pinewood Derby Memory – Fears to Cheers
– Pinewood Derby Car Showcase
– Q&A
---
Editor's Notes
Inventory Clearance Sale
We are clearing inventory on several items including:
– Formula One car kit
– Paint Stencils
– Raingutter Regatta Decals
We don't have many left, so don't delay. You can find these items Here.
MV Basic & Wedge Car Kits



If you are planning a race and are not required to use a specific kit type, our MV Basic or Wedge Car Kit are just what you need. These attractively priced kits are equipped with:
– Quality Block – Unlike the blocks provided by some organizations, our blocks are soft, northwestern pine blocks, cut precisely to 7 inches long, 1-3/4 inches wide, and 1-1/4 inches tall. These dimensions, as well as the axle slots accurately duplicate the dimensions of standard pinewood derby blocks from BSA and PineCar.
– Simple Axle Preparation – Don't worry about filing off flaws, or losing hub caps. Our Speed Axles have no burrs or crimp marks, and install without hub caps. With or without polishing, they are ready to go. We supply five, so you have a spare.
– Quality Wheels – Forget cheap, out of round wheels. Our MV wheels are top-quality wheels. You will not be disappointed with the quality of these wheels.
So, if your organization does not mandate a particular kit type,
consider our MV Basic Car Kits or MV Wedge Car Kits.
Call for Photos
Help, we are virtually out of photos for the pinewood derby car showcase.  Please send us a photo of your car along with a description of any special features to:
[email protected]
Please include your full name. If selected, we will include the photo and description in this newsletter.
Photos must be sent by e-mail in JPG format (minimum size of 640×480, maximum size of 1280 x 960). Please shoot photos from the front left of the car, similar to the orientation of car shown at: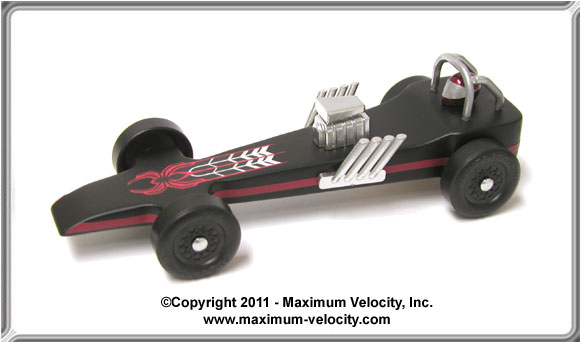 Make sure the photo is not blurry. If your photos are blurry, try holding the camera four or five feet away from the car, and then use the camera's zoom to fill the frame with the car. Also, use a solid (preferably white) background for the photo.
Send only one photo per car, unless an additional photo is needed to   adequately show a feature. Don't forget to include your name, the name of the car (if it has one), and a brief write up on any design features, inspiration for the design, and how the car performed at the race. Thanks.
Can We Help?
If we can help you in any way with your pinewood derby project, or if you have any feedback regarding this newsletter, please Contact Us.
---
Feature Article
Aerodynamics – Front Cross Section Testing
By Randy Davis
In 2003 I performed an aerodynamics test, whereby the frontal cross section of the car was set to three – increasingly larger – sizes and then the performance of the car was tested (see Figure 1). First the car was run without a barrier, then with a small barrier, and finally a large barrier. The barriers were to represent cars with more or less wood. Not unexpectedly, the performance degraded as the frontal cross section was increased.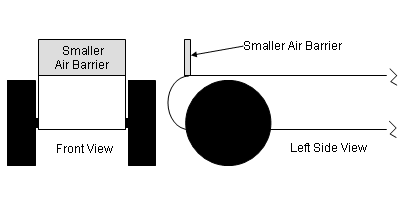 Figure 1 – Original Test Method
Recently, as I considered the methodology of this test I realized that nobody would build a car with a flat air barrier.  Instead cars are typically rounded off in some way. So the question was how to build a car that could have both a small and large front cross-section, and the cross-section size could be changed without affecting any other factor of the car.
New Test Methodology
What I came up with was a large plastic dome that could be added to the top-front of a flat car. The weight of the canopy is relatively small, and when the canopy is removed tungsten putty can be added under the car (at the center of the canopy location) to keep the overall weight and COG consistent. (See Figures 2 and 3)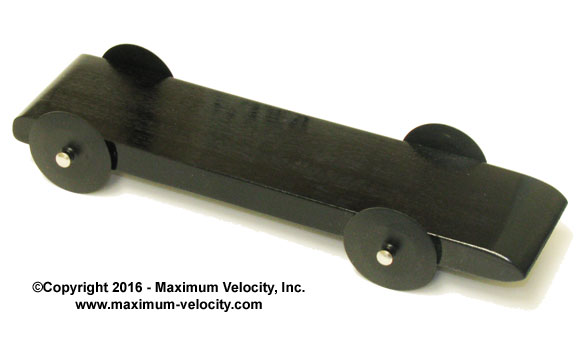 Figure 2 – Car Without Canopy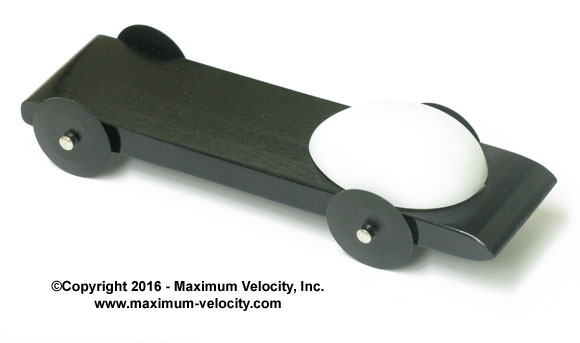 Figure 3 – Car with Canopy
The canopy is half of an Easter egg that has the seam along the long circumference.  When uninstalled, the thickness of the car is 7/16 inch. When installed, the thickness increases to 1-1/4 inches, essentially the full block thickness. Outlaw wheels were used to minimize aerodynamic interference from the wheels. Krytox was used for lube, and rail-riding alignment was used for consistency.
Twenty test runs were made: five without the canopy, ten with the canopy, then five more with the canopy removed.
Results
I knew that the aerodynamic effect was minor, but I was surprised to see just how small it was:
Without Canopy        2.489 Avg  .003 Std Dev
With Canopy              2.494 Avg  .003 Std Dev
So, the difference in performance was 5 milliseconds, a small number but enough to make a difference in the final results of a race.
Discussion
One must be careful to not take these results to mean that a large bodied car can have virtually the same performance as a small bodied car.  In this test, the COG was consistent between the two configurations. But when working with a wooden pinewood derby car, the amount of wood remaining on the car usually has a significant impact on the COG. Cars with minimal wood generally have an aggressive COG and concentrated mass, while full-bodied cars usually have a conservative COG and non-concentrated mass. So, factors other than aerodynamics are having an effect on performance.
But what the test does show is that the aerodynamic effect on performance due to a larger profile itself is a relatively small factor. So more focus should be placed on wheels, axles, weighting, lube, and alignment; while aerodynamics can have less attention.
---
Humor
A little boy opened the big family Bible. He was fascinated as he fingered through the old pages. Suddenly, something fell out of the Bible.
He picked up the object and looked at it. What he saw was an old leaf that had been pressed in between the pages. "Mama, look what I found," the boy called out.
"What have you got there, dear?" With astonishment in the young boy's voice, he answered, "I think it's Adam's underwear!
---
Product Showcase
Max-V-Lube Graphite – $2.00 Off (Over 30%)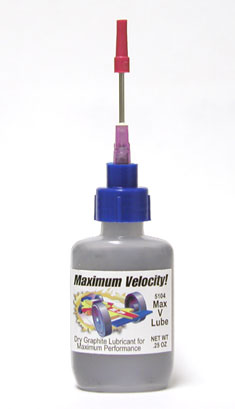 Max-V-Lube is a superior graphite for pinewood derby cars that puts the "X" in Maximum Velocity. We performed multiple controlled tests including inclined slide tests, weighted-wheel spin tests, and track tests.
In all cases Max-V-Lube outperformed other graphite lubes. Therefore we highly recommend Max-V-Lube for your race.
Through February 7, 2017, you can get a bottle of Max-V-Lube for $2.00 off. To take advantage of this limited time offer, add part 5104 to your shopping cart and use coupon code JAN25NL during checkout.
---
Pinewood Derby Car Showcase
"Hi Team Maximum Velocity,
I'm from Malaysia and recently, our church held our 2nd annual pinewood derby race – the Metro Pine Derby 2016. I like to share some of the participating cars with you.
Out of the top 10 fastest cars, 8 of them used weights and other accessories from Maximum Velocity! Thank you! – Lawrence Sha"
Editor's note: Lawrence sent me a large number of car photos. I selected eight to include; these are not necessarily the fastest cars.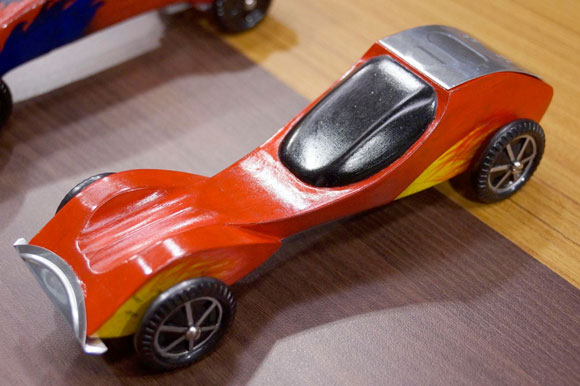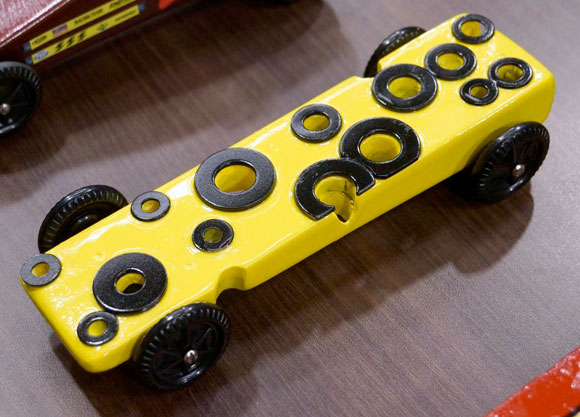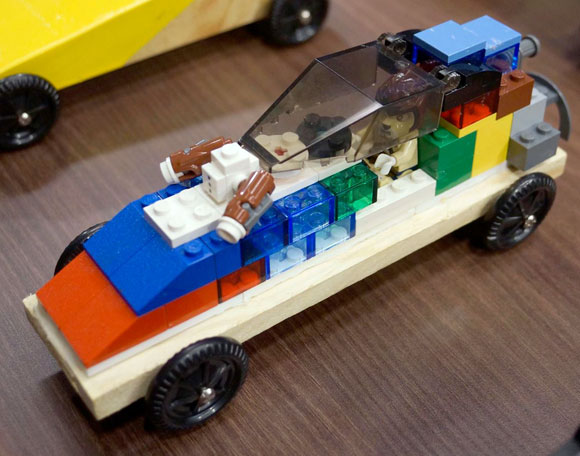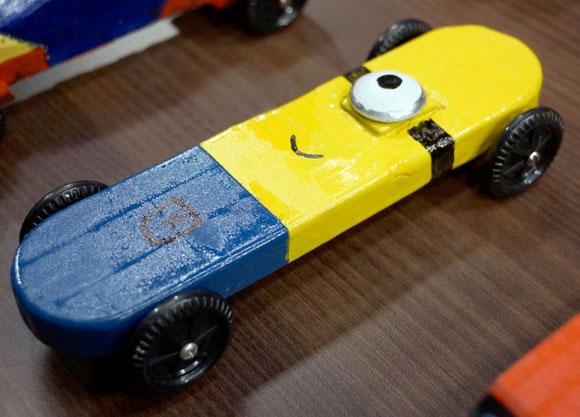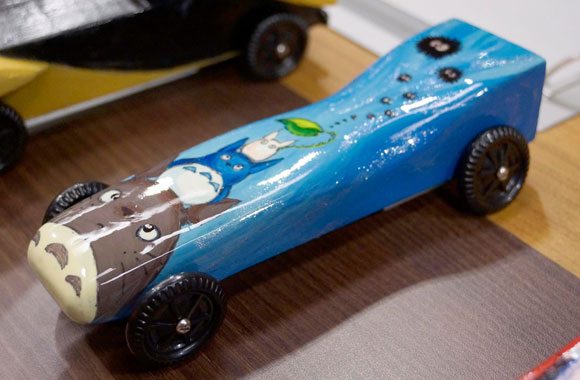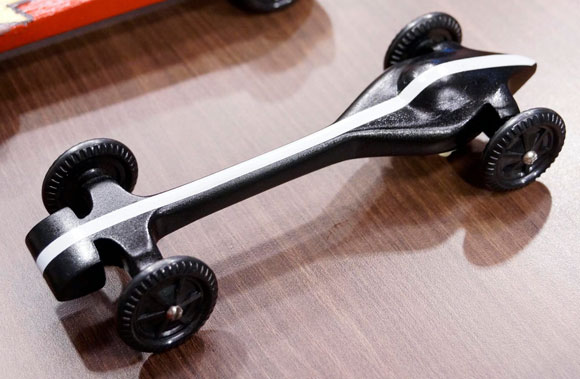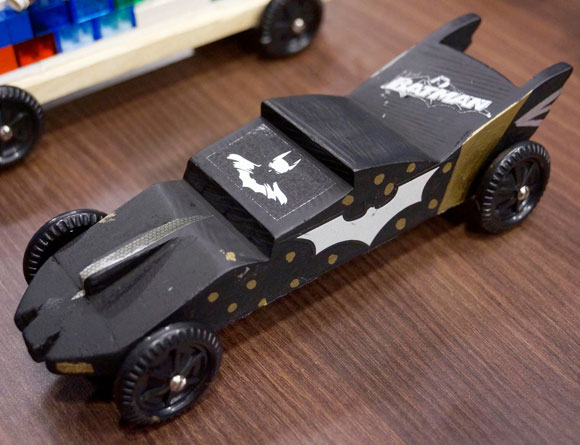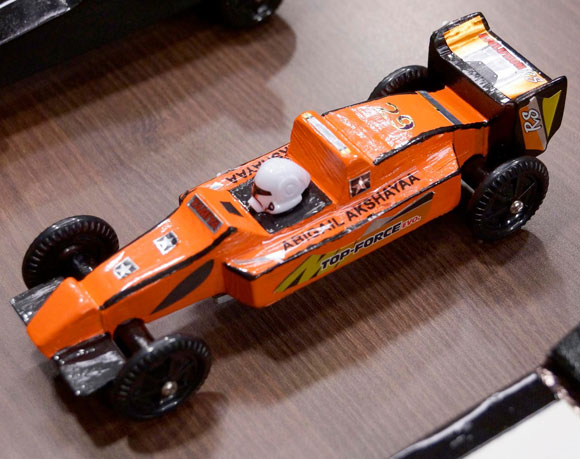 Share Your Car With Our Readers
Do you have a car you would like to "show off" to our readers? If so, send us a photo of your car along with a description of any special features to:
[email protected]
Please include your full name. If selected, we will include the photo and description in this newsletter.
Photos must be sent by e-mail in JPG format (minimum size of 640×480, maximum size of 1280 x 960). Please shoot photos from the front left of the car, similar to the orientation of this car: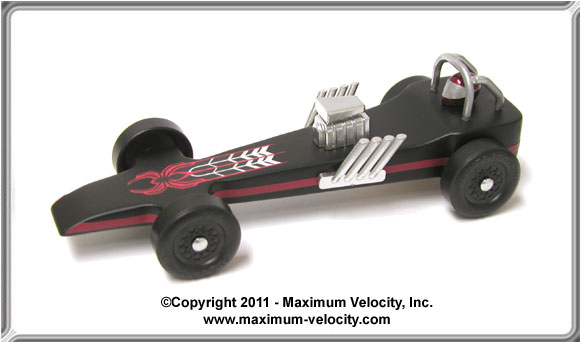 For better focus, keep the camera four or five feet away from the car, and then use the camera's zoom to fill the frame with the car. Also, use a solid (preferably white) background for the photo.
Send only one photo per car, unless an additional photo is needed to adequately show a feature. Also, only one car per subscriber per year please. Thanks.
---
Pinewood Derby Memory
Fears to Cheers
November was upon us and it was that time of the year for my son Chris and I to begin preparing for the Pinewood Derby.  Last year was our first time racing, with Chris being a Tiger.  Even though we placed third in the Tiger den (Tigers are not allowed to join in the pack finals), I knew there was a lot of room for improvement. I vowed next year's car would be better.
After looking for all the tips and tricks we could find on the internet, I felt we had developed a decent strategy in building a very fast car. One of the ideas we picked up was to weight the car slightly above 5 ounces and to chisel away the wood (i.e., not remove any lead) during weigh-in to bring the car's weight down to 5 ounces.
I chiseled out a small area underneath the car for the slab of weights. We also went through the process of painstakingly ensuring that the car's wheels were in alignment and in toe.  We took our car to the post office.
The car weighed 5.1 ounces.  Fantastic!  I could easily take off one-tenth of an ounce from the car if I had to.
Weigh-in day arrived.  Chris and I got there 15 minutes before closing and stood in one of three available lines to weigh the car on a scale.
"5.1 ounces."  No problem.  "I'll just chisel out a good portion underneath the car and try again."   We stood in line again.  Rats! Still 5.1 ounces.  More chiseling.  Still 5.1 ounces.
Now I was getting upset – I was chiseling away too much wood.  We decided to go to another line and try that scale.   5.0 ounces. "Hey!", I said. "That scale says 5.1 and yours says 5.0!"
"Too bad," said the official. "You must go back to the scale on which you started." I went back to my corner and scraped out more wood.  We got in the original line with the "uncalibrated" scale.
"5.0…no wait…5.1," said the official. "The scale said 5.0 and then jumped to 5.1.  You need to take off more."  Now I was upset, which was the worse thing I could be.  I took the car back to my corner, scraped some more wood, and then 'oops!'  I tore out a chip of wood by the axle with my chisel. Now the left nail and wheel were slightly loose.  OH NO! The alignment and toe was off, and there was only a few minutes left before they shut down the weigh-in!
I rolled the car on the floor checking the alignment, adjusting the wheel and nail, and all the time I was thinking "all this work, and we'll end up last."  We took the car to the scale.
"5.0 ounces!" (I think the guy felt sorry for me).
Race day arrived – my heart was racing too.  Potential problems were running through my head, "Is the alignment and toe still good?  Will the car bang against the rail all the way down the track?  Will the nail and wheel fall off?"
First place in the den, second place in the pack.  I knew we would do well all along!
David Ensminger
Do you Remember?
If you have a pinewood derby story that is funny, unusual, sad, heart-warming, etc., please send it to me in an e-mail. Don't worry about literary polish. We will edit as needed before publishing.
If your story is used, you will receive a $10 coupon in May of 2017.
---
Q&A
Q: My wife's boss is involved with the Chamber of Commerce and they have a corporate race every year. The only restriction is that the car fit on the track. They start, some of them, with a standard pinewood car, block of wood, wheels and nail axles.
He wants to mold a 5 pound block of lead into the shape of a gold ingot and using the standard 7 inch car, install the lead such that it hangs a couple of inches off the back of the car and starts the lead about 2 inches or so from the front. He wants to use a wedge shape for the car.
My question is which wheels and axles will give the fastest time, but will support the added weight. I don't want to use the phrase, "cost is no object", but he wants to win.
A: If the track is the typical 32 to 35 foot track, I would limit the cars weight to 14-15 ounces, and then do the normal prep.
For this length of track, heavier cars take too long to start and they cannot catch up.
As the track lengthens, then you can add more weight accordingly.
Five pounds is really too heavy for pinewood derby wheels and axles. You would need some type of disk wheel with bearings to successfully run that amount of weight. (it could work, but the axles would likely sag and the lube would not hold up).
For a 14 ounce car, I would use our 4040-Outlaw wheels and Krytox liquid lube.
Q: I recently purchased Wheel Bore Polish and Pro Bore Wax from your company. I've never used either before and wondered if I should use one or both and should I still use graphite?
A:  Yes, you still want to use a good quality graphite, such as Max-V-Lube, after both polishing and waxing.
Want Answers?
Do you have a pinewood derby-related question? If so, e-mail us your question.
We answer all questions by e-mail, but not every question will appear in the Q&A section of the newsletter.
---
Back Issues
Are you a new subscriber, or have you missed some of the previous newsletters? Don't miss out; all of the issues for Volume 5 through Volume 16 are posted on our web site Here.
---
Newsletter Contributions
We welcome your contributions. If you would like to contribute an article, a web site review, a speed tip, or a pinewood derby memory, please e-mail us.
---
Subscription Information
The Pinewood Derby Times is a free e-newsletter focused on pinewood derby racing. It is published biweekly from October through March.
If you haven't already done so, please forward this issue to your pinewood derby friends. But please don't subscribe your friends. Let them decide for themselves. Thanks.
If this newsletter was forwarded to you, why not subscribe to receive this newsletter. There is no cost, and your e-mail address is safe, as we never sell or share our distribution list.
To subscribe, send a blank e-mail to
[email protected]
You will receive a confirmation e-mail. Reply to the confirmation e-mail and you will start receiving the Pinewood Derby Times with the next issue.
---
Randy Davis, Editor, Pinewood Derby Times
E-Mail: [email protected]
(C)2017, Maximum Velocity, Inc. All rights reserved. Please do not reprint or place this newsletter on your web site without explicit permission. However, if you like this newsletter we grant permission, and encourage you to e-mail it to a friend.
Maximum Velocity disclaims any personal loss or liability caused by utilization of any information presented in this newsletter.
The Pinewood Derby Times is not specific to, and is not affiliated with the Boy Scouts of America, YMCA, Awana, or any other organization.
(R)Maximum Velocity is a registered trademark of Maximum Velocity, Inc.
(R)Pinewood Derby and Regatta are registered trademarks of Boys Scouts of America.
(R)Awana is a trademark of Awana Clubs International.
All other names are trademarks of their respective owners.