In 2008 I published an article on a two-wheeled car, running on diagonally opposite wheels. (see Pinewood Derby Times – Volume 7, Issue 14).
I raced a car built using this technique in an Outlaw race in April 2008. The car did well, but due to the center weighting scheme, it didn't take first place.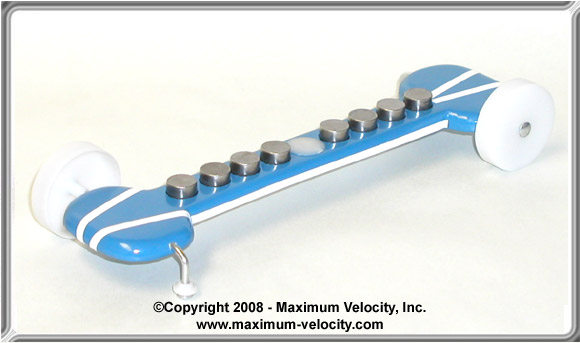 Two-wheeled Outlaw Car
Later, a customer, Bob Wheeler, came into the shop with his version of a two wheeled car.  Modeled after a car that was entered at his pack's race many years ago, it runs on the right-front, and left-rear wheels; the other wheels are off the ground. Unlike my car which is center-weighted, Bob's car is rear weighted (balance point at 1-3/4 inch in front of the rear axle) by offsetting an underbody lead plate to the left.  It is possible that this design could be made faster by using tungsten plates and shifting them further back.  Nevertheless, the car is very fast; it has taken first in several races.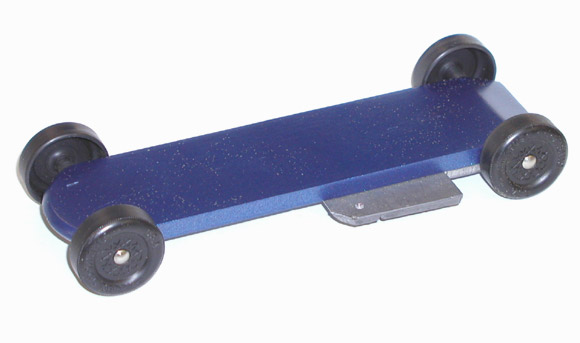 Top of Bob Wheeler's Car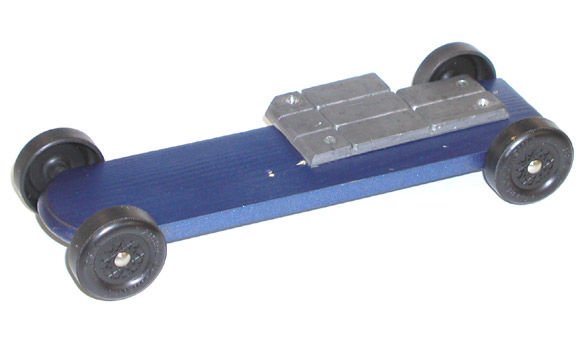 Bottom of Bob Wheeler's Car
I was ready to let the idea of a two-wheeled car go into oblivion, until I ran across a car by Joe Tomelleri on the Derby Talk Forum.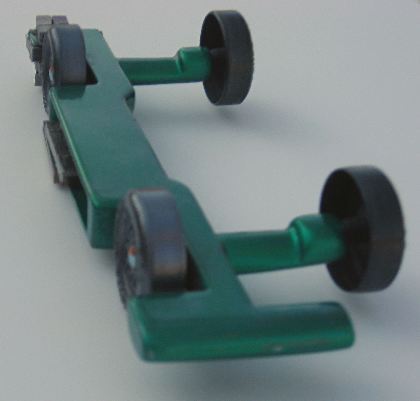 Joe Tomelleri's Car
Joe's car runs on two single file wheels.  With rail-rider alignment, only the front wheel touches.  This car was intriguing to me, so I decided to build a variation of Joe's design.
On my design, I discarded the other two wheels, and replaced them with outrigger bars, tipped with small beads.  The weight is tungsten (just over 4 ounces) and the wheels are light weight H-Tread wheels.  The alignment is set to rail ride. Admittedly the car could be made more elegant by hiding the weight and giving it a nice paint job, but I kind of liked the functional look.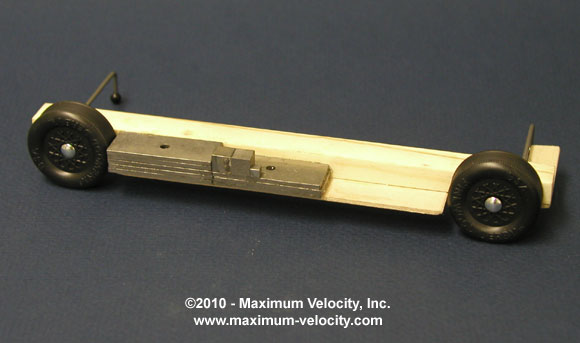 Two-Wheeled Car – Right Side View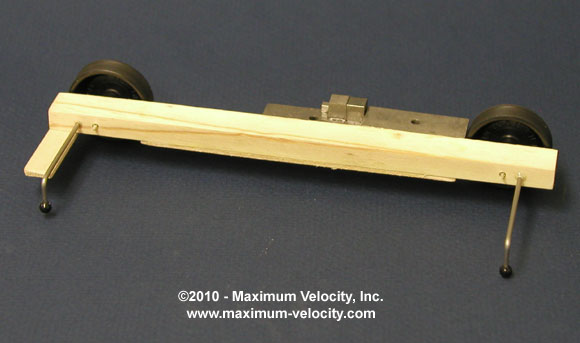 Two-Wheeled Car – Left Side View
On the track, the car ran very smoothly.  It turned out that the outriggers were not needed, because as soon as the car reached the braking section, the car flopped over onto its right side.  When raced against my other two wheeled car (first photo), this new car wins by a car length.
Flush with success, I decided to remove the outriggers, improve the looks of the car (a little), and improve the speed with the introduction of Super Stock Needle Axle Wheels (SSN) from DerbyWorx.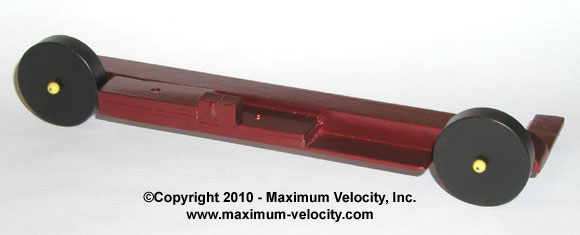 Updated Two-Wheeled Car
I plan to run the car in the Outlaw Division of this year's race on April 15. I'm sure it will create quite a stir, and I'll let you know the results in a newsletter in October.
If you implement a two-wheeled car, please send me a photo and a description, and I'll be glad to include it in a future newsletter.
Editor's Note:
In the race, the car ran very smoothly, easily beating all but two cars (which were equipped with needle axle outlaw wheels, one of which I built). The car also received the positive crowd response that I was hoping for.
But in the third heat, the front "spoiler" broke off in the stop section.  I didn't notice the missing part until I was staging the car for the final race. Our rules state that the only broken car part that can be replaced is a wheel, so nothing could be done.  Since the spoiler was needed to trip the finish line, the car got a DNF (did not finish) for the final heat and ended up taking fourth place. I could have argued that the car did finish; the problem was that the sensor didn't detect it.  But since I was the race leader, I didn't think that was appropriate. Obviously, the spoiler needs to be mechanically reinforced, as opposed to just attached with glue.
From Pinewood Derby Times Volume 10, Issue 14
Subscribe to this Free Pinewood Derby E-newsletter
(C)2016, Maximum Velocity, Inc. All rights reserved.
Maximum Velocity Pinewood Derby Car Plans and Supplies