– Feature Article – Displaying Your Pinewood Derby Car
– Humor
– Pinewood Derby Car Showcase
– Memory – Race Master 101: The School Of Hard Knocks
– Q&A
---
Feature Article
Displaying Your Pinewood Derby Car
By Randy Davis
The sawdust has settled, the race is over, and now you must decide what to do with the car. Whether or not your car won an award, you put a lot of effort into building it, and you want to display it proudly. But how can you display the car and at the same time provide some level of protection? This article will explore the various display options available to you so that you can pick the method that best fits your situation.

Shelf Method
The most common method for displaying a car is to simply put the car on a shelf in your room. The method is free and allows easy access to the cars. However, the problem with this method became very evident one day when our youngest son was changing his clothes. Instead of placing the dirty clothes in the basket, he decided to throw them upwards towards the spinning ceiling fan. I am sure you can imagine what happened; the clothes hit the fan, flew across the room, and wiped out a few cars. We managed to glue things back together, but realized then that the shelf method of storing cars is not the safest. Not only can cars be knocked off easily, but since cars roll very easily, any bump to the shelf or furniture can cause a car to roll off.

Homemade Pedestal or Plaque
Another common method for storing pinewood derby cars is to build a pedestal to hold the car. The pedestal doesn't eliminate the "flying object" problem, but does eliminate the "rolling problem". An advantage to the pedestal (and other non-shelf methods) is that a label can be placed on the pedestal noting the car owner, date of race, any awards, etc. Building a pedestal is fairly easy, but if you would like some inspiration, a simple plan for a pedestal is given at: scoutingthenet.com/pinewood/index.htm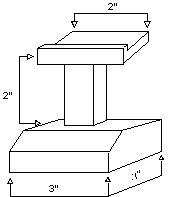 An alternative is to build a wall plaque. Typically, the car is attached to the plaque with screws into the bottom of the car, or with a patch of Velcro. A plaque may be a bit more difficult to make than a pedestal since the lettering is generally larger. For inspiration and plans, take a look at: stanpope.net/plaque.html
Note that making a pinewood derby pedestal or plaque can be a great craft project for your pack or club.

Purchase a Pedestal
Maybe you don't have the time or tools to build a pedestal or plaque to display your car. Not to worry, these items are available for sale. Below I have listed some options available on the Internet. The current retail price and the web site are also provided.
PineCar Pedestal – $6.99
pinecar.woodlandscenics.com/show/Item/P382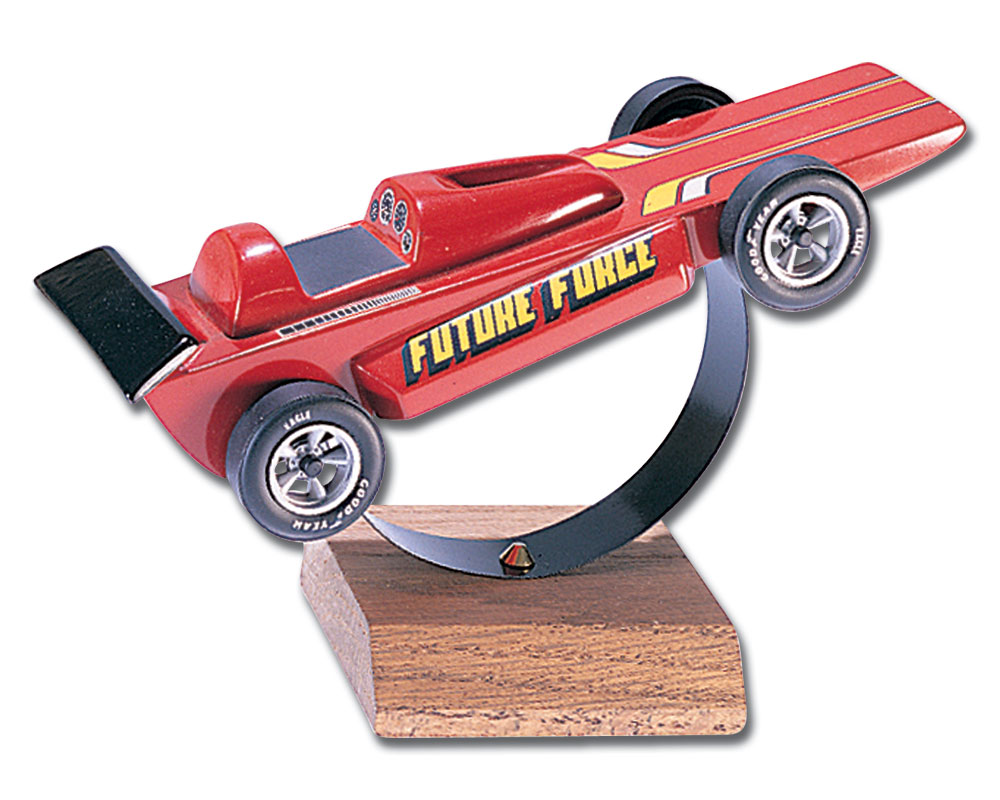 This unit consists of a wood base with a curved metal arm to which one car is attached.
Scout Stuff Pedestal – $10.49
scoutstuff.org/pinewood-derby-wood-display-stand-kit.html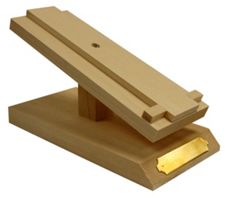 The unfinished stand holds one car, and includes an engravable brass plaque.
Purchase a Display Case
All of the options listed above have two inherent problems: 1) The car will collect dust, and 2) the car is not fully protected from flying objects (clothes, elbows, baseballs, etc.). A display case solves these two problems. If you have many cars, then you may want to consider building or purchasing a trophy case. But for a few cars, the DerbyDome display case is a nice solution.
DerbyDome – $10.95
www.maximum-velocity.com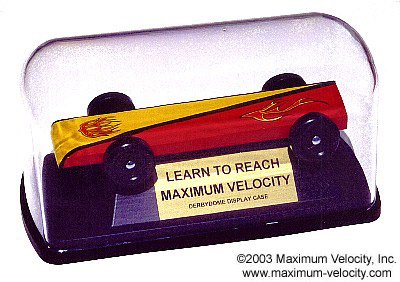 The DerbyDome is a sturdy case for displaying a pinewood derby car. The product has a clear, protective dome, and a black base with a no- tools-required mounting system for holding the car in place. A custom plastic label is available from the manufacturer.

Conclusion
You and your child have made an investment of time in a pinewood derby car. Once the race is over, don't put the car in a box. Instead, display your car proudly and safely.
---
Humor
A mother asked her small son what he would like for his birthday. "I'd like a little brother," the boy said. "Oh my, that's such a big wish," said the mother. "Why do you want a little brother?" "Well," said the boy, "there's only so much I can blame on the dog."
---
Pinewood Derby Car Showcase
Here are our two cars for the Outlaw Race this year. The rules were tightened up so they are pretty much stock.

Flower Garden – Elisa Davis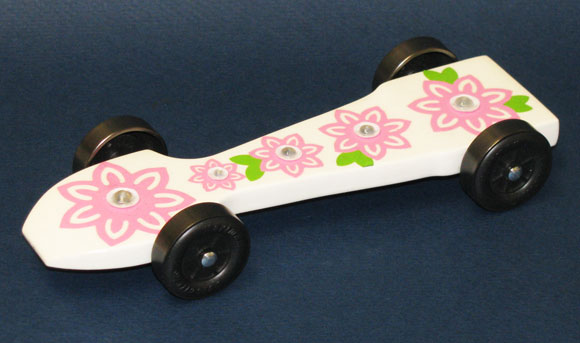 This was the original prototype of the new Annihilator body style. My wife used her Cricut to make flowers out of sticky-back vinyl. The car placed 1st in the Adult race.

Fender Bender – Randy Davis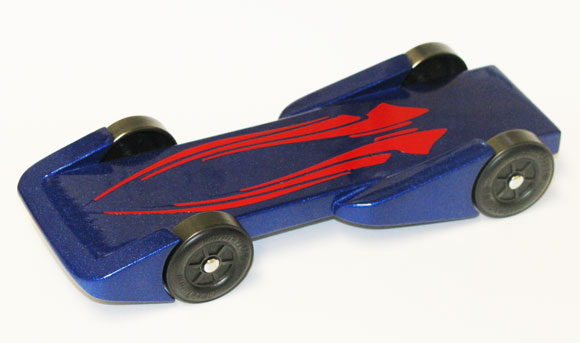 This car was built to show fenders, and had never been raced. So I fixed it up for this year's race. The car placed 2nd in the Adult race. (Always a good policy to let your wife win!)
---
Pinewood Derby Memory
Race Master 101 – The School Of Hard Knocks
As I reflect on the events of our last several Grand Prix races, I can only laugh – it's my best defense mechanism.
I've been involved as an entrant and a dad for several years with Awana Grand Prix racing. It's always a great time with the kids and I'm able to let my competitive juices flow unrestricted (almost) for a couple hours per year.
Two years ago our new club commander asked if I would "take over" the race portion of our Grand Prix. I jumped at the chance since I hadn't been exactly thrilled with how the event had been organized in the past. Being the arrogant individual I am, I thought I could do everything better than the previous organizers, and I did not solicit their help – big mistake. I bought some software, played around with it (on the computer only), and showed up thirty minutes before the big event was to begin.
After getting all the cars entered into the computer, I thought I had cleared the biggest hurdle. I did not realize that even though I had entered the kids' names along with their car number, the software would not tell me which kid was running – only their car number. A very sharp couple of parents helped me out and tried to get a list of car numbers matched with kid names as the heats were being run. Trying to do all of this "on-the-fly" resulted in mis-entered results, slow race progression and general confusion. To put it mildly, there were some irate dads as well as great embarrassment on my part. I had single-handedly destroyed a well-planned Awana Pinewood Derby.
"Oh well", I comforted myself, "It's just my first year. Now that I know the software, I'll be ready next year." So I created a spreadsheet to work with the software so that I could print out the race WITH NAMES ahead of time. I still had the tedious entry job (because of the software) but I could handle it this time.
Next year I arrived one hour early and noticed that our commander had resurrected an old timer, repaired it and had it all set up. Wow! Was this going to make it easy. No more having four judges trying to pick places and have the dads argue with them.
In spite of my spreadsheet, calling out the races was still cumbersome, but workable. The problem now was getting the right "color" of winner into the computer correctly, since the colors the timer showed were not the same colors as the lanes of the track, and keeping track of which kid was which color, and … you get the idea.
To make matters worse, twenty minutes into the race the timer started giving faulty results. First place was showing as third, losers were posted as winners. Incensed fathers (I never have problems with moms) were ready to strangle me. There was nothing we could do but finish the races and change results to favor the most persuasive dad who said his kid's car came in first. After everyone left in a huff and we were cleaning up, the commander said to me, "We are going to buy a new system for next year no matter what it costs!"
So this year I purchased a timer with software. I like the concept of racing faster cars against faster and slower against slower. I revel in the fact that accurate results will be entered into the computer without human intervention (try it manually – I guarantee mistakes and longer time between heats). I have high hopes for smiles and the re- purchase of a little of my self esteem.
But so that all of my agony and humiliation does not go to waste, I would like to pass on some advice to new race organizers:
Solicit advice from last years' event coordinator. They love to share what they have learned. There is no sense in making mistakes they have already made.
Don't skimp by using inferior equipment. Get the best – I promise you won't regret it.
Budget plenty of time (40 hours plus) to get ready. Test race a couple of cars. Get familiar with the process. This year I am taking the day of the race off from work.
Plan a "pit rally" the Saturday before the race. We're hoping to get at least half of the kids weighed in (certified) and names into the computer. We then keep the cars safe until the race.
Have fun! There will always be bumps, but there's always next year to improve!
Paul Chausse
Manhattan, Montana
---
Q&A

I am confused by all of the axles you offer. Can you explain the difference between the 4094, 4097, and 4099 axles?
Certainly:
4097 – Official BSA nails that have been machined to remove the burrs and crimp marks, bevel the head, and start the polishing. The machining slightly reduces the diameter of the axle shaft.
4094 – Replicas of the BSA nails made without burrs or crimp marks and with a pre-beveled head. These axles are superior to the 4097 axles in that the diameter is the original size and the axles are more accurate.
4099 – 4094 axles that have been grooved.
Want Answers?
Do you have a pinewood derby-related question? If so, e-mail us your question.We answer all questions by e-mail, but not every question will appear in the Q&A section of the newsletter.
---
Back Issues
Are you a new subscriber, or have you missed some of the previous newsletters? Don't miss out; all of the issues for Volume 5 through Volume 17 are posted on our web site.
---
Newsletter Contributions
We welcome your contributions. If you would like to contribute an article, a web site review, a speed tip, or a pinewood derby memory, please e-mail us.
---
Subscription Information
The Pinewood Derby Times is a free e-newsletter focused on pinewood derby racing. It is published biweekly from October through March.
If you haven't already done so, please forward this issue to your pinewood derby friends. But please don't subscribe your friends. Let them decide for themselves. Thanks.
If this newsletter was forwarded to you, why not subscribe to receive this newsletter. There is no cost, and your e-mail address is safe, as we never sell or share our distribution list.
To subscribe, send a blank e-mail to
[email protected]
You will receive a confirmation e-mail. Reply to the confirmation e-mail and you will start receiving the Pinewood Derby Times with the next issue.
---
Randy Davis, Editor, Pinewood Derby Times
E-Mail: [email protected]
(C)2018, Maximum Velocity, Inc. All rights reserved. Please do not reprint or place this newsletter on your web site without explicit permission. However, if you like this newsletter we grant permission, and encourage you to e-mail it to a friend.
Maximum Velocity disclaims any personal loss or liability caused by utilization of any information presented in this newsletter.
The Pinewood Derby Times is not specific to, and is not affiliated with the Boy Scouts of America, YMCA, Awana, or any other organization.
(R)Maximum Velocity is a registered trademark of Maximum Velocity, Inc.
(R)Pinewood Derby is a registered trademarks of the Boys Scouts of America.
(R)Awana is a registered trademark of Awana Clubs International.
All other names are trademarks of their respective owners.