– Feature Article – Pinewood Derby for Boy Scouts
– Q&A
---
Pinewood Derby for Boy Scouts
Every year, hundreds of thousands of kids engage in building a pinewood derby car for the annual race. The majority of these children are Cub Scouts, ranging in school age from first to fifth grade.
Actually, instead of stating "thousands of kids", I should have said "thousands of parents, and their children"; for in reality the parents do the majority of work in most cases, especially for the younger kids. Since pinewood derby building requires cutting tools, strength, and dexterity, younger children really cannot be expected to build the cars without significant help.
Why then does BSA (Boy Scouts of America) target the pinewood derby solely at Cub Scouts, their younger organization? I believe the reason is strictly historical. Originally, Don Murphy designed the pinewood derby event as a younger kid's alternative to the soap box derby, which was the Boy Scout event. Since then, the pinewood derby has stayed with the Cub Scouts.
In my opinion it is time to reconsider. So, I am writing an open letter to BSA, asking them to consider opening up the pinewood derby to Boy Scouts. If you are in BSA leadership, and you are in agreement with the intent of this letter, please inlclude your name at the bottom of the letter and send it to your council leadership. With enough grass roots input, a change can happen.
Note: Those of you that are cynically inclined will assume that I am writing this letter in the hopes of increasing sales for Maximum Velocity. I admit that this has crossed my mind. However, if the event is organized as a boy-only event (no parental involvement), which is my intent, then the revenue increase for pinewood derby vendors due to sanctioned Boy Scout races would be very minimal.
Dear Sirs:
For over fifty years, Cub Scouts have been building and racing pinewood derby cars under the sanction of Boy Scouts of America. Overall, it has been a wildly successful event. Not only is the event enthusiastically anticipated by Cub Scouts nationwide (and to some extent world-wide), but it has also served to bring in considerable revenue to your organization.
I would like to offer a suggestion for continuing the growth and success of the pinewood derby event. That is, extending the sanction of pinewood derby racing to Boy Scouts.
When a Tiger Cub has their first pinewood derby, clearly a parent must be heavily involved, as the young child does not have the dexterity or strength to build a car on their own. As the child progress through Cub Scouts, the level of parental involvement should diminish as the capability of the child increases. But just as the boy reaches a point where he can build a car entirely on his own, the boy advances into Boy Scouts, and the event is over. What a shame!
Originally, Boy Scouts were involved in Soap Box Derby Racing, so the boys had something to advance into. But today, Boy Scouts are not typically involved in Soap Box Derby Racing, so Boy Scouts no longer have the opportunity to build and race cars.
So, the question must be asked, why not sanction pinewood derby racing for Boy Scouts? Let me provide you several reasons for strongly considering this action.
Enjoyment – Boys enjoy building pinewood derby cars. Sanctioning a Boy Scout event would allow this enjoyment to continue, especially since the boys would be able to build their own car.
Skill Growth – A Boy Scout pinewood derby race would allow the boys to hone their skills further, without parental involvement. A merit badge could be provided for the boy that builds and races a car entirely on his own.
Revenue Generation – Certainly, extending the pinewood derby event to Boy Scouts would increase sales of pinewood derby kits and accessories, providing revenue for your organization.
Note that continuing the event beyond Cub Scouting age is not unusual. For example, here are the age ranges for other organizations that hold similar events.
Awana: Aimed at grades 3 to 8, but can extend down to kindergarten.
Royal Rangers: Kindergarten to 12th grade.
Royal Ambassadors: 1st to 6th grade.
Christian Service Brigade: Primarily grades 3 to 6, but is optionally offered up to 12th grade.
In summary, I ask that you consider this suggestion as it will be of general benefit to your organization.
Yours in scouting,
Randy Davis
---
Q&A

In looking over the rules for my son's derby, I don't understand a few terms. What does "Indented" or "High-sloped" Car Noses mean?
I believe the rules are prohibiting high nose (aka 'Barge Nose') cars. Here is an example of one: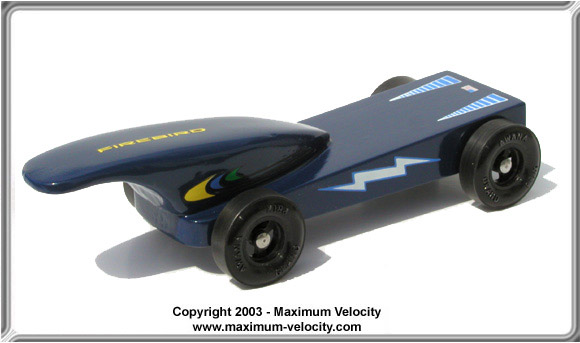 Indented nose cars are also prohibited, such as this one: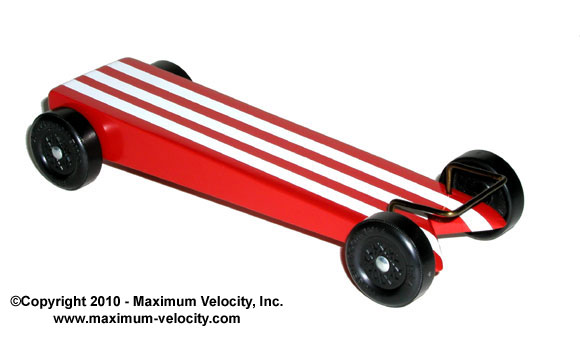 The intent of these nose styles is to provide a faster start.

What holds back the cars at the starting line?
There are innumerable versions of tracks and starting lines, but generally metal, wooden, or plastic pins are used to hold the cars at the starting line. Here are some pictures of the starting line of different tracks:
Wooden Track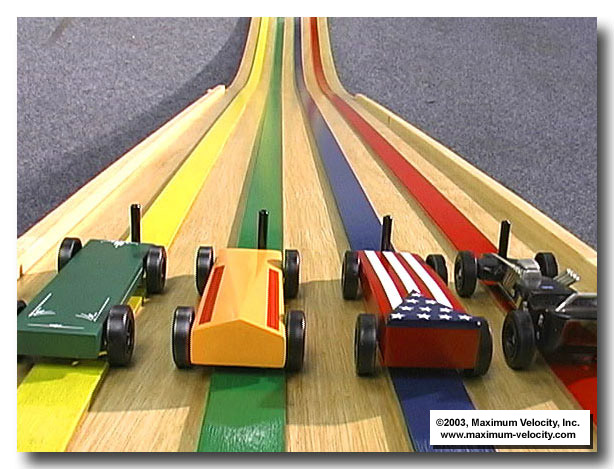 Aluminum Track From BestTrack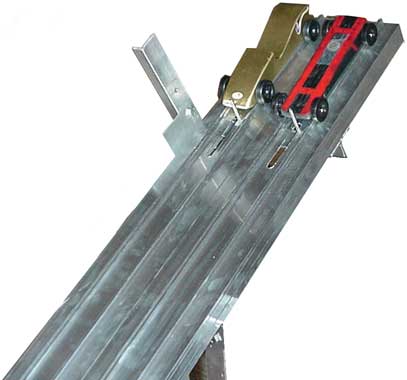 Plastic Track from SuperTimer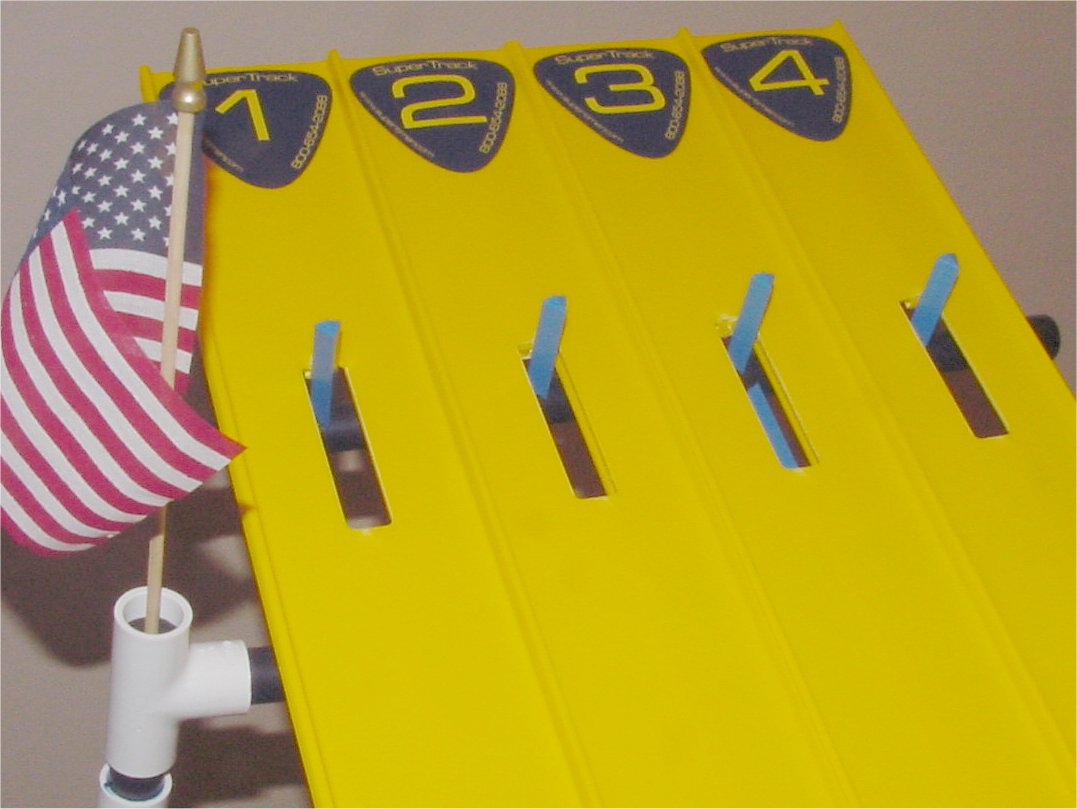 What is the recommended order for preparing the wheels?
Here is the wheel preparation order that I recommend:
Square the hubs with the Pro-Hub tool,
Mount the wheel on a Pro-Wheel Mandrel and sand/smooth the tread,
Cone the wheel hubs with the Pro-Hub tool,
Polish the wheel bore with Bore Polish.
Want Answers?
Do you have a pinewood derby-related question? If so, e-mail us your question.We answer all questions by e-mail, but not every question will appear in the Q&A section of the newsletter.
---
Back Issues
Are you a new subscriber, or have you missed some of the previous newsletters? Don't miss out; all of the issues for Volume 5 through Volume 17 are posted on our web site.
---
Newsletter Contributions
We welcome your contributions. If you would like to contribute an article, a web site review, a speed tip, or a pinewood derby memory, please e-mail us.
---
Subscription Information
The Pinewood Derby Times is a free e-newsletter focused on pinewood derby racing. It is published biweekly from October through March.
If you haven't already done so, please forward this issue to your pinewood derby friends. But please don't subscribe your friends. Let them decide for themselves. Thanks.
If this newsletter was forwarded to you, why not subscribe to receive this newsletter. There is no cost, and your e-mail address is safe, as we never sell or share our distribution list.
To subscribe, send a blank e-mail to
[email protected]
You will receive a confirmation e-mail. Reply to the confirmation e-mail and you will start receiving the Pinewood Derby Times with the next issue.
---
Randy Davis, Editor, Pinewood Derby Times
E-Mail: [email protected]
(C)2018, Maximum Velocity, Inc. All rights reserved. Please do not reprint or place this newsletter on your web site without explicit permission. However, if you like this newsletter we grant permission, and encourage you to e-mail it to a friend.
Maximum Velocity disclaims any personal loss or liability caused by utilization of any information presented in this newsletter.
The Pinewood Derby Times is not specific to, and is not affiliated with the Boy Scouts of America, YMCA, Awana, or any other organization.
(R)Maximum Velocity is a registered trademark of Maximum Velocity, Inc.
(R)Pinewood Derby is a registered trademarks of the Boys Scouts of America.
(R)Awana is a registered trademark of Awana Clubs International.
All other names are trademarks of their respective owners.