– Feature Article – Sorry, We Will Not Be Participating Because …
– Pinewood Derby Car Showcase
– Q&A
---
Sorry, We Will Not Be Participating Because …
By Randy Davis
Do you have difficulty getting decent participation in your organization's pinewood derby race? Do families make excuses because of fear of failure or intimidation (I don't have the tools and/or skills, or, everybody else is too good)? Do you sell a lot of kits, but many of these kits never get made into a car?
In order to increase participation, race organizers need to eliminate the roadblocks to participation, thus eliminating the common excuses. So let's take a look at the common reasons for not participating.

We Have No Woodworking Skills, Or We Have No Woodworking Tools
In the not too distant past, virtually every family had the basic tools required to make a pinewood derby car (and some level of skills). But that has changed. Today, many families have virtually no tools, and very few woodworking skills. As an example, I was recently at a house helping with a swimming pool problem. I asked the dad what tools he had, and found that the household tools consisted of a screwdriver and a pair of pliers – not exactly a robust pinewood derby tool box!
So what are families supposed to do when they are confronted with a wooden craft project? Clearly, the event organizers must provide one or more opportunities for the families to use woodworking tools.
At our event, we have an open workshop on two consecutive Saturday mornings before the check-in event. Families can use whatever tools they need – we only restrict access to the band saw (and other powered saws). We also provide as much assistance and guidance as is requested. Generally, we get a small turnout the first Saturday, and then get swamped the second Saturday (typical procrastination). If we did not offer these workshops, our race participation would be greatly reduced.

There Is Too Much Work Involved
Part of this issue can be addressed with workshops. However, much of this problem stems from the type and quality of the car kit. Some kits require more work than others due to poor wood quality, flawed axles, and/or cheap wheels. Simply moving from nail axles with burrs and crimp marks, to clean axles; and from cheap, out-of-round wheels, to precision-molded wheels, greatly reduces the amount of work required to prepare a car. So, consider upgrading your kits to one of nicer quality1, or at least replacing cheap axles with clean axles.

There Is Too Much Time Involved
Again, part of this issue can be addressed with workshops, and by providing nicer kits. However, another aspect of this excuse is that many people do not have the time (or want to take the time) to shape the wood block. There are two options to address this:
Offer wedge-shaped blocks as an alternate to the regular block (we offer both types at our race). People that want to spend less time can choose the wedge-shaped block, and then just sand and paint.
Allow the use of pre-shaped car bodies. In our race, we allow pre-shaped kits, but the resulting cars are not allowed to participate for the design awards. This opens up a lot of options for people that are squeezed for time.
We Don't Know How To Make A Fast Car
With a little time research, anyone can find the basic tips for making a pinewood derby car go fast. But as the race leader you don't want to leave any excuses available to potential participants. So, provide a list of basic speed tips with the kit. We provide a brief set of speed tips along with the race rules in each kit. Of course, not every family reads then, but they are there for anyone that is interested.

The Competition Is Too Stiff, So We Don't Have A Chance
People don't like to lose, and they certainly don't want to come in last place. But this issue is not so much of a concern with having a slow car, but with having a fast car that cannot win because the event is dominated by one or more families that know all the tricks and take the time to implement them. This is not something that can be eliminated (nor do you necessarily want to eliminate this), however, there are a few steps that can be taken to level the playing field:
If your derby has rather flexible car design rules (e.g., allows modified wheel bases, machined wheels, or similar), then likely the event will end up with some high-performance cars leaving the more traditional cars in the dust. Consider tightening the rules to eliminate techniques that are not readily available to most families (extended wheelbases, modified wheels, etc).
Alternately, consider offering different entry classes. How about a "Stock" class race for cars with standard wheel bases, unmodified wheels, etc., and an "Open" class race for cars with extended wheel bases, modified wheels, etc? This will require more awards, and a little more time. However, I believe you will find the increased competition and excitement will more than compensate for the additional cost.
Conclusion
There is no excuse! You can increase participation by addressing the common concerns of potential participants. If you have other ideas for increasing race participation, please send me an e-mail and they will be included in a future newsletter.
1Maximum Velocity offers a basic block and wedge kit with high quality (unflawed axles), precision wheels, and nice blocks. You can find these kits on our web site.
---
Pinewood Derby Car Showcase

The Elf – Robert Allen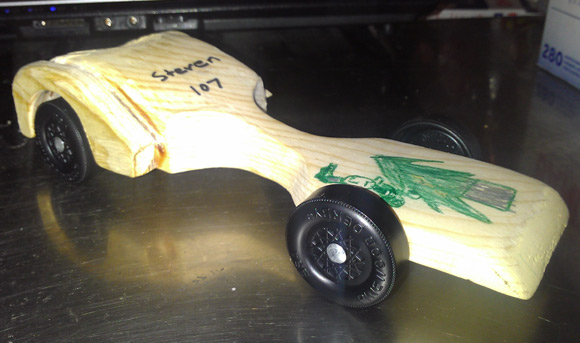 We made this for my son's first race in Tiger Cubs. I researched for about two weeks on designs and what we could do to make the car go faster. Then I drew up three different cars, and he picked out which one he liked best and we made it. We used standard fender washers held in by wood putty for the weight. The wheels and axles are standard BSA wheels that come with every kit; only lightly sanded to remove any imperfections and lubed with graphite. Anywhere the wheel might even come in close contact with the body was graphited. The custom artwork – an elf hiding behind a Christmas tree – was done by my son. I did the power tool work, which wasn't much since I only used a Dremel tool. All the sanding was done by hand and done by my son. Oh yeah we won The All City championship in York, PA. Not bad for his first scouting event.

Ahoy Matey – Quinn & Grant Masek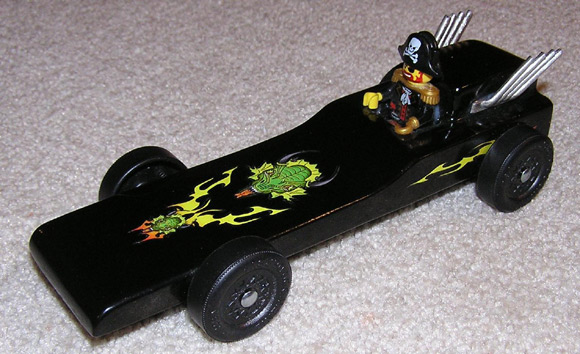 The black car is The Racer and is the first car my son (Quinn) and I built since joining cub scouts. I followed your plans but really didn't do a good job on the axle alignment. He got first in the pack but 40th at the Scout-O-Rama.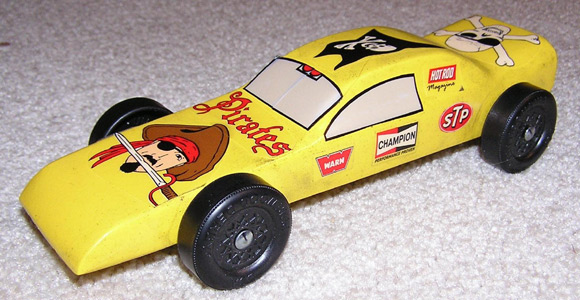 My younger son (Grant) told me he wanted to build a yellow car to look like the one on the BSA box. I used your speed tips for weight, balance and axle prep. Again, we have room to improve on the axles (we weren't doing rail riding yet), but he still got first in the siblings division.

Flying Wedge & Jeep – Ethan & Dominic Patterson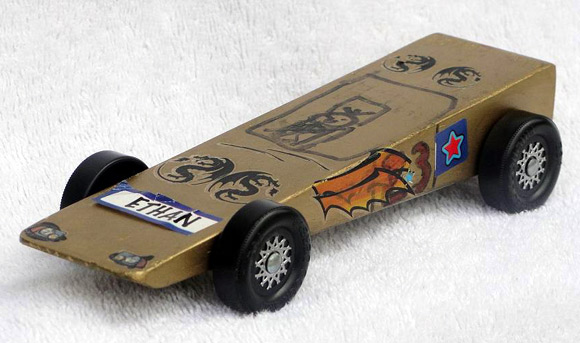 This is my son, Ethan's, first Pinewood Derby Car. It took first place in all races to take first place overall in the Pack.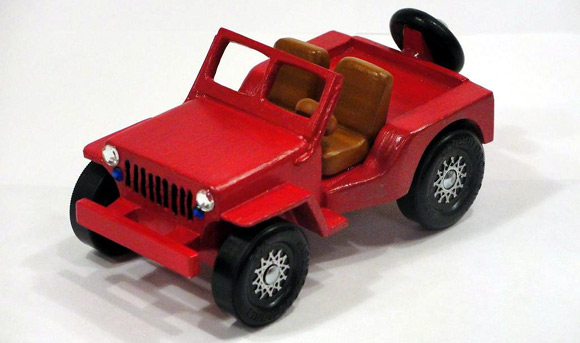 The apple of everyone's eye, the candy apple red jeep stole the show in the adult division on just looks alone!
---
Q&A

If your car design is rather square and not very aerodynamic, would the performance be helped if you were to place a tunnel through the body which air can pass through?
Possibly. Generally, aerodynamic drag is based on the amount of front cross-section. So reducing that by creating a tunnel should help a little.
A better way is to reduce the height of the car, and then use tungsten to weight the car. That way, most of the weight of the car is the ballast weight, and the front cross-section is minimized.
In any case, round off all leading and trailing edges.
One other point: aerodynamics is a secondary consideration for pinewood derby cars. The primary considerations are maximum weight, weight location, well-prepped wheels and axles, thorough lubrication with a high-quality lube, and good alignment.

What is the best type of polyurethane to use on pinewood derby cars? We have a few decals I printed off a site. They are paper. Can we just glue those on and then spray or paint polyurethane over them?
I haven't experimented with polyurethane very much. It tends to leave a yellow tint over time, so most people use a lacquer or acrylic clear-coat.
For any decal (paper or otherwise), I recommend attaching a piece to a scrap piece of wood, and then coating it with the product you plan to use. Let it dry for at least 24 hours. This will let you know if and how the coating will affect the decal.
Want Answers?
Do you have a pinewood derby-related question? If so, e-mail us your question.We answer all questions by e-mail, but not every question will appear in the Q&A section of the newsletter.
---
Back Issues
Are you a new subscriber, or have you missed some of the previous newsletters? Don't miss out; all of the issues for Volume 5 through Volume 17 are posted on our web site.
---
Newsletter Contributions
We welcome your contributions. If you would like to contribute an article, a web site review, a speed tip, or a pinewood derby memory, please e-mail us.
---
Subscription Information
The Pinewood Derby Times is a free e-newsletter focused on pinewood derby racing. It is published biweekly from October through March.
If you haven't already done so, please forward this issue to your pinewood derby friends. But please don't subscribe your friends. Let them decide for themselves. Thanks.
If this newsletter was forwarded to you, why not subscribe to receive this newsletter. There is no cost, and your e-mail address is safe, as we never sell or share our distribution list.
To subscribe, send a blank e-mail to
pinewood-derby-times-on@mail-list.com
You will receive a confirmation e-mail. Reply to the confirmation e-mail and you will start receiving the Pinewood Derby Times with the next issue.
---
Randy Davis, Editor, Pinewood Derby Times
E-Mail: info@maximum-velocity.com
(C)2018, Maximum Velocity, Inc. All rights reserved. Please do not reprint or place this newsletter on your web site without explicit permission. However, if you like this newsletter we grant permission, and encourage you to e-mail it to a friend.
Maximum Velocity disclaims any personal loss or liability caused by utilization of any information presented in this newsletter.
The Pinewood Derby Times is not specific to, and is not affiliated with the Boy Scouts of America, YMCA, Awana, or any other organization.
(R)Maximum Velocity is a registered trademark of Maximum Velocity, Inc.
(R)Pinewood Derby is a registered trademarks of the Boys Scouts of America.
(R)Awana is a registered trademark of Awana Clubs International.
All other names are trademarks of their respective owners.