– Feature Article – Shop Talk: Choose the Right Band Saw
– Pinewood Derby Car Showcase
– Memory – Generations
– Q&A
---
Shop Talk: Choose the Right Band Saw for Pinewood Derby Cars
By Randy Davis
Several years ago, I was asked for a recommendation on purchasing a power saw for pinewood derby car work. The person was thinking of purchasing a scroll saw, which is a saw with a fine blade that moves up and down, and is intended for detailed scroll work (see Figures 1 and 2).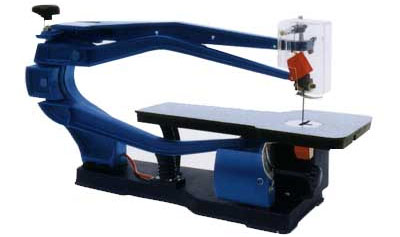 Figure 1 – Scroll Saw
(Photo source: yika-int.com)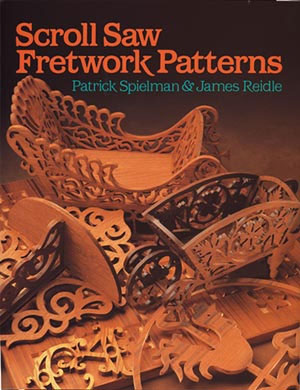 Figure 2 – Scroll Work
(Photo source: amazon.com)
But, while a scroll saw can be used for pinewood derby work, I prefer to use a "band saw". A band saw uses a wider blade, formed into a large band, which cuts through the 1-3/4 inch pine block with relative ease. Although it cannot create the level of detail of a scroll saw, a band saw is more versatile.
The rest of this article will focus on band saws, but before that, you should be aware of the following:
A scroll saw is generally safer to use than a band saw. Since a band saw cuts more aggressively, it can do more damage to fingers. But both saws must be used with care, and improper use can result in injuries on both tools
A band saw cuts more quickly than a scroll saw and a band saw can handle larger material. But it cannot perform intricate cutting like a scroll saw.
A band saw can be equipped with a fence which allows greater accuracy for making straight cuts.
If set up improperly, a band saw will not cut as cleanly and accurately as it should. So make sure to set up the tool properly. Instructions can usually be found in the owner's manual, but I do plan to write on an article on this topic in a future newsletter.
When using a band saw, always wear safety glasses, tie up long hair, remove any loose jewelry, and avoid loose-fitting clothes.
Band Saw Size
The first decision to be made is the size of the machine. Band saws are measured by the diameter of the two wheels that propel and guide the blade. Typical sizes are 9 inches for a bench top model, and 12 or 14 inches for a table mounted model.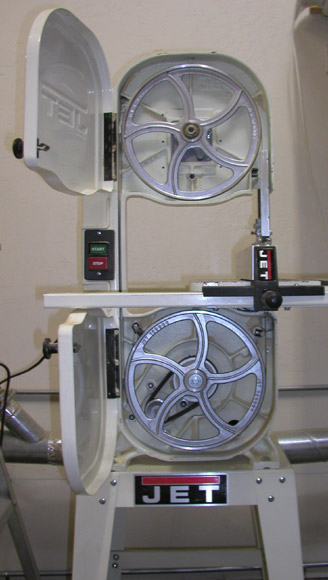 Figure 3 – Inside a Band Saw – 12 inch Table Mounted
Generally, a larger machine provides more power and can accept larger width blades. But for casual pinewood derby work, a smaller machine is fine. Just don't get a real cheap tool. As with any tool, a cheap tool will break more quickly and doesn't provide as much accuracy.
For example, Sears offers a 9 inch model for just over $100. It will take up to a 3/8 inch blade, and has an optional fence. A step up is a 12 inch from Jet (Figure 3), which accepts up to a 1/2 inch blade.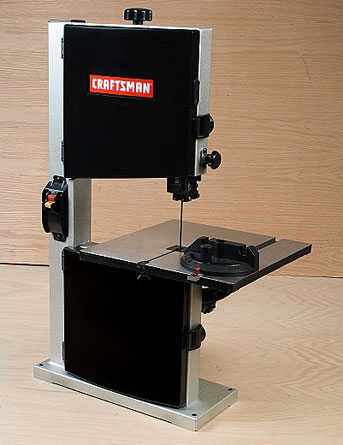 Figure 4 – Sears Band Saw
(Photo source: sears.com)

Blade Size
The width of the blade affects the cutting speed and the diameter of the curves that can be cut. A narrower blade allows tighter turns and more intricate cuts, but speed is sacrificed (narrow blades have more flex, so cutting speed must be reduced). Wider blades do not allow tight turns, but increase cutting speed. Generally, if you plan to mostly make straight cuts, or cuts that have only moderate turns, then use a 3/8 or 1/2 inch blade. But if you want to make more intricate cuts, then use a 1/4 inch blade.

Blade Teeth
Band saw blades have different teeth configurations including the number of teeth per inch, and teeth style. The number of teeth per inch (TPI) affects the smoothness of the cut and the cutting speed. Fewer teeth per inch gives a greater cutting speed, but a rougher cut, while more teeth per inch gives a smooth cut, but slower speed. I generally use a 4 TPI blade, which seems to work well on pine blocks.
Blades are available with Regular, Skip, and Hook Teeth. Regular teeth provide a smoother cut, but work best on thin material. For pine blocks, Skip Teeth blades work better.
Blades also have a "Set". This specifies the way the blade teeth alternate. Either "Raker" or "Alternate" sets work fine for pine blocks.


Figure 5 – Blade Configuration
(Photo source: allbandsawblades.com)

Band Saw Features
Band saws come with several optional features that affect the performance of the machine.
Guide Bearing Wheels versus Guide BlocksBetter machines come with metal wheels with bearings to guide the blade, while less expensive machines use guide blocks (see Figure 6).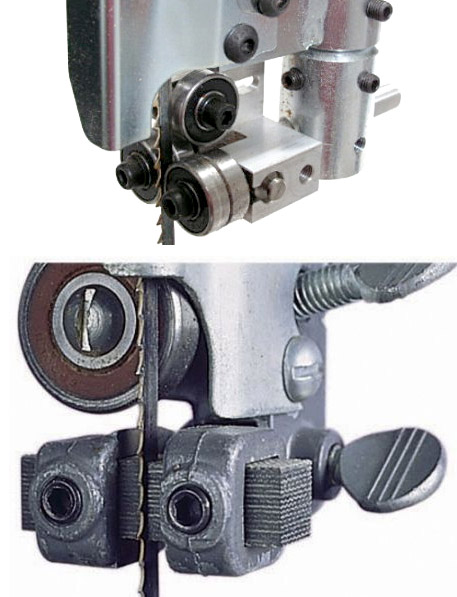 Figure 6 – Guide Bearing Wheels (top) vs. Guide Blocks (bottom)
(Photo source: allbandsawblades.com and toolmonger.com)
Either guide system will work, but the guide blocks wear down, so they must be adjusted on a regular basis, and will need to be replaced at some point.
Blade Quick Release
Some machines come with a quick release for the blade. This handy feature speeds up the blade changing process. If you plan to stick with one blade type, then it isn't really needed, but if you switch between multiple blades, it is a time saver.
Dust Collection Port
Most band saws are equipped with a dust collection port. Attaching a dust collector (or shop vacuum) will greatly reduce dust in the air, which is better for you and for your shop. Smaller machines generally have smaller ports which can readily be adapted to a shop vacuum, while larger machines have larger ports, which are intended for use with a dust collector.
Light and Air Blower
Other band saw features are a work light (make sure to use an appliance bulb), and an air blower. The air blower directs a stream of air onto the cut to keep dust from building up on the surface.

Conclusion
There are many choices to be made when shopping for a band saw. If you only intend to use the machine for pinewood derby work (and maybe a few small projects), then a small machine with a few features will certainly work. But if you plan to use the band saw on a more regular basis, step up to a larger machine with more features.
---
Pinewood Derby Car Showcase

Black Beauties – Patrick Roos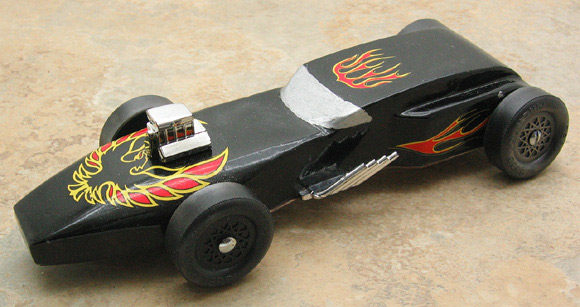 This is my son Seth's first car as a Tiger. His three older brothers have each won Grand Champion in our pack, and two of them are past District Grand Champions, so he has a goal of being the first of our family to win the Council championship. He easily won the Pack and District Championship and is headed to the Council in a couple months. The only car that was close to him was…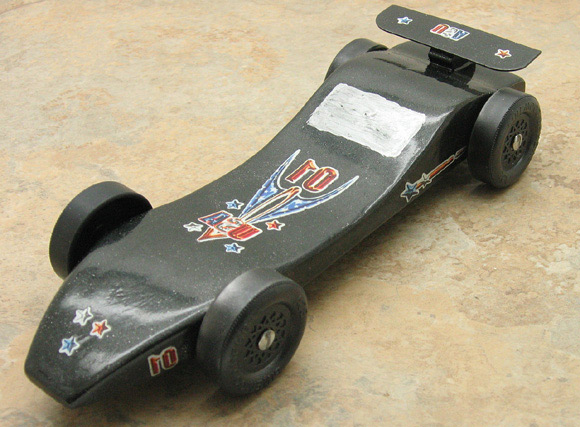 Athan's car, which was built by Athanasius, son of a family friend. Dad has to work out of town a lot, so on his evenings at home, they came over to my garage and I helped them build his first car as a Webelo. The car took 2nd place behind Seth in Pack and District.

McLaren – Scott & James Bowie, England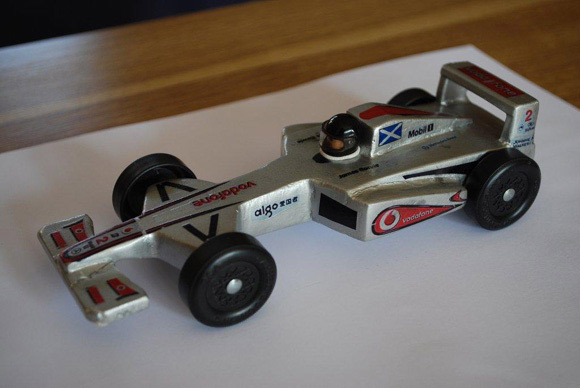 Just wanted to drop a line from England to say that my son James (8) and I built his pinewood McLaren based on your Formula 1 plan and with a nod to Lewis Hamilton's MP4-26. We managed to secure the fastest car and star car awards at his local cub scout pack's first pinewood derby. A great time was had by all and I think this will become an annual event. Thanks for a great site with some winning hints and tips.

AAA – Stephen Basham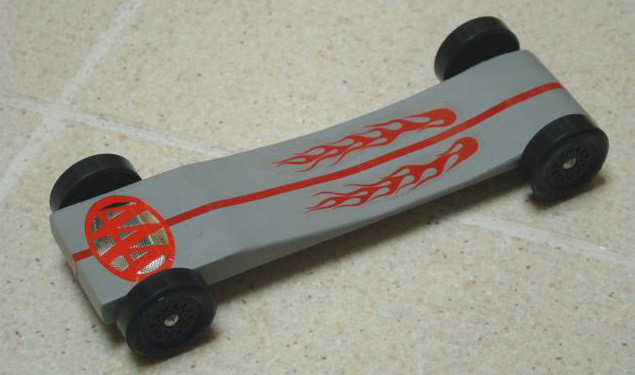 The Boy Scout Lincoln Heritage Council covers parts of Indiana and Kentucky with 8 Districts. This year (2012) they decided to have 4 District Level Pinewood Derby races to cover the complete Council area. Any Cub Scout in the Lincoln Heritage Council could compete in any one or all four of the district level races.
Stephen Basham won First Place overall at two of the four district level races. Could this be the first time a Cub Scout has won the First Place Overall District Level Trophy two times in the same year? Even though Stephen's Pinewood Derby car bears the AAA road side assistance program logo, the car did not require any help at the races. (Submitted by Jim White)
---
Pinewood Derby Memory
Generations
As some mothers do, mine being a great example, they save the key items from their kids that they felt held lots of meaning. My mother tends to send strategically timed packages of odds and ends from my childhood to me or my kids. Last fall she sent me a package of Cub Scout items … my uniform, my vest full of patches and pins, and a couple of my old pinewood derby cars. My sons (oldest going into 1st grade at the time) liked the uniform – very excited to be a Cub Scout – but the hit of the package was the derby cars. My mother visited a few months later and brought the other two derby cars I'd made and my trophy for winning the pack race my last year. In talking with the boys about it I recalled that the trophy was the first I'd ever won, and I told my kids about how proud I was of it when I was their age. We also talked about all the time I spent with Granddad working on it (my kids like woodworking with me already). That began the quest for my son to get his own trophy.
Determined to not make my son wait four years to win a trophy, I read a few web sites and checked out all the books on pinewood derby from the library. Joshua and I talked extensively about all the principles and went through several iterations of design until we found something we both thought would be fast. I cut out his car in the wood shop and he did most of the sanding, painting, and finishing (with close supervision). We followed all the steps carefully (there were a few things we chose not to do), and made about a dozen trips to the hobby shop for tools and supplies.
As derby day approached we ended up taking a trip to Disney to visit my father and got additional advice and assistance from him on how to make the car fast (my Dad ran the derby several years when I was a kid). Due to winter storms we almost didn't make it back home to race, but thankfully the weather at home was so bad they delayed the race several weeks.
As the new race date approached we were nervous that his car might not be competitive enough – our pack is full of Microsoft engineers which means the cars could potentially be really competitive. As we tried to set his expectations kind of low, Joshua said he'd had a dream that he was going to win. Well after looking at the cars of some of the other participants I wasn't so sure.
After our first few Tiger races (won by a full car length or more) I knew he was competitive, but was worried about the cars of the older kids that looked really fast. After watching the older ranks race it was time for the pack championship. We were up against some really fast cars. As the kids chanted "cheese wedge" for one of the older kids, surprisingly the parents were chanting "Tigers, Tigers", rooting for our son. In the end Joshua went undefeated and won grand champion in his pack and won his first trophy!
After calls to the grandparents – especially my Dad – and celebratory ice cream, Joshua came home to proudly display his trophy next to mine. Looks like a new family tradition has begun!
Now Joshua and I are both bitten by the derby bug. His goal next year is to win a district trophy. Since Granddad is retiring just before the district race next year we hope we can have all three generations of Williams boys there to cheer him on.
David Williams
---
Q&A

Every year when I put the wheels on, one of the wheels doesn't touch the track. Even if I make sure the axles are pushed all the way down in the groove. Then I have to keep messing with it which makes them kind of loose. Any advice on how to make this easier?
If you use either the "Pro-Body Tool" to put pilot holes in the slots, or use the "Pro-Axle Guide" to install the axles in the slots, you will have much more accurate insertion of axles.
Without those tools, it is best to pre-insert an axle into each slot position on the bare block (before anything is done to the block). Then remove the axles with pliers (twist and pull). Next, keep paint out of the slots by masking off the slots, or inserting round toothpicks into the slots during painting.
Of course, if allowed by your local rules, I would purposely raise one of the front wheels. The car will stable on the other three wheels (assuming rear weighting), and will tend to be faster.

I made a pinewood derby car for our Awana Grand Prix tomorrow evening. The car veers to the left about 1/2 inch in 2 feet of travel. Using an optical comparator at my workplace, the axles appear to be parallel to each other and square to the body. Any thoughts or suggestions? I appreciate your wheels and axles. They have assisted in bringing home many trophies over the years. This will be my final race as my youngest will have aged out of the program by mid-year.
It is not unusual for a car to have a slight drift. But make sure you have a slightly inclined test surface that is dead level left to right to check the drift of the car.
Then if you need to make a correction, that is generally done by putting a slight (very slight) bend in a front axle (if you are running a raised wheel – both axles if you are not), and then rotating the axle head until the car goes straight.
Want Answers?
Do you have a pinewood derby-related question? If so, e-mail us your question.We answer all questions by e-mail, but not every question will appear in the Q&A section of the newsletter.
---
Back Issues
Are you a new subscriber, or have you missed some of the previous newsletters? Don't miss out; all of the issues for Volume 5 through Volume 17 are posted on our web site.
---
Newsletter Contributions
We welcome your contributions. If you would like to contribute an article, a web site review, a speed tip, or a pinewood derby memory, please e-mail us.
---
Subscription Information
The Pinewood Derby Times is a free e-newsletter focused on pinewood derby racing. It is published biweekly from October through March.
If you haven't already done so, please forward this issue to your pinewood derby friends. But please don't subscribe your friends. Let them decide for themselves. Thanks.
If this newsletter was forwarded to you, why not subscribe to receive this newsletter. There is no cost, and your e-mail address is safe, as we never sell or share our distribution list.
To subscribe, send a blank e-mail to
[email protected]
You will receive a confirmation e-mail. Reply to the confirmation e-mail and you will start receiving the Pinewood Derby Times with the next issue.
---
Randy Davis, Editor, Pinewood Derby Times
E-Mail: [email protected]
(C)2018, Maximum Velocity, Inc. All rights reserved. Please do not reprint or place this newsletter on your web site without explicit permission. However, if you like this newsletter we grant permission, and encourage you to e-mail it to a friend.
Maximum Velocity disclaims any personal loss or liability caused by utilization of any information presented in this newsletter.
The Pinewood Derby Times is not specific to, and is not affiliated with the Boy Scouts of America, YMCA, Awana, or any other organization.
(R)Maximum Velocity is a registered trademark of Maximum Velocity, Inc.
(R)Pinewood Derby is a registered trademarks of the Boys Scouts of America.
(R)Awana is a registered trademark of Awana Clubs International.
All other names are trademarks of their respective owners.