– Feature Article – DVD Review: An American Race
– Pinewood Derby Car Showcase
– Memory – Bittersweet Day
– Q&A
---
DVD Review: An American Race
While going through the bonus features on the 'Down and Derby' DVD, I ran across a trailer for "An American Race". I was not entirely sure what was being advertised, but since I pursue anything relating to pinewood derby racing, I dutifully surfed to their web site to investigate. As stated on the web site, "An American Race" is a one-hour, multiple award winning, real-life documentary film (included as a finalist in the International Family Film Festival in LA), which follows three boy's (Brady, Nick, and Matt) quest to make the fastest Pinewood Derby race car.
Okay, I was hooked. I purchased the DVD on-line ($14.99 + shipping, I paid $18.94 total), and waited for the DVD to arrive.
While waiting I found a little more information. The documentary was directed and produced by the father-son filmmaker team of Marc and Jake Wortman. Marc is a Northwestern University Graduate in Television and Film, while Jake (his son) is a former Pinewood Derby participant. Apparently, the documentary received commendations from several film festivals (quite a parent-child project!).
When the DVD arrived, I stuck it in the DVD player on my laptop and sat back to watch. Much to my confusion, there was no menu, so I couldn't figure out how to get it playing! Finally, my teenage son figured out that all I had to do was press the enter button (duh).
The DVD is truly a documentary, with (apparently) no script. After the usual introductory whiz-bang cinematography, the three boys were introduced and the car building began.
Although the web site states, "The DVD is also a great 'How To' build your own Derby car, by actually watching real-life families building their cars, with lots of 'Tips and Tricks'!!", this is really just marketing hype. There are only a few tips mentioned, and they are the same ones you can find on any of 100,000 web sites. So, if you are looking to purchase a video to help you build a faster car, this is not the one.
Instead, the documentary is really a human-interest story with a pinewood derby race as the venue. In my opinion, the human interest story is quite well done. The boys are shown as they apparently really are, a little spoiled, a little quirky, and certainly competitive. I appreciate that the character flaws were left in, as it allowed the documentary to really reflect life.
Would this DVD be of interest to you? Well, if you are a "pinehead" (like me), then you would certainly enjoy the video. The track is a double-hump monster (over 4 seconds for a heat), and clearly demonstrates the need for a less abrupt braking section! The "speed tip" of wetting the axle sanding paper with spit, was certainly unique, and watching Nick attach wheels with gluey hands was to me like fingernails on the chalkboard (the car ended up doing quite well, so I have to believe that the "pinewood derby fairy" did quite a bit of work on the car while Nick was asleep – although the parents swore he did all the work himself). I also felt "justified" when Matt's car did poorly (he kept the basic block shape in an attempt to prove that the shape of the car didn't matter).
If you are not a pinehead, but do like documentaries, then you will likely enjoy the DVD. At the beginning I thought it would be somewhat boring, but by the end I was starting to empathize with the characters. When the story ended, I was actually hoping for the story to continue.
Although there are no bonus features (and no menu), the DVD is well done. For an independent (likely low-budget) project, the sound, lighting, and editing are quite good.
So, if you are like me – liking all things pinewood derby – or if you like documentaries, then you will likely enjoy "An American Race".
---
Car Showcase

Canyon Dragon: John & Jake Harig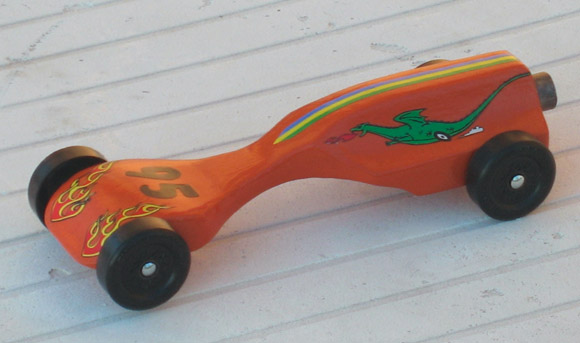 This is the second year for Jake, and he won 1st place again. This year the 'Canyon Dragon' car was fastest overall. The name comes from the base coat of 'Canyon Orange' and, of course, dragon decals.
We used your wheels and axles, and the block was yours with drilled holes, extended wheel base and raised wheel. COG was 0.9 inch forward of rear axle, much too aggressive for what I now realize is a rough wood track. I used a 1/2 inch diameter steel tube cut 2.5 inches long that protruded 1/2 inch out the back end to look like a jet engine nozzle. It also served as a weight chamber for your tungsten cylinders and beads. The part I liked best was using an ear plug to hold the weights in place – the approach worked sweet at the weigh-in.

Mach 5: John & Billie White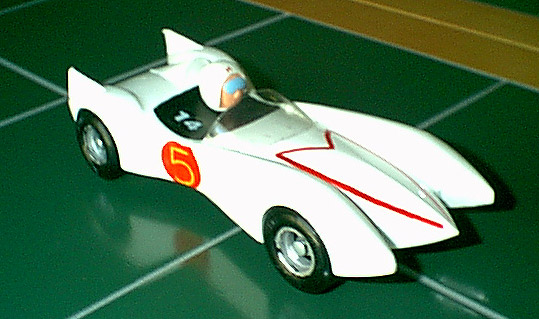 My daughter Billie and I raced our Mach 5 in the Awana Grand Prix this past fall. She was placed in the adult/leader group. The competition was TOUGH, but she placed third for speed and third for design. We raced this year on a new aluminum track. Many of my old secrets didn't seem to want to work, but it was still a fun race.

Arrow of Light: Millisa & Cody Kramer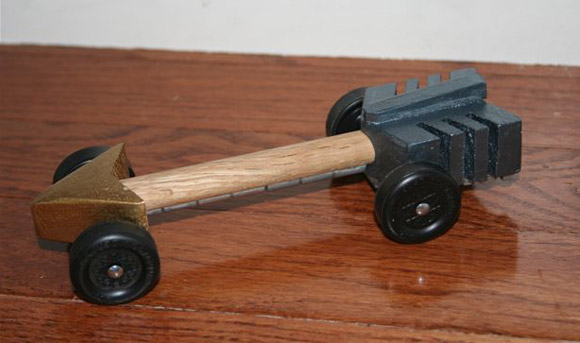 This is my son Cody's car for his last Pinewood Derby. As a Webelo II, he has been working on his Arrow of Light achievements for the last year; so this year's car design was based on that. After cutting out so much of the block and inserting a dowel for the arrow shaft, the car barely weighed anything at all. So there are weights across the entire bottom of the car, in a hole drilled out of the back. The fin on the top is even a weight! It weighed exactly 5.0 ounces. The axle holes were not quite straight, slowing down the car a little. It came in a very close 3rd out of 5 cars in his den, but it won Best of Show for the Pack.>
---
Pinewood Derby Memory
Bittersweet Day
Our pack was involved in a combined three pack pinewood derby this year. Not only did the boys race against their own dens, they also raced against the winners of the other packs. Our pack had purchased a brand new aluminum track with digital sensors. It was cool! Not one car jumped the track this year. No more jarring bumps as the cars raced down the track. The cars seems to go faster than in years past as well. The track was carefully roped off so anxious cub scouts couldn't bump it or step on it. The cubs placed their cars on the track and had to walk around the audience to the finish line to receive their cars from the cub master at the end.
The derby this year took almost two hours to run. As the winners from each den were announced, their cars were put aside for the final race of the day – the three pack champion race. By this time, some of the boys not advancing to the district were leaving with their families or playing with the cars on the gym floor. Nine cars competed in the tournament of champions. There were multiple races and scoring to determine the overall winner. My son's car had won against his Weblos den. He was the three pack champion last year, so he was one of the nine again this year. Tension was high – would he take first place again?
There were 9 heats to determine the overall winner. For each heat, four cars raced and five sat out. The cars were rotated so they were constantly racing other cars. About halfway through these heats my son's name was called to get his car. It should have been on the judges table with the others – it wasn't. We started looking around – did someone steal his car? My poor excited son (and his anxious dad!) couldn't find the car. Everyone started looking. It took just a few seconds to see that some little girls were imitating the other cub scouts by playing with HIS car on the gym floor – pushing it back and forth. My daughter raced over and picked up the car from the girls playing with it. Now the problem wasn't finding the car – it was to get it back in the race. No time to look at it to clean off the wheels or check alignment.
My son didn't win the tournament of champions. We weren't even allowed to handle the car after the final race, as the district wanted the cars quarantined until the district race next month. We requested time to examine and repair the car since it was mishandled. No such luck. Everyone agreed that we should be able to examine it – but whoever has the cars in quarantine isn't letting us know where they are being stored. So next month my son will race his car against the district, and we won't know until after that race if any damage was done – it's sad that we know already his chances to win are slim. This will be his last pinewood derby before he bridges to boys scouts.
What a bittersweet day.
Michael Law
Live Oak, CA
---
Q&A
We want to run our race outside, but can't find a timer that works outside. What do you suggest?
As you have found, virtually all timers are designed for indoor use. However, 'The Judge' from New Directions can be optionally equipped to work in sunlight. See: www.newdirections.ws
Alternately, you can shield the finish line from all IR by building a shelter around the finish line. Unfortunately, this generally blocks the view of spectators.
Is it possible that a car using lathed wheels may not clear the center section of the track properly since the lathed wheels are smaller and therefore the car runs closer to the track?
This isn't typically a problem. All speed wheels are turned on a lathe to make them round. This reduces the diameter (on our wheels the resulting diameter is 1.170 inches) from the original 1.190. So the radius reduction is only .010, or less than 1/64 of an inch.
The issue that people do have with light-weight speed wheels is the need to load the car with extra weight to make up for the loss of wheel weight. When using the lightest (1 gram) wheels over stock wheels, you need to add a little over 1/3 ounce of extra weight.
We want to have a semi truck race and are looking for information as to rules and truck kits. Can you help?
I don't know of any specific web site for rules and information, but you can search Google for either:
pinewood 18 wheeler
Pinewood semi-truck
Maximum Velocity offer 18-Wheeler wheel/axle sets.
Want Answers?
Do you have a pinewood derby-related question? If so, e-mail us your question.We answer all questions by e-mail, but not every question will appear in the Q&A section of the newsletter.
---
Back Issues
Are you a new subscriber, or have you missed some of the previous newsletters? Don't miss out; all of the issues for Volume 5 through Volume 17 are posted on our web site.
---
Newsletter Contributions
We welcome your contributions. If you would like to contribute an article, a web site review, a speed tip, or a pinewood derby memory, please e-mail us.
---
Subscription Information
The Pinewood Derby Times is a free e-newsletter focused on pinewood derby racing. It is published biweekly from October through March.
If you haven't already done so, please forward this issue to your pinewood derby friends. But please don't subscribe your friends. Let them decide for themselves. Thanks.
If this newsletter was forwarded to you, why not subscribe to receive this newsletter. There is no cost, and your e-mail address is safe, as we never sell or share our distribution list.
To subscribe, send a blank e-mail to
[email protected]
You will receive a confirmation e-mail. Reply to the confirmation e-mail and you will start receiving the Pinewood Derby Times with the next issue.
---
Randy Davis, Editor, Pinewood Derby Times
E-Mail: [email protected]
(C)2018, Maximum Velocity, Inc. All rights reserved. Please do not reprint or place this newsletter on your web site without explicit permission. However, if you like this newsletter we grant permission, and encourage you to e-mail it to a friend.
Maximum Velocity disclaims any personal loss or liability caused by utilization of any information presented in this newsletter.
The Pinewood Derby Times is not specific to, and is not affiliated with the Boy Scouts of America, YMCA, Awana, or any other organization.
(R)Maximum Velocity is a registered trademark of Maximum Velocity, Inc.
(R)Pinewood Derby is a registered trademarks of the Boys Scouts of America.
(R)Awana is a registered trademark of Awana Clubs International.
All other names are trademarks of their respective owners.