In this Edition
– Editor's Notes
– Feature Article –
Designing The Car Body For Performance
– Humor
– Product Showcase –
Polished Rail Rider Axles – $3.00 Off
– Pinewood Derby Car Showcase
– Pinewood Derby Memory –
Great Karma!
– Q&A
---
Editor's Notes
DerbyWorx Videos
A few months back, DerbyWorx, the manufacturer of Pro Tools for
pinewood derby cars, worked with BSA to create three how-to videos.
These professionally produced videos are posted on YouTube, and are
very informative. You can find them here:
Wheel/Axle Prep
Body Prep
Final Assembly
MV Basic & Wedge Car Kits


If you are planning a race and are not required to use a specific kit type, our MV Basic or Wedge Car Kit are just what you need. These attractively priced kits are equipped with:
– Quality Block – Unlike the blocks provided by some organizations, our blocks are soft, northwestern pine blocks, cut precisely to 7 inches long, 1-3/4 inches wide, and 1-1/4 inches tall. These dimensions, as well as the axle slots accurately duplicate the dimensions of standard pinewood derby blocks from BSA and PineCar.
– Simple Axle Preparation – Don't worry about filing off flaws, or losing hub caps. Our Speed Axles have no burrs or crimp marks, and install without hub caps. With or without polishing, they are ready to go. We supply five, so you have a spare.
– Quality Wheels – Forget cheap, out of round wheels. Our MV wheels are top-quality wheels. You will not be disappointed with the quality of these wheels.
So, if your organization does not mandate a particular kit type, consider our MV Basic Car Kits or MV Wedge Car Kits.
Inventory Clearance Sale
We are clearing inventory on several items including:
– Tundra and tungsten weights
– Velocinator and Formula One car kits
– Paint Stencils
We don't have many left, so don't delay. You can find these items Here.
Can We Help?
If we can help you in any way with your pinewood derby project, or if you have any feedback regarding this newsletter, please Contact Us.
---
Feature Article
Designing The Car Body For Performance
By Randy Davis
I am continually amazed at the creativity of pinewood derby builders. My talent (and the talent of my kids) tends toward straight lines and basic geometric shapes. But there is clearly a lot of artistic talent among car builders. Cars take all shapes from minimalist sleek designs to artistic wood carvings. One of the fun aspects of the derby is the wide variety of creative cars that are entered into the race. The intent of this article is not to stifle this creativity. Instead, the intent is to raise awareness that the fastest cars tend to have certain design features in common. Although cars of all shapes and sizes have done well in derby races, my observation is that overall, winning cars tend to have several basic characteristics. Whether you design a car with these characteristics or not is entirely up to you.
Maximum Weight
Design the car so that it will achieve the maximum weight (typically five ounces). Thus, decide ahead of time what type of material you intend to use for added weight and then ensure that the design can accommodate sufficient added weight to bring the car to the maximum weight.
Minimal Wood
On the majority of tracks, the center of gravity (COG) of the car should be positioned somewhat less than one inch in front of the rear axle. This gives the car the greatest opportunity to accelerate down the slope while ensuring enough weight on the front wheels to keep the car on the track. To locate the COG at this location a lot of the wood must be removed, and weight must be added around the rear axle. Thus, make sure your design leaves room around the rear axle for the added weight. Also, it is generally best to keep the car at the maximum allowable length (typically 7 inches). With a shorter car, it is difficult to add weight such that the COG is properly located.
Another reason for removing a lot of wood is to focus the added weight in as small of an area as possible. Cars with weight focused in one area will traverse the curve in the track faster than a car with the weight spread out.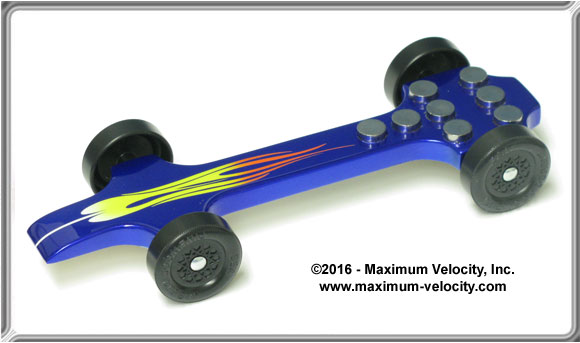 Figure 1 – Minimal Wood
Aerodynamics
While the amount of effect from wind drag on a derby car is minimal, it is prudent to recognize the presence of wind drag and avoid design features that would increase this effect. So, while I don't suggest being overly concerned with wind drag, I do suggest using a basically aerodynamic design, and avoiding the use of accessories that could catch air such as sails, streamers, etc. If you implement the first two topics above, you will likely have a low-profile car. You can further streamline the car by rounding the back of the car, and adding fenders in front and behind the front wheels, and in front of the rear wheels.
Symmetry
Another design factor that affects the speed of a car is left-to-right symmetry. By this I mean that the left side of the car should be a mirror image of the right side of the car. (For an example of a non-symmetrical car, click here: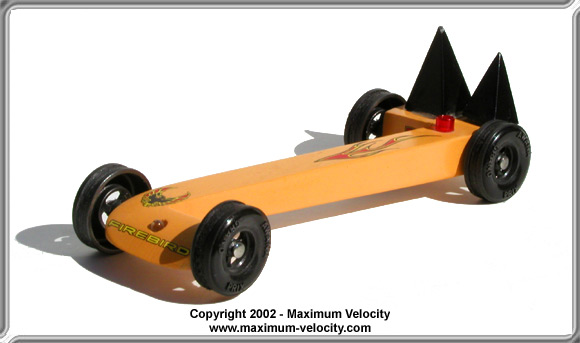 Figure 2 – Non-symmetrical Car
Why is symmetry important? Because a car that is not symmetrical will be heavier on one side, and will tend to steer to that side. Thus, after the wheels/axles are aligned, there will be an increase in friction as the car tries to turn, but the wheels/axles prevent the turn. This extra friction will slow the car down.
Many cars run with a raised front wheel, which will slightly shift the weight. Careful weight placement can correct this, but usually the shift effect from a raised wheel is virtually non-existent.
Blunt Nose
Avoid designs that have a sharp pointed front end. There are two reasons for this caution. The first is that most tracks have round rods that hold the cars at the starting line. A car with a sharp point will tend to slip off the rod, which could cause the car to start at an angle. The second reason for avoiding a sharp point is that the point may not trigger the finish line sensor until the car has progressed a little bit past the finish line. This could be important in a close race. So, make sure that the nose of the car is blunt so that it will sit properly at the starting line and properly trip the finish line. I recommend a minimum of 3/4 inch width at the front of the car.
Maximum Wheel Base
If allowed by the local rules, extend the wheel base to the maximum length. Long wheelbase cars go straighter, are more stable, and allow the COG to be located further towards the rear of the car. For the opposite reasons do not shorten the wheelbase.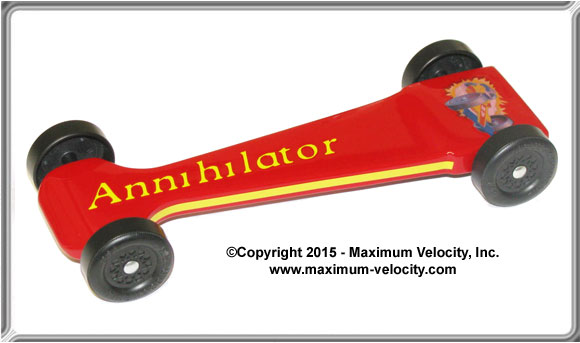 Figure 3 – Maximum Wheelbase
Raised Wheel
As mentioned previously, a raised front wheel is a common speed technique. A car with a raised wheel is easier to align, and will start rolling faster than a car will all four wheels on the ground.
Alignment
One of the most overlooked topics for novice racers is alignment. Significant performance improvements can be gained with proper alignment, especially rail-rider alignment. I won't go into the "How" of rail-rider alignment in this article (1), but the "Why" is as follows:
– Car travels in a straight line, thus traveling the shortest distance.
– Rear wheels, which carry most of the car's weight, avoid contacting the guide rail.
– The raised wheel avoids the guide rail.
– The front steering wheel rolls on the guide rail instead of scraping on the rail.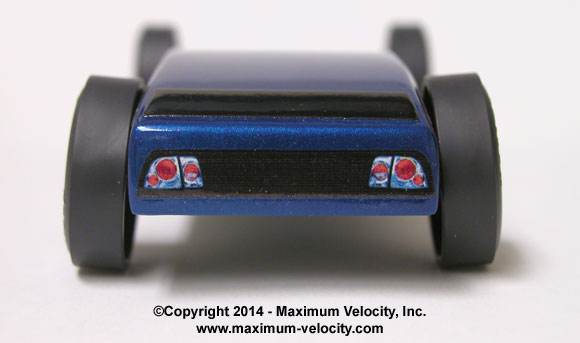 Figure 4 – Rear View of Car Set to Rail-ride
Summary
The basic design characteristics listed above are very common in high performing cars. By implementing these characteristics, you will be on the path of creating a competitive pinewood derby car.
(1) For the "How" of rail-riding, please see:
Volume 14, Issue 4, "Rail-Riding – Getting that Extra Speed".
and
Volume 16, Issue 10, "Rail-Rider Alignment Walk-through".
---
Humor
One day a little girl was sitting and watching her mother do the dishes at the kitchen sink. She suddenly noticed that her mother had several strands of white hair sticking out in contrast to her otherwise brunette hair.
She looked at her mother and inquisitively asked, "Why are some of your hairs white, Mom?"
Her mother replied, "Well, every time that you do something wrong and make me cry or unhappy, one of my hairs turns white."
The little girl thought about this revelation for a while and then said, "Mom, how come ALL of grandma's hairs are white?"
---
Product Showcase
Polished Rail Rider Axles – $3.00 Off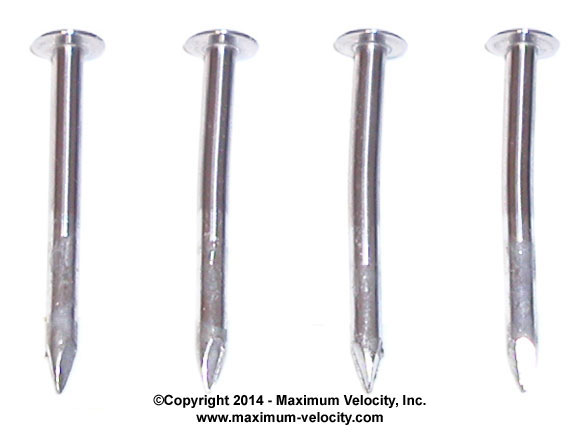 Say "Goodbye" to burrs, crimp marks, polishing, and bending! These BSA Pinewood Derby Speed Axles are precision-made to replicate the official BSA nail, but without the burrs and crimp marks. They are polished to 3,000 grit, and then bent to allow for rail-rider alignment. Just lube, align, and race.
Through November 28, 2017, you can get a set Polished Rail Rider Axles for $3.00 off. To take advantage of this limited time offer, add part 4035 to your shopping cart, and use coupon code NOV15NL during checkout.
---
Pinewood Derby Car Showcase
Some "Outlaw Cars" for your enjoyment.
Jet Bus – Brian Tomblin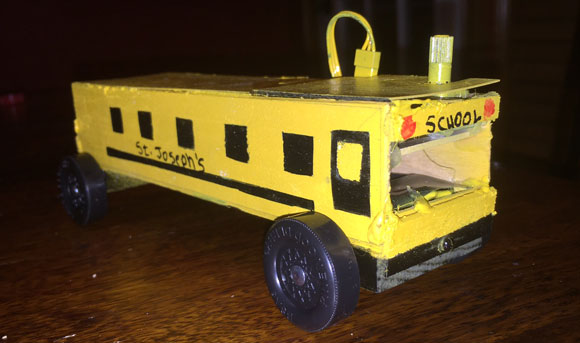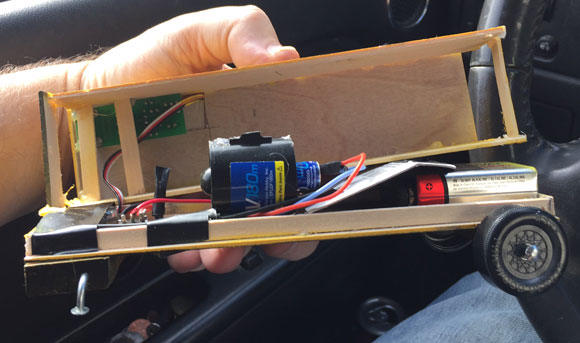 I built a ducted fan bus I thought you would enjoy. It was really ugly and everyone was making fun of it in the pits. I was checking people in and could hear them behind me. But it was a "sleeper" in street racing slang. Of course, it blew everything away.
Plum Loco – Eric Werner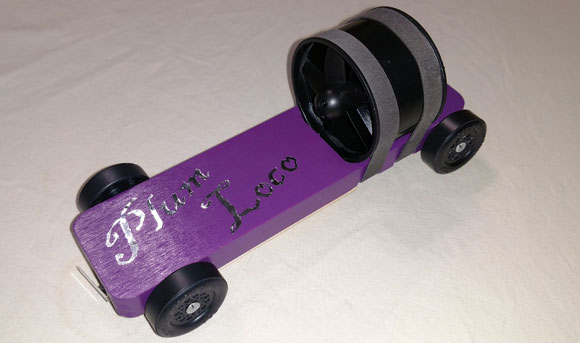 I built this fan car, Plum Loco, last year as a pre-race demonstration. At that time, I hid the true nature of the fan, simply lining the car up with no charge, and letting it run. When, of course, nothing happened, I charged it with a palmed 9v battery as I slowly walked back to the starting line. The second release, of course, saw the fan kick into action, and Plum Loco lived up to its appearance.
For our pack racing this year, we ran three classes; Cubs, Open, and Outlaw. In the Outlaw class, there was no competition for trophies, so I placed Plum Loco with that class. With a full charge, the 40′ track was completed in under 2 seconds. To illustrate the devastating nature of the fan, our race starter held it in place one time after the pins dropped, allowing the other cars to reach the flat before he let Plum Logo go. It still managed to beat the other cars to the finish by more than five car lengths. Fun to watch race, Plum Loco got many "Oooh's" and "Ahhh's" each time it ran.
Two-Wheeler – Jesus Carillo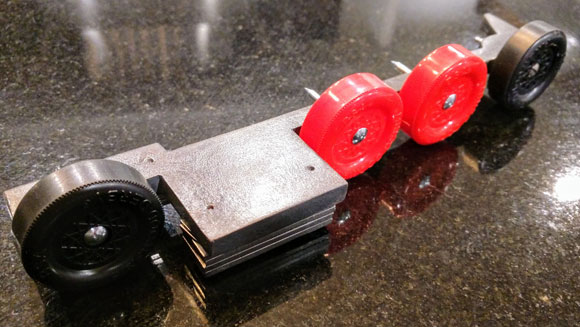 Inspired by your two-wheel cars(1), I created the "green" car with aerodynamics in mind. But the COG was 1-1/8 in front of the rear axle. So, I went with a more functional look and created the silver car with a COG of one inch.
Share Your Car With Our Readers
Do you have a car you would like to "show off" to our readers? If so, send us a photo of your car along with a description of any special features to:
[email protected]
Please include your full name. If selected, we will include the photo and description in this newsletter
Photos must be sent by e-mail in JPG format (minimum size of 640×480, maximum size of 1280 x 960). Please shoot photos from the front left of the car, similar to the orientation of this car: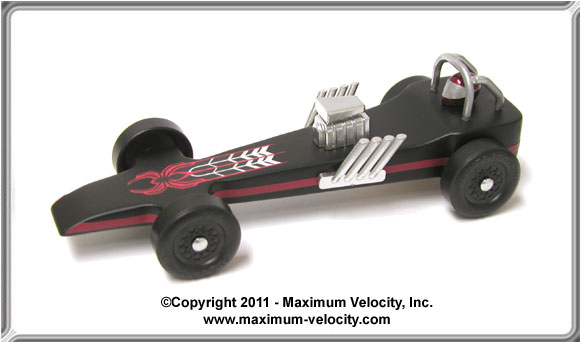 For better focus, keep the camera four or five feet away from the car, and then use the camera's zoom to fill the frame with the car. Also, use a solid (preferably white) background for the photo.
Send only one photo per car, unless an additional photo is needed to adequately show a feature. Also, only one car per subscriber per year please. Thanks.
---
Pinewood Derby Memory
Great Karma

My father – the boys' grandpa – loves coming to the annual Cub Scout derby race for our cub pack. He helps everyone and loves to cheer for his boys. He also is quite involved in the building of the derby cars, and as a retired engineer spends a lot of time on the details.
One year, a couple of years ago, we showed up on race day with our cars, all of which had MANY hours in them. One of the other boys in my son's den showed up with just his mom and no work done on the car. I kid you not; the kit was still in the box, no sanding or tweaking of any kind, and crayon colors on the block of wood. Mom was upset and didn't know what to do, the cub was crying – kind of a mess. Grandpa stepped up, and in about 15 minutes on the sideline got the wheels on the car, some lube on the axles, and some weights glued on top to make weight. That's it.
You guessed it. The car smoked everyone in the den and took second place in the districts. Just goes to show you that all the paint and engineering can't top great karma!
Joe Cusack
Do you Remember?
If you have a pinewood derby story that is funny, unusual, sad, heart-warming, etc., please send it to me in an e-mail. Don't worry about literary polish. We will edit as needed before publishing. If your story is used, you will receive a $10 coupon in May of 2017.
---
Q&A
Several questions from Phillip H:
Q: I treat the wheel bores with wax after I polish them. Should I also consider applying wax to the axles? If yes, what are your recommendations?
A: Generally, wax is not put on the axles. However, people do use various products to put a slick coating on the axles. I have heard of "Sail-Kote" and "Jigaloo". Both are aerosol sprays that leave a dry film.
Q: If no wax, the last thing I do after polishing the axles is to remove any residue with 91% isopropyl alcohol. I have read that some think the alcohol leaves a film on the axle and recommend washing the axles in soapy water, rinsing, and drying them before lubricating.  Any thoughts on this?
A: If you are just using wet/dry sandpaper to polish, then there is no need to use alcohol. However, if you finish with diamond polish (which is typically oil-based), the axles should be rinsed in alcohol and then water. I don't believe soap is really needed, and may be detrimental as soap and hard water results in deposits that are not easily cleaned off. Also, some soaps have additives such as lotion or aloe, some of which would stay on the axle. So, I would skip the soap.
Q: One of the last things I do for the wheel bore is to burnish it with graphite. I'm not aware of a way to burnish graphite on the axle since it's metal.
A: Graphite doesn't stick to metal so no need to try. Graphite sticks to the wheel bore.
Q: After I install the axle through the wheel bore I just add more graphite to the wheel bore and spin the wheel on the axle a few times. Is there any new way to add graphite?
A: You need to add graphite more than one time. I recommend 5 minutes of adding graphite, spinning the wheel on the axle, adding, spinning, etc. Always end by spinning several times. You are trying to apply layer upon layer of graphite to the wheel bore to build up a thick coating that will last through the event.
Want Answers?
Do you have a pinewood derby-related question? If so, e-mail us your question.We answer all questions by e-mail, but not every question will appear in the Q&A section of the newsletter.
---
Back Issues
Are you a new subscriber, or have you missed some of the previous newsletters? Don't miss out; all of the issues for Volume 5 through Volume 17 are posted on our web site.
---
Newsletter Contributions
We welcome your contributions. If you would like to contribute an article, a web site review, a speed tip, or a pinewood derby memory, please e-mail us.
---
Subscription Information
The Pinewood Derby Times is a free e-newsletter focused on pinewood derby racing. It is published biweekly from October through March.
If you haven't already done so, please forward this issue to your pinewood derby friends. But please don't subscribe your friends. Let them decide for themselves. Thanks.
If this newsletter was forwarded to you, why not subscribe to receive this newsletter. There is no cost, and your e-mail address is safe, as we never sell or share our distribution list.
To subscribe, send a blank e-mail to
[email protected]
You will receive a confirmation e-mail. Reply to the confirmation e-mail and you will start receiving the Pinewood Derby Times with the next issue.
---
Randy Davis, Editor, Pinewood Derby Times
E-Mail: [email protected]
(C)2017, Maximum Velocity, Inc. All rights reserved. Please do not reprint or place this newsletter on your web site without explicit permission. However, if you like this newsletter we grant permission, and encourage you to e-mail it to a friend.
Maximum Velocity disclaims any personal loss or liability caused by utilization of any information presented in this newsletter.
The Pinewood Derby Times is not specific to, and is not affiliated with the Boy Scouts of America, YMCA, Awana, or any other organization.
(R)Maximum Velocity is a registered trademark of Maximum Velocity, Inc.
(R)Pinewood Derby is a registered trademarks of the Boys Scouts of America.
(R)Awana is a registered trademark of Awana Clubs International.
All other names are trademarks of their respective owners.