– Feature Article – 'Twas the Night Before Pinewood
– Humor
– Pinewood Derby Car Showcase
– Memory – Look at that S-Car Go!
– Q&A
---
Feature Article
'Twas the Night Before Pinewood
'Twas the night before Pinewood,
His car still needed lead,
He had done his very best,
When his mom yelled "Get to bed!"
He climbed under his blanket,
His car wasn't ready to race,
The pinewood derby was tomorrow,
There was a frown on his face.
Just as his eyes closed,
He heard something spin,
It was Scout Saint Nick,
Coming to help him win!
As he peeked from under the covers,
Scout Saint Nick started to drill,
To help his car speed,
On its way down the hill.
He splashed on some paint,
And stuck on some wheels,
He put the car on its stand,
And clicked his boot heels.
This woke the young scout,
He had a smile on his face,
A happy Pinewood to all,
And to all a good race!
Used by permission.
Copyright 1995 Jay Jenkins
---
Humor
A young boy enters a barber shop and the barber whispers to his customer, "This is the dumbest kid in the world. Watch while I prove it to you."
The barber puts a dollar bill in one hand and two quarters in the other, then calls the boy over and asks, "Which do you want, son?"
The boy takes the quarters and leaves. "What did I tell you?" said the barber. "That kid never learns!"
Later, when the customer leaves, he sees the same young boy coming out of the ice cream store. "Hey, son! May I ask you a question? Why did you take the quarters instead of the dollar bill?"
The boy licked his cone and replied, "Because the day I take the dollar, the game is over!"
---
Pinewood Derby Car Showcase
Today's cars were submitted by Stacy Bodder.

Hay Wagon – Rachel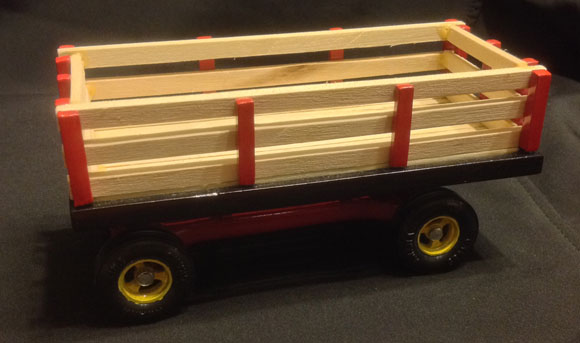 Where we live, there is a hay wagon that gives rides. My daughter really wanted to build one. This is not the best design for speed; it caught way too much air to take the speed award, but it was still fun to build.

Orange Speedster – Rachel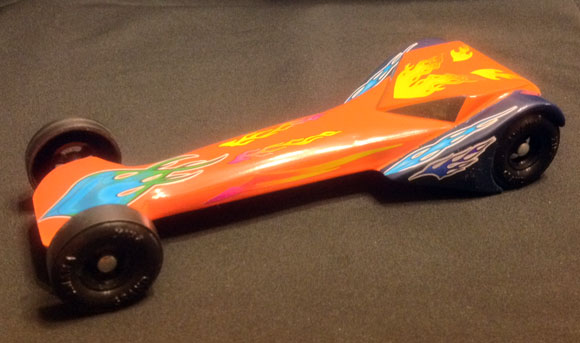 This car was completely built by my daughter, using my design. She added fenders made out of the left over pine, and out came a car that won in the regional races.

Lotus Evora – Lydia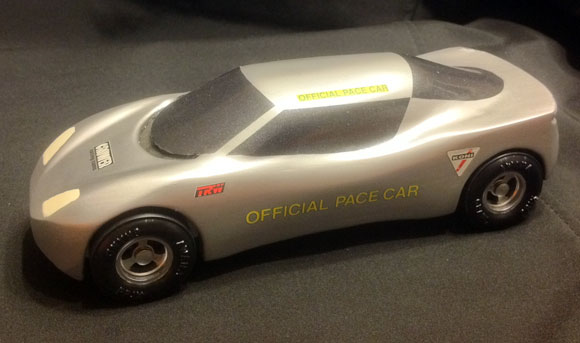 My daughter wanted to make a Lotus Evora, and this was the result. It went so fast that at the end of the track it hit the stop and flew off the track which was raised 3 feet off the ground. The right rear corner was damaged, but it still took first in speed.

Indy Car – Lydia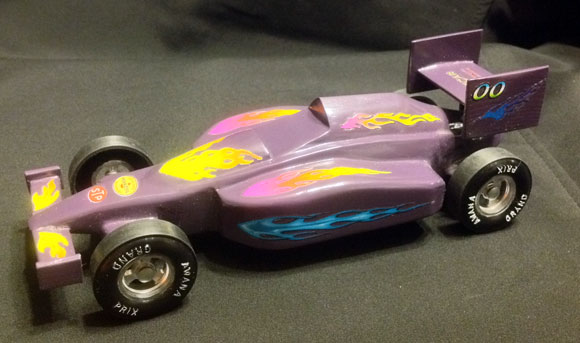 My daughter wanted to build an Indy car, and her favorite color is purple. The resulting car took first place in speed.
---
Pinewood Derby Memory
Look at that S-Car Go!
My son is an 8-year old with Asperger's syndrome, sometimes called high functioning autism. I am a leader in his Cub Scout pack, and together we were building a car for the annual Pinewood Derby. After our middle of the pack finish last year, we decided to do some research on how to build a fast pinewood derby car. Using the Internet and a tape borrowed from our public library, my son and I designed our car. But as we all know, what we want and what we end up with can be drastically different (but sometimes just what we need).
Our car was shaped like a Japanese sandal. We originally were going to build a car shaped like a snail, but I am not a skilled wood worker and that design turned out to be too much work for the time remaining before the race. The car's name was "S-car" after an old joke about a snail who put an "S" on the side of his car. When people saw him, they would say, "look at that S-car go! (escargot)
We were testing the car the night before the race, trying to get it to roll straight. I was adjusting one of the front wheels when the wood in front of the axle snapped. Just for kicks I tried the car without the wheel. It rolled in a perfect line on three wheels (something that I had tried to accomplish, but could not do!) So, I glued that wheel on at a serious angle to minimize track contact. My son finished the car by putting snail stickers all over it.
Race day came, and being a leader I was in charge of the car table. My son's car did not look like much compared to the Formula 1 cars, dragsters and roadsters. But once the racing started, things became interesting.
Our car won the first heat in a convincing fashion. All the leaders who knew my son congratulated him on his win. When his car won the next four races in the same fashion (over some of their son's cars), things started to change. The former Cub Master kept holding the car in his hand, moving it up and down like he was weighing it (he was the official that weighed it in and inspected it!). I asked what the problem was and he said, "I know this is legal, I weighed it in and inspected it, but it feels a lot heavier than the other cars" (The car's center of gravity was about 1 inch in front of the rear wheels). After each win, someone else would pick the car up, spin the wheels, and look at the weight layout.
In the end, my son's car swept the derby; not a second place or a race closer than one-quarter car length the whole time. A few father's came up to me after the race, wanting to know my "secrets". I told them, "Do your homework – everything I know about pinewood derby design and speed hints, I found on the Internet." But even with all the hard work, hand work and homework, our win that night was truly sealed by the "lucky" break of our front wheel the evening before the race. The "S" on our car could stand for serendipity – the ability to discover things by accident.
My son still hasn't stopped talking about his win and how proud he is of his effort. Due to his condition, I do not know what his future will be like – what he will be able to do for a living, if he will marry, have children, how much of the world he will explore and understand outside of his tightly focused mindset – but I, with the help of people like Michael Lastufka, Randy Davis and their websites, was able to help him make a car that gave him a chance to be a winner and to be proud of his accomplishment.
Kenneth N. Friedel
Baltimore, MD
---
Q&A

I'll assume that the 4042-Outlaw/needle set is faster than the 4041-Outlaw/nickel set. What's your take on the 4048-Bearing axles? Is the bearing axle faster than the outlaw/needle? I would think the bearing axle would have more friction than the needle axle. Has any testing been done to compare the two?
Yes, the 4042-Outlaw/needle set are faster than the 4041-Outlaw/nickel set, but you want to use the 4049-Needle Axle Upgrade kit as the needles in the 4042 package are too flexible.
At 5 ounces, I believe the needles would be faster than the bearings. The bearings would come into play at heavier weights. However, I have not specifically tested this.

We're entering our first outlaw derby where, according to the scout master, "There are no rules".
If there really are "no rules", then I would go with a powered car.
But in any case, the narrow (Outlaw) wheels are much faster than stock width wheels, and the Needle Axle Outlaw Wheels are even faster. But if you do go with the Needle Axle wheels, make sure to get the Needle Axle Upgrade Kit. For weight, stay under 12 ounces – more than that doesn't usually pay off on standard length tracks, and just makes the car take a lot abuse when it stops.
Want Answers?
Do you have a pinewood derby-related question? If so, e-mail us your question.We answer all questions by e-mail, but not every question will appear in the Q&A section of the newsletter.
---
Back Issues
Are you a new subscriber, or have you missed some of the previous newsletters? Don't miss out; all of the issues for Volume 5 through Volume 17 are posted on our web site.
---
Newsletter Contributions
We welcome your contributions. If you would like to contribute an article, a web site review, a speed tip, or a pinewood derby memory, please e-mail us.
---
Subscription Information
The Pinewood Derby Times is a free e-newsletter focused on pinewood derby racing. It is published biweekly from October through March.
If you haven't already done so, please forward this issue to your pinewood derby friends. But please don't subscribe your friends. Let them decide for themselves. Thanks.
If this newsletter was forwarded to you, why not subscribe to receive this newsletter. There is no cost, and your e-mail address is safe, as we never sell or share our distribution list.
To subscribe, send a blank e-mail to
[email protected]
You will receive a confirmation e-mail. Reply to the confirmation e-mail and you will start receiving the Pinewood Derby Times with the next issue.
---
Randy Davis, Editor, Pinewood Derby Times
E-Mail: [email protected]
(C)2018, Maximum Velocity, Inc. All rights reserved. Please do not reprint or place this newsletter on your web site without explicit permission. However, if you like this newsletter we grant permission, and encourage you to e-mail it to a friend.
Maximum Velocity disclaims any personal loss or liability caused by utilization of any information presented in this newsletter.
The Pinewood Derby Times is not specific to, and is not affiliated with the Boy Scouts of America, YMCA, Awana, or any other organization.
(R)Maximum Velocity is a registered trademark of Maximum Velocity, Inc.
(R)Pinewood Derby is a registered trademarks of the Boys Scouts of America.
(R)Awana is a registered trademark of Awana Clubs International.
All other names are trademarks of their respective owners.