In this Edition
– Editor's Notes
– Feature Article: Testing Wheel Trueness
– Humor
– Product Showcase: DerbyDome – $2.00 Off
– Pinewood Derby Car Showcase
– Pinewood Derby Memory: Our Pinewood Derby Moment
– Q&A
---
Editor's Notes
New Products To Reach Maximum Velocity
Just in time for the 2018-19 pinewood derby season, Maximum Velocity is introducing two new products:
The supercharged descendant of our Barracuda Kit, the SuperCuda has a very aggressive COG thanks to the back placement of a tungsten canopy, and under-body weight pockets.  Low and sleek, the SuperCuda pinewood derby kit soars down the track, producing top results.
Ten swabs, perfectly sized for pinewood derby wheel bores. Use these swabs to polish wheel bores and to start the graphite lubrication process.
Bore Swabs are softer than pipe cleaners and avoid the risk of scratching the bore with the pipe cleaner wire.
Micro Wizard's new "Quick Pack" Track
MicroWizard recently updated their Freedom Pinewood Derby Track to simplify setup and tear down. Randy Lisano (1) reviewed the changes and they are detailed on DerbyTalk.
Here are two videos from MicroWizard:
You can learn more about the Freedom Track at microwizard.com
(1) Randy manages the derbytalk.com forum and is the owner of grandprix-software-central.com
MV Basic & Wedge Car Kits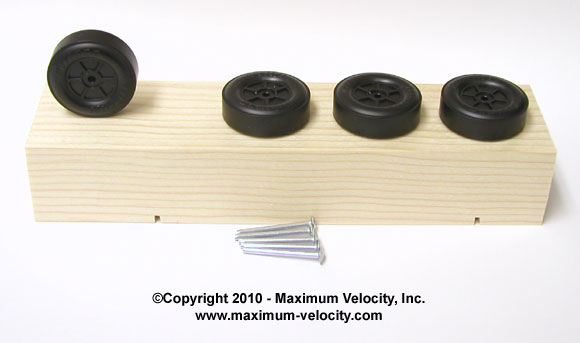 If you are planning a pinewood derby race and are not required to use a specific kit type, our MV Basic or Wedge Car Kit are just what you need. These attractively priced kits are equipped with:
– Quality Block – Unlike the blocks provided by some organizations, our blocks are soft, northwestern pine blocks, cut precisely to 7 inches long, 1-3/4 inches wide, and 1-1/4 inches tall. These dimensions, as well as the axle slots accurately duplicate the dimensions of standard pinewood derby blocks from BSA and PineCar.
– Simple Axle Preparation – Don't worry about filing off flaws, or losing hub caps. Our Pinewood Derby Speed Axles have no burrs or crimp marks, and install without hub caps. With or without polishing, they are ready to go. We supply five, so you have a spare.
– Quality Wheels – Forget cheap, out of round wheels. Our MV pinewood derby wheels are top-quality wheels. You will not be disappointed with the quality of these wheels.
So, if your organization does not mandate a particular kit type, consider our MV Basic Car Kits or MV Wedge Car Kits. We also offer bulk packs of MV kits in Pre-cut Shapes.
Inventory Clearance Sale
We are clearing inventory on several pinewood derby items including:
– Tungsten & Tundra Weights
– Formula One, Barracuda, and Vector car kits
We don't have many remaining, so don't delay.You can find these items Here.

Can We Help?
If we can help you in any way with your pinewood derby project, or if you have any feedback regarding this newsletter, please Contact Us.
---
Feature Article
Testing Wheel Trueness
By Randy Davis
Several times during the past few years, I received a call from a customer who said that the wheels we sold to him were not "true" (out of round or wobbly). I asked how they determined that the wheels were not true. In all cases the customer said that they spun them on the axle and the wheels jumped around or vibrated.
The customers returned the wheels. Of course, when I tested them, they measured perfectly true. Why then did the customer think that the wheels were out of round? Was the customer's method of testing flawed?
The answer is yes, the testing method is flawed. With the vast majority of modern pinewood derby wheels, you cannot assess the accuracy by simply spinning them on the axle.  Why is this? Let's take a deeper look.
Amount of Weight On Axle

When wheels are mounted on a pinewood derby car, the weight of the car presses down on the wheels through the axles. There will be anywhere from 1/2 ounce (on a front wheel) to 2 ounces (on a rear wheel) of weight pressing down on the axles. This weight is generally sufficient to keep the wheels on the track and keep the axle positioned at the bottom of the wheel bore.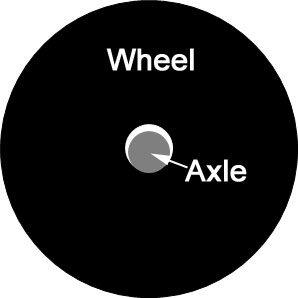 Figure 1 – Weight of car on wheel
But when a wheel is spun on an axle, the amount of weight pressing the wheel to the axle is only the wheel weight. For a raw BSA wheel, this is less than 1/10 ounce, an amount insufficient to keep the axle positioned at the top of the wheel bore. In fact, with many light-weight wheels, the amount of weight on the axle is only 4/100 ounce.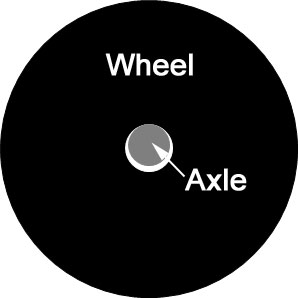 Figure 2 – Free spinning wheel weight
On most wheel/axle systems, the axle is considerably smaller than the wheel bore (about 10 thousandths on a BSA wheel), allowing the wheel to have quite a bit of freedom to move around on the axle. When a wheel is spun on an axle, since there is not enough force to keep the axle at the top of the wheel, the wheel will jump around on the axle, and will oftentimes "orbit" the axle. (1)  Orbiting wheels make a rapid vibrating sound, and then stop spinning suddenly. I'm sure many of you have experienced this. Due to this lack of sufficient weight, testing the trueness of a wheel cannot be accurately determined by spinning the wheel on an axle.
Eliminating Jumping and Orbiting
So, how can we accurately test the trueness of a wheel. Barring an expensive test jig, we must either increase the weight of the wheel, or decrease the freedom of the wheel bore to move around on the axle.
It is possible to add weight to the wheel with a metal ring that's slips onto the wheel tread. However, this ring would need to be perfectly machined to fit snuggly onto the wheel without damaging the wheel. Since wheel diameters vary, one ring size would not fit all wheels, so this method is not feasible. So instead, we need to reduce the freedom of the wheel bore.
Reducing Bore to Axle Freedom
To decrease the freedom in the bore axle system, we must use an "axle" that is of a diameter of just slightly less than the diameter of the bore. Then when the wheel is spun on this oversized axle, the wheel will not jump around or orbit, so the accuracy of the wheel can be judged.
What can we use for oversized axles? There are a few choices.
Pin Gauge
The best choice is a "pin gauge" of the appropriate size. Pin gauges are steel cylindrical pins that come in sizes that increment by 1 thousandth of an inch. For our purposes we would want a pin gauge 1 thousandth less than the bore diameter.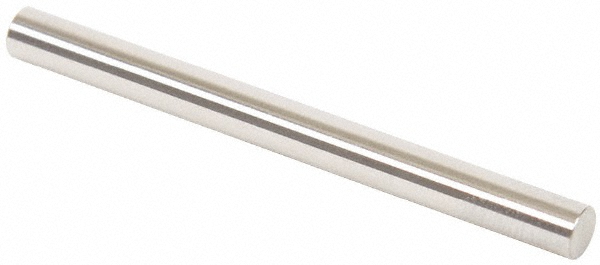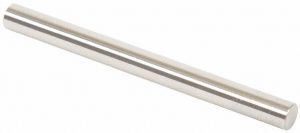 Figure 3 – Pin Gauge
Image Source:  MSC Industrial
The bore size of common pinewood derby wheels is shown below in thousandths of an inch:
– BSA: 96-97
– MV:  95-96
– Awana: 95-97
– PineCar:  93-94
– RA: 98
– Royal Ranger: 123-124
Pin Gauges can be purchased individually, or in sets. You can readily find them on Amazon, eBay, and other places. Avoid black oxide gauges as they tend to be a bit rough.
Numbered Drill Bits
Pin Gauges are a bit pricy, so let's consider another method – drill bits. Numbered Drill Bits are available in a few sizes that can serve our purpose. A 3/32-inch bit may also work.
Bit    Diameter
42 – .0935
3/32 – .0938
41 – .096
40 – .098
Of course, when spinning a wheel on a drill bit you would use the smooth shaft of the bit, not the business end!
Making it Work
To test wheels on a Pin Gauge or a drill bit, first make sure the device is clean and smooth. Try cleaning with some rubbing alcohol. If the device is rough, try polishing it like you would a pinewood derby axle.
Next, I recommend a dry film coating on the device, such as Sailkote, Teflon, or something similar.
Next, gently slide the wheel onto the device and spin gently. You are not trying to see how long the wheel spins; you are trying to observe how "true" it spins. Watch the tread surface, then the inside edge. There will likely be a subtle amount of movement on a trued wheel, but the spin should be obviously and considerably truer than the spin of a raw wheel.
Conclusion
When you are testing wheels to find those that are the most accurate, or you are validating the trueness of a wheel, make sure to test the wheel on an axle that fits snugly. Any amount of free play between the wheel bore and the axle can cause the wheel to look out of true, even if it is an accurate wheel.
Points to Consider

– Wheels are made "true" by machining them on a lathe or a Pro-Wheel Shaver XT. Raw wheels are not generally true.
–  Many "speed wheels" have had the tread surface trued, but the inner edge has not been trued. In these cases, only observe the tread surface.
– On all wheels, the outside surface (the sidewall) is not trued and may wobble somewhat. This is normal and cannot be corrected. Maximum Velocity offers "Customer Select" wheels for Scouting races. These wheels come from molds that tend to be truer than the average wheel. On these wheels the sidewall should exhibit less wobbling than the average wheel.
(1) Think of a hula-hoop spinning around a person's waist.  Essentially, the pinewood derby wheel is making the same motion around the axle.
---
Humor
A woman in a supermarket is following a grandfather and his badly behaved three-year-old grandson.
It's obvious that he has his hands full, what with the child screaming at the top of his lungs for sweets in the sweet aisle, biscuits in the biscuit aisle, and for fruit, cereal and pop in the other aisles.
Meanwhile, Gramps is working his way around, saying in a calm, controlled voice: "Easy, William, we won't be much longer … easy, boy."
Another outburst and she hears the grandpa calmly say, "It's okay, William, just a couple more minutes and we'll be out of here. Hang in there, boy."
At the checkout, the little terror is throwing items out of the cart, and Gramps says again in a controlled voice, "William, William, relax buddy, don't get upset. We'll be home in five minutes; stay cool, William."
Very impressed, the woman goes outside where the grandfather is loading his groceries and the boy into the car. She says to the gentleman, "It's none of my business, but you were amazing in there. I don't know how you did it. That whole time, you kept your composure, and no matter how loud and disruptive he got, you just calmly kept saying things would be okay. William is very lucky to have you as his grandpa."
"Thanks, lady," said the grandfather, "but I'm William … the little boy's name is Charlie."
---
Product Showcase
DerbyDome – $2.00 Off

The DerbyDome is a high-quality case for safely displaying pinewood derby cars. The DerbyDome has the following features:
Heavy duty, clear dome fits snuggly with the black pedestal to keep cars dust free while providing a complete view of the car.
No-tools-required fastening system keeps the car in place – fits BSA, Awana, and other wheels.
Car may be mounted horizontally or tilted to either side.
Product includes: dome, pedestal, 2 mounting brackets, blank paper identification labels, and assembly instructions.
Custom nameplate can be ordered through the manufacturer (order form included).
Through December 25, 2018, you can get one DerbyDome for $2.00 off. To take advantage of this limited time offer, add a DerbyDome to your cart and use coupon code DEC12NL during checkout.
---
Pinewood Derby Car Showcase
Smokey and the Bandit – Randy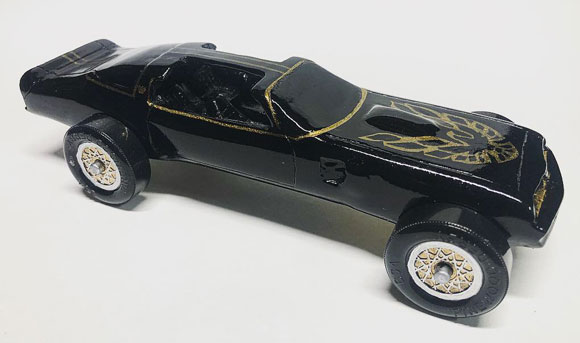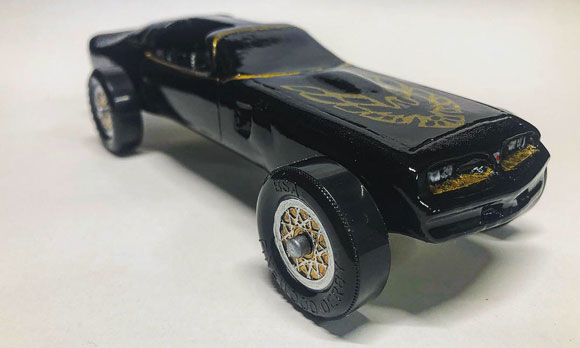 This is my '77 Trans Am Smokey and the Bandit car – made just for fun. I started with a printed template. The top was cut off to make the interior then reattached later. The interior has a dash, bucket seats, steering wheel, center counsel and even a shifter handle. The gold trim and firebird is all airbrushed. I painted BSA wheels to make them look like the original.
Danger Zone – Brad Barnett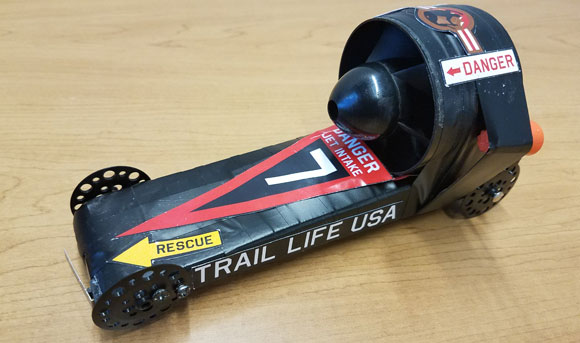 About a year ago you started answering my questions about building a fan-powered car. Well the race is finally here, and my car is ready. I call it "Danger Zone".
Share Your Car with Our Readers
Do you have a car you would like to "show off" to our readers? If so, send us a photo of your car along with a description of any special features to: [email protected]
Please include your full name. If selected, we will include the photo and description in this newsletter.
Photos must be sent by e-mail in JPG format (minimum size of 640×480, maximum size of 1280 x 960). Please shoot photos from the front left of the car, similar to the orientation of car shown at: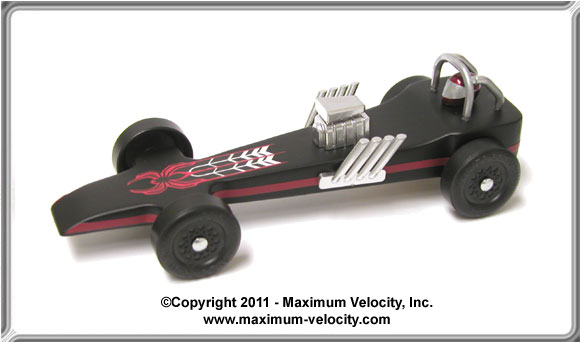 For better focus, keep the camera four or five feet away from the car, and then use the camera's zoom to fill the frame with the car. Also, use a solid (preferably white) background for the photo.
Send only one photo per car, unless an additional photo is needed to adequately show a feature. Also, only one car per subscriber per year please. Thanks.
---
Pinewood Derby Memory
Our Pinewood Derby Moment
Well, we got our car kits two weeks before the race. This was our son's first pinewood derby race. We worked as a team: Son, Mom, Dad. Even the man at the hobby shop helped. We went there every day to weigh our cars. As soon as we walked in the door, they got out the little electronic scale and put it on the counter for us to use. He even helped with ideas when we were over our weight limit.
We sanded, drilled, primed, and painted. We hollowed, puttied, buffed, and glazed. We weighed, wet sanded, and reweighed again.
Finally, the big day was near. Tomorrow was the race: ready, set, go! Well when morning came so did the snow. And snow it did. About 10 A.M. the phone rang. It was our den leader; the race was canceled. It was a white out. We would have to wait one more month. Our big day was delayed 4 more weeks!
In scouting you just never know what lesson you will learn but believe me you will learn something. If my scouting family learned one thing about the pinewood derby, it was patience.
Brenda Puntel
P.S. One cracked car, one can of wood putty, and one ten year-old when left unattended spells T R O U B L E!
Do you Remember?
If you have a pinewood derby story that is funny, unusual, sad, heart-warming, etc., please send it to me in an e-mail. Don't worry about literary polish. We will edit as needed before publishing.
If your story is used, you will receive a $10 coupon in May of 2019.
---
Q&A
I'm a long-time customer and now will be running an Adult Pinewood Derby fundraiser for our Council. I am wondering if you have any source for, or would be willing to create a dozen "Big Rig" kits for our event?
I have 10-12 trucking companies in the area that want a division in the race. I do not want to pursue that without a plan! Any help or thoughts are appreciated.
I do have 18-wheeler, wheel-axle sets; but I don't have kits.
However, Scouts Canada offers 18-Wheeler kits.
I ran three brass tubes for support after removing the majority of the body of the car. I cannot find any rules saying that the car must have a continuous body… any thoughts?
I would have to see your rules and the body to make a better judgment. But generally, if:
It is obvious that a pinewood derby block was used,
the axles mount into the wood block, and
the car meets all the dimension specifications.
Then it should be legal.
Want Answers?
Do you have a pinewood derby-related question? If so, e-mail us your question.We answer all questions by e-mail, but not every question will appear in the Q&A section of the newsletter.
---
Back Issues
Are you a new subscriber, or have you missed some of the previous newsletters? Don't miss out; all of the issues for Volume 5 through Volume 18 are posted on our web site.
---
Newsletter Contributions
We welcome your contributions. If you would like to contribute an article, a web site review, a speed tip, or a pinewood derby memory, please e-mail us.
---
Subscription Information
The Pinewood Derby Times is a free e-newsletter focused on pinewood derby racing. It is published biweekly from October through March.
If you haven't already done so, please forward this issue to your pinewood derby friends. But please don't subscribe your friends. Let them decide for themselves. Thanks.
If this newsletter was forwarded to you, why not subscribe to receive this newsletter. There is no cost, and your e-mail address is safe, as we never sell or share our distribution list.
To subscribe, send a blank e-mail to
[email protected]
You will receive a confirmation e-mail. Reply to the confirmation e-mail and you will start receiving the Pinewood Derby Times with the next issue.
---
Randy Davis, Editor, Pinewood Derby Times
E-Mail: [email protected]
(C)2018, Maximum Velocity, Inc. All rights reserved. Please do not reprint or place this newsletter on your web site without explicit permission. However, if you like this newsletter we grant permission, and encourage you to e-mail it to a friend.
Maximum Velocity disclaims any personal loss or liability caused by utilization of any information presented in this newsletter.
The Pinewood Derby Times is not specific to, and is not affiliated with the Boy Scouts of America, YMCA, Awana, or any other organization.
(R)Maximum Velocity is a registered trademark of Maximum Velocity, Inc.
(R)Pinewood Derby is a registered trademarks of the Boys Scouts of America.
(R)Awana is a registered trademark of Awana Clubs International.
All other names are trademarks of their respective owners.