– Feature Article – Wax Those Wheel Bores for Top Performance
– Pinewood Derby Car Showcase
– Q&A
---
Feature Article
Wax Those Wheel Bores for Top Performance
By Randy Davis
If you peruse the various pinewood derby forums, you will know that the adult racing leagues are highly competitive. These pinewood derby car builders are always on the lookout for techniques to gain a few micro-seconds. The first article of this season discussed one of these techniques, the use of fenders to improve the aerodynamics of the car. Today we will look at another technique, waxing the wheel bores.
Polishing wheel bores is fairly common, and is accomplished using a product such as Micro-Gloss, a very fine crystalline abrasive that is designed to polish plastic and acrylic products. Waxing the bore goes a step further by applying a plastic-safe wax (Pro-Bore Wax) and then buffing it with a pipe cleaner. This wax fills in tiny imperfections in the bore and results in a hard slick surface that is better than the polished bore. To check this out, let's run an experiment and see what happens.

Experiment Setup
In order to isolate the benefit of waxing the bore, all other variables need to be eliminated. Therefore, track testing would not be a viable way to test as too many factors are at play. So instead, we will use a weighted-wheel spin jig. The equipment used was previously described in Volume 8, Issue 6 – Grooved Axles
As a refresher, the apparatus consists of a machined steel ring which is sized to fit snugly over a machined BSA wheel. The ring weighs two ounces, which is essentially the load on a rear wheel of a pinewood derby car.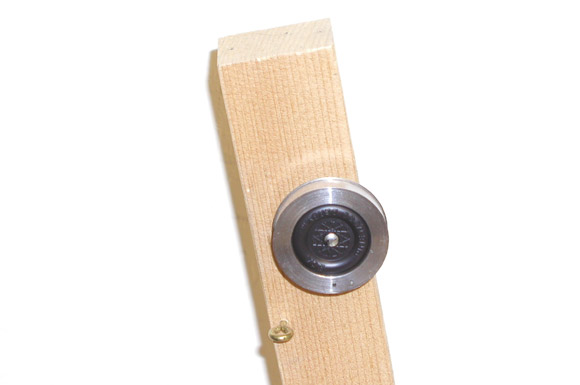 Figure 1 – Weighted Wheel Spin Jig
After sliding the ring over the lubricated wheel-axle assembly, the axle is mounted onto the apparatus. A length of nylon line with a weight on one end is wound around the ring (there is a small pin on the ring not seen in Figure 1, to which the non-weighted, looped end of the string is attached). On each test, the string is wound until the weight touches the eye hook. The weight is then released and a stopwatch is used to measure the spin time. The string is sized such that it is released from the ring before the weight reaches the ground.
Two wheels and two axles were used for each test. The reason for the duplication is to ensure that performance is not exaggerated or degraded due to a "fluke" wheel or axle. The wheels were machined wheels and were from the same mold number.
The combinations tested were:
Max-V-Lube Graphite – No Wax
Max-V-Lube Graphite – Pro-Bore Wax
Krytox 100 – No Wax
Krytox 100 – Pro-Bore Wax
Each wheel/axle was lubricated in the same manner, and then given two break-in spins. Next, five spin tests were performed for each wheel (eight wheels total).

Experiment Results
As you can see in Figure 2, the use of Pro-Bore Wax improved the performance for both Krytox 100 and Max-V-Lube Graphite (a longer spin time is better).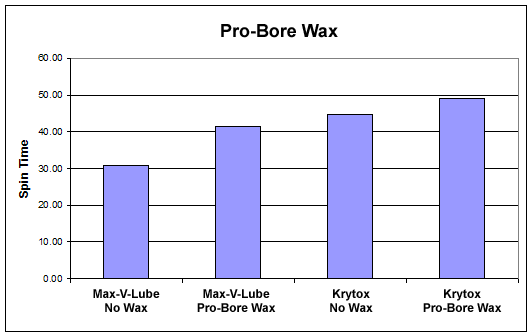 Figure 2 – Experiment Results
How does this data transfer to track time improvement? Certainly the improvement in track time would be much smaller than shown above, as many other factors come into play. However, with both lubes, using Pro-Bore Wax should provide measurable differences on the track.
---
Pinewood Derby Car Showcase
Some unusual cars …

Propeller Car – Ron Kohl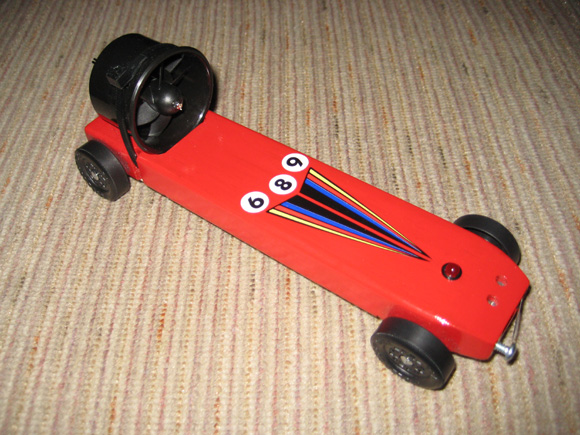 We used your propeller car kit, along with our modifications to make this car. It includes both capacitors and batteries. A slide switch on the rear turns the battery on and off. The screw on the front prevents the switch from accidentally closing and charging the capacitors when the car is in the holding area. Just in front of the arrow point is an LED that flashes when the capacitors are charging and the fan is running. It adds some suspense. The body, wheels and axles are from a Pinewood Derby kit. The car did win, and all eyes were on it at the district race held in April 2013.

'63 Corvette Stingray – William Groner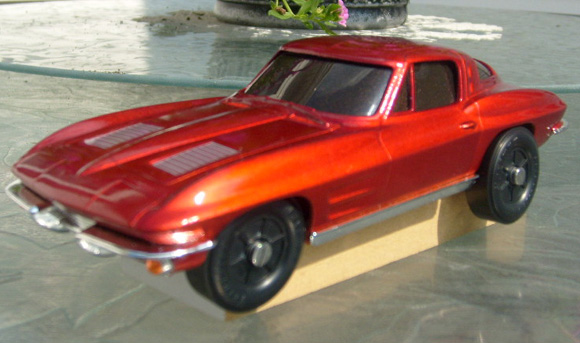 Here is my '63 Corvette Stingray, "Hot Salsa", with your Max-V wheels trued to 2.2 grams. The car set the track record at APR in July. As you can tell, it's a plastic model on a wooden frame. APR rules for the Door Slammer class require a 1/25 scale model of an American-made production car prior to 1973.

St. Mary's School Bus – David Farlwo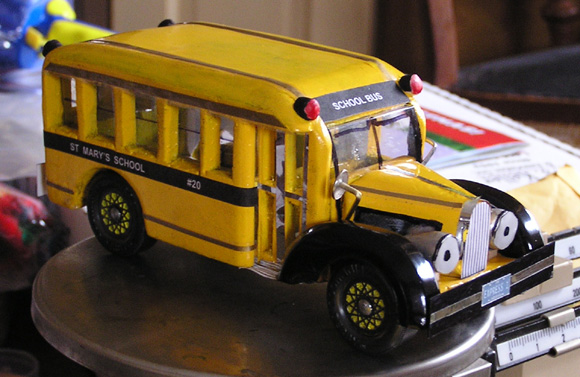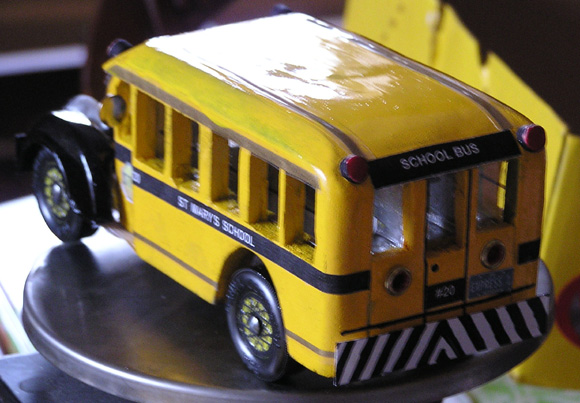 I thought this might inspire those who want to try something different. The bus met all the regulations for our group. It is a three-wheeler with the weight in the rear of the roof (primarily). We've got a very competitive crowd, so the bus was a way to run and win best of show. It placed just under the fastest cars, taking fifth place. The best part was that it wasn't a wedge and could still keep close company with the other cars. Not too much bragging when your wedge just barely beat an old school bus!
---
Q&A

We opened my daughter's car kit tonight and noticed that the wheels included in the kit are a different design than last year's. This year's design is a five-spoke rim with no "Awana Grand Prix" molded into the tire area like it was last year. I used your speed wheels last year, and obviously we can't use them this year, as they are different than what came with this year's kit. I'm wondering if you have speed wheels made from the new design. Let me know.
Possibly your club is using PineCar brand wheels. Do they look like this?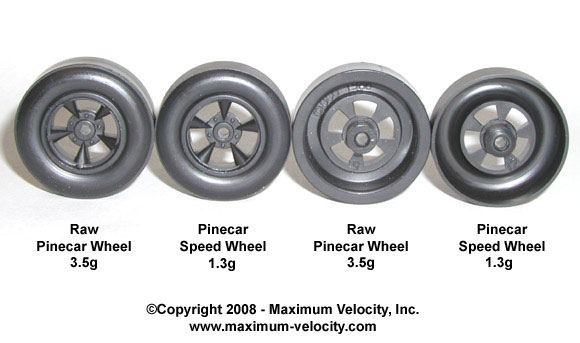 If so, then we do offer a Speed Wheel version of PineCar wheels.
If not, send me a photo of the wheel (both sides), and I will try to identify them.
Do you have stock RA wheels? We are not allowed to use your thin RA Speed Wheels.
Sorry, we only offer the narrowed RA wheels, not stock ones. However, you can get stock wheels from:
www.raracers.net
or
www.royalracers.com
Want Answers?
Do you have a pinewood derby-related question? If so, e-mail us your question.We answer all questions by e-mail, but not every question will appear in the Q&A section of the newsletter.
---
Back Issues
Are you a new subscriber, or have you missed some of the previous newsletters? Don't miss out; all of the issues for Volume 5 through Volume 17 are posted on our web site.
---
Newsletter Contributions
We welcome your contributions. If you would like to contribute an article, a web site review, a speed tip, or a pinewood derby memory, please e-mail us.
---
Subscription Information
The Pinewood Derby Times is a free e-newsletter focused on pinewood derby racing. It is published biweekly from October through March.
If you haven't already done so, please forward this issue to your pinewood derby friends. But please don't subscribe your friends. Let them decide for themselves. Thanks.
If this newsletter was forwarded to you, why not subscribe to receive this newsletter. There is no cost, and your e-mail address is safe, as we never sell or share our distribution list.
To subscribe, send a blank e-mail to
pinewood-derby-times-on@mail-list.com
You will receive a confirmation e-mail. Reply to the confirmation e-mail and you will start receiving the Pinewood Derby Times with the next issue.
---
Randy Davis, Editor, Pinewood Derby Times
E-Mail: info@maximum-velocity.com
(C)2018, Maximum Velocity, Inc. All rights reserved. Please do not reprint or place this newsletter on your web site without explicit permission. However, if you like this newsletter we grant permission, and encourage you to e-mail it to a friend.
Maximum Velocity disclaims any personal loss or liability caused by utilization of any information presented in this newsletter.
The Pinewood Derby Times is not specific to, and is not affiliated with the Boy Scouts of America, YMCA, Awana, or any other organization.
(R)Maximum Velocity is a registered trademark of Maximum Velocity, Inc.
(R)Pinewood Derby is a registered trademarks of the Boys Scouts of America.
(R)Awana is a registered trademark of Awana Clubs International.
All other names are trademarks of their respective owners.