In this Edition
– Editor's Notes
– Feature Article – Use Air Guides to Improve Aerodynamics
– Humor
– Product Showcase – Air Guides – $2.00 Off
– Pinewood Derby Car Showcase
– Pinewood Derby Memory – A Proud Moment
– Q&A
---
Editor's Notes
Reader Feedback
We received two e-mails regarding our article on Timers in the Last Edition:
"Hi Randy, I still subscribe to your newsletter since I enjoy it so much, even though my boys are in college!
I wanted to pass along a tip about a discovery we made a few years ago; we hosted workshops for our Pack and owned our own Piantadosi Track and MicroWizard timer. All the timer manufacturers mention the sensor specs in their literature, but the one factor they don't include is the amount of occlusion that must occur to trip the sensor. This would also vary based on room conditions and lighting.
Without testing, I can't say there is a difference between various manufacturers, but I can say that having a nose design that doesn't block light either by aspect ratio or being reflective on the underside will cause negative results.
For that reason, we always painted the underside of the nose a flat black, and made sure to include enough width in the design to block the light as quickly as possible. Every small gain adds up, and light blocking can have significant results, it's also easy to implement.
That might serve as a fun demonstration for your readers, broad nose versus pin nose, and reflective versus flat black.
Take care and keep up the awesome work!" – Mike Doyle
From Randy: Mike, thanks for the information. Your observations are quite valid. I did cover this somewhat in the footnoted article:
Pinewood Derby Times Volume 7, Issue 2 – "Is Your Finish Line Providing Accurate Results?"
"I enjoyed your article on timers, but in your list of timer vendors you missed one. In my opinion this is the best timer system on the market. It is Supertimer. This system does not use lights for timing but rather, piezoelectric switches. This allows precision timing without an overhead rail so there is no height limit on racers. …" –
Vaughn Martens
From Randy: Vaughn, thanks for the note. As indicated in the article, I chose to not include timers that are intended for use on only the manufacturer's track. The SuperTimer is intended for use only on a SuperTrack – although as you point out, with good handyman skills you can adapt it for other tracks. I also left out the Champ Timer as it is made only for the BestTrack.
MV Basic & Wedge Car Kits


If you are planning a race and are not required to use a specific kit type, our MV Basic or Wedge Car Kit are just what you need. These attractively priced kits are equipped with:
– Quality Block – Unlike the blocks provided by some organizations, our blocks are soft, northwestern pine blocks, cut precisely to 7 inches long, 1-3/4 inches wide, and 1-1/4 inches tall. These dimensions, as well as the axle slots accurately duplicate the dimensions of standard pinewood derby blocks from BSA and PineCar.
– Simple Axle Preparation – Don't worry about filing off flaws, or losing hub caps. Our Speed Axles have no burrs or crimp marks, and install without hub caps. With or without polishing, they are ready to go. We supply five, so you have a spare.
– Quality Wheels – Forget cheap, out of round wheels. Our MV wheels are top-quality wheels. You will not be disappointed with the quality of these wheels.
So, if your organization does not mandate a particular kit type, consider our MV Basic Car Kits or MV Wedge Car Kits.
Inventory Clearance Sale
We are clearing inventory on several items including:
– Tundra and tungsten weights
– Velocinator and Formula One car kits
– Paint Stencils
We don't have many left, so don't delay. You can find these items Here.
Can We Help?
If we can help you in any way with your pinewood derby project, or if you have any feedback regarding this newsletter, please Contact Us.
---
Feature Article
Use Air Guides to Improve Aerodynamics
By Randy Davis
In September of 2017, Maximum Velocity introduced Air Guides(1), which are clear plastic discs that fit between the car body and the wheels. The purpose of the Air Guides is to improve the flow of air around the wheels, thus improving the aerodynamic profile of the car.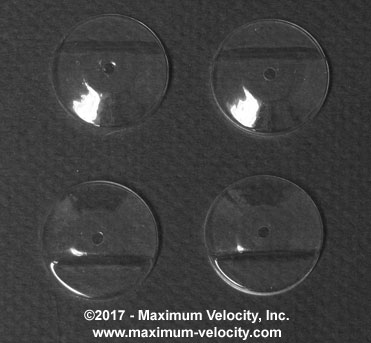 Figure 1 – Air Guides
The manufacturer of the Air Guides claims an improvement of 5 to 7 milliseconds on the track when Air Guides are properly installed. However, trying to test the Air Guides on the track is problematic. In order to test a car with and without Air Guides, the wheels/axles must be removed, reinstalled, and realigned. This configuration change introduces variability in the results and makes the numbers somewhat suspect.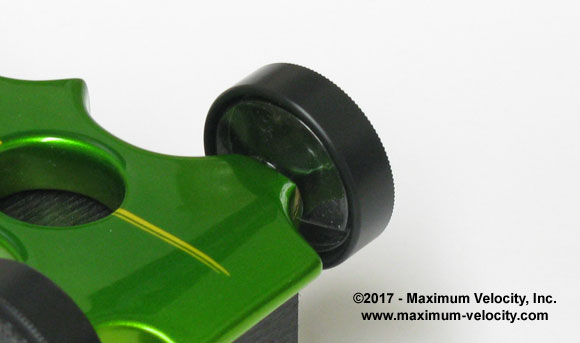 Figure 2 – Air Guides Installed
However, the effect of Air Guides can be tested in a wind tunnel. The results cannot directly be tied to milliseconds on the track, but they can give a feel for the magnitude of the improvement.
So, off to the wind tunnel we go.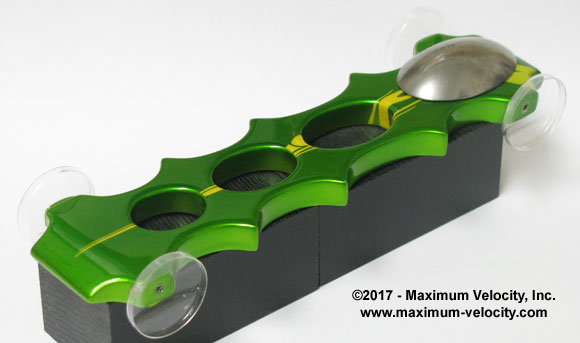 Figure 3 – Test Car with Air GuidesWind Tunnel Testing
Results
The results are shown in the table below. The numbers represent grams of force due to air flow over the car. Lower numbers represent less force and a more aerodynamic car.
       Guides         No Guides
       Average       Average
Low    2.600         3.200
Med    3.200         3.667
High   4.467         4.900
Below is the difference between the two numbers in the table above and the percent reduction in air resistance due to the presence of the Air Guides.
 
           Delta    % Reduction
Slow   0.600    19%
Med    0.467    13%
High   0.433    9%
The slow speed number shows the greatest difference, and is really the more important number, as the air speed in that test is closer to the actual air flow in a pinewood derby race.
Note that the nineteen percent reduction in air resistance does not mean a nineteen percent improvement in race times. What the number represents is a nineteen percent reduction in the effect of air resistance on the car. Other factors in car performance, such as friction, weighting, alignment, etc. are still in effect.
Conclusion
After running this test, the manufacturer's claim of 5 to 7 milliseconds on the track does not seem out of line. Clearly, the hollow of the wheels does detract from the aerodynamics of the car, and filling in the hollow area has a significant positive effect on air flow.
(1) Air Guides can be found
Here
. 
Please check your local rules for legality before purchasing and using Air Guides.
(2) You can find the article on the wind tunnel
Here
.
(3) For this test, the Air Guides were installed using a very thin, double sided tape, so that they could be removed without damaging the car or the Air Guides. Normally, they are glued to the side of the car.
---
Humor
My grandfather worked in a blacksmith shop when he was a boy, and he used to tell me, when I was a little boy myself, how he had toughened himself up so he could stand the rigors of blacksmithing.
One story was how he had developed his arm and shoulder muscles. He said he would stand outside behind the house and, with a 5 pound potato sack in each hand, extend his arms straight out to his sides and hold them there as long as he could.
After awhile he tried 10 pound potato sacks, then 50 pound potato sacks and finally he got to where he could lift a 100 pound potato sack in each hand and hold his arms straight out for more than a full minute!
Next, he started putting potatoes in the sacks!
---
Product Showcase
Air Guides – $2.00 Off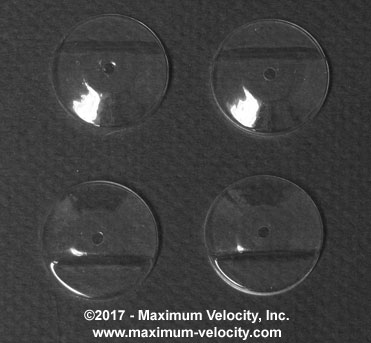 Air Guides are clear, dish-shaped plastic inserts that attach to the car body. They are held in place with glue (epoxy is recommended). The Air Guides are slightly smaller than the inside diameter of the wheel, so the wheel spins round the air guide without contacting the guide (except for the inner hub – see more under "Important Notes").
Air Guides direct the flow of air past the wheel cavity, thus reducing turbulence. This reduces drag, and improves the performance of the car. Wind tunnel test results show up to a 19% reduction in aerodynamic drag when Air Guides are installed.
Through November 14, 2017, you can get a set of Air Guides for $2.00 off. To take advantage of this limited time offer, add part 4044 to your shopping cart, and use coupon code NOVAIRNL during checkout.
---
Pinewood Derby Car Showcase
Vintage Truck – Randy F.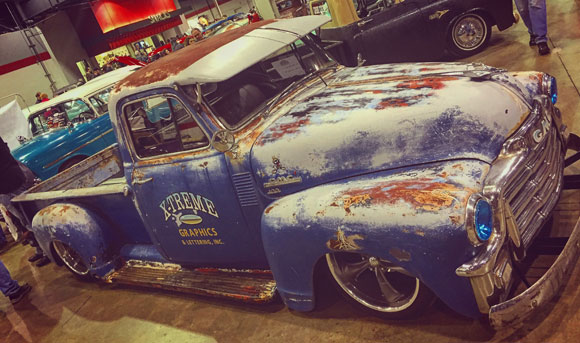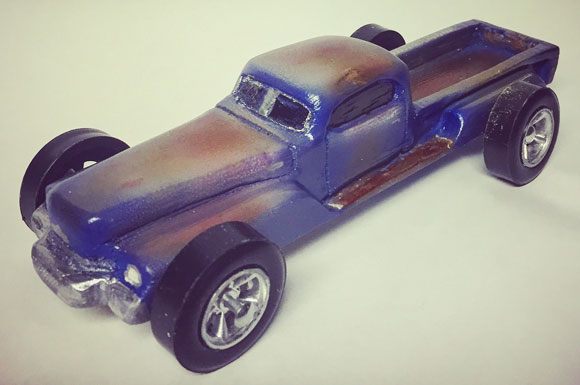 I don't see too many old pinewood derby pickups so it was nice to try something different.I came across this truck at this years World of Wheels expo. I tried to match the patina the best I could. I like to put as much texture into my cars as I can, that's  why I like to carve out the windows, door lines, hood lines, etc. It was very tricky trying to carve out those rear fenders. I have a passion for old trucks and it was fun trying to recreate this particular truck.
Super Bowl Champ – Rick & Jaden Simmer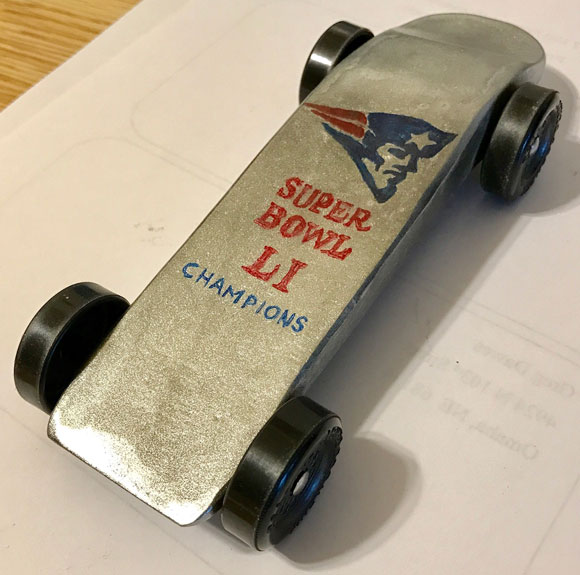 This is my 9 year old's (Jaden) pinewood derby car, which was the pack and district champion. His car (in the spirit of the New England Patriots Super Bowl win in 2015) came from behind to win the District race, having been beaten in the first heat of the double elimination.
Share Your Car With Our Readers
Do you have a car you would like to "show off" to our readers? If so, send us a photo of your car along with a description of any special features to:
[email protected]
Please include your full name. If selected, we will include the photo and description in this newsletter.
Photos must be sent by e-mail in JPG format (minimum size of 640×480, maximum size of 1280 x 960). Please shoot photos from the front left of the car, similar to the orientation of this car: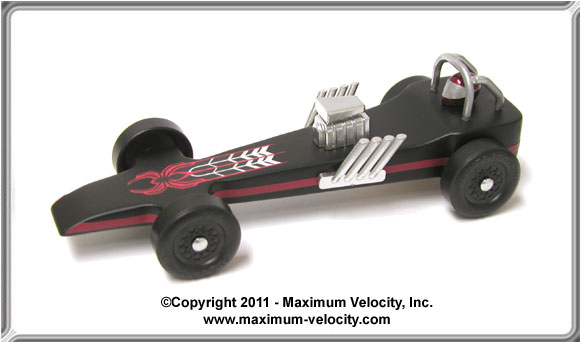 For better focus, keep the camera four or five feet away from the car, and then use the camera's zoom to fill the frame with the car. Also, use a solid (preferably white) background for the photo.
Send only one photo per car, unless an additional photo is needed to adequately show a feature. Also, only one car per subscriber per year please. Thanks.
---
Pinewood Derby Memory
A Proud Moment
There is a Cub Scout in my den whose name is Brett Ott. He missed out on our Pack's Pinewood Derby Race. When it came time to have the district race he showed up and said that he wanted to race. In his hands were two cars that were very obviously cub scout built, crude and rough, but of course beautiful as all cub-built cars are.
It so happens that we have an open class in our district race where anyone can enter a car as long as it passes the same inspection as the cub scout cars. Since the other classes were only for the first place finishers from the packs of our district, I told Brett that he would have to race in the open class with all of the fathers, mothers, sisters, brothers, etc. This included running his car against mine and some other "pineheads" like myself. There was a large showing of open class cars this particular year, so his chances of placing seemed to be zip. But he would get to race.
He said, "I don't know which car to race," as he held out the two cars that he had brought with him. I looked both of them over and suggested the car which looked to have the best chance of performing. I weighed the car which was quite light. I took him over to the pit stop area where we quickly hot glued some lead to the top of the car. We graphited the wheels and ground in the lube by rolling the car back and forth on the counter. Then I placed the car with the rest of the open class cars, told him when they would race and then went back to the business of getting the other hundred and twenty Cub Scout cars registered and set in place for racing.
The races went on through the day with much excitement.  Finally it came time for the open class races to occur. Off they raced with over 30 cars competing. Then the dust cleared and the results were announced. "In 3rd Place," I yelled , "In the open class racing against many adults, the winner of the Thunderbird district 3rd Place trophy is BRETT OTT!"
I think that I was every bit as proud of him as I was of my own 1st Place finish in that race, possibly even more excited as I became quite emotional and choked up when presenting him with his trophy. He had produced, nearly all by himself, one of the fastest cars in the district, without the knowledge of how to do so.  This after missing out in racing with his fellow scouts in his pack. This was a proud moment.
Randal Veenker
Cubmaster, Pack 248
Sandy, Oregon
Do you Remember?
If you have a pinewood derby story that is funny, unusual, sad, heart-warming, etc., please send it to me in an e-mail. Don't worry about literary polish. We will edit as needed before publishing. If your story is used, you will receive a $10 coupon in May of 2017.
---
Q&A
Q: Thank you so much for answering my e-mail the other day. I had my buddy use your Pro-Axle Bender to put a 2.5 degree bend in each of the rear axles. I angled the axles "up" so that the wheels would "migrate" towards the axle heads rather than the car.
In the past, I could always "steer" my rail riders by applying a 2.5 degree bend in the dominant front axle and by turning it one "hour" at a time until the car drifted slightly towards the raised wheel. Now, no matter what I do, the car drifts toward the dominant front wheel.
Help!
P.S. I did what you said and, after installing the bent rear axles, I rolled it back and forth a few times to make sure that both wheels were always moving and never touching the car body.
A: I assume that you can get some steering adjustment as you rotate the front axle, just not enough to get the car to drift the other way. If so, then likely the front axle slot/hole where the dominant axle is mounted is not parallel with the rear axles. I would check to make sure it is mounted properly. If you cannot correct the situation by remounting the front dominant axle, then you would need to increase the bend on the front axle to get more steering adjustment.
Q: Explain to me again why, when rail-riding, you want five inches of drift over eight feet. If you can get less than that, wouldn't that be better?
A: You need enough drift to overcome any tilt to the track. Most tracks are just slapped together quickly and are not leveled. So the track could lean left or right, or even some parts left and some parts right. Usually, five inches over eight feet is enough to overcome these problems.
You also need enough drift to ensure that the dominant wheel stays firmly against the rail. If the drift is not enough, the wheel may lose contact with the rail, leading to the death rattle (car rapidly moving back and forth around the lane guide.
Want Answers?
Do you have a pinewood derby-related question? If so, e-mail us your question.We answer all questions by e-mail, but not every question will appear in the Q&A section of the newsletter.
---
Back Issues
Are you a new subscriber, or have you missed some of the previous newsletters? Don't miss out; all of the issues for Volume 5 through Volume 17 are posted on our web site.
---
Newsletter Contributions
We welcome your contributions. If you would like to contribute an article, a web site review, a speed tip, or a pinewood derby memory, please e-mail us.
---
Subscription Information
The Pinewood Derby Times is a free e-newsletter focused on pinewood derby racing. It is published biweekly from October through March.
If you haven't already done so, please forward this issue to your pinewood derby friends. But please don't subscribe your friends. Let them decide for themselves. Thanks.
If this newsletter was forwarded to you, why not subscribe to receive this newsletter. There is no cost, and your e-mail address is safe, as we never sell or share our distribution list.
To subscribe, send a blank e-mail to
[email protected]
You will receive a confirmation e-mail. Reply to the confirmation e-mail and you will start receiving the Pinewood Derby Times with the next issue.
---
Randy Davis, Editor, Pinewood Derby Times
E-Mail: [email protected]
(C)2017, Maximum Velocity, Inc. All rights reserved. Please do not reprint or place this newsletter on your web site without explicit permission. However, if you like this newsletter we grant permission, and encourage you to e-mail it to a friend.
Maximum Velocity disclaims any personal loss or liability caused by utilization of any information presented in this newsletter.
The Pinewood Derby Times is not specific to, and is not affiliated with the Boy Scouts of America, YMCA, Awana, or any other organization.
(R)Maximum Velocity is a registered trademark of Maximum Velocity, Inc.
(R)Pinewood Derby is a registered trademarks of the Boys Scouts of America.
(R)Awana is a registered trademark of Awana Clubs International.
All other names are trademarks of their respective owners.