PINEWOOD DERBY TIMES
Volume 16, Issue 4
November 16, 2016
In this Edition
– Editor's Notes
– Feature Article – Light Trees – Rev Up Your Pinewood Derby Race
– Humor
– Product Showcase – Pro-Axle Bender – 10% Off
– Pinewood Derby Memory – Coping with Wood Block
– Pinewood Derby Car Showcase
– Q&A
---
Editor's Notes
MV Basic & Wedge Car Kits



If you are planning a race and are not required to use a specific kit type, our MV Basic or Wedge Car Kit are just what you need. These attractively priced kits are equipped with:
– Quality Block – Unlike the blocks provided by some organizations, our blocks are soft, northwestern pine blocks, cut precisely to 7 inches long, 1-3/4 inches wide, and 1-1/4 inches tall. These dimensions, as well as the axle slots accurately duplicate the dimensions of standard pinewood derby blocks from BSA and PineCar.
– Simple Axle Preparation – Don't worry about filing off flaws, or losing hub caps. Our Speed Axles have no burrs or crimp marks, and install without hub caps. With or without polishing, they are ready to go. We supply five, so you have a spare.
– Quality Wheels – Forget cheap, out of round wheels. Our MV wheels are top-quality wheels. You will not be disappointed with the quality of these wheels.
So, if your organization does not mandate a particular kit type,
consider our MV Basic Car Kits or MV Wedge Car Kits.
Call for Photos
Help, we are virtually out of photos for the pinewood derby car showcase.  Please send us a photo of your car along with a description of any special features to:
[email protected]
Please include your full name. If selected, we will include the photo and description in this newsletter.
Photos must be sent by e-mail in JPG format (minimum size of 640×480, maximum size of 1280 x 960). Please shoot photos from the front left of the car, similar to the orientation of car shown at: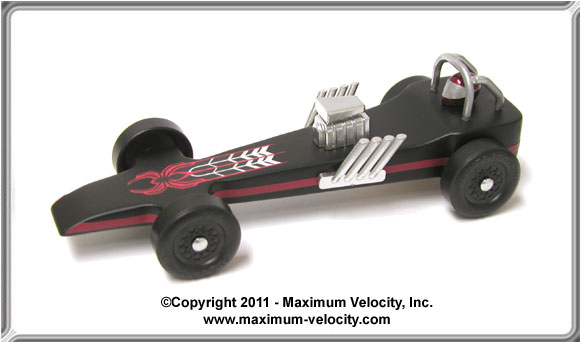 Make sure the photo is not blurry. If your photos are blurry, try holding the camera four or five feet away from the car, and then use the camera's zoom to fill the frame with the car. Also, use a solid (preferably white) background for the photo.
Send only one photo per car, unless an additional photo is needed to   adequately show a feature. Don't forget to include your name, the name of the car (if it has one), and a brief write up on any design features, inspiration for the design, and how the car performed at the race. Thanks.
Inventory Clearance Sale
We are clearing inventory on several items including:
– Discount slotted blocks
– Formula One car kit
– Wheel Flares and Paint Stencils
– Raingutter Regatta Decals
We don't have many left, so don't delay. You can find these items Here.
Can We Help?
If we can help you in any way with your pinewood derby project, or if you have any feedback regarding this newsletter, please Contact Us.
---
Feature Article
Light Trees – Rev Up Your Pinewood Derby Race
In early 2016 I was asked by a customer for information about single lane timers. I knew that John Shreffler at New Directions(1) offered a single lane timer, so I called him up to ask a few questions. In the course of the conversation, John mentioned that he had a new light tree (the LT4) and asked if I would be interested in having one to show at our shop. I told him, "of course," and a week later one showed up in the mail. Now that I had a new product, I (of course) had to write an article about it.
Although this article is a review of the LT4 light tree, first I want to provide an overview of light trees and the related topic of start gates. Then, after the review of the product, I'll briefly cover competitive offerings.
What Are Light Trees?
Light Trees are used in drag racing to signal the drivers when they can pass the starting line. The tree progresses through amber lights, and then a green start light turns on, signaling "go" to the drivers. A red light is used to signal a car fault, i.e., the driver crossed the starting line before the green light.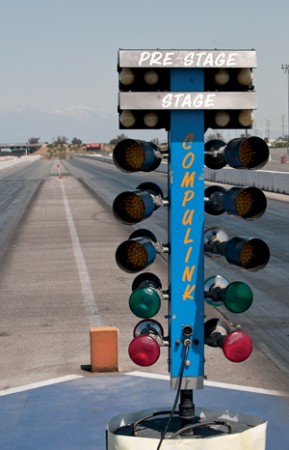 Figure 1 – Typical Light Tree
(Source: Laverne Magazine)
Carrying this idea into pinewood derby racing, a light tree is typically used to help create a racing atmosphere at the event. But it can also be used for staging pinewood derby drag races.
There are three ways in which a light tree can be used in pinewood derby racing:
1. Non-integrated Tree – If the track has a manual start gate, then the light tree is activated by the gate operator to show that the cars are about to race. When the green light turns on, the gate operator triggers the gate. In this case, the tree is strictly for show.
2. Integrated Tree – If the track has a solenoid start gate, then the gate operator (2) activates the light tree, which in turn triggers the start gate when the green light turns on.
3. Drag Racing – If the track has a split gate (two levers which operate two different lanes), then two racers stage their cars, and trigger their gate when the green light appears. In this case only, a red fault light would turn on if one of the gates was triggered before the green light appeared.
Start Gates
Traditionally, pinewood derby start gates have been equipped with a manual release, whereby the gate operator triggers the gate using a lever of some type. Generally, the start gate has a spring that rapidly opens the gate when triggered. The gate is manually closed before the next heat.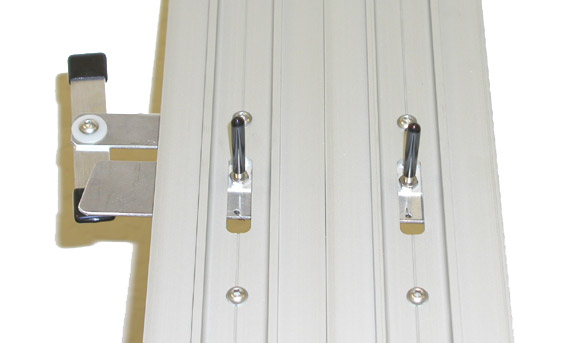 Figure 2 – Freedom Track Manual Start Gate
More recently electric-powered gates have become available. These powered gates are triggered with a button or, in some cases by a signal from race management software. There are two types of electric-powered gates:
1. Solenoid Release – With solenoid release gates, the operator's hand is essentially replaced by a solenoid, a device that uses an electromagnet to move a cylindrical rod when power is applied. By hooking the rod to the start gate, the gate is opened when power is applied; power is applied just long enough to release the gate. The gate must be manually closed before the next heat.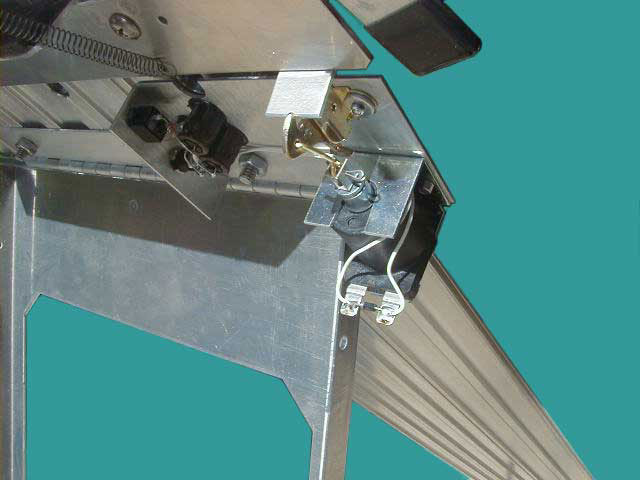 Figure 3 – Solenoid Release Gate on a Freedom Track
2. Full Motion – Full Motion gates use a rotary solenoid to open the gate when power is applied. When power is removed, the gate closes, eliminating the need for human intervention.

Figure 4 – Full Motion Gate on Freedom Track
(Source: newdirections.ws)
LT4 Light Tree Review
Now that we have discussed light trees and start gates, let's take a look at the LT4 and how it interfaces with a start gate.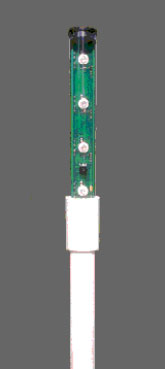 Figure 5 – LT4 Light Tree
(Source: newdirections.ws)
The LT4 is a low-cost light tree that can be used with any track and start gate.(3) It is small (5-1/4 inches from the top to the white area) so it is easily stored with the track. However, the LEDs are quite bright, allowing the lights to be easily viewed from across a large room.
For $129, you get the light tree, mounting hardware, the controller box, and a cable to connect the box to a solenoid gate. The unit operates on three AAA batteries. The control box mounts to the underside of the track with double-stick tape (supplied). It has three connections:
– Light Tree (cable included)
– Solenoid gate (cable included)
– SCI – This is to connect either a pushbutton switch or a PC running race management software. The pushbutton switch or the computer connecting cable are optional add-ons.


Figure 6 – LT4 Control Box
(Source: newdirections.ws)
As shipped, the LT4 is activated by a remote. I tried a Samsung TV remote, a Sony receiver remote, and a Cox Cable remote, all of which activated the tree. The use of a remote allows activation by a race official, or by a member of the audience if desired.
I also tried the pushbutton switch (model PB2 – $26). It, of course, works fine to activate the light tree.
On my Freedom Track, I have a solenoid release start gate. The video below shows the LT4 activation and resulting gate triggering initiated with the pushbutton switch. Note that I mounted the LT4 on a wall. I could do this since my track does not move. Typically the LT4 is mounted at the top of the track; mounting hardware is provided for that purpose.
LT4 Video – Click on Photo
When idle the light tree repeatedly flashes a brief red light. When activated it cycles from bright flashing red to amber (two lights), and finally to green. After triggering the gate, it reverts back to the idle mode.
Split Gate Racing
When drag race-style racing is desired, split start gates are available to allow independent manual gate operation by two racers. In this case an option is required for the LT4 to show gate faults.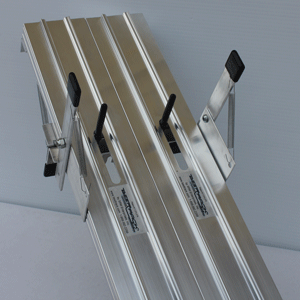 Figure 7 – BestTrack Split Start Gate
(Source: besttrack.com)

Figure 8 – LT4 With Fault Lights
(Source: newdirections.ws)
When used in this mode, the light tree does not trigger the gates, but instead monitors the gate status. When the light tree is activated, the lights sequence to the green light, at which time the racers trigger their gates. If a gate is triggered prematurely, a red light indicates the fault.
In order to detect gate activation, magnetic switches are mounted on the gate.


Figure 9 – Fault Detection Switches
(Source: newdirections.ws)
Competitive Offerings
There are two competitive offerings on the market:
— Micro Wizard TLG —
The Micro Wizard offering consists of a track mounted light tree and solenoid release gate. The light tree is activated with a button, and it triggers the gate when the green light turns on. The price is $220 for the light tree and gate release mechanism (does not include the start gate itself). See www.microwizard.com for more information.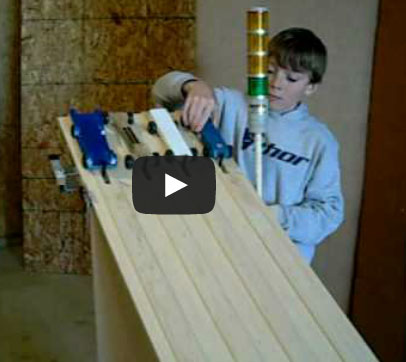 Figure 10 – Micro Wizard TLG
(Source: microwizard.com)
— DragMaster Light Tree —
The DragMaster Light Tree is a scale representation of a drag racing light tree. It includes several operation modes ranging from display mode to pro mode. The gate can be connected with the Jewkes Engineering ESS gate release for gate triggering. The DragMaster can work with a split start gate for drag race-style racing. The 32-inch-tall, free-standing light tree is priced at $485 (ESS gate release, split start gate, and drag racing hook-up are sold separately). See www.besttrack.com for more information.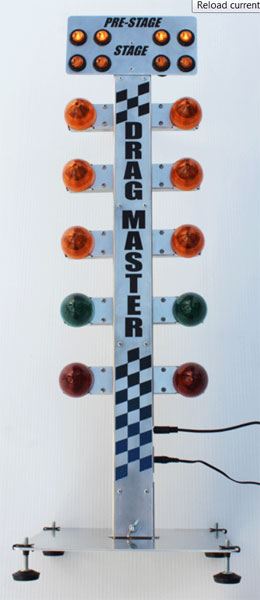 Figure 11 – DragMaster Light Tree
(Source: besttrack.com)
(2) As we will see, the LT4 light tree can be started by the gate operator, a member of the audience, or by Grand Prix Race Manager.
(3) The LT4 works with all of the New Direction solenoid gates, as well as the Jewkes Engineering ESS gate.
---
Humor
While waiting at the veterinarian's office, I overheard two women chatting about their dogs.
"What's your dog's name?" asked the first woman.
"Well, we used to call her Pork Chop," answered the second lady. "But after the vet bills we've had for her, we now call her Filet Mignon."
---
Product Showcase
Pro-Axle Bender – 10% Off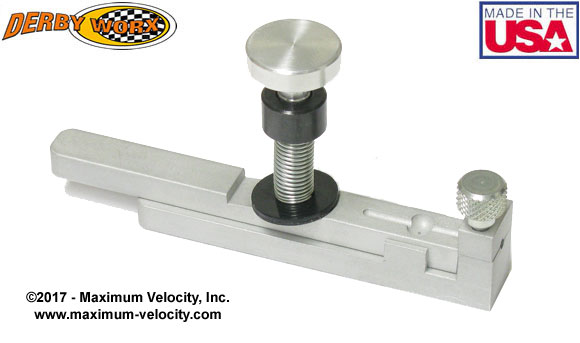 Stage Your Cars in Safety and Style
The Pro-Axle Bender provides an accurate, simple, and repeatable way to put a bend in pinewood derby axles. On typical axles, the tool supports any angle between 1/2 and 8 degrees. Axle bending allows rear wheels to run canted, and/or the front dominant axle to be aligned for rail-riding or straight alignment. Accurate alignment is one of the five keys to producing a fast pinewood derby car.
Through November 29, 2016, you can get a Pro-Axle Bender for 10% ($8.00) off. To take advantage of this limited time offer, add part 5198 to your shopping cart, and use coupon code NOV16NL during checkout.
---
Pinewood Derby Car Showcase
Black Widow – David and Gavin Liller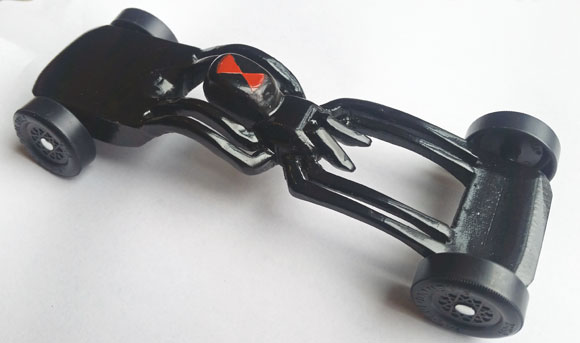 My son Gavin and I built this Black Widow car for his Wolf pinewood derby race. Gavin is deathly afraid of spiders, so he thought all the other racers would be afraid to race a car built like a black widow. Unfortunately, we didn't know about Maximum Velocity, so we didn't know of the speed secrets offered here. We came in 4th place. Next year we will use your web site and parts to give us that little edge that will push us into the top three.
Buzzsaw – Eric Lanam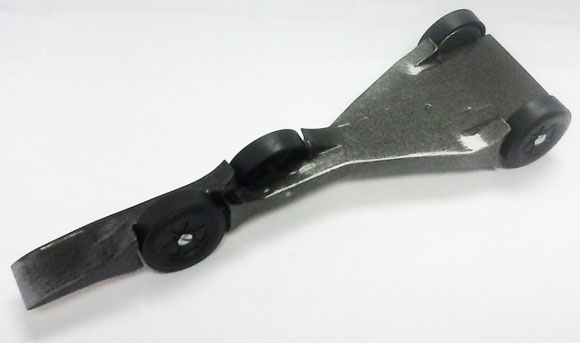 This year the older boys in our Trail Life troop were a bit under- enthusiastic for our Pinewood Grand Prix. So we added an Outlaw class that allowed up to 1 pound of weight, up to 3.25 inches wide, up to 8.25 inches long, used MV Wheels, and didn't use any propulsion or interfere with other cars.
The Buzzsaw is my entry into this Outlaw class. I wanted to try building a car that ran inside the rails on an aluminum track. I added fenders, left the wheels full-width, and brought the weight up to 7.5 ounces. It set the track record, tied it, and then beat it again.
Titliest  – Eric Lanam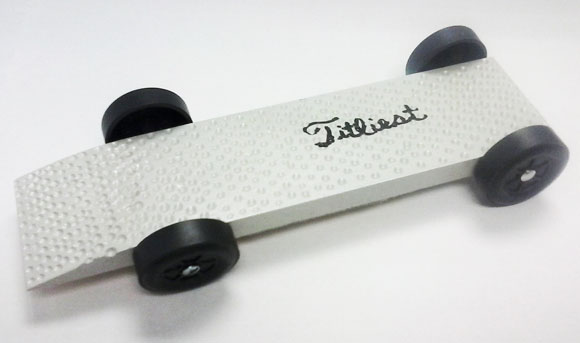 The Titliest (spelling intentional) is another experimental car I've been wanting to try for a while using golf ball dimples as an aerodynamic aid. It turned out to be a very fast car, coming in third place overall (out of 38 cars) behind two heavy Outlaw cars.
Share Your Car With Our Readers
Do you have a car you would like to "show off" to our readers? If so, send us a photo of your car along with a description of any special features to:
[email protected]
Please include your full name. If selected, we will include the photo and description in this newsletter.
Photos must be sent by e-mail in JPG format (minimum size of 640×480, maximum size of 1280 x 960). Please shoot photos from the front left of the car, similar to the orientation of this car: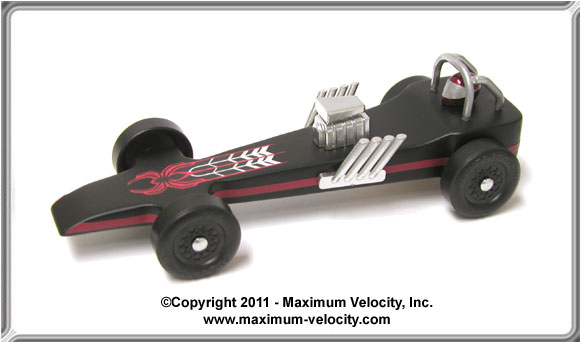 For better focus, keep the camera four or five feet away from the car, and then use the camera's zoom to fill the frame with the car. Also, use a solid (preferably white) background for the photo.
Send only one photo per car, unless an additional photo is needed to adequately show a feature. Also, only one car per subscriber per year please. Thanks.
---
Pinewood Derby Memory
Coping with Wood Block
(A British perspective on America and the Pinewood Derby)
It is easy to forget, as the United States wades through corporate scandals and debate rages over a possible war in Iraq, what a gloriously wholesome place this can be.
Monday night in our neighbourhood was Derby night. This was not my idea of a Derby: the raffish, faded charm of Epsom on a summer's afternoon. It was the Pinewood Derby ("dur-by" to you), organised in the school gymnasium by the Boy Scouts of America. There was no champagne tent, just apple juice and Diet Pepsi. And the nearest legal bookmaker was in Nevada.
This derby involves model cars, made of pine wood, which race down a 32 foot track using only gravity. On winter nights, it goes on in communities across the United States, a secret slice of Americana. The point, however, is not the racing. What matters is the building of the car, which is supposed to be a collaboration between father and son. For modern susceptibilities, the official instructions are non-gender specific. But this is an event that dates back to 1953, and the underlying intent is clear.
Each cub scout gets a kit with a block of wood, four nails for axles, and four plastic wheels. Then, in the words of one of the 27,700 relevant websites tracked by Google: "The boy and adult should make the car together as a project! It is not the intent that the parent show the scout the garage door then walk away; nor is it the intent that the boy play video games while the adult cuts and sands."
The reference to video games is anachronistic. In all material respects, this is something straight out of the 50's when American boys were expected to have freckles, table manners, a kid sis who was a bit irritating but okay really, a mom who was cooking in the kitchen and a stern but fair dad who could do amazing things with a tool kit.
The Engel family fit this stereotype in some respects but not in others, most importantly this: Dad can barely undo the petrol cap of the Toyota, never mind build a car, even one that has to weigh less than five ounces. The Pinewood Derby has been preying on my mind for weeks as the moment when my failure as a parent would be exposed to the entire local population.
Fortunately, my friend Neville came to the rescue. Neville is "Good At Things". Neville, though not a Pinewood man himself, made a handsome job of turning our block of wood into something resembling a racing car – with a bit of nine-year-old help. It was simple, one of the other dads explained on the night: "All you need is a coping saw. It cuts beautifully through the pine." A coping saw? I can't even cope.
It was a lovely evening, really it was. We were supposed to start with the national anthem but, unfortunately, the tape broke so we had the pledge of allegiance instead. Then Jim, the starter and MC, took centre stage. He was a scout leader with a heap of personality and a skillful knack of finding ways not to use boys' surnames of more than three syllables.
He compères these evenings on what appears to be a semi-pro basis: he is doing 63 of them this season for cub troops all over the Washington suburbs, and has to be booked months in advance. The track is like a wooden slide with a long straight at the bottom, but grooved, so that up to four cars can race in lanes down to an electronic finish line. Jim can whip through a race in about 20 seconds.
It soon became clear that the opposition was even more formidable than we realised. Most of the fathers were Cub Scouts themselves, so had been competing in one capacity or another almost since the race began. Some of the 27,700 websites apparently operate as grey markets so that the unscrupulous (or incompetent) can buy ready-made cars.
But most of the fathers had grasped the science: the need for weight at the back to build up initial speed (I think); the importance of getting the friction right. It was clear that the builders of the cars that made the finals understood a huge amount about aero-dynamics. I must have been sick the day we did that at school.
But the Engels were not disgraced. In five races, we had three gallant seconds. We nearly won once. It would have been unBritish to do better than that at the first attempt. My Cub Scout was a little disheartened.
"Look," I said. "We did brilliantly. You didn't know what you were doing. Neville didn't really know what he was doing. I didn't know what I was doing…"
"Dad," he interrupted. "You didn't do anything."
Matthew Engel
Washington, DC
Matthew writes the "Engel in America" column for "The Guardian", a newspaper published in the UK.
© 2002 Guardian Newspapers Limited. First published on Wednesday, February 13, 2002. Used by permission
Do you Remember?
If you have a pinewood derby story that is funny, unusual, sad, heart-warming, etc., please send it to me in an e-mail. Don't worry about literary polish. We will edit as needed before publishing.
If your story is used, you will receive a $10 coupon in May of 2017.
---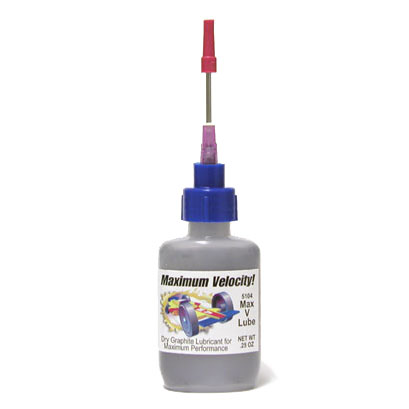 Our pack is making the jump from graphite to Krytox 100 this year. We are making the change en-masse, banning graphite completely. We are tired of dealing with the mess, and from everything I read the racing will be more fair. The pack is going to buy the lube to facilitate this change. We have a few questions:
Q: Is Krytox something to add when assembling the axles/wheels in the final build process, or something to add just before racing at the event?  I think you add it during the build process, not at the event, as it appears it should dry before wheels are placed on. Is that correct?
A: Yes, Krytox 100 is applied before attaching the wheels/axles to the car body. This allows the excess oil to be wicked off. Note that Krytox 100 does not "dry". But as long as you wick off the excess there will only be a thin film of oil on the rubbing surfaces.
Q: How many cars can I lubricate with one bottle? We are trying to figure out how many bottles we will need to buy. We have five dens and about forty boys. More bottles would make it easier to share, but increases the cost for the pack.
A: You can lubricate forty cars with one bottle. But as you point out, a bottle or two extra would improve logistics.
Q: If we have cars that go to districts, they will have to revert to graphite (trying to get them out of the "buggy whip" days, but they are stuck here for now). What cleaning should the scouts do to remove Krytox 100 before lubing with graphite?
A: The wheels and axles would need to be removed, and then cleaned with isopropyl alcohol followed by rinsing with water and then drying thoroughly. Once dry, graphite can be applied.
Q: We are banning all other dry lubricants, allowing only Krytox 100. We think we should ban all other oils, silicones, and other liquid lubricants as well. Have you seen a good "written rule" that has good language to keep us to Krytox 100 only?
A: I don't have any wording, but why not allow other liquid lubes? Silicon spray is commonly used, as well as a few other liquids that are applied similar to Krytox 100. The key is that you do not want any lubricant to be seen on the wheels.
Want Answers?
Do you have a pinewood derby-related question? If so, e-mail us your question.
We answer all questions by e-mail, but not every question will appear in the Q&A section of the newsletter.
---
Back Issues
Are you a new subscriber, or have you missed some of the previous newsletters? Don't miss out; all of the issues for Volume 5 through Volume 16 are posted on our web site Here.
---
Newsletter Contributions
We welcome your contributions. If you would like to contribute an article, a web site review, a speed tip, or a pinewood derby memory, please e-mail us.
---
Subscription Information
The Pinewood Derby Times is a free e-newsletter focused on pinewood derby racing. It is published biweekly from October through March.
If you haven't already done so, please forward this issue to your pinewood derby friends. But please don't subscribe your friends. Let them decide for themselves. Thanks.
If this newsletter was forwarded to you, why not subscribe to receive this newsletter. There is no cost, and your e-mail address is safe, as we never sell or share our distribution list.
To subscribe, send a blank e-mail to
[email protected]
You will receive a confirmation e-mail. Reply to the confirmation e-mail and you will start receiving the Pinewood Derby Times with the next issue.
---
Randy Davis, Editor, Pinewood Derby Times
E-Mail: [email protected]
(C)2016, Maximum Velocity, Inc. All rights reserved. Please do not reprint or place this newsletter on your web site without explicit permission. However, if you like this newsletter we grant permission, and encourage you to e-mail it to a friend.
Maximum Velocity disclaims any personal loss or liability caused by utilization of any information presented in this newsletter.
The Pinewood Derby Times is not specific to, and is not affiliated with the Boy Scouts of America, YMCA, Awana, or any other organization.
(R)Maximum Velocity is a registered trademark of Maximum Velocity, Inc.
(R)Pinewood Derby and Regatta are registered trademarks of Boys Scouts of America.
(R)Awana is a trademark of Awana Clubs International.
All other names are trademarks of their respective owners.