Bunny Car – Tim Grimstead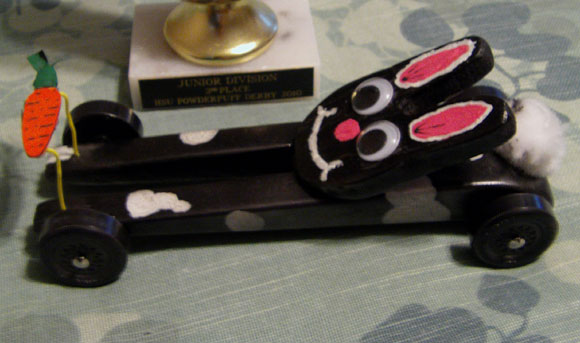 This is Tessa's Bunny car which took 2nd in Juniors and 2nd in the Girl Scout Open at the 2010 council Powder Puff Derby.
Fan Car – Charles Baum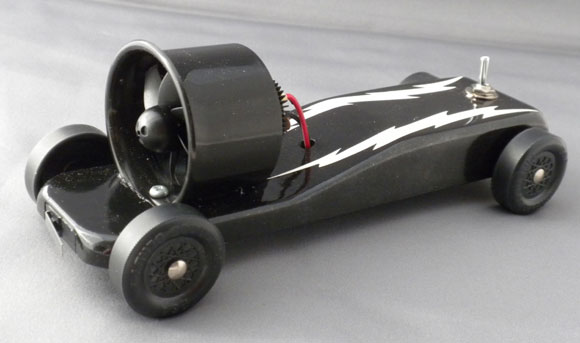 Attached are pictures of my fan-powered car.  I purchased the kit from Maximum Velocity and then made my own car from a standard block with racing wheels and axles from Maximum Velocity.  The bottom of the block is hollowed-out for the battery.  This car totally wiped-out all other contestants in an Adult Pinewood Derby (Open-class) that is a fundraiser for a local Scout troop.
First Car – Tom Peterson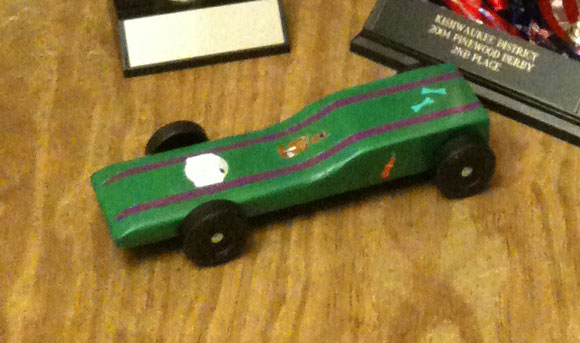 This was my son's first car.  It took second place at the Pack and second place at the Districts – the same scout beat him both times.
From Pinewood Derby Times Volume 10, Issue 9
Subscribe to this Free Pinewood Derby E-newsletter
(C)2016, Maximum Velocity, Inc. All rights reserved.
Maximum Velocity Pinewood Derby Car Plans and Supplies