Some pinewood derby cars that aren't cars.
Little Red Wagon – Jeremy Isaac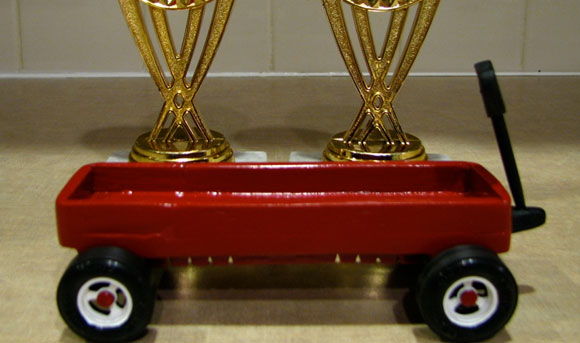 This was my daughter's car for the AWANA Grand Prix this past year. It placed 3rd in Speed and 1st in Novelty.
Liebherr LTM 1095 5.1 Mobile Crane – Robert Knapp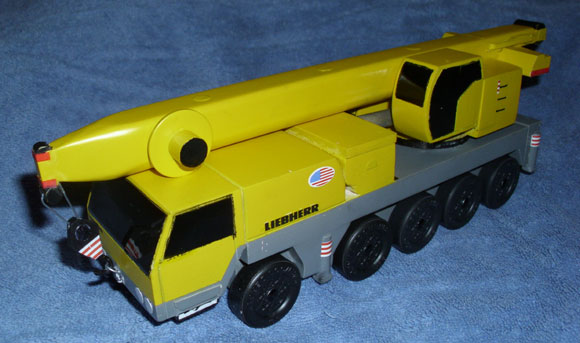 As a scout leader I like to show the boys what is possible with a block of wood. I got my inspiration for this year's car when I passed one of these driving on the interstate. The boys loved it! I could not count the times I heard the word cool!
Banana Mobile – Christine DuVal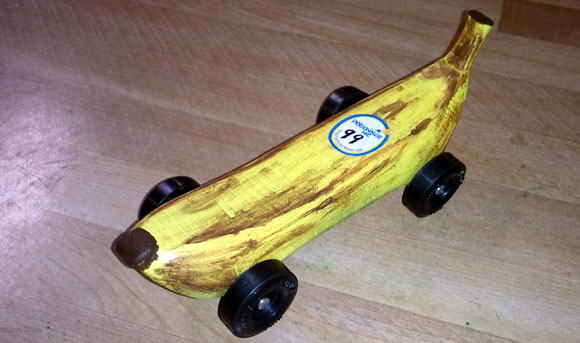 This is the "Banana Mobile" that I made for the leaders race at our Awana Grand Prix earlier this month (January 2011).  I made it for fun, not for speed, but I was pleasantly surprised at how well it did! It beat pretty much all other cars except for a few wedges that were definitely built for speed. And to answer the question I know you are dying to ask…  No, I did not have help from my husband, I did it all myself 🙂
From Pinewood Derby Times Volume 10, Issue 10
Subscribe to this Free Pinewood Derby E-newsletter
(C)2016, Maximum Velocity, Inc. All rights reserved.
Maximum Velocity Pinewood Derby Car Plans and Supplies