In this Edition
– Editor's Notes
– Feature Article –
Solenoid Start Gates – Get One for Your Track
– Humor
– Product Showcase –
Christmas Shopping – 10% Off
– Pinewood Derby Car Showcase
– Pinewood Derby Memory –
Know Your Glue!
– Q&A
---
Editor's Notes
Three New Products Just In Time For The Racing Season
Maximum Velocity has introduced two new tungsten weights, and a new drill bit to simplify your car building:
Domed Adjustable Tungsten Round (Part 5068) – 

This 3.65 to 4.0 ounce round provides the weight flexibility of our regular Adjustable Tungsten Round, but sports a domed top to add extra weight while keeping the car profile low. This weight supports a Popular Internet Design.

9/32 Inch Tungsten Rod (Part 5067) – Tungsten Rod combines the simplicity of cylindrical weight with the low height benefit of cube weight. These tungsten rods allow thin cars to be built without creating underbody pockets. Each order contains 10 rods totaling 3.5 ounces.
19/64 Inch Brad Point Drill Bit (Part 5004) – The perfect drill bit for the 9/32 Inch Tungsten Rod.
Call for Car Photos
Help, we are virtually out of photos for the pinewood derby car showcase.  Please send us a photo of your car along with a description of any special features to:
[email protected]
Please include your full name. If selected, we will include the photo and description in this newsletter.
Photos must be sent by e-mail in JPG format (minimum size of 640×480, maximum size of 1280 x 960). Please shoot photos from the front left of the car, similar to the orientation of this car: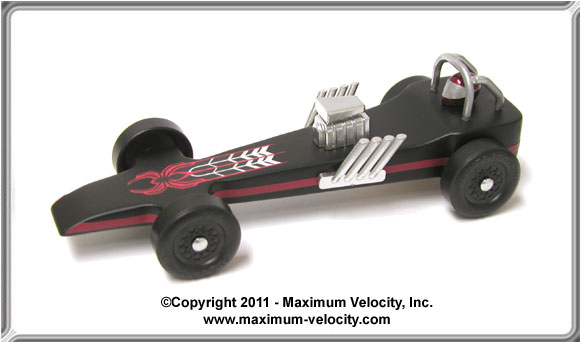 Make sure the photo is not blurry. If your photos are blurry, try holding the camera four or five feet away from the car, and then use the camera's zoom to fill the frame with the car. Also, use a solid (preferably white) background for the photo.
Send only one photo per car, unless an additional photo is needed to adequately show a feature. Don't forget to include your name, the name of the car (if it has one), and a brief write up on any design features, inspiration for the design, and how the car performed at the race. Thanks.
MV Basic & Wedge Car Kits


If you are planning a race and are not required to use a specific kit type, our MV Basic or Wedge Car Kit are just what you need. These attractively priced kits are equipped with:
– Quality Block – Unlike the blocks provided by some organizations, our blocks are soft, northwestern pine blocks, cut precisely to 7 inches long, 1-3/4 inches wide, and 1-1/4 inches tall. These dimensions, as well as the axle slots accurately duplicate the dimensions of standard pinewood derby blocks from BSA and PineCar.
– Simple Axle Preparation – Don't worry about filing off flaws, or losing hub caps. Our Speed Axles have no burrs or crimp marks, and install without hub caps. With or without polishing, they are ready to go. We supply five, so you have a spare.
– Quality Wheels – Forget cheap, out of round wheels. Our MV wheels are top-quality wheels. You will not be disappointed with the quality of these wheels.
So, if your organization does not mandate a particular kit type, consider our MV Basic Car Kits or MV Wedge Car Kits. We also offer bulk packs of MV kits in Pre-cut Shapes.
Inventory Clearance Sale
We are clearing inventory on several items including:
– Tundra and tungsten weights
– Velocinator and Formula One car kits
– Paint Stencils
We don't have many left, so don't delay. You can find these items Here.
Can We Help?
If we can help you in any way with your pinewood derby project, or if you have any feedback regarding this newsletter, please Contact Us.
---
Feature Article
Solenoid Start Gates – Get One for Your Track
By Randy Davis
Back in 2011, John Shreffler at New Directions(1) sent me a solenoid start gate to test out on my Freedom track. Solenoid gates provide several benefits including:
1. Enabling the computer software to release the gate (as opposed to a computer operator activating the heat, and then another operator opening the gate).
2. Allowing audience members or car owners to activate the gate remotely (adds some additional fun and participation to the pinewood derby).
3. Potentially improving the consistency of heats. Depending on the type of gate release mechanism, by eliminating the need for a person to operate the gate, consistency may be improved.
At the time I ran an experiment to test benefit three (listed above), and found that solenoid gates do indeed improve the consistency of heats.(2)
A few months ago, John sent me an updated version of his gate to test out. Over the past six years, several companies have introduced solenoid gates, so I decided it was time to take a look at what is available on the market.
What is a Solenoid Gate?
A Solenoid Gate is an electrical device which includes a solenoid, which is an electromagnet that pushes or pulls a rod when activated. By attaching the solenoid to the track start gate, the gate can be opened (and in some cases closed) at the push of a button, or by software or remote control devices.


Figure 1 – Freedom Track Solenoid Gate
(Underside of track)
Source: newdirections.ws
Most solenoid gates release the gate lever, allowing the gate springs to open the gate. In this case, the gate must be manually closed and latched after each heat. Some solenoid gates (Full Motion Gates) use a rotating solenoid to open and close the gate (no springs involved).(3)

Figure 2 – Rotational Solenoid Gate
(Underside of Start Gate)
Source: newdirections.ws
Solenoid Gate Suppliers
In general, most track manufacturers offer a solenoid gate for their specific track, while one company offers gates for a variety of tracks.
    Track Manufacturers
BestTrack
BestTrack promotes an Electromagnetic Staring System (ESS) that is tailored for the Best Track. The gate supports from 1 to 8 lanes, and is activated by a button push or an optional remote. The gate must be purchased directly from Jewkes Engineering.(4)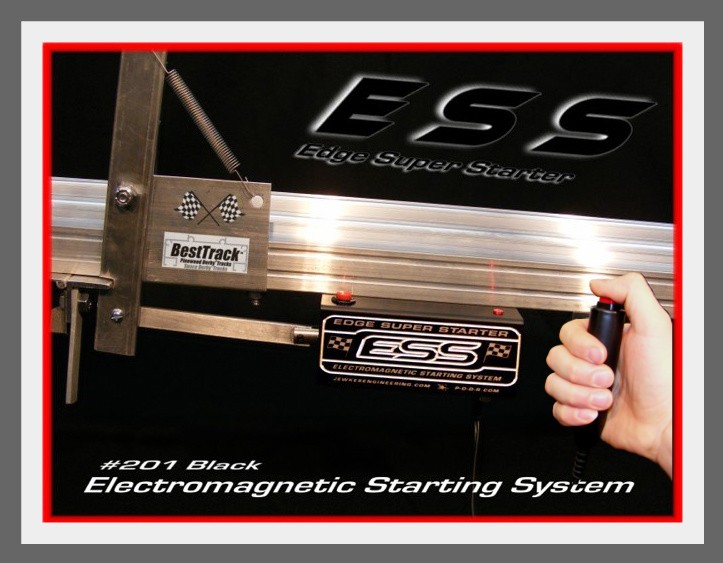 Figure 3 – ESS Start Gate for BestTrack
Source: besttrack.com
Microwizard
Microwizard offers a combination light tree and Automatic Gate Release. No specifications are available on their web site for the device.
Derby Magic
Derby Magic offers a solenoid gate for use with the Derby Magic track. The gate can be released via the Derby Magic Software or by an optional remote control.


Figure 4 – Derby Magic Solenoid Gate
Source: derbymagic.com
    Gate Suppliers
New Directions
New Directions offers solenoid gates for BestTrack, Freedom Track, and for wood and plastic tracks. Both open-only gates, and Full Motion Gates are available. Gates can be activated by a push button, by computer software, or by a light tree.(5)
Conclusion
Solenoid starts not only improve the fairness of the race, but they can also add some extra pizzazz to your event. Also, allowing participants to start the race will increase interest and enjoyment. I strongly recommend getting a solenoid gate before your next race.
(1) New Directions
(2) See Pinewood Derby Times, Volume 11, Issue 3: "Solenoid Start Gate: Are Races More Consistent?"
(3) I have never used a Full Motion gate, so I cannot say for certain that the speed of the gate is sufficient to eliminate any benefit of a high-nosed car.
(5) See Pinewood Derby Times Volume 16, Issue 4: "Light Trees – Rev Up Your Pinewood Derby Race"
---
Humor
Tricky Questions (Think before you answer)
1. How many times can you subtract the number 5 from 25?
2. A taxi driver was called to take a group of passengers to the train station. The station is normally an hour away, but with traffic being extra heavy, it took a full hour and a half. On the return trip the traffic was still as heavy and yet it took only 90 minutes. Why?
3. How could you rearrange the letters in the words "new door" to make one word? Note: There is only one correct answer.
4. Even if they are starving, natives living in the Arctic will never eat a penguin's egg. Why not?
5. Which is correct to say, "The yolk of the egg are white" or "The yolk of the egg is white"?
6. In Okmulgee, Oklahoma, you cannot take a picture of a man with a wooden leg. Why not?
7. There were an electrician and a plumber waiting in line for admission to the "International Home Show". One of them was the father of the other's son. How could this be possible?
8. After the new Canon Law that took effect on November 27, 1983, would a Roman Catholic man be allowed to marry his widow's sister?
Answers
1. Only once, then you are subtracting it from 20.
2. An hour and a half is 90 minutes.
3. "one word"
4. Penguins live in the Antarctic.
5. Neither, the yolk of the egg is yellow.
6. You have to take a picture of a man with a camera, not with a wooden leg.
7. They were husband and wife.
8. He can't because he's dead.
---
Product Showcase
Christmas Shopping – 10% Off
Have you been holding off getting a Pro-Axle Bender, stocking up on tungsten weight, or purchasing a car kit? Maybe that pinehead in your family is really wanting some Outlaw Wheels, a COG Stand, or something else? Now is your chance to get those items at a discount.
Through December 12, 2017, you can get 10% off any order. To take advantage of this limited time offer use coupon code NOV29NL during checkout.
---
Pinewood Derby Car Showcase
Today's showcase is provided by Matthew Webb. Matthew has been using our MV Basic Car Kits in his race in Australia for several years. He writes:
"This year 77 cars raced in three groups. Primary School (up to grade 6), High School (grade 6 to 12), and Adults; and of these there were 62 new cars made and a lot of first time competitors.
We saw some fast times, with the grand final winner consistently clocking speeds of just over 300km/h. Next year we will be adding an "Open" group to allow those with the skills and abilities to modify their car to achieve maximum performance. It's great to see so many people getting right into it and the joy on the kid's faces when their cars cross the finish line.
Many thanks for your business and we look forward to placing our next order in the future."
Matthew Webb
Wood and Wheels Racing
Australia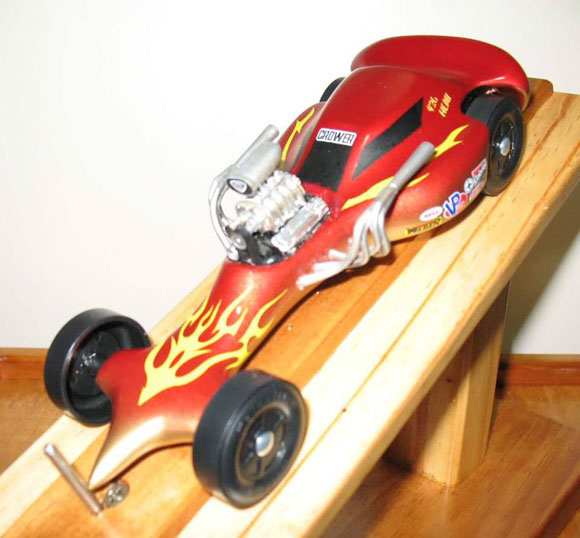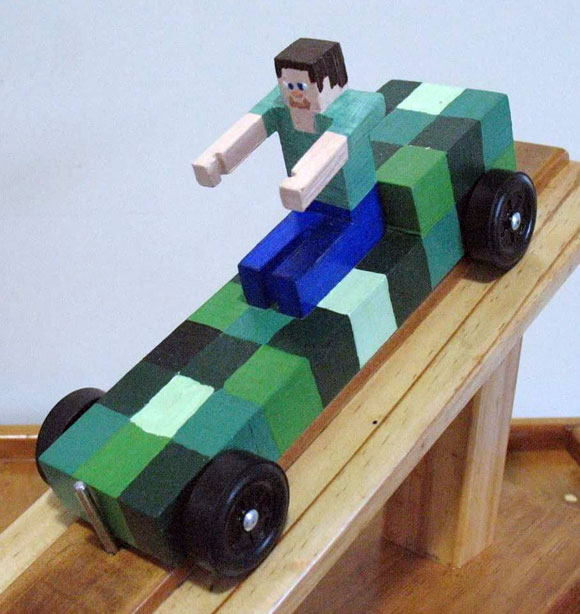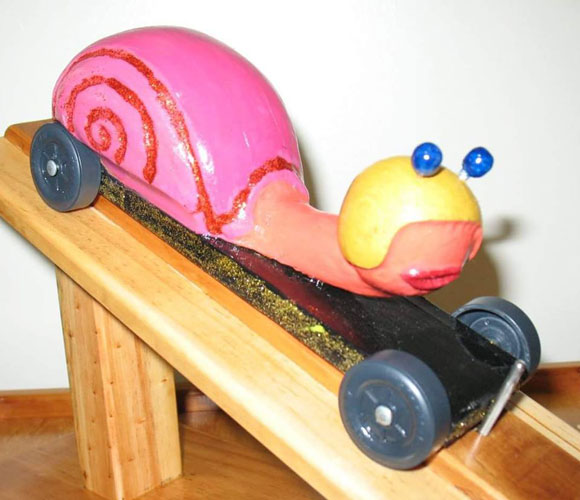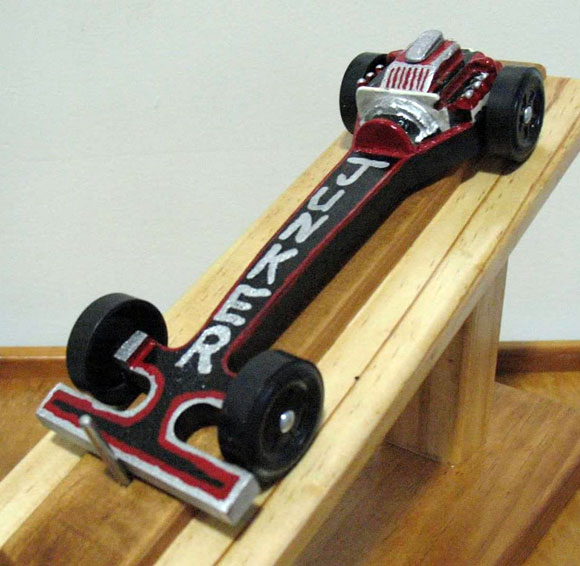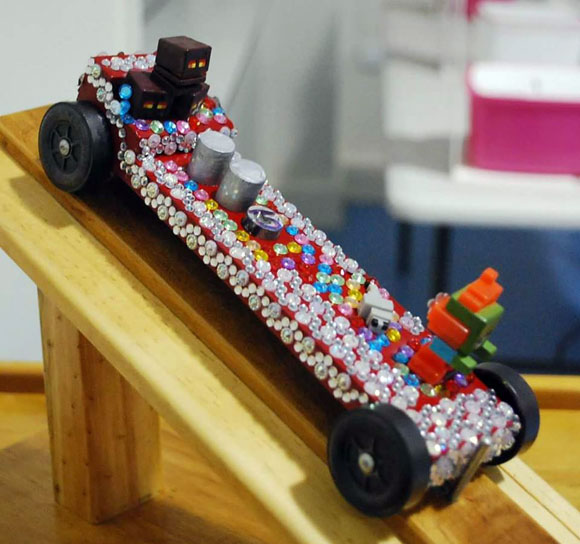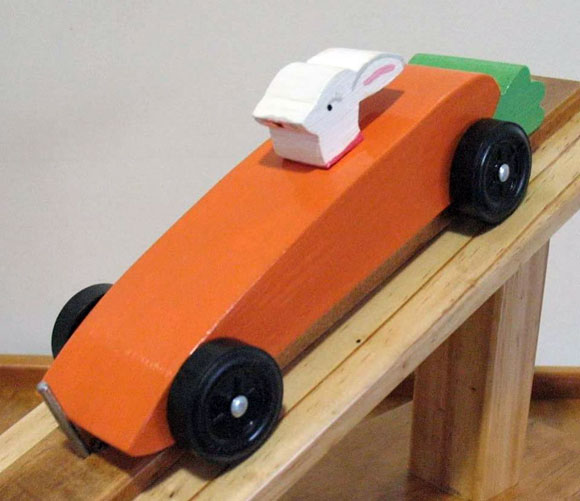 Share Your Car With Our Readers
Do you have a car you would like to "show off" to our readers? If so, send us a photo of your car along with a description of any special features to:
[email protected]
Please include your full name. If selected, we will include the photo and description in this newsletter.
Photos must be sent by e-mail in JPG format (minimum size of 640×480, maximum size of 1280 x 960). Please shoot photos from the front left of the car, similar to the orientation of this car: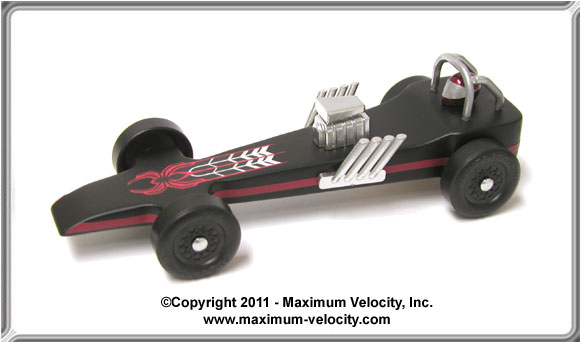 For better focus, keep the camera four or five feet away from the car, and then use the camera's zoom to fill the frame with the car. Also, use a solid (preferably white) background for the photo.
Send only one photo per car, unless an additional photo is needed to adequately show a feature. Also, only one car per subscriber per year please. Thanks.
---
Pinewood Derby Memory
Know Your Glue!

This was my son's first year in Tiger Cubs and thus our first Pinewood Derby race. Our pack also includes a race for siblings, so his four year old sister and five year old brother also got to build cars. The children all picked out a design and we worked together on the cars over a period of about 3 weeks (I had no idea what I was getting into, but we got better and a little faster with each car we built!). A friend of mine shared some tools with me and gave me some tips. The night before the race we finished preparing the wheels and very carefully applied glue to keep the axles from popping out. Everyone was very excited about the big race and could hardly wait for the next day.
The next morning after church about 1 hour before we were to leave for the race, I went to get the cars from the workshop. To my shock and horror I discovered that the glue had greatly expanded and had glued ALL the wheels on ALL 3 cars to the axles! My heart started racing as I imagined the great disappointment for my children if they could not race after all their hard work (yes, and my disappointment too). It had taken us about 4 hours to prepare the wheels the first time, and now I only had 1 hour before the race. I just started praying and working like crazy – I had to pry off all the wheels, re-sand the axles, sand out the inside of the wheels, lube the axles and wheels, re-sand the bottom of the cars to remove excess glue, re-install and align all the wheels, and re-glue the axles (with a different type of glue this time). I could tell the wheels did not spin quite as well as the night before, but at least they moved! My wife kept the kids busy while I worked on 'the disaster'.
Fortunately, I finished all the work with just a couple minutes to spare (I worked a little harder on the Tiger Cub car). We were off to the races and had no idea what to expect from our 'refurbished' cars. To our great surprise, my Tiger Cub took first place for his den (out of 7 cars) and came in 4th place for the whole pack (out of 60 cars)! My other children placed 3rd and 4th in the sibling race (out of 16 cars)! Now we are all hooked and can't wait until next year!
Jim Heidecker
Editor's Note: Avoid using any "expanding" glue such as Gorilla Glue. It may be great for construction, but is not suitable for pinewood derby cars. Also avoid any type of "Super Glue", except for an emergency repair during the race. For holding axles in place, plain old white glue works fine.
Do you Remember?
If you have a pinewood derby story that is funny, unusual, sad, heart-warming, etc., please send it to me in an e-mail. Don't worry about literary polish. We will edit as needed before publishing. If your story is used, you will receive a $10 coupon in May of 2017.
---
Q&A
Q: We had our races last night and an interesting thing happened. We ran on a three lane aluminum track. Because of the number of participants and time constraints, they changed the race format to having each car run in each lane once and recorded the times for each lane and took the average of the three times. The fasted average time was awarded first place, second fasted average time second place, etc. for each category. My son's ran in the second heat of the night and his car averaged a 2.475. My heat was one of the last heats of the night after about 75 other cars had raced (each car running in lanes 1, 2 & 3) and my time averaged out at 2.285. After the races were done, we decided to run head to head to see who had the fasted car. I was pretty confident that my car would win. His car went on to beat my car by a good 1.5 inches at the finish line giving him bragging rights at home. I starting wondering why, since my car posted the faster times during the race. Keeping in mind that the track is used once a year and noticing that the cars seemed to post faster times at the end of the races, I'm wondering if it would be advantageous to try to run in the later heats when the dust and debris are off the track and if any excess graphite from cars on the track might improve car performance? Thoughts?
A: I would first question if the 2.285 time was valid. A difference of 0.190 is almost a foot of difference on the track. Quite often timers produce incorrect times due to camera flashes, etc. So, I think the most likely case is that the 2.285 time is bogus. Do you have all of the times for your car (before they were averaged)? If all three times were similar, then the times would be valid. But if one (invalid) time was way off (low), it would pull the average down.
A second possibility is that your car was damaged between the time of your heats, and the final race against your son. You might check for a bent axle or a damaged wheel.
A third possibility is that the lube wore out on your car. (This seems unlikely to have that drastic of an affect).
If the track was not wiped down before the race, it is possible that early cars "dusted" the track, allowing later cars to get better times. But it wouldn't show up as a foot of difference at the finish line.
Q: I purchased three sets of your rail riding axles. They are marked 2.5, 2.5, 1.5, Straight.
Is the position on the car: 2.5-Rear, Straight-Left Front, 1.5-Right Front? Should the axles point downward? Also should I diamond polish them?
A: Thanks for the order.
The 2.5 axles go in the back, and are angled upward (wheels run on inner edge). The straight axle is for your raised front wheel, whichever side that is.
The 1.5 axle is your front steering axle. It is angled downwards (wheel runs on outer edge).
You can find more information on rail-riding alignment Here.
The axles are already polished. I would not try to polish further (once they are bent, polishing is very difficult).
Want Answers?
Do you have a pinewood derby-related question? If so, e-mail us your question.We answer all questions by e-mail, but not every question will appear in the Q&A section of the newsletter.
---
Back Issues
Are you a new subscriber, or have you missed some of the previous newsletters? Don't miss out; all of the issues for Volume 5 through Volume 17 are posted on our web site.
---
Newsletter Contributions
We welcome your contributions. If you would like to contribute an article, a web site review, a speed tip, or a pinewood derby memory, please e-mail us.
---
Subscription Information
The Pinewood Derby Times is a free e-newsletter focused on pinewood derby racing. It is published biweekly from October through March.
If you haven't already done so, please forward this issue to your pinewood derby friends. But please don't subscribe your friends. Let them decide for themselves. Thanks.
If this newsletter was forwarded to you, why not subscribe to receive this newsletter. There is no cost, and your e-mail address is safe, as we never sell or share our distribution list.
To subscribe, send a blank e-mail to
[email protected]
You will receive a confirmation e-mail. Reply to the confirmation e-mail and you will start receiving the Pinewood Derby Times with the next issue.
---
Randy Davis, Editor, Pinewood Derby Times
E-Mail: [email protected]
(C)2017, Maximum Velocity, Inc. All rights reserved. Please do not reprint or place this newsletter on your web site without explicit permission. However, if you like this newsletter we grant permission, and encourage you to e-mail it to a friend.
Maximum Velocity disclaims any personal loss or liability caused by utilization of any information presented in this newsletter.
The Pinewood Derby Times is not specific to, and is not affiliated with the Boy Scouts of America, YMCA, Awana, or any other organization.
(R)Maximum Velocity is a registered trademark of Maximum Velocity, Inc.
(R)Pinewood Derby is a registered trademarks of the Boys Scouts of America.
(R)Awana is a registered trademark of Awana Clubs International.
All other names are trademarks of their respective owners.