Decals, Etc.: How to Spiff Up Your Car
By Randy Davis
The difference between a boring pinewood derby car and a real eye- catcher could be a unique design, excellent craftsmanship, or a professional paint job. But in many cases all it takes are some decorative items to make a car really stand out. Let's take a look at four types of decorative items that are easy to use, relatively inexpensive, and sure to give your car a special look.
Dry-Transfer Decals
Unlike stickers, dry-transfer decals are very thin and do not have a clear edge. Thus, they blend into the paint such that you have to look closely to see that the design is actually a decal.
Unlike water-slide decals, dry-transfer decals apply with no water; and unlike stickers, dry-transfer decals do not adhere to the car body on contact. Instead, dry-transfer decals use a pressure activated adhesive. So, an advantage of dry-transfer decals is that they can be finely positioned before they are permanently attached.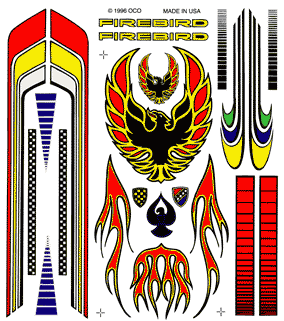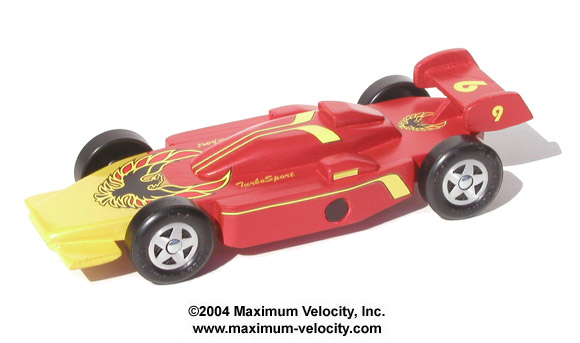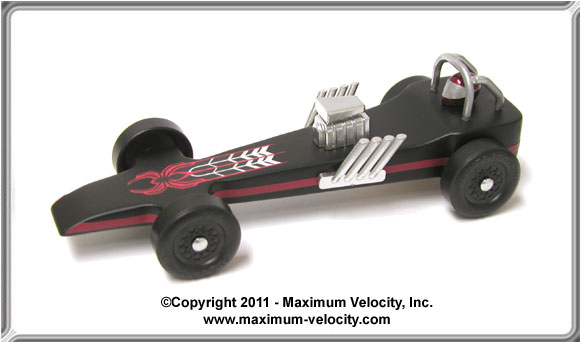 Figure 1 – Examples of Dry Transfer Decals
To apply dry-transfer decals, cut out the desired design, place it on the car in the desired location, hold it down, and use a soft pencil with a rounded tip to scribble over the entire decal (you will actually be scribbling on the transfer material, not the actual decal). After scribbling over the entire decal, carefully lift up on the edge of the transfer material. If the decal is not completely detached from the transfer material, scribble some more and try again. After the transfer material is removed, take the provided tissue-like paper and rub it over the entire decal.
If desired you can apply a clear coat over the decal. But first, make sure the clear coat is compatible with your paint job, and test the clear coat on an unused decal (apply it to a scrap piece of wood). I have successfully used acrylic and lacquer clear coats over dry- transfer decals, but it is best to play it safe by testing before spraying the car.
You can find the dry-transfer decals on our website Here
Stick-On Decals
Stick-On decals, as well as stickers are also good choices. They are inexpensive and easy to apply – just make sure you put the sticker where you want it. As you know, stickers like to attach themselves where you don't want them!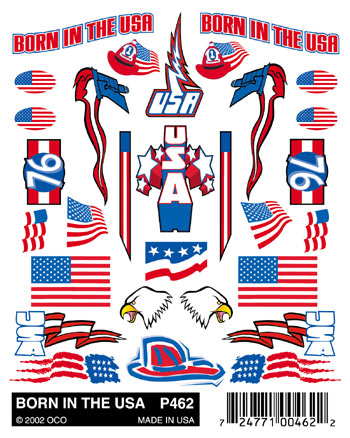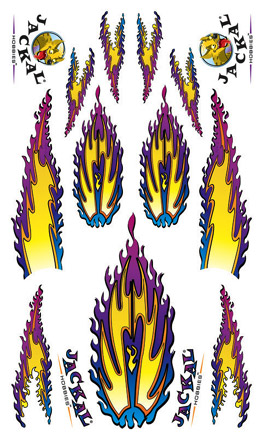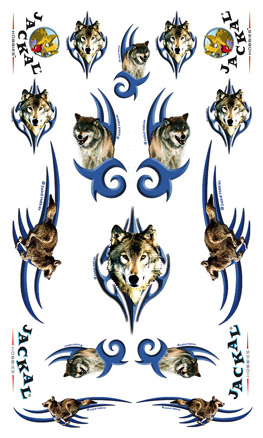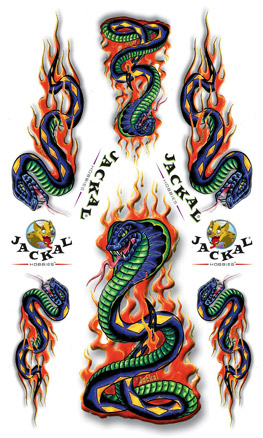 Figure 2 – Examples of Sticker Decals
My daughter used stickers to decorate her Diamondbacks car; she found the stickers at a team shop. I believe that team stickers exist for every professional team, as well as most college teams.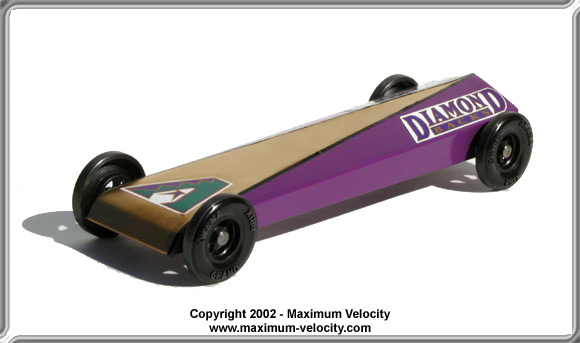 Figure 3 – D-Backs Car
To apply Stick-On decals, simply cut out a decal, remove any dust or debris from the car, peel off the backing, and stick it in place. If you want to apply a clear coat, make sure to first test compatibility.
You can find the Stick-On decals on our website Here.
Body Skins
At our pinewood derby race, we pass out design award ballots to the kids that have a car entered into the race. So, whichever cars look cool to the kids win the design awards. At our last race, two cars with body skins won design awards. In my mind they are not outstanding in any way, since the shape was quite common and the finish was a body skin. But the kids must have thought the skin was some kind of exotic paint job.
In fact, a well-applied skin does look very unique; and if you are not aware of body skins, you will be wondering how the car builder achieved such a unique look.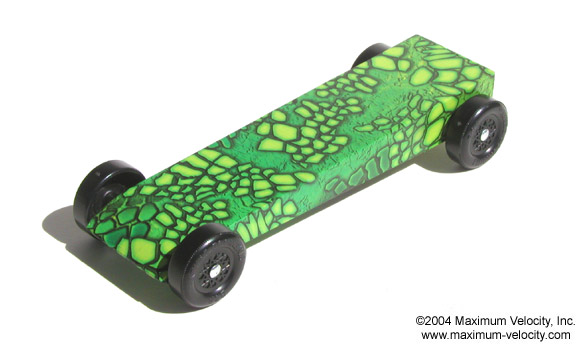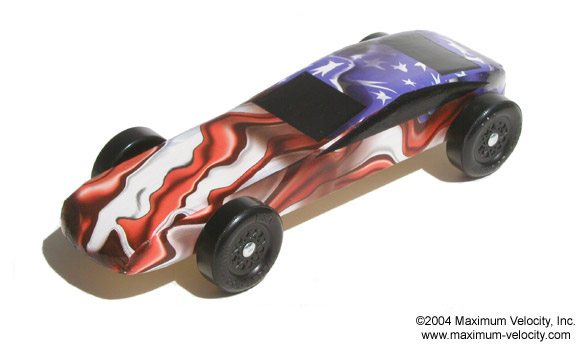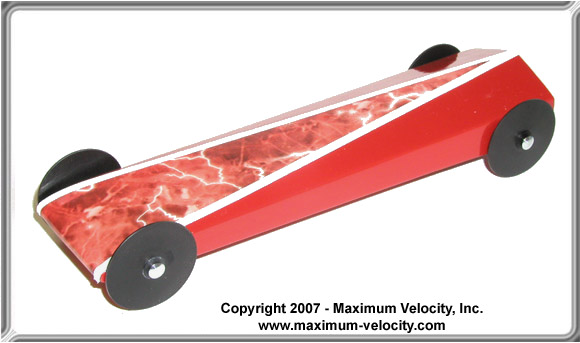 Figure 4 – Examples of Body Skins
Body Skins apply quite easily to simple-shaped cars, while applying skins to complex cars is quite a challenge. On their website, PineCar, who is the manufacturer of most Body Skins on the market, shows pictures of very complex cars with Body Skins. My guess is that those cars do not really exist, but instead were made with photo editing.
To apply a skin to a simple wedge or block shaped car, follow the instructions below. For complex cars, the same technique is used except that the skin must be pieced together and the pieces must overlap slightly.
Remove any dust or debris from the surface of the car.
Determine how much material is needed to wrap the car without overlapping the material on the bottom of the car. Trim off the excess.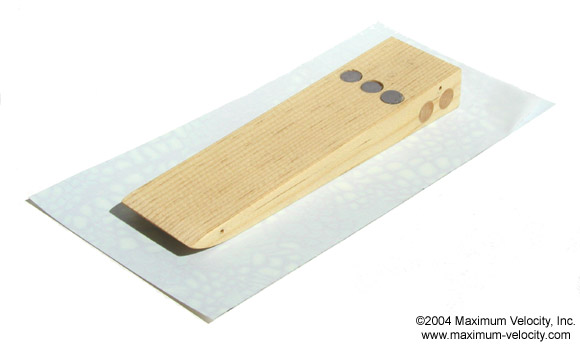 Figure 5 – Trim Material
Peel off the backing paper.
Use a soft, wet sponge to press the skin onto the car body. The transfer paper will release when it is thoroughly soaked. Do not use force to remove the transfer paper.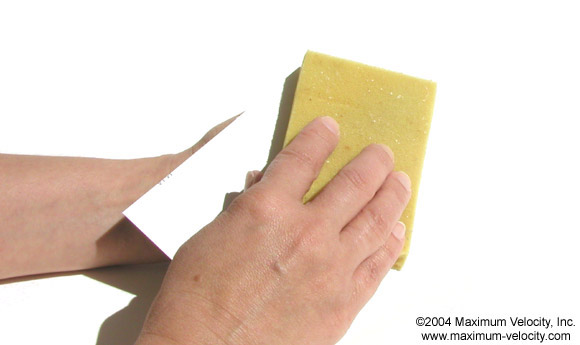 Figure 6 – Apply Skin
Fold the design under the bottom of the car.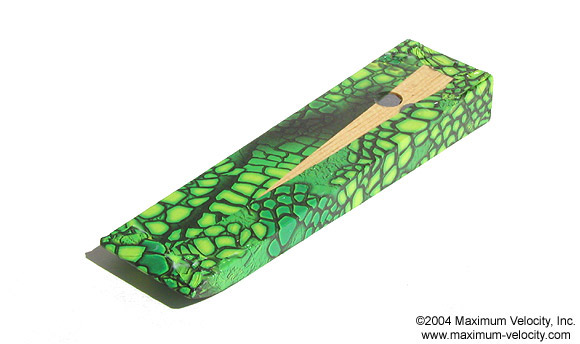 Figure 7 – Bottom of Car
Smooth out wrinkles by dipping your fingers in water and rubbing over the skin.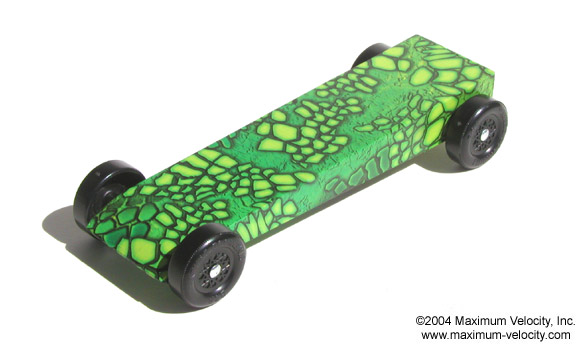 Figure 8 – Finished
As with other decorative items a clear coat can be applied, but make sure to first test compatibility. Body Skins can be found on our website Here.
Pin Striping
I am a big fan of pin striping; it is relatively inexpensive, easy to apply, and can really dress up a car. Pin striping is a long, thin, colored tape that has an adhesive backing. It adapts well to curves in the car and can be mixed and matched, both in color and in width.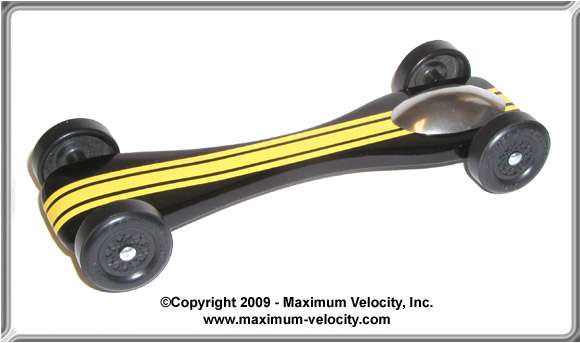 Figure 9 – Yellow Pin Striping (1/4 and 1/8 inch)
To apply pin striping, unroll a piece longer than you need, pull it taut and then apply it to the car. Use a piece of tissue paper (not Kleenex, but the kind used in gift bags) to press down on the pin striping. This will eliminate any air bubbles and ensures that it is pressed down well. After the pin striping is in place, trim the excess with a sharp knife (hobby knife or razor knife). If the pin striping will be placed on the front and/or back of the car (as in Figure 9), wrap the pin striping under the car and trim it off underneath. This makes for a much cleaner finish.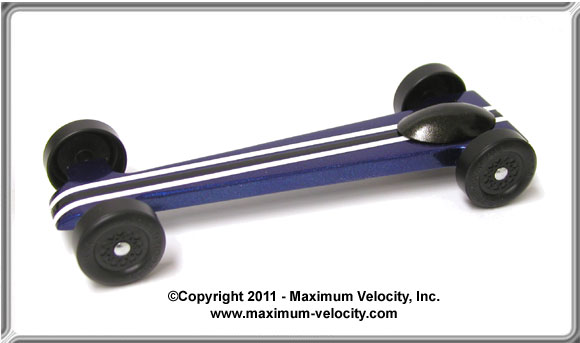 Figure 10 – White and Black 1/8 inch Pin Striping
For other image of cars with pin striping, or to find the pin striping on our website, Click Here.
Conclusion
It doesn't take a lot of work or cash to change a common-looking car to a real eye-catcher. So, when designing your pinewood derby car don't forget the decorative details.
From Pinewood Derby Times Volume 12, Issue 12
Subscribe to this Free Pinewood Derby E-newsletter
(C)2017, Maximum Velocity, Inc. All rights reserved.
Maximum Velocity Pinewood Derby Car Plans and Supplies