Ferrari Enzo: John Campbell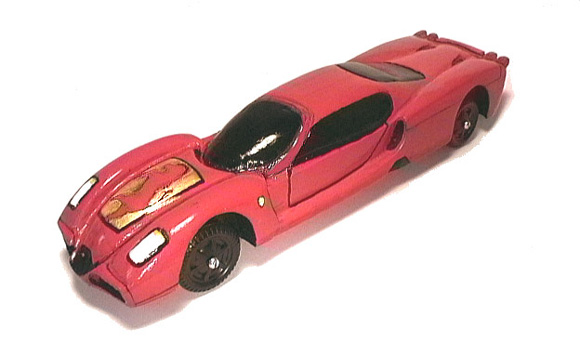 I built this car for the Unlimited Class – cars can be no more than 6″ tall, 3 1/4″ wide, 12″ long and weigh more than 2 lbs. The car took 3rd place in show at the District Finals this year. It is built from 3 blocks and is carved using a Dremel tool.

The General Lee: Wally Kauffeldt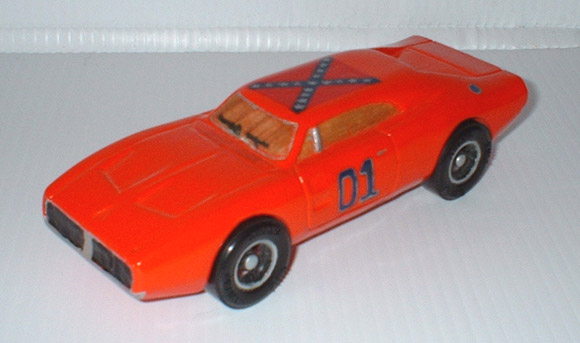 I built this model of the General Lee for an Awana race in 1998 for my nephew who is a Dukes of Hazard fan. The car made it to the final run where it was inched out by another car. The car may not have been a winner on the track but it sure was off the track and in the eyes of my nephew

The Larrymobile: Griff & Ian Lewis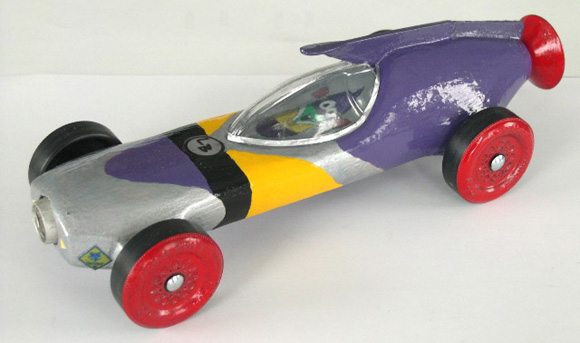 The Larrymobile is made from a standard BSA kit, with accessory parts from PineCar. The jet exhaust is a suction cup from an old toy. Decals were made with clear address labels and an ink jet printer. The paint is Testors acrylic, and the clear coat is 'Future Floor Wax'! My son Ian won 'Best In Show' for his efforts, in addition to winning two races. It took us about 3 weeks on and off to build this car. The Dremel tool was a must!
From Pinewood Derby Times Volume 3, Issue 1
Subscribe to this Free Pinewood Derby E-newsletter
(C)2017, Maximum Velocity, Inc. All rights reserved.
Maximum Velocity Pinewood Derby Car Plans and Supplies