Firebird Man: David & Andrew Bolshazy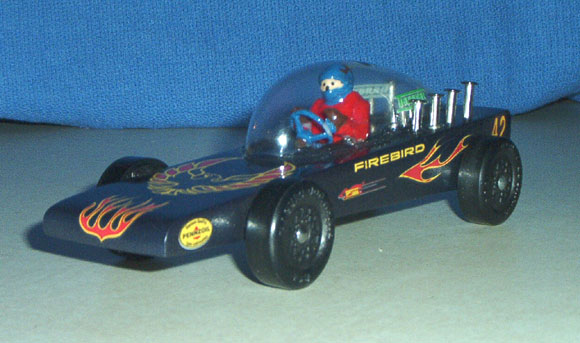 Although it is difficult to see in the photo, the finish on this car is really nice. Once my son Andrew finished sanding the car, we put on two coats of sealer. Andrew quickly learned that thicker isn't better when you have to sand it off! Then came 9 coats (Andrews choice) of automotive primer, followed by the color coat. Andrew then put on the decals before I put on a coat of pearl metal flake. This was followed by two coats of clear lacquer.
We used 1/8″ rivet heads for the exhaust pipes. We simply slid the "nail" out of the head and polished it. They looked great with that fluted end.
Andrew then hand waxed the car and put graphite in the wheels and spun them everyday until the race. The car was very fast and took 1st Place in our pack

Mystery Machine: Dan & Chris Bray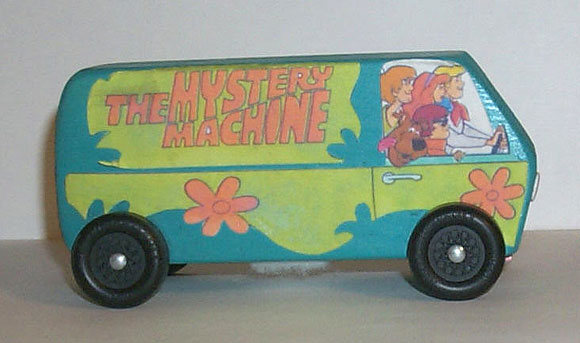 My son got involved in scouting a couple of years ago, thanks to Cicel Crist, the scout master for pack 566 out of Fort Stewart, Georgia. It seems that Cicel was in the hospital were my wife worked, he had seen my son at the hospital, and asked my wife if we had ever thought about Chris joining the cub scouts. Chris is a special needs child, so we didn't know if Chris would be able to follow all the rules that comes with scouting. Cicel said he would be more than welcomed in the Cub Scouts. To make a long story short not only did my son join the scouts, so did myself and my wife!
At the Christmas party 'Santa Claus' handed out the pinewood derby car kits. I looked at the box – seeing the picture of the very nice car on the cover – thinking, "Okay, we paint and add the wheels,." When I looked in the box I asked my wife, "Have you seen this, a block of wood four nails, and four wheels." I asked Chris what kind of car he wanted. He decided on the Mystery Machine. We did a little research on the Internet and came up with the design – two kits hollowed-out and glued together. That's where dad's work stopped. My son cut and painted the car, and then downloaded some pictures off the Internet and glued them on. Not only did his car win 3rd Place in his den, but he also won the 'Judge's Favorite Car' award!

The Patriot: David & David Merek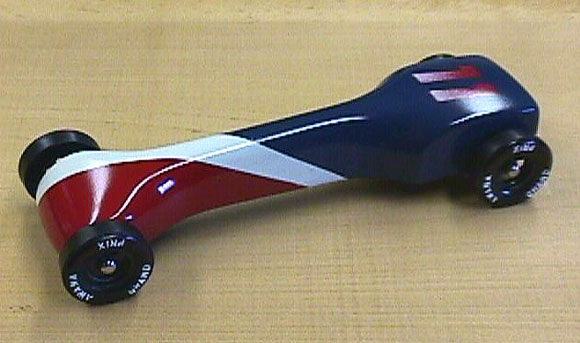 My son David (11) and I built "THE PATRIOT" this year for his Awana club's Grand Prix. This was the first time he placed 1st in the design category (there has been some rivalry at home since his brother won 1st in speed)!
From Pinewood Derby Times Volume 2, Issue 15
Subscribe to this Free Pinewood Derby E-newsletter
(C)2017, Maximum Velocity, Inc. All rights reserved.
Maximum Velocity Pinewood Derby Car Plans and Supplies