Stars and Stripes: Joe and Jonathan Coyne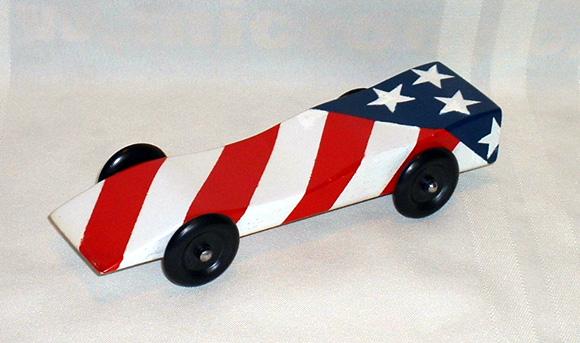 After going home with nothing last year my son Jonathan went to work. His effort got him a 2nd Place Design trophy and a 3rd Place Race trophy at our church. He went on to the Association Competition and won a 2nd Place Design trophy there also. He is a very happy boy this year.
A neat feature of his paint scheme is that it can all be done with spray cans and masking. Our rules do not allow using any decals except for the ones that are provided in the kit. After sanding and sealing the wood the entire car was spray painted white. Next the white stripes and blue field were masked off and the red paint was sprayed. Then the stripes were masked off leaving a white field for the stars. Sticker stars were then put on the white field and it was sprayed with the blue paint. All the masking tape and stickers were removed, then several coats of clear coat were applied.

Patriotic Wedge Turbo: Andrew Eaton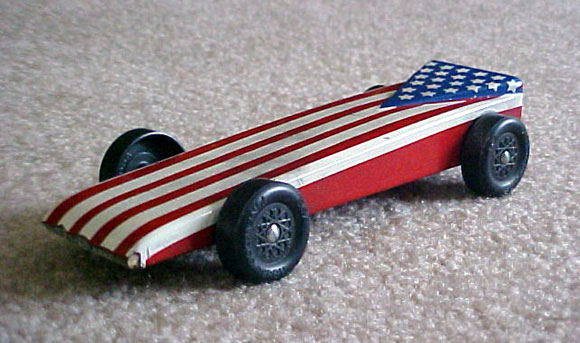 On his birthday, my son Andrew won the open division for the Miami County Council Wolves! His car is a little worse for wear – the officials said it was too long, so we had to whittle off part of the nose. We like to think of the bare wood and graphite smudges as battle scars!

Louisville Slugger: Laina and Billy Lindsey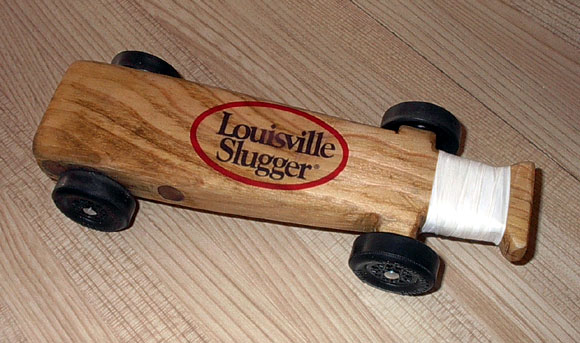 Billy's Baseball bat won both the Unique Design contest and the Tiger Cub Division Race. He placed 2nd for the overall fastest car in the pack.
From Pinewood Derby Times Volume 2, Issue 14
Subscribe to this Free Pinewood Derby E-newsletter
(C)2017, Maximum Velocity, Inc. All rights reserved.
Maximum Velocity Pinewood Derby Car Plans and Supplies