The Elf – Robert Allen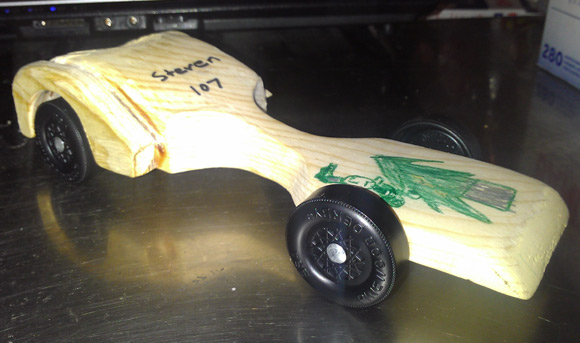 We made this for my son's first race in Tiger Cubs. I researched for about two weeks on designs and what we could do to make the car go faster. Then I drew up three different cars, and he picked out which one he liked best and we made it. We used standard fender washers held in by wood putty for the weight. The wheels and axles are standard BSA wheels that come with every kit; only lightly sanded to remove any imperfections and lubed with graphite. Anywhere the wheel might even come in close contact with the body was graphited. The custom artwork – an elf hiding behind a Christmas tree – was done by my son. I did the power tool work, which wasn't much since I only used a Dremel tool. All the sanding was done by hand and done by my son. Oh yeah we won The All City championship in York, PA. Not bad for his first scouting event.
Ahoy Matey – Quinn & Grant Masek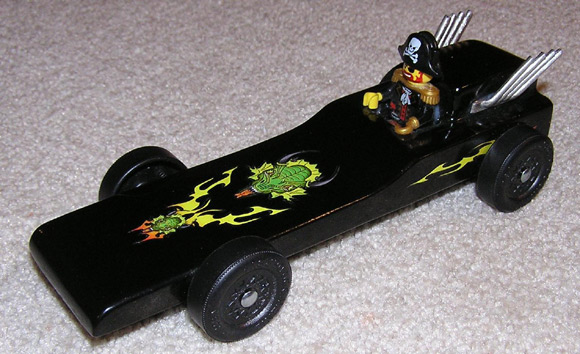 The black car is The Racer and is the first car my son (Quinn) and I built since joining cub scouts. I followed your plans but really didn't do a good job on the axle alignment. He got first in the pack but 40th at the Scout-O-Rama.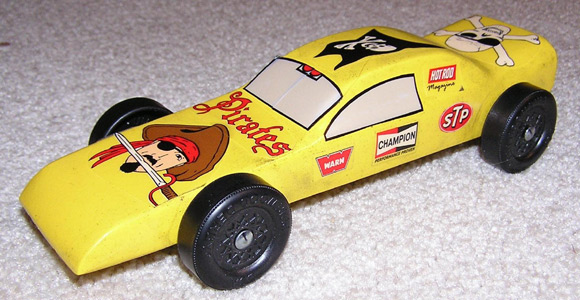 My younger son (Grant) told me he wanted to build a yellow car to look like the one on the BSA box. I used your speed tips for weight, balance and axle prep. Again, we have room to improve on the axles (we weren't doing rail riding yet), but he still got first in the siblings division.
Flying Wedge & Jeep – Ethan & Dominic Patterson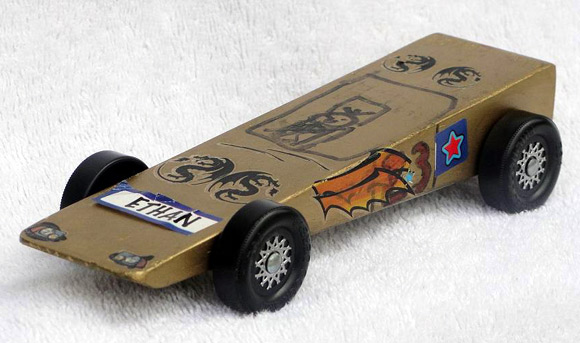 This is my son, Ethan's, first Pinewood Derby Car. It took first place in all races to take first place overall in the Pack.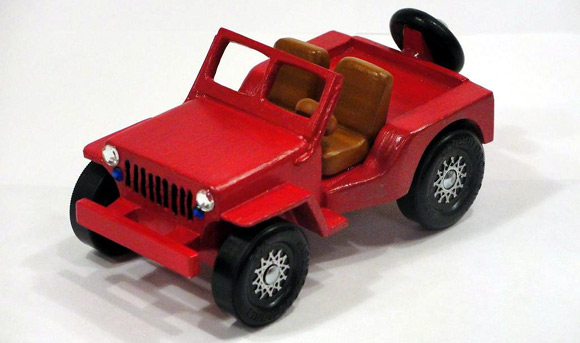 The apple of everyone's eye, the candy apple red jeep stole the show in the adult division on just looks alone!
From Pinewood Derby Times Volume 12, Issue 1
Subscribe to this Free Pinewood Derby E-newsletter
(C)2017, Maximum Velocity, Inc. All rights reserved.
Maximum Velocity Pinewood Derby Car Plans and Supplies