I decided to fill this expanded showcase with some of my favorite cars which my family has built over the years. I hope you like them.
First Car – Timothy Davis – 1995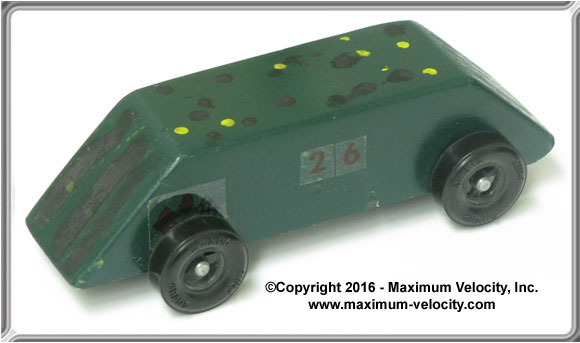 This is the first car we ever built. It didn't look like much, but ended up in 3rd place. If you are interested in the story, check out the memory at
Volume 15 Issue 1
Yellow Dragster – Shannon Davis – 1997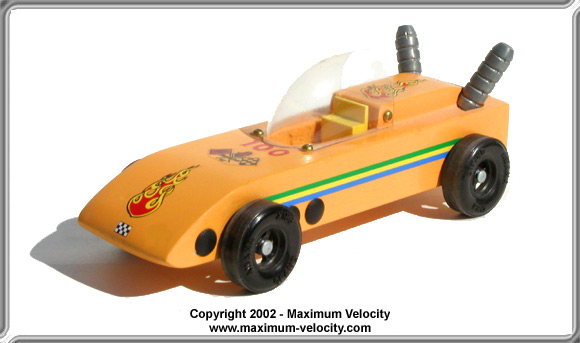 We built two cars in 1996, but they both disappeared. Then in 1997 we built two yellow dragsters. At the time there was a Lego driver in both cars, but by the time I took the photos one had disappeared(maybe he stole the two missing cars!). This Yellow Dragster took 2nd Place
in speed.
Battery Car – Timothy Davis – 1998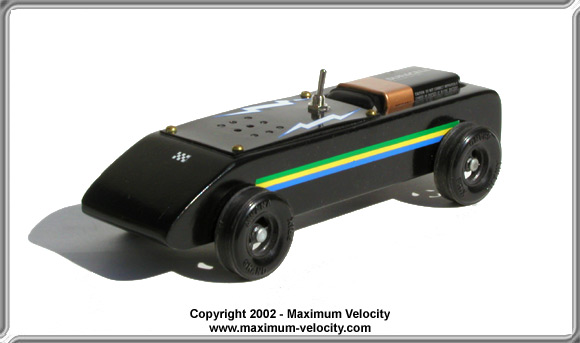 This car has an alarm. If you tilt the car, it beeps. This was done with a mercury switch (yes, I know this is taboo – but at the time I didn't know better). We flipped the switch off after two heats; while it was staged the beeping got really annoying. The car took 1st place for speed and 3rd place for design. The Battery Car still intrigues kids that come into our shop.
Maroon Low-Rider – Shannon Davis – 1999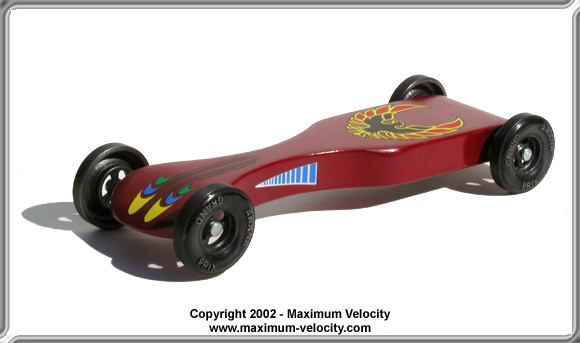 This was the first extended wheelbase car we built. At the time another family was building this type of car, so we were trying to catch them. The car took 3rd place for speed.
Rocket Carrier – Timothy Davis – 2000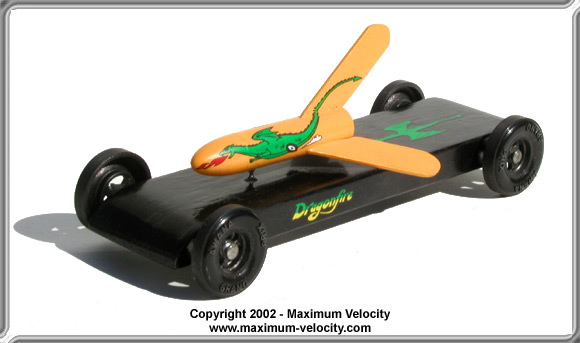 My son wanted a "Rocket Car", and this was the compromise. The rocket is a tiny Estes rocket. The car took 2nd place for speed, just a few milliseconds behind the 1st place car.
Interceptor – Janel Davis – 2001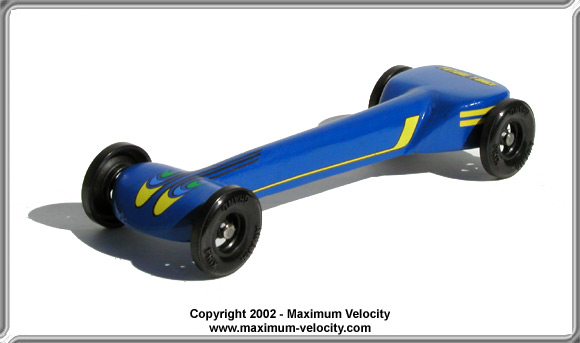 At this time Maximum Velocity was in its infancy, and I was writing car plan booklets. The Interceptor was one of those designs – it is in "Advanced Car Plans". I'm sure I did most of the body work, but my daughter did work on the wheels and axles. The Interceptor took 1st place for speed and 3rd place for design.
Speeder – Stephen Davis – 2002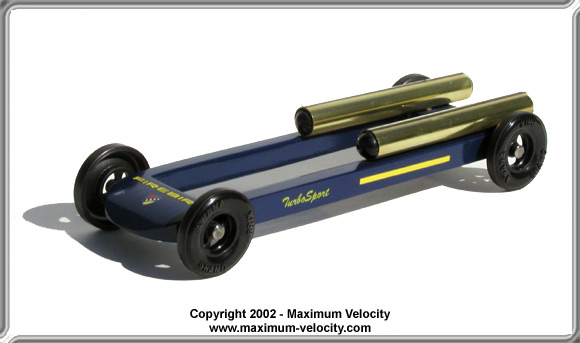 Another Maximum Velocity design (in "Car Plans"), the Speeder is one of my all time favorites. It was inspired by Luke's speeder in the original Star Wars. It took 2nd place for speed, and 2nd place for design.
Dominator – Stephen Davis – 2003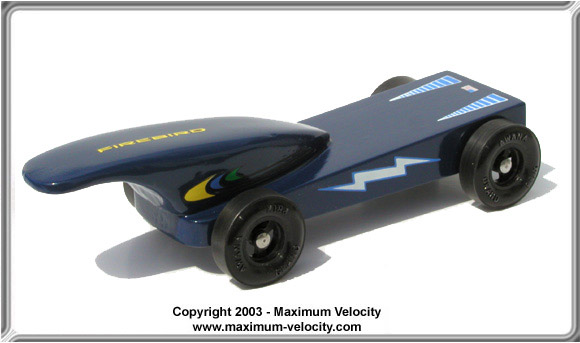 Bill Launius of DerbyWorx was considering offering balsa wood "noses" so that cars could easily have a high nose (an advantage on some tracks). So we built a car with one. It took 2nd place for speed and 1st place for design.
From Pinewood Derby Times Volume 15, Issue 12
Subscribe to this Free Pinewood Derby E-newsletter
(C)2016, Maximum Velocity, Inc. All rights reserved.
Maximum Velocity Pinewood Derby Car Plans and Supplies