My step-son is in Royal Rangers, and we built a car for their derby race. Instead of axle slots cut in the wood block, Royal Ranger cars are equipped with two 3/8 inch dowel rods that are placed in slots on the bottom of the car. The wheels are then attached to the ends of the dowels with screw axles.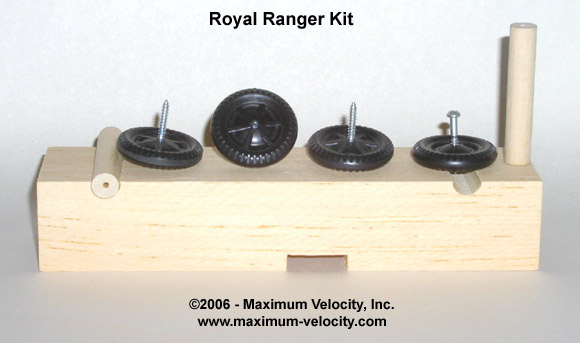 The night before the race I was making final wheel adjustments. I was having some problems getting the wheels aligned so I lost a lot of the graphite that had been put on the axles. On race day I added some graphite before check-in and was spinning the wheels to get it worked in. I slapped the wheel too hard, knocking the car out of my hands and onto the ground!!
Our worst fear … I cracked the front dowel. Luckily the crack was by the wheel that we purposely lifted off the ground. We had to realign the car, and we got it as close as possible. We were expecting that this was going to kill us on the track.
But surprisingly, the car performed great, winning the age division race and then taking second place in the finals.
We consider ourselves very fortunate that the car performed well. After the race our Pastor joked that dropping the car was the secret. Maybe we'll have to drop next year's car as well!?
Patrick Mulligan
Sylvania, Ohio
From Pinewood Derby Times Volume 15, Issue 12
Subscribe to this Free Pinewood Derby E-newsletter
(C)2016, Maximum Velocity, Inc. All rights reserved.
Maximum Velocity Pinewood Derby Car Plans and Supplies