In this Edition
– Editor's Notes
– Humor
– Product Showcase –
Paint Stand – $2.00 Off
– Pinewood Derby Car Showcase
– Pinewood Derby Memory –
Dad's Car
– Q&A
---
Editor's Notes
Seasons Greetings
All of us at Maximum Velocity wish you and your family a Merry Christmas and a great New Year. May you have a blessed year.
No Feature Article
I decided to a take a Christmas break and not have an article in this edition. But I'll have a new article in the next issue on January 10.
Call for Car Photos
Help, we are virtually out of photos for the pinewood derby car showcase.  Please send us a photo of your car along with a description of any special features to:
[email protected]
Please include your full name. If selected, we will include the photo and description in this newsletter.
Photos must be sent by e-mail in JPG format (minimum size of 640×480, maximum size of 1280 x 960). Please shoot photos from the front left of the car, similar to the orientation of this car: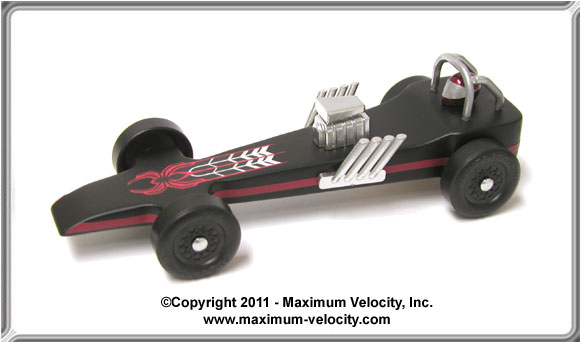 Make sure the photo is not blurry. If your photos are blurry, try holding the camera four or five feet away from the car, and then use the camera's zoom to fill the frame with the car. Also, use a solid (preferably white) background for the photo.
Send only one photo per car, unless an additional photo is needed to adequately show a feature. Don't forget to include your name, the name of the car (if it has one), and a brief write up on any design features, inspiration for the design, and how the car performed at the race. Thanks.
MV Basic & Wedge Car Kits


If you are planning a race and are not required to use a specific kit type, our MV Basic or Wedge Car Kit are just what you need. These attractively priced kits are equipped with:
– Quality Block – Unlike the blocks provided by some organizations, our blocks are soft, northwestern pine blocks, cut precisely to 7 inches long, 1-3/4 inches wide, and 1-1/4 inches tall. These dimensions, as well as the axle slots accurately duplicate the dimensions of standard pinewood derby blocks from BSA and PineCar.
– Simple Axle Preparation – Don't worry about filing off flaws, or losing hub caps. Our Speed Axles have no burrs or crimp marks, and install without hub caps. With or without polishing, they are ready to go. We supply five, so you have a spare.
– Quality Wheels – Forget cheap, out of round wheels. Our MV wheels are top-quality wheels. You will not be disappointed with the quality of these wheels.
So, if your organization does not mandate a particular kit type, consider our MV Basic Car Kits or MV Wedge Car Kits. We also offer bulk packs of MV kits in Pre-cut Shapes.
Inventory Clearance Sale
We are clearing inventory on several items including:
– Tundra and tungsten weights
– Formula One car kits
– Paint Stencils
We don't have many left, so don't delay. You can find these items Here.
Can We Help?
If we can help you in any way with your pinewood derby project, or if you have any feedback regarding this newsletter, please Contact Us.
---
Humor
The Ultimate Metric Conversion Chart
1,000,000,000,000 Microphones = 1 Megaphone
1,000,000 bicycles = 2 megacycles
500 millinaries = 1 seminary
2,000 mockingbirds = 2 kilomockingbirds
10 cards = 1 decacards
1/2 lavatory = 1 demijohn
0.000001 fish = 1 microfiche
453.6 graham crackers = 1 pound cake
1,000,000,000,000 pins = 1 terrapin
10 rations = 1 decoration
100 rations = 1 C-ration
10 millipedes = 1 centipede
3 1/3 tridents = 1 decadent
10 monologs = 5 dialogues
5 dialogues = 1 decalogue
2 monograms = 1 diagram
8 nickels = 2 paradigms
2 snake eyes = 1 paradise
2 wharves = 1 paradox
---
Product Showcase
Paint Stand – $2.00 Off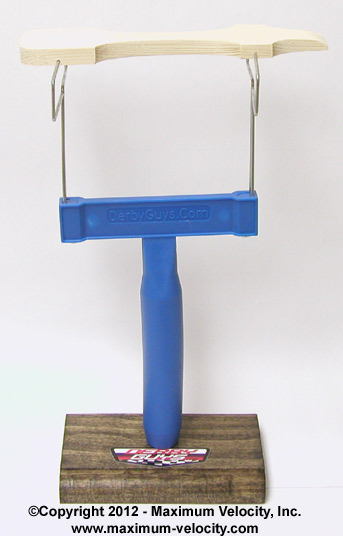 Simplify and Improve Your Painting

Finally, a paint stand for pinewood derby cars that is easy to use, and works on virtually any car! This paint stand by Derby Guys not only holds your car securely, but also:
– Allows you to hold the car in any position while painting.
– Works with axle slots or axle holes, and with any wheelbase.
– Keeps paint out of the axle slots or holes.
– Provides a stable base while your car dries.
Through January 9, 2018, you can get a Paint Stand for $2.00 off. To take advantage of this limited time offer, add part 5385 to your shopping cart and use coupon code DEC27NL during checkout.
---
Pinewood Derby Car Showcase
Today's cars are from Andy Holzer.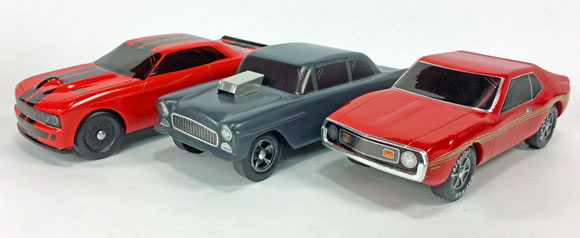 1974 Javelin
In the spring of 2016 I was given the chance to purchase a 1974 Javelin. This Javelin was purchased by the current owner's brother, back in 1974.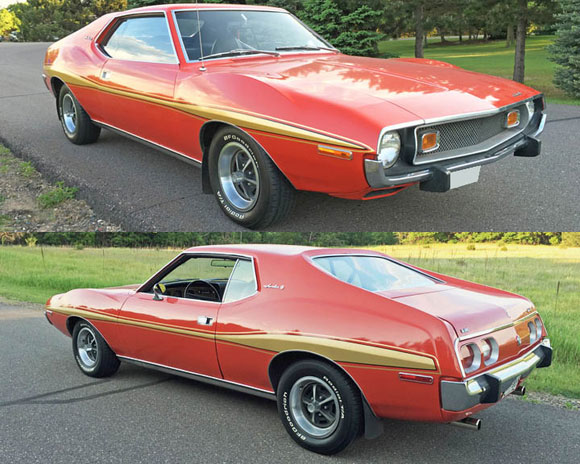 This was truly a "kid's car", as it is a 360, 4-bbl, 4-speed, console delete, manual steering, drum brake car. It has all the options to make it faster and look cooler, except for an AM 8-track player.
Apparently, the original purchaser was indeed a 19-year-old kid that had a good job and decided he needed a new car. He narrowed his choices down to either the American Motors, Javelin or the Plymouth, 'Cuda. He eventually decided on the Javelin because "it had more style and he felt it was more car for the money."
He went to Greenburg's AMC, in Anoka, Minnesota, to place an order for the car he wanted. He had made the decision to buy a white one with a gold stripe down the side. This is the same car that is shown in the 1974 AMC brochure. But, his best friend at the time, convinced him that the red one was much better looking. So he was persuaded, at the last minute, to order it in Trans Am Red.
He drove his new '74 Javelin through the summer and had to buy a Plymouth Valiant as a beater for the winter. This car has never seen a Minnesota winter due to the original owner's foresight.
As I said earlier, I purchased the car from the brother of the original purchaser in May of 2016. He had purchased the car from his brother in 2003. The original owner is 62 at this point.
During the holidays, I was planning on making a Pinewood Derby car of this '74 Javelin. This car would be raced in our car club Pinewood Derby race in February of 2017. At the time, I decided I should make three cars, one for me and one for each of the owners of this very unique car.
As things normally go in my world, this project kept getting larger. I thought it needed some sort of box to package the car in. I had a Javelin AMX snap together model, and a green Johan snap together promo box with a couple of parts left inside. I thought this would make an interesting box to hold the cars.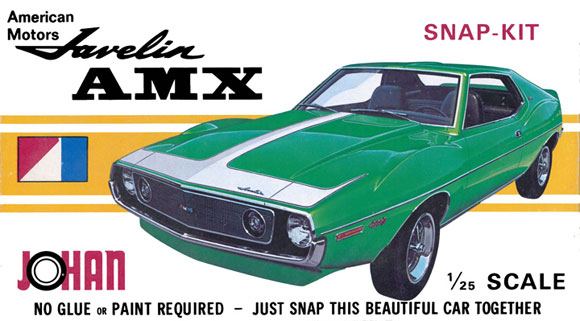 So I made a box similar to the promo box.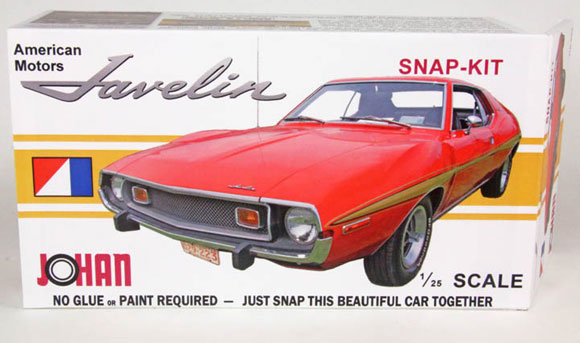 The original plan was to get these model cars to the owners sometime around the holidays, but with these additions the timing seemed impossible. No one knew these were even in production so timing wasn't a huge deal. In early February, these cars were ready to go to the owners of this Javelin. Each of the boxes are numbered.
The past owners loved the cars, along with the display box. The top of the box tells the story of the car and ends with, "Marty was able to build 'his' model of the Javelin."
I ended up using Maximum Velocity wheels and axles as they closely resemble the Magnum 500 wheels on the Javelin.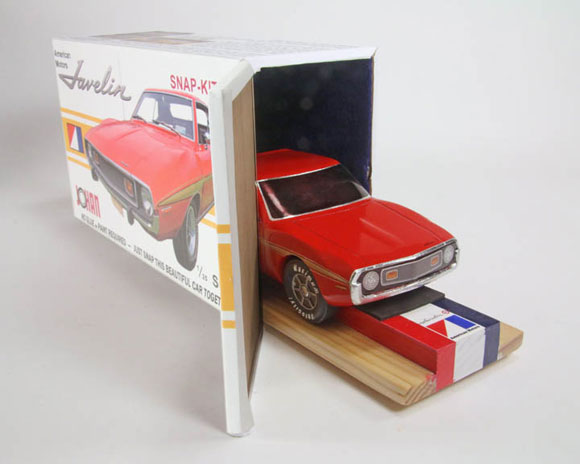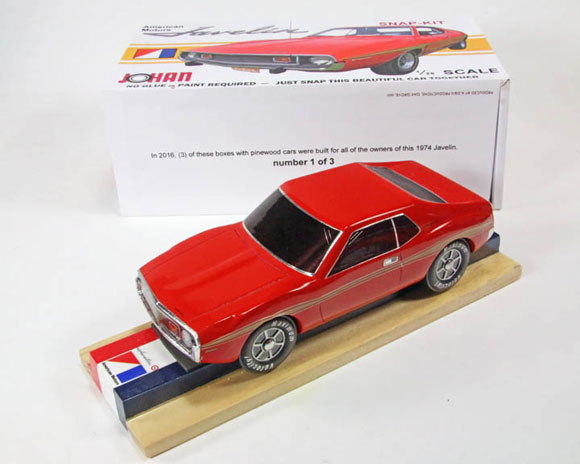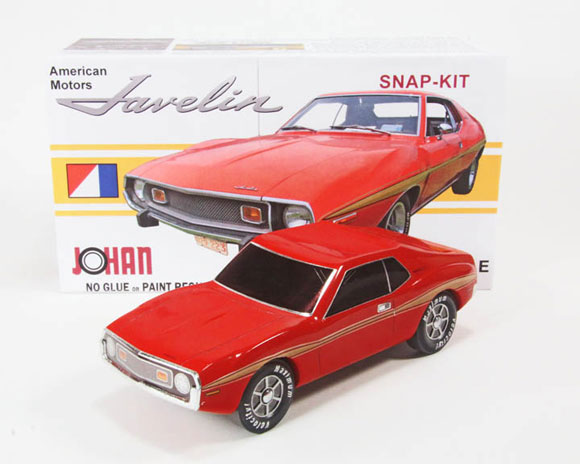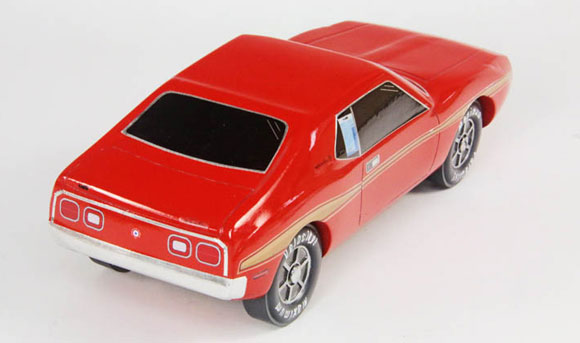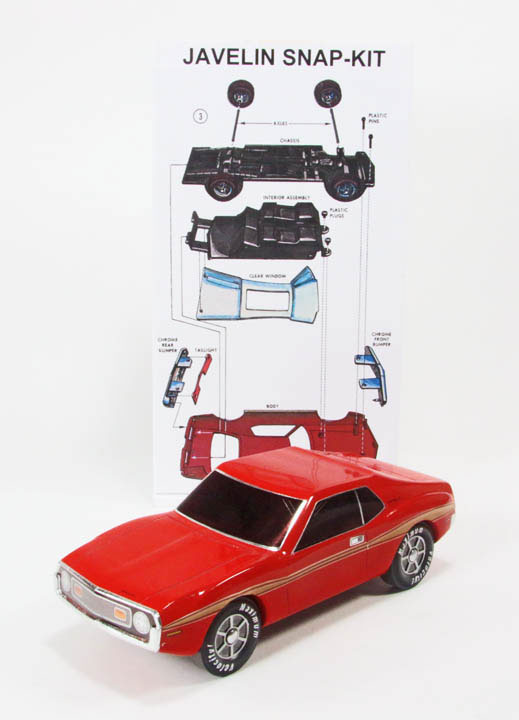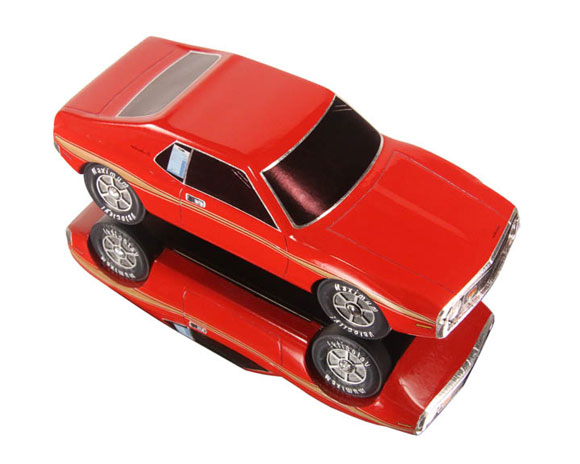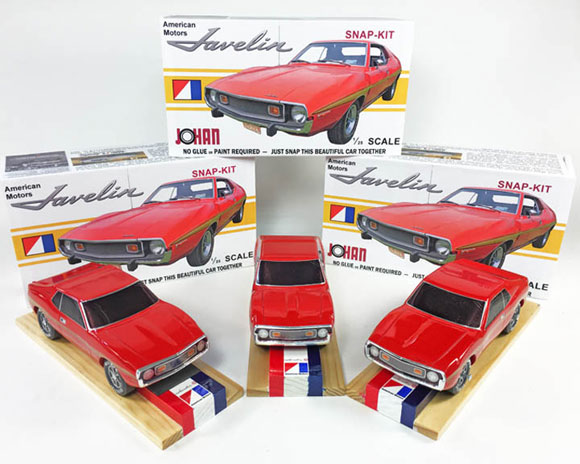 If you are interested in a step-by-step build of this car, please see my post on DerbyTalk.
'55 Chevy "Two-lane Blacktop" Car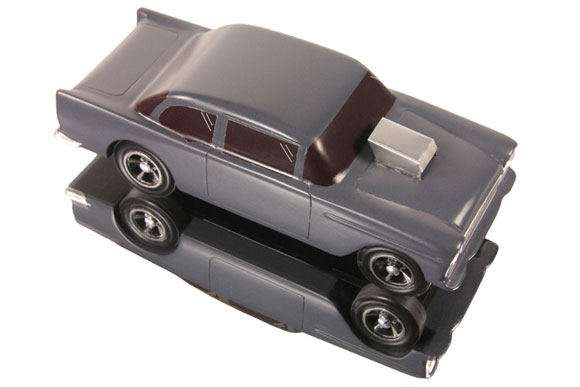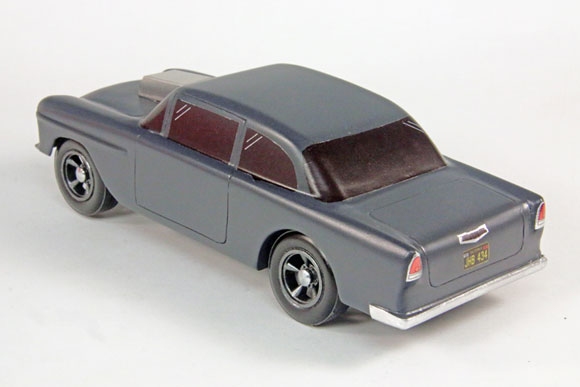 The second car I built was the car from the movie "Two-Lane Blacktop". The movie is a story of two men drag-racing across the U.S. in a primer grey '55 Chevy. The car is one of the stars of the movie, the actors in the movie were not given names, they were known as the mechanic and the driver.
This was the same '55 Chevy that was used in the movie American Graffiti; it was modified and painted black for its appearance in that movie.
2016 Dodge Challenger Hellcat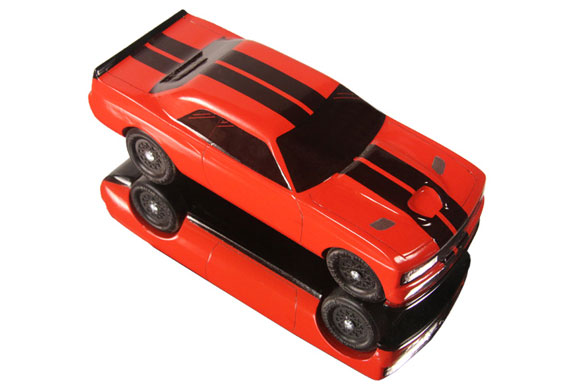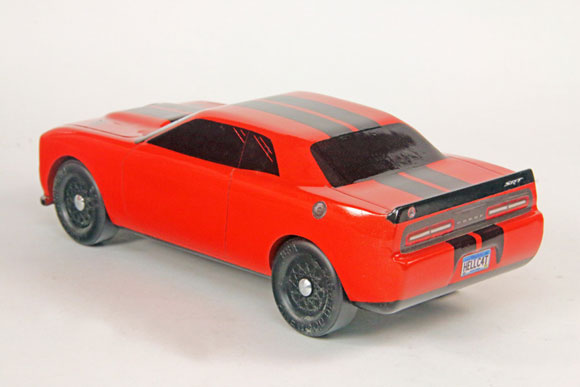 The last car I built in 2017 was a Challenger Hellcat, I built this for a buddy of mine that purchased one of these in 2016. The most expensive part of building this car was getting the matching Chrysler "Go Man Go", orange touch up paint.
Share Your Car With Our Readers
Do you have a car you would like to "show off" to our readers? If so, send us a photo of your car along with a description of any special features to:
[email protected]
Please include your full name. If selected, we will include the photo and description in this newsletter.
Photos must be sent by e-mail in JPG format (minimum size of 640×480, maximum size of 1280 x 960). Please shoot photos from the front left of the car, similar to the orientation of this car: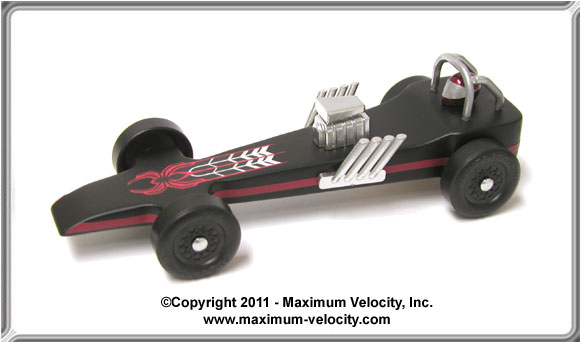 For better focus, keep the camera four or five feet away from the car, and then use the camera's zoom to fill the frame with the car. Also, use a solid (preferably white) background for the photo.
Send only one photo per car, unless an additional photo is needed to adequately show a feature. Also, only one car per subscriber per year please. Thanks.
---
Pinewood Derby Memory
Dad's Car
Our son joined the Tiger Scouts in the fall of 2002, so January 2003 was our introduction to "Pinewood Derby Racing." We were excited about the idea of building a car together (well I was), but we did not know a whole lot about what we needed to do. Other than the few lines of information that came on the sheet that came with the block of wood, four nails, and wheels, we were pretty much left on our own. The pack we belonged to is pretty loose on structure and strong in the boys having good safe fun, and a lot of it. As the weeks went by we found out about the weight limit, length, width, and lubricant requirements.
Austin drew out his design on paper complete with guns, a jet turbine, and a device that extinguished the fire from the jet. We then transferred the design to the wood block. I carved and chiseled, he sanded and was constantly asking, "Are we done yet?" Along with his Mom telling me, "Let him do a lot of the work, it's his car." I carved and chiseled and he sanded some more.
He helped put on the first coats of paint and sanded some more and continued with, "Are we done yet??" And Mom, "Let him do a lot of the work, it's his car."
He picked out the stickers and helped put them on with the constant resonance of (you guessed it), "Are we done yet???" And Mom, "Let him do a lot of the work, etc., etc."
We finally got the wheels on, and it was all I could do to keep him away from the car until race day in fear of it getting broken (you know I'm old and wise and know that I would be the one with additional work – that I did not need – when it got broken).
I then went on to build my own car. Our Pack, to encourage the parents to, "Let them do a lot of the work, it's their car", have an open race for the parents and siblings. This gives them an outlet for their creative streak and competitive juices. My car was going to be the envy of all the dads and would she be fast!!!!!
The evening before race day came, with cars packed in individual boxes, the whole family took off to the weigh-in and impound. Those around were "oohing" and "aahing" at our cars. The smoothness of the finish and the shine sparked constant comments such as, "How do you do that?" and, "Those are the best paint jobs we've ever seen." My head was getting so big, and I was very proud of our accomplishments so far.
Race day starts with the scouts voting on the cars for ribbons in a number of categories including, most creative, best theme, most original, etc. Austin's den – the Tigers – were the first den to run. Austin finished second in the den, not bad for our first build, and he also received the ribbon for best paint job.
When all the scouts were done, it was time for the Open race. Not too long after the start I was standing off to the side holding my car with what must have been a sorry look on my face, because one of the officials came over to me and said,
"It's a good looking car, but the speed's in the axles."
It was a great day and we had a lot of fun building, and I was already thinking about next year – "speed's in the axles."
Boy does time fly. It was about time for the Pack's 2004 running of the Pinewood Derby. We did a lot of reading during the year and I had that comment, "speed's in the axles." running through my head all year long. Our daughter wanted to participate in the event this year, so we had to build three cars (didn't think I was going to be left out did you?).
Just like last year Austin, and now Shannon, drew out their designs and we transferred them to the wood block. I carved and chiseled; they sanded and put on the first coats of paint. Not a lot of noise – "Are we done yet?" – this year; I think they were preoccupied with other issues. So I took the time to really work on those axles and wheels: polishing, polishing, and more polishing.
On the night before the race the family set out with cars packed for the weigh-in and impound. Again, a lot of comments on the finish of all three cars and the same official ("speed's in the axles.") said:
"They not only looked good but I think they will go good. We will see in the morning."
The same routine as last year: the boys voted on the cars and then the racing began. Austin, now a Wolf, proceeded to finish in first place for his den and was now eligible to compete against the first place finishers from the other dens.
After all the Scout dens had finished their events, it was time for the open race. Shannon proceeded to win every heat in the open with no losses. I was so proud, but the event was far from being over.
After the Open race was finished and the crowd settled down, it was time for the day's climax, the bid for Grand Champion. All den first place finishers now raced for the title and the trophy. Yes, you guessed it, Austin won! I could not believe it, what a day.
The event then concluded with the results of the boy's votes. Austin won the ribbon for best paint job again.
Now I am thinking about next year; how my kids can retain their titles. What happened to Dad's car? He did okay, you should see his smile!
Fred Wesstrom
Do you Remember?
If you have a pinewood derby story that is funny, unusual, sad, heart-warming, etc., please send it to me in an e-mail. Don't worry about literary polish. We will edit as needed before publishing. If your story is used, you will receive a $10 coupon in May of 2017.
---
Q&A
Q:  What are the differences in using MV Speed Wheels verses BSA Pinewood Derby Speed Wheels?
A: The MV Speed Wheels, part 4005, are similar to the Pro-Ultra BSA Speed Wheels (part 4060). Both are fully machined and weigh one gram. The MV wheels may have a slight advantage in that the original castings were more accurate, but I don't think the difference would be measurable.
Note that if you were provided with a BSA kit, then likely you will need to use BSA wheels. Certainly check your rules. The MV Speed Wheels are intended for use in a race that uses MV Car Kits, or in a race where there is no limitation as to the brand of wheels that can be used.
Q: I'm interested in your titanium speed axles. Our scout district race doesn't allow modification of axles other than removing burrs, crimps, and polishing. Do you offer these axles un-grooved?
A: Sorry, the manufacturer of the titanium axles only makes a grooved version.
However, a non-grooved version is available in stainless steel (part 4051). The only difference between the stainless and titanium is that the titanium is slightly lighter and stronger.
4051: Stainless, non-grooved – 3.6 grams for four axles
4100: Titanium, grooved – 2.0 grams for four axles
Note also that part 4051 is attracted to a magnet, while 4100 is not. Some packs use a magnet to make sure the axles are steel.
Want Answers?
Do you have a pinewood derby-related question? If so, e-mail us your question.We answer all questions by e-mail, but not every question will appear in the Q&A section of the newsletter.
---
Back Issues
Are you a new subscriber, or have you missed some of the previous newsletters? Don't miss out; all of the issues for Volume 5 through Volume 17 are posted on our web site Here.
---
Newsletter Contributions
We welcome your contributions. If you would like to contribute an article, a web site review, a speed tip, or a pinewood derby memory, please e-mail us.
---
Subscription Information
The Pinewood Derby Times is a free e-newsletter focused on pinewood derby racing. It is published biweekly from October through March.
If you haven't already done so, please forward this issue to your pinewood derby friends. But please don't subscribe your friends. Let them decide for themselves. Thanks.
If this newsletter was forwarded to you, why not subscribe to receive this newsletter. There is no cost, and your e-mail address is safe, as we never sell or share our distribution list.
To subscribe, send a blank e-mail to
[email protected]
You will receive a confirmation e-mail. Reply to the confirmation e-mail and you will start receiving the Pinewood Derby Times with the next issue.
---
Randy Davis, Editor, Pinewood Derby Times
E-Mail: [email protected]
(C)2017, Maximum Velocity, Inc. All rights reserved. Please do not reprint or place this newsletter on your web site without explicit permission. However, if you like this newsletter we grant permission, and encourage you to e-mail it to a friend.
Maximum Velocity disclaims any personal loss or liability caused by utilization of any information presented in this newsletter.
The Pinewood Derby Times is not specific to, and is not affiliated with the Boy Scouts of America, YMCA, Awana, or any other organization.
(R)Maximum Velocity is a registered trademark of Maximum Velocity, Inc.
(R)Pinewood Derby is a registered trademarks of the Boys Scouts of America.
(R)Awana is a registered trademark of Awana Clubs International.
All other names are trademarks of their respective owners.