The pinewood derby has been an outlet of fun, friendly competition for children and adults alike for over fifty years. Back in 1997, Maximum Velocity founder Randy Davis began studying pinewood derby techniques and sharing his findings. Now, Maximum Velocity is a premier provider of pinewood derby techniques, supplies, tools and designs. Randy's passion, coupled with his background in engineering, has manifested into a leading source of all things pinewood derby.
Pinewood Derby Insight – Speed To the Finish & Car Plans
After his children began racing in pinewood derby competitions at their local church, Randy became interested in learning more about how to properly optimize a pinewood derby car. After serving as Derby Master, he decided that to improve the competition, he would make the basic techniques for racing available to all entrants. He wrote a booklet, Speed to the Finish, that contained insightful tips, tricks and designs to make the perfect pinewood racer. Since its inception, Speed to the Finish has gone through several major revisions and is now on its fourteenth edition.
Now, Maximum Velocity also offers over a dozen Car Plan booklets containing car plans for winning designs. Each booklet comes complete with templates for three winning car designs, in addition to a construction timetable, woodworking tips and more. Easy to follow instructions and helpful diagrams make it easy to build your own pinewood derby car from scratch. And because each template features optimal weight and weight locations, there is no guesswork when it comes to properly maximizing your car's ability to gain momentum when racing down the track!
Pre-Cut Kits and Bundles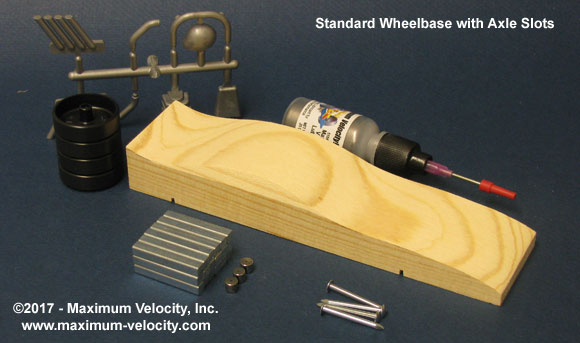 Some may consider building pinewood derby cars from templates to be too intimidating. Which is why Maximum Velocity stocks a variety of pre-cut kits and bundles. Pre-Cut Kits include blocks that have been precision cut into winning designs, and also come with pre-drilled axle holes or slots. By purchasing these pre-cut kits, you can save time while also minimizing tool investment, as these car bodies have already been prepared to accept the maximum amount of weight and at the proper position. Wheels and axles are not included, so you can further customize your car by choosing between smooth or grooved axles, and prepared or molded wheels.
Bundles take these kits one step further by including the wheels, axles and lube needed to completely build the pinewood derby car. This is a great option for novice pinewood derby car builders who want to familiarize themselves with building a car without tirelessly researching proper axle placement, weighting techniques or aerodynamic precautions. We've done all the work for you!
For the motivated builder, you can purchase blocks, wheels, axles and weights through our expansive online store, and build your pinewood derby car however you want. However, you may want to review our 5 Keys to Pinewood Derby Performance to make sure you're paying close attention to ways you can improve or hinder your car's performance come race time.
Pinewood Derby Tools
Maximum Velocity also stock and impressive collection of pinewood derby tools that can used for everything from shaping your car body to hubbing your wheels. From precision measurement and drilling to polishing axles and perfecting your wheels, we have the tool you need to perfect your pinewood derby design.
Decals and Accessories
When it comes time to accessorize your pinewood derby car, Maximum Velocity has you covered! We stock a vast collection of dry transfer decals, body skins, pin striping and paint stencils to help you customize your car to your liking. Our selection of acrylic paints and brushes are perfect for those that want to add their own personal flair to their racer.
Our selection of car accessories allows even further decoration. Mask your windows with our black window material to give them a realistic appearance. If you have an exposed steering wheel, our aluminum steering wheel cover will give your car an extra eye-catching detail. Plastic car parts and canopies add further embellishments to your car, helping it to stand out from the competition.
Speed Supplies
While your car should look fast, it should also be fast! That's where our inventory of pinewood derby speed supplies comes in handy. We stock a variety of polishing kits for axles and wheels, in addition to air guides to improve your car's aerodynamics. Our Max-V-Lube is also a superior high-purity graphite lubrication that will make your car perform faster on the track. And our comprehensive speed kits contain all these items and more!
To increase your car's momentum, be sure to check out our selection of pinewood derby car weights. We stock everything from high density tungsten and lead to steel and flex weights. When properly placed at the back of your car, these weights will help you speed to the finish!
Pinewood Derby Experts
When it comes time to race, trust the pinewood derby experts at Maximum Velocity. Our years of experience and dedication to customer satisfaction has allowed us to be one of the premier suppliers and providers of pinewood derby knowledge and products today. Let us help you reach maximum velocity!