– Editor's Notes
– Pinewood Derby Car Showcase
– Q&A
---
Editor's Notes
This is the last issue of the Pinewood Derby Times for the 2013-2014 season. The new issues (Volume 14) will begin in early October 2014. You will automatically continue to receive the newsletter in the fall, as our mailing list will remain intact. If your e-mail address should change before then, from the NEW e-mail account simply send a blank e- mail to:
pinewood-derby-times-change@mail-list.com
with your OLD e-mail address in the 'Subject:' line.
We have most of the articles planned for next season, but we are always looking for your input. So if you have an idea for an article, please send it to me at:
Instead of including a Feature Article, this edition contains an expanded Car Showcase.
---
Pinewood Derby Car Showcase

The Dark Menace – Mark Shipley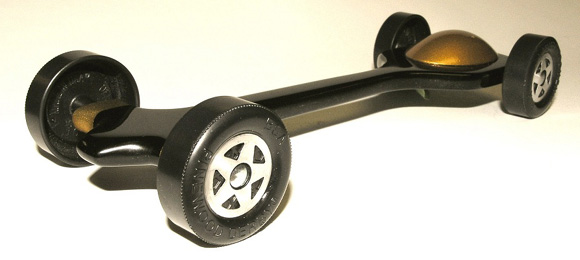 This first-time car was built by Brennan Shipley and his Dad, and won second place in our pack races and qualified to participate in the District races on April 2014.

1950 Studebaker Champion – Andy Holzer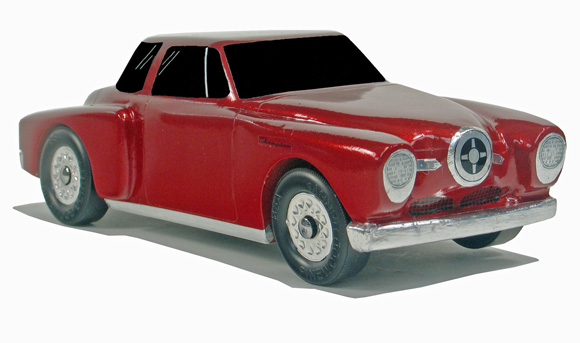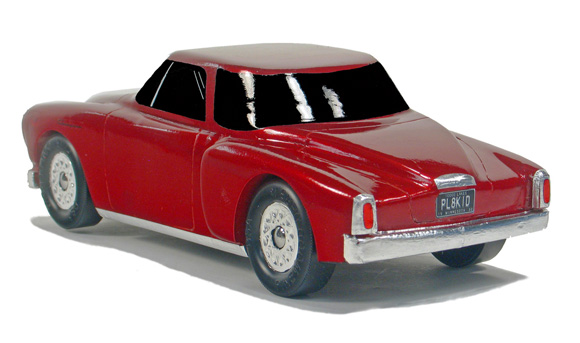 Ever since Noah's 2nd year as a Cub Scout (way back in 2007) he wanted to make Fozzie Bear's Studebaker Commander that was featured in 'The Muppet Movie'. He really wanted to make the version that the Electric Mayhem re-painted to camouflage it from Doc Hopper. Now that he is 15 he realizes the difficulty of trying to paint a car to look like the original. But he still wanted to make a Studebaker. So the decision was made to build a Studebaker, Champion.
Noah races with the adults from his old pack; the Studebaker came in 6th place in that race. The next week, I completed my car and raced it against Noah's car – the Studebaker was faster. I had signed up to race in the FundRacer race with the Cub Scout Pack Noah is a den chief for. We decided to race the Studebaker instead of my Nomad. The Studebaker came in 4th in the FundRacer race.

1956 Chevrolet Nomad – Andy Holzer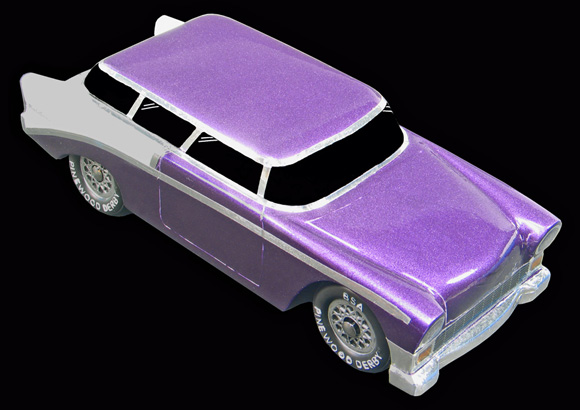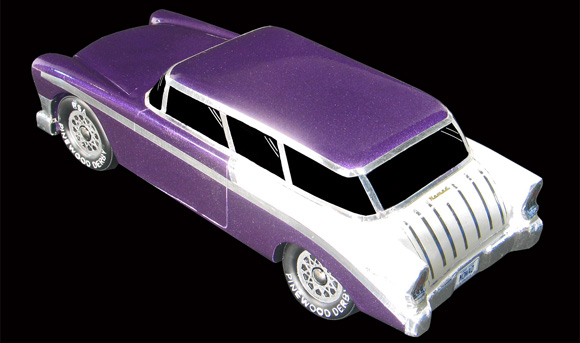 The car I built for 2014 is a Chevy Nomad wagon. In the beginning, when I was thinking about building a Chevy wagon, I was not sure if I wanted to build a 210 Handyman Special version, a Sedan Delivery, or a Nomad. All I knew is it would be a two-door wagon. After looking at some pictures of the wagons and speaking with my neighbor, it was decided to go with the Nomad. The arched rear glass, the tilted door posts, and the additional chrome, the Nomad was a hot rod two-door wagon. It is still one of my favorite cars. I will have to work on the rear alignment to see if I can get it faster!

The Spirit of '53 – Lee Klinghoffer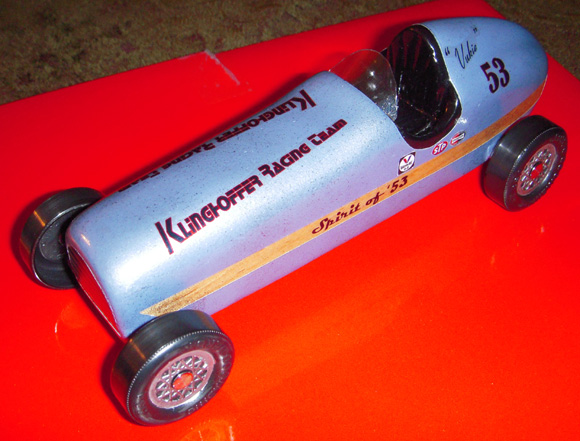 I named this year's entry "The Spirit of '53". It's a jazzed-up replica and tribute to Don Murphy's original car design for the first Pinewood Derby in 1953. That year, the winner of the Indianapolis 500 was Bill 'Vukie' Vukovich. This car bears his nickname just behind the driver cockpit.

Touchdown – Mark Leedom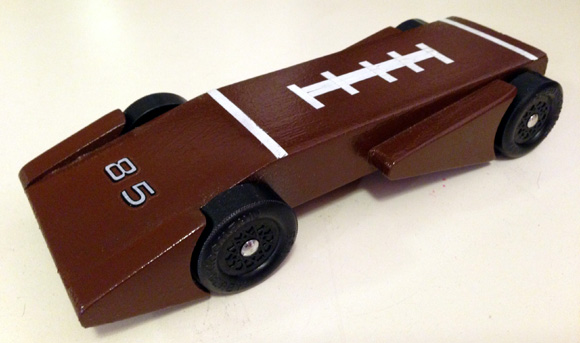 This is my son Derek's 2014 entry for Pack 352 (Raleigh, NC). It is named "Touchdown" and uses your fender kits as well as your tungsten COG weights. This was the speed winner for the Bear Scouts this year, and next we move on to the Impeesa District derby!

Police Cruiser – Mark Leedom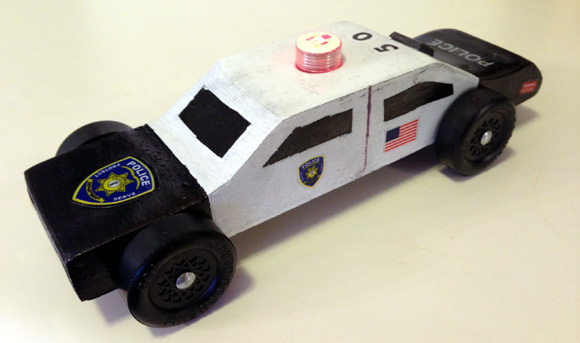 This car was in response to your recent article on light bars. I wanted to share this low-tech solution that we had used last year. We bought these clip-on lights for the kids from a street vendor at our local 4th of July parade for $1 each. They weigh 0.2 ounces with the batteries and flash alternating red/blue. I used a Dremel to cut the clip off, and just a touch of poster putty to hold it in a hole I had drilled so that it was somewhat recessed. It didn't win, but it was definitely a crowd pleaser!

Seriously Blue – Jason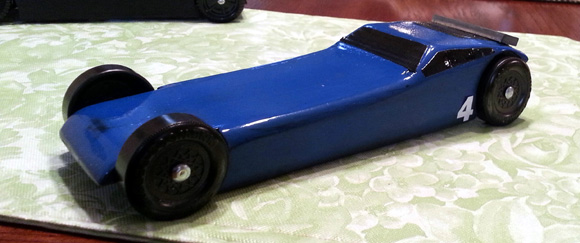 This is our fastest car so far. It was so fast that the parents wanted a second inspection of the car. After passing yet another inspection, the races continued. This car took 3 trophies: fastest in age group – fastest over all – best in show. Thanks to Maximum Velocity and all the speed tips, the little guy and his Dad went home happy!

Vector – Russell Rau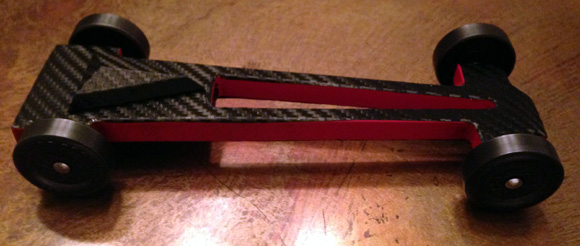 This year's car came out pretty cool with a carbon fiber-like overlay. The car set a track record its first race, then broke that the second race, but then slowed down the rest of the day. It developed a wobble, not sure why. Anyway, it was just quick enough even with the wobble to take first.

Vector – William Jenkins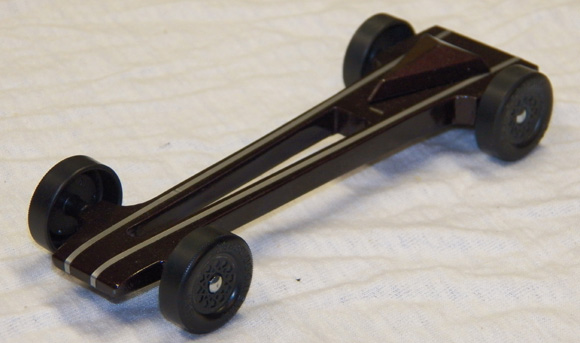 This car was built for an adult Pinewood Derby to benefit the United Way. It was based on the Maximum-Velocity Vector with slight modifications. The derby rules did not allow outlaw wheels and the wheels could not have the inside lettering removed so this car used Ultralight Speed Wheels on polished grooved axles. It came in first place out of fifteen cars entered and never lost a heat.

Stealth – William Jenkins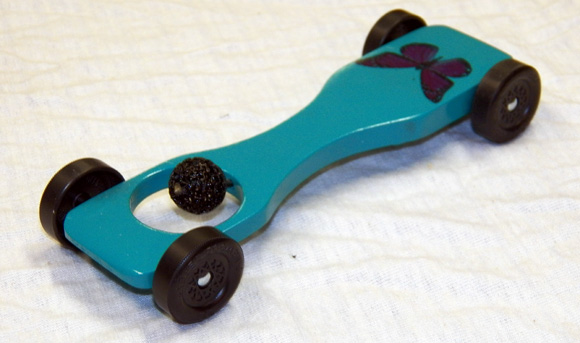 This car was my second entry in the United Way benefit derby. It was based on the Maximum-Velocity Stealth This car also used Ultralight Speed Wheels on polished non-grooved BSA speed axles. The car came in second place to my other entry.

Oilers – Nathan Paul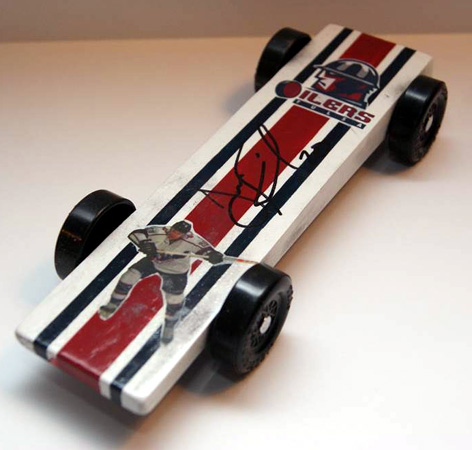 This is my son Brenden Paul's car from Pack 954 in Tulsa, OK. This was his Scout division car that took 5th place on race day. While it didn't win, the project was a fun one since Brenden painted it to represent the local CHL hockey team, the Tulsa Oilers. Our family sponsors one of the players and Brenden was lucky enough to get him to sign it before race day.

Panthers – Nathan Paul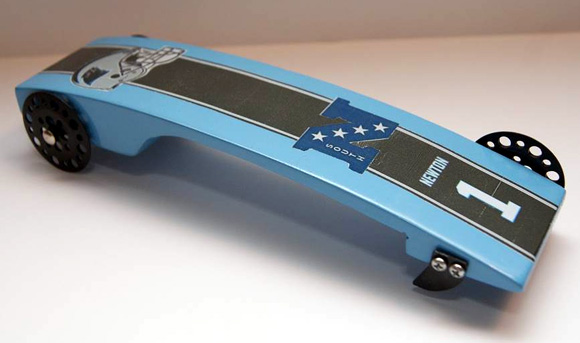 My son ran this car in the open class for pack 954 in Tulsa, OK. You can see his love for the NFL theme, and the body design is one that has served us both well in years past. The car took second place in the race.
---
Q&A

When working in graphite, is there any advantage to using a drill to spin the nail inside of the tire (instead of spinning the tire on the nail)?
I do not recommend spinning on a drill as you can very easily damage the bore from too much heat or pressure. If you spend 5 minutes per wheel adding graphite, hand spinning, adding graphite, spinning, etc, you will be fine. Just make sure to end by spinning.

Our 'test and tune' is Friday night and the actual racing is Saturday morning. Would you recommend I apply the graphite Friday night for the tune (and then leave it alone for Saturday) or apply the graphite Saturday morning just prior to the race?
You can apply the graphite for Friday night. Then if you only race one or two times, you will be fine to race as is. But if you race the car many times on Friday, then I would add graphite and spin before the Saturday race. Just make sure to spin it in well before racing.
As a caution, be careful with the test and tune. Sometimes, they are a bit chaotic, and cars get damaged from dropping and crashing.

Can the tungsten canopy be painted and if so what would you recommend using?
Yes, you can paint it. I would use some 600-800 grit sandpaper to lightly sand it before painting. After sanding, only hold the canopy by the stud to keep fingerprints off the canopy.
I recommend a lacquer spray paint, such as Duplicolor-Perfect Match from an auto store. Avoid any enamel paint.
Want Answers?
Do you have a pinewood derby-related question? If so, e-mail us your question.We answer all questions by e-mail, but not every question will appear in the Q&A section of the newsletter.
---
Back Issues
Are you a new subscriber, or have you missed some of the previous newsletters? Don't miss out; all of the issues for Volume 5 through Volume 17 are posted on our web site.
---
Newsletter Contributions
We welcome your contributions. If you would like to contribute an article, a web site review, a speed tip, or a pinewood derby memory, please e-mail us.
---
Subscription Information
The Pinewood Derby Times is a free e-newsletter focused on pinewood derby racing. It is published biweekly from October through March.
If you haven't already done so, please forward this issue to your pinewood derby friends. But please don't subscribe your friends. Let them decide for themselves. Thanks.
If this newsletter was forwarded to you, why not subscribe to receive this newsletter. There is no cost, and your e-mail address is safe, as we never sell or share our distribution list.
To subscribe, send a blank e-mail to
pinewood-derby-times-on@mail-list.com
You will receive a confirmation e-mail. Reply to the confirmation e-mail and you will start receiving the Pinewood Derby Times with the next issue.
---
Randy Davis, Editor, Pinewood Derby Times
E-Mail: info@maximum-velocity.com
(C)2018, Maximum Velocity, Inc. All rights reserved. Please do not reprint or place this newsletter on your web site without explicit permission. However, if you like this newsletter we grant permission, and encourage you to e-mail it to a friend.
Maximum Velocity disclaims any personal loss or liability caused by utilization of any information presented in this newsletter.
The Pinewood Derby Times is not specific to, and is not affiliated with the Boy Scouts of America, YMCA, Awana, or any other organization.
(R)Maximum Velocity is a registered trademark of Maximum Velocity, Inc.
(R)Pinewood Derby is a registered trademarks of the Boys Scouts of America.
(R)Awana is a registered trademark of Awana Clubs International.
All other names are trademarks of their respective owners.