– Editor's Notes
– Pinewood Derby Car Showcase
– Q&A
---
Editor's Notes

Last Issue of the Season
This is the last issue of the Pinewood Derby Times for the 2012-2013 season. The new issues (Volume 13) will begin in early October 2013. You will automatically continue to receive the newsletter in the fall, as our mailing list will remain intact. If your e-mail address should change before then, from the NEW e-mail account simply send a blank e- mail to: [email protected]
with your OLD e-mail address in the 'Subject:' line.
We have most of the articles planned for next season, but we are always looking for your input. So if you have an idea for an article, please send it to me at [email protected]
I would like to thank all of our readers and contributors. Your input is greatly appreciated and certainly contributes to the success of the newsletter. I wish you all a blessed summer. See you in October.
---
Pinewood Derby Car Showcase

Blue Lightning – Lee Klinghoffer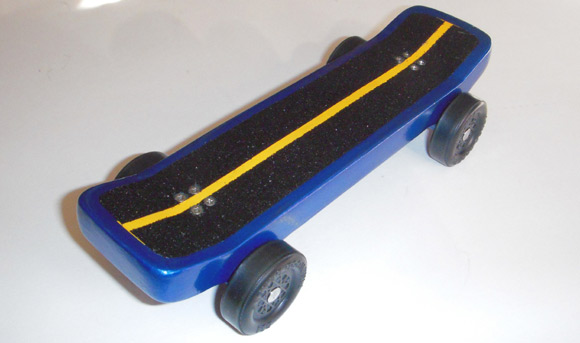 This is my daughter Jenna's skateboard car, called "Blue Lightning", which raced in the open category. It weighed in at 13.2 ounces! Some nice touches were the consistency of the team paint scheme, black glitter grip tape, and real screws for the trucks. She took 2nd place in the open.

Maserati GranTurismo – Lee Klinghoffer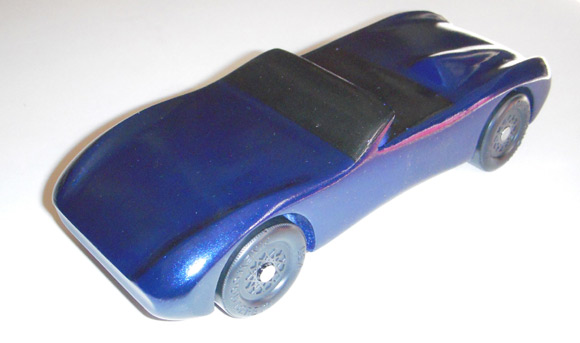 I was inspired by a Maserati GranTurismo convertible and made some minor design tweaks. Paint job was a 3-level Tamiya primer, purple, then deep blue metallic to achieve the cobalt blue effect. It weighed in at 22.3 ounces in our open race! I took first place. Great, great fun.

Batmobile – Dennis Wang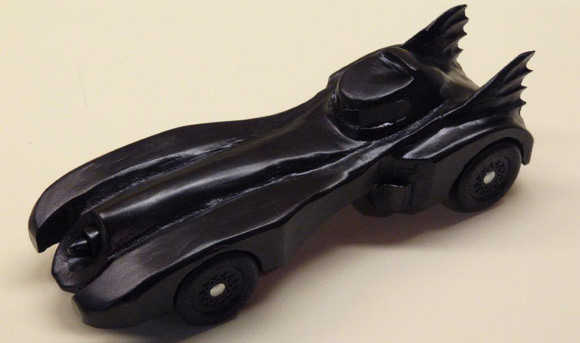 This year my Wolf scout wanted to build the Batmobile. We did some research for some images, and he ended up picking the design from the first two motion pictures. We used Microsoft Visio to create templates from the top and side views. We glued our templates to do the major shaping. The rest of the shaping was done with a Dremel tool and Rotozip sander. We took clear plastic, spray painted one side with black spray paint and then inlaid it to the cockpit which was carved out with the Dremel. We took first in design, and we're heading to District in March.

Lego Indy – Dennis Wang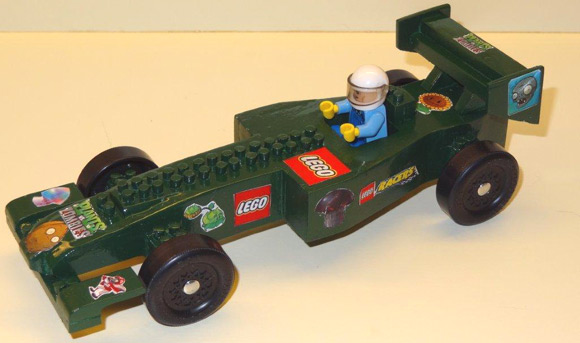 Our pack runs a sibling race and my soon to be Tiger scout wanted to build a Lego race car. He eventually settled on an Indy car. We used Microsoft Visio to create the top and side view templates and a scroll saw to shape our standard BSA block. Visio helped us keep the blocks to scale. We used 1/8 inch dowels as the peg portion of the Legos. When the car was done, it didn't look complete. So we decided to put sponsor stickers. Since Mason is really into "Plants vs Zombies", we used images we found on-line to decorate the car. The car took first in design in the parent/sibling race.

Viper – Bruce Edney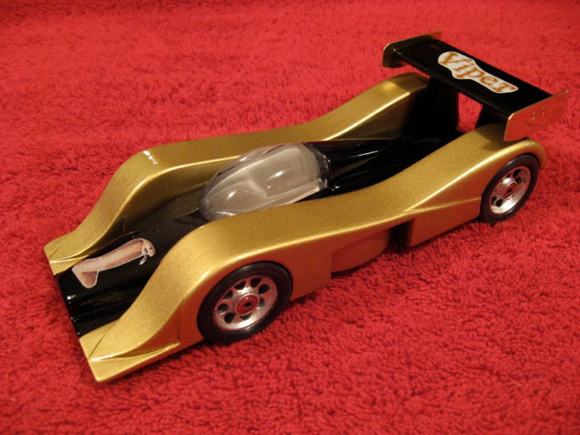 The Viper design is based on the Lola B08/86 Mazda MZR-R coupe which raced in the American Le Mans Series LMP2 class at Petit Le Mans in October 2009. This car raced in the 2012 Mid-America Pinewood Derby, and the PWDR and WIRL racing leagues.

Flower Power – Brian Masek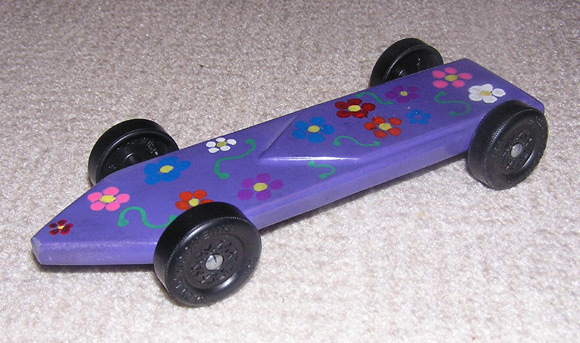 The Flower car is a Stealth that I built to improve my building skills. I actually built two Stealths so I gave one to Shelli, my wife, who is very creative. I built it, primed it and gave it to her to do whatever she wanted. This is what she came up with and it looked great! It got 2nd place in the "family" race.

Sky News – Brian Masek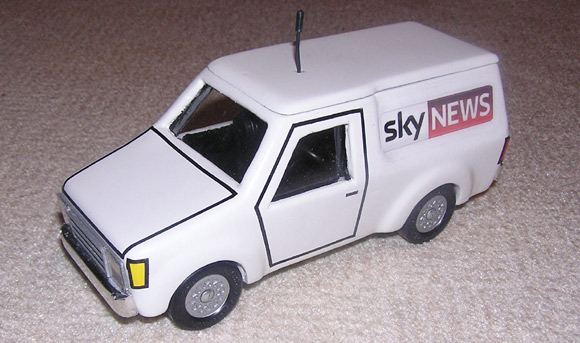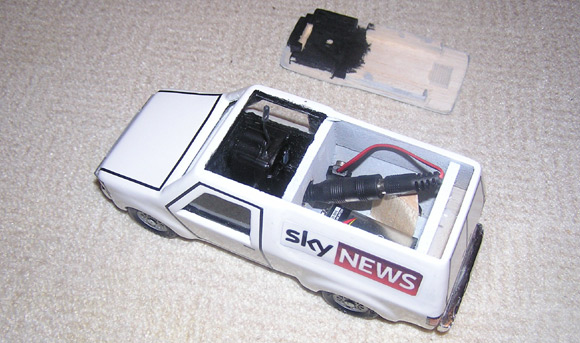 The Sky News Van was my personal project for last year so that I would have something to work on myself and meddle less with the boy's cars. I saw a YouTube video of a video car that someone else had made, but they just put a camera on a block and didn't do anything special with the design. So I decided to try to make a remote TV truck with a working video camera. The truck is not legal for races (it's slightly too large, and with the camera and 9V battery is very overweight), but it is actually designed to be slow anyway. I bent the axles so that all other cars would pass it and would be captured on the video. At our derby race last year we set it facing the finish line of the race track which allowed the adults to watch the races on a large TV. Then at the end of the race we ran it down the track.

Stealth GT – Doug Burgess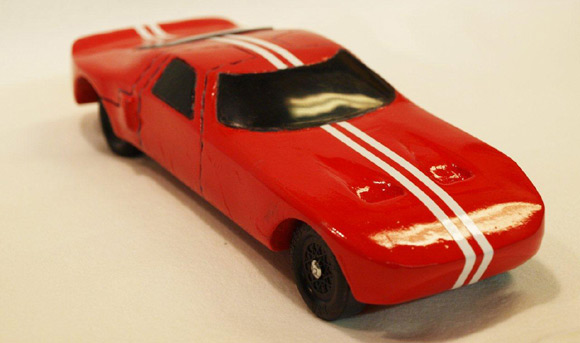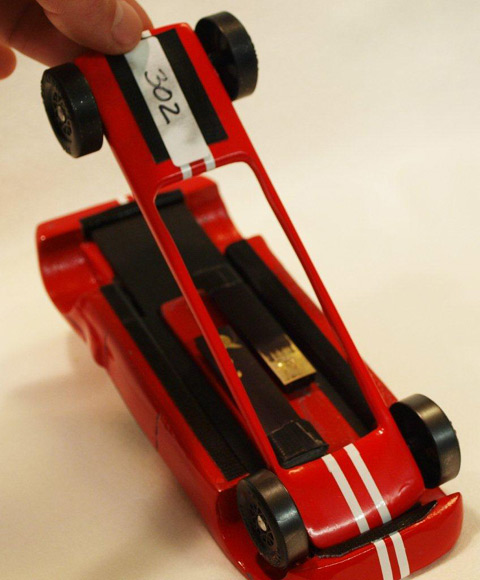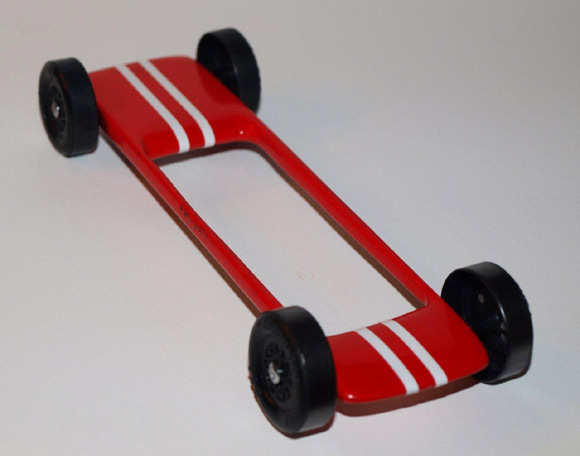 The Stealth GT is camouflaged with a GT body. My son Jack built the Stealth car, while I built the GT body that covers it. The Stealth car won the pack championship this weekend.

Green Machine – Doug Burgess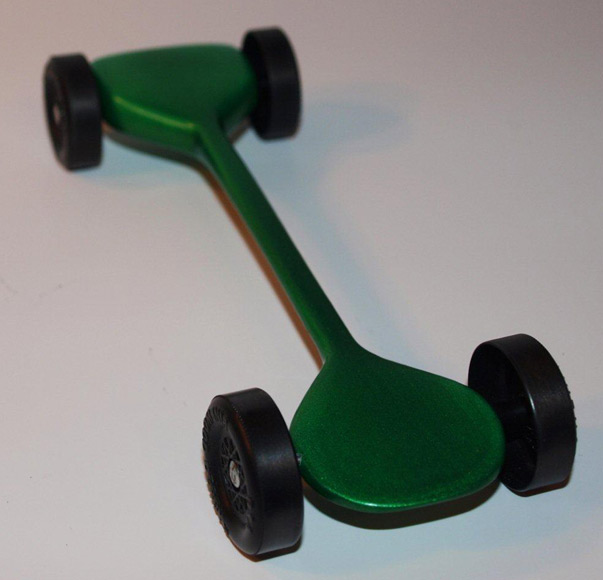 My son William did 90 percent of the work on this car. The car came in second – just .004 seconds behind his brother Jack. The boys are committed to building fast cars. They spent 6 hours in the garage polishing 10 sets of axles so we could test them and choose the fastest ones for their cars.

Knife – Craig Look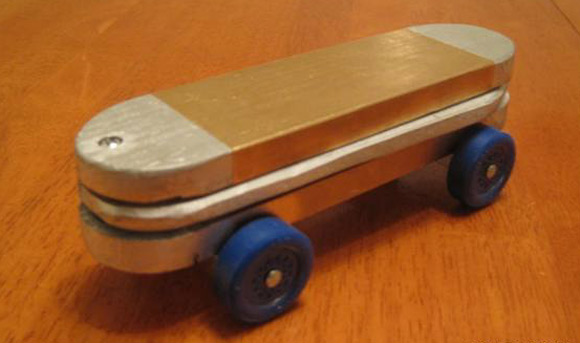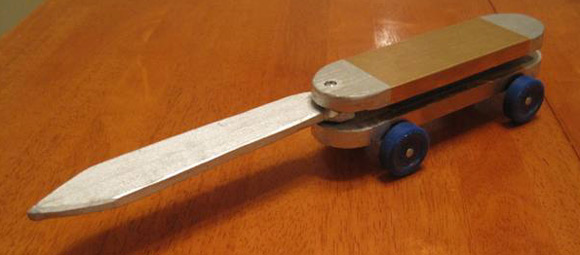 This is my son Jacob's Knife car. He took third place. As you can see, the knife has a folding blade.

Sherman Tank – Craig Look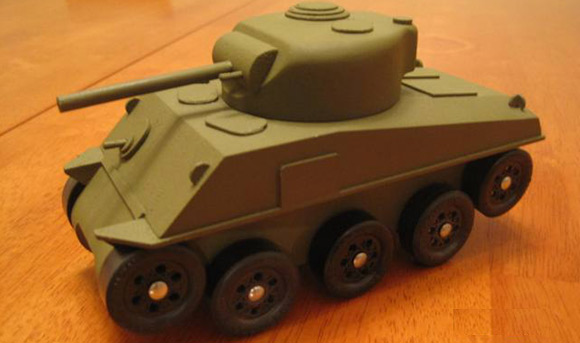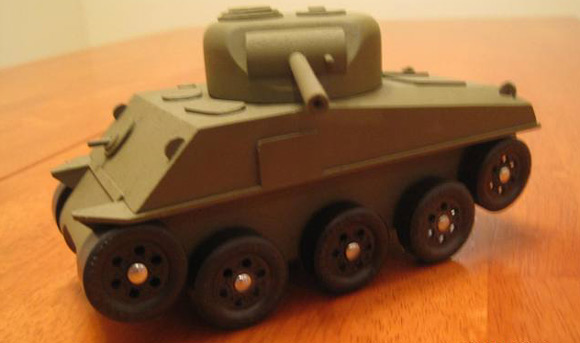 My son, Evan, took first place with his Sherman Tank. The tank has a rotating turret to blow away the competition (unless it's a Tiger tank!).
---
Q&A

We applied two drops of Krytox 100 lube per axle and then ran the car on our treadmill to try to align it. I thought this would help to work the lubricant in and eliminate any excess. But when we ran the car it didn't do very well.
First, only one drop is needed per axle. Next, with a treadmill, you want to simulate a few heats. If you run the car for long periods of time, you will wear off the lube. If you assume a lubed car will run well for 20 heats at 3 seconds per heat, then if you run the car for 60 seconds on a treadmill, you have essentially used up the lube. So be careful with the treadmill.

If I use a Dremel to polish the axles using various grades of sandpaper, where should I set the speed on the Dremel?
Set the speed as low as possible. It's better to use a drill, as the speed is much slower. With a Dremel tool, if you are not careful you can take off too much material with the coarser grits of paper because the RPM is so high.

My local pinewood derby rules say that the bottom of the car needs to be smooth. I was wanting to purchase either the Velocinator or the Detonator. It says the weight placement is under the car, is the underside smooth with the weights in?
I believe that the officials are concerned about having weight hanging below the car which could scratch the braking section of the track.
On both cars mentioned, the weight is recessed into the bottom of the car. So as long as you are careful when adding the weight, the weight will not hang below the wood. If desired you could apply a thin layer of wood filler to make it truly smooth. But you would have to take the weight of the filler into account, and I don't believe it is necessary.
But to be safe, you might check with the race leader to see exactly what they are looking for.
Want Answers?
Do you have a pinewood derby-related question? If so, e-mail us your question.We answer all questions by e-mail, but not every question will appear in the Q&A section of the newsletter.
---
Back Issues
Are you a new subscriber, or have you missed some of the previous newsletters? Don't miss out; all of the issues for Volume 5 through Volume 17 are posted on our web site.
---
Newsletter Contributions
We welcome your contributions. If you would like to contribute an article, a web site review, a speed tip, or a pinewood derby memory, please e-mail us.
---
Subscription Information
The Pinewood Derby Times is a free e-newsletter focused on pinewood derby racing. It is published biweekly from October through March.
If you haven't already done so, please forward this issue to your pinewood derby friends. But please don't subscribe your friends. Let them decide for themselves. Thanks.
If this newsletter was forwarded to you, why not subscribe to receive this newsletter. There is no cost, and your e-mail address is safe, as we never sell or share our distribution list.
To subscribe, send a blank e-mail to
[email protected]
You will receive a confirmation e-mail. Reply to the confirmation e-mail and you will start receiving the Pinewood Derby Times with the next issue.
---
Randy Davis, Editor, Pinewood Derby Times
E-Mail: [email protected]
(C)2018, Maximum Velocity, Inc. All rights reserved. Please do not reprint or place this newsletter on your web site without explicit permission. However, if you like this newsletter we grant permission, and encourage you to e-mail it to a friend.
Maximum Velocity disclaims any personal loss or liability caused by utilization of any information presented in this newsletter.
The Pinewood Derby Times is not specific to, and is not affiliated with the Boy Scouts of America, YMCA, Awana, or any other organization.
(R)Maximum Velocity is a registered trademark of Maximum Velocity, Inc.
(R)Pinewood Derby is a registered trademarks of the Boys Scouts of America.
(R)Awana is a registered trademark of Awana Clubs International.
All other names are trademarks of their respective owners.