– Feature Article – Don't Forget the Car Parts
– Pinewood Derby Car Showcase
– Q&A
---
Feature Article
Don't Forget the Car Parts
By Randy Davis
If you visit any pinewood derby event and view the array of cars, what is the most popular design you will find? Almost certainly a basic wedge, or a slight variation thereof is the most common car you will find. When there are so many cars with the same basic look, it's easy for your car to get lost in the crowd.
Now, don't get me wrong, there is nothing wrong with building a wedge. But with very little effort you can add some pizzazz to your car so that it stands out from the others. How do you do that? One way is by using decals, pin striping, body skins, etc. We'll explore this avenue in a few weeks. But another route is by adding components to your car. This could include engines, drivers, cockpits, pipes, and much more. Let's take a look at some possibilities.1

Non-Wooden Car Parts – Commercially Available
The pinewood derby market offers many choices for jazzing up your car. The major hobby vendors and others offer motors, pipes, cockpits, drivers, and much more. I recommend avoiding metal parts as they add weight to the car in possibly undesirable locations. Instead use plastic parts. Here are a few cars we did using plastic parts: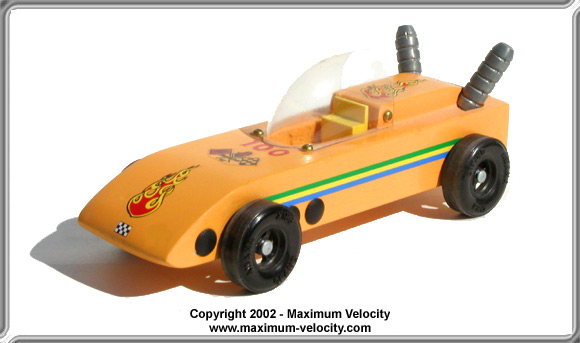 R/C Airplane canopy (cut in half)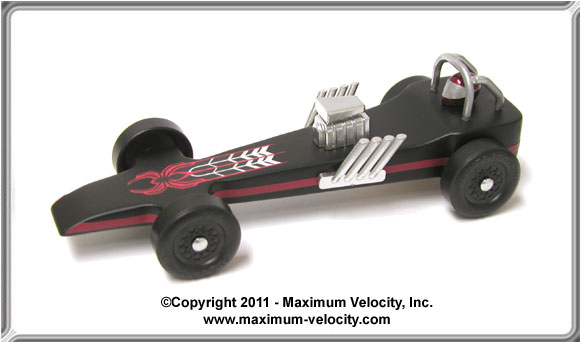 NitroRail Design – Plastic Parts from Maximum Velocity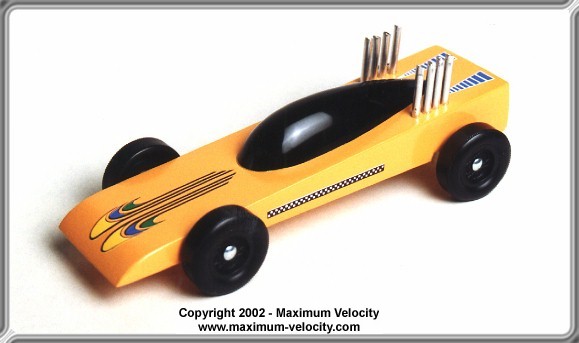 Canopy from Maximum Velocity (painted black)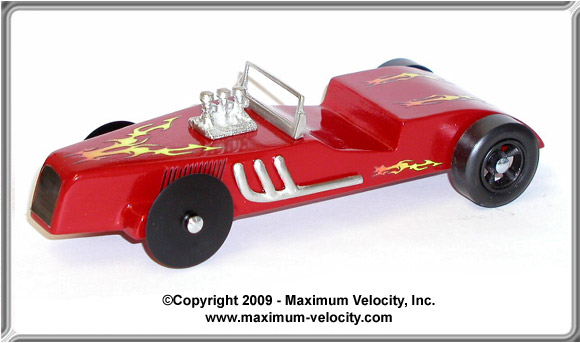 Engine, Pipes and Windshield
(I broke my rule and used metal parts on this one)
Non-Wooden Car Parts – Home Grown
Don't want to invest in hobby shop parts? Then you can go the do-it- yourself route. Here are a few ideas that we came up with.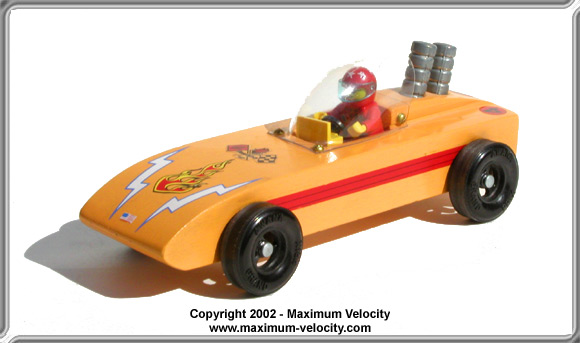 Lego Cockpit and Driver
(The opportunity for using Lego parts is enormous)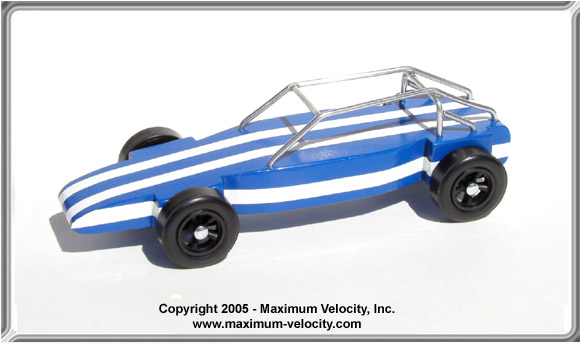 Dune Buggy Design – Roll Cage from Aluminum Rod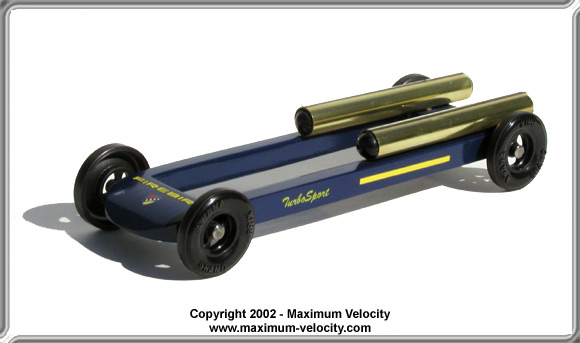 Speeder Design – Rocket Tubes from Brass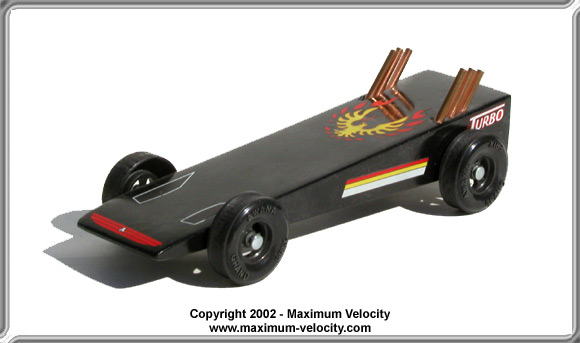 Wedge Design – Exhaust Pipes from Copper Tubing

Wooden Car Parts
But since it is a "pine"-wood derby, let's not overlook the use of parts made from the block itself. There are lots of opportunities to use the scrap wood to craft parts for the car. Here are a few ideas, progressing from easier to harder: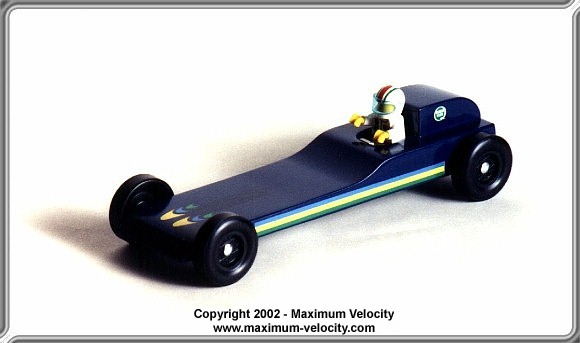 Racer Design – Wooden Faring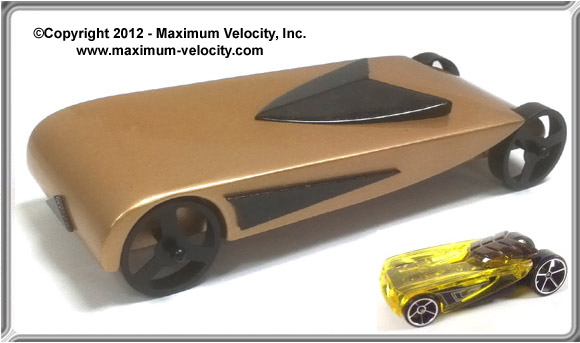 Wooden, Faring, Side, and Front Trim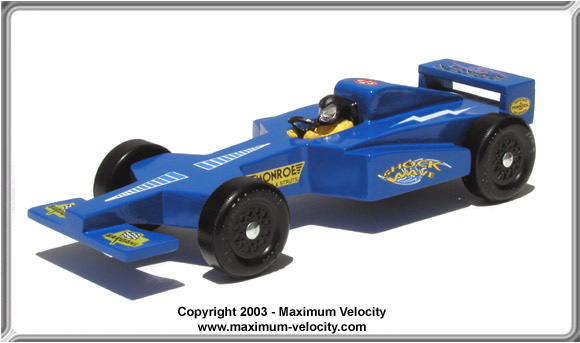 Formula 1 Design – Wooden Wings, Faring, and Side Intakes

Conclusion
The opportunity for adding detail to you car is limitless. Oftentimes, very little time and talent is needed to make a big step- change in the look of your car. So don't let your car blend into the pack; let is stand out by adding some car parts!
1 Although many of the example cars are not wedges, the parts shown could easily be applied to a wedge car.
---
Pinewood Derby Car Showcase
Here are a few more ducted fan cars from our readers.

Batman – Nicholas Burgess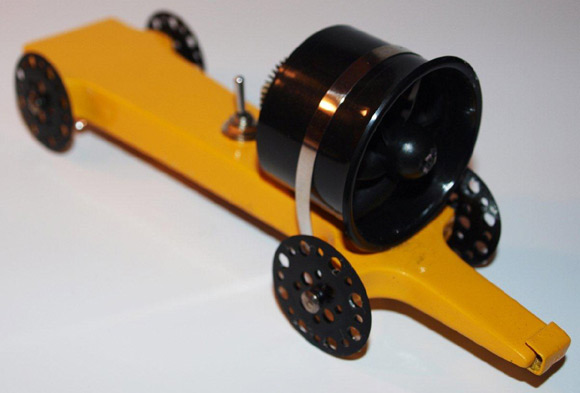 Batman is powered by a Maximum Velocity fan with a 7.2V LiPo battery. We used components of a mouse trap for the front bumper, and the internal trigger mechanism to arm the car. Batman won the no-rules race with a scale speed of 355mph (1.5 sec on a 30 foot best track).

Gulf Jet Car – Tom Burgess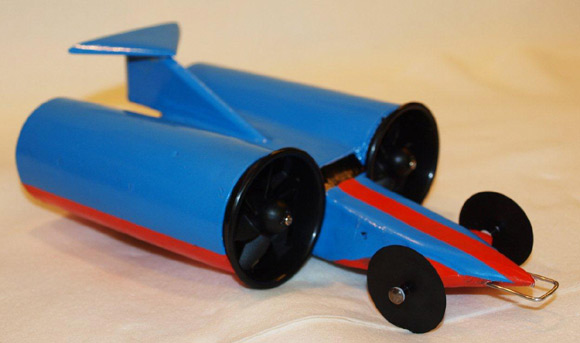 The Gulf Jet is powered by two Maximum Velocity fans with two independent power circuits, each energized with a 7.2V LiPo battery. The integrated bumper actuated two triggers inside the car simultaneously to arm the fans. The jet tubes were built by covering two paper towel tubes with synthetic wood and then sanding them down to a smooth finish. The car was slightly heavier than the Batman fan car, so even with two fans it came in second place in the no rules race with a scale speed of 297mph (1.8 sec on a (30 foot Best Track).

Mega-Fan – Richard Staron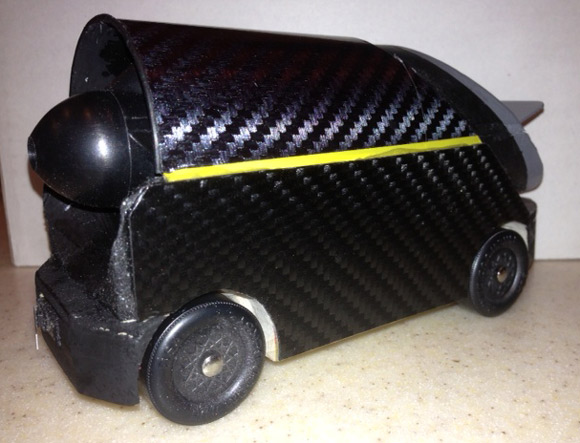 Last year I ordered one of your propeller car kits, and it was fantastic. For this year's derby I decided to try and go bigger. I made a car with a 56mm fan. I was running it on five 10F, 2.7V capacitors and a 12V battery pack (just short of the 14.8v the motor could handle). The Mega Fan car is faster (about 0.4 seconds) than the previous car. My design was a bit bulky; I hope to improve it for next year.
---
Q&A

Will the Pro-Body Tool work on a car with fenders?
Generally, the Pro-Body Tool will fit under the fenders to put pilot holes in the axle slots, or drill axle holes. However, you will not be able to use the third hole for a raised wheel.  I recommend drilling the axle holes before doing any work on the block.

I have a set of the Super Speed Axles to use in a block with axle holes. These will be tight in the holes. Is there any preparation I can do to the block to use the Super Speed Axles?
I suggest inserting BSA axles into each hole, and keep them in place during painting. Then twist and pull them out, and insert the Super Speed Axles.
Alternately, if you can locate a #43 drill bit, you can ream out the holes – a pin vise works best for this. This will just slightly enlarge the holes.

Any recommendations on painting the body where the axle inserts? If the wheel does rub up against the body during the run, is the smoothest surface the raw wood with graphite powder rubbed on, or a painted surface with clear coat and graphite rubbed on?
I paint the car with lacquer paint and clear coat. This leaves a very hard slick finish. As long as you put graphite on the inner hub, you will be fine.
If you don't use lacquer paint, then I would leave the wood bare, and rub graphite into the wood. Alternately, you can paint the bare wood area with clear nail polish, which dries very hard.
Want Answers?
Do you have a pinewood derby-related question? If so, e-mail us your question.We answer all questions by e-mail, but not every question will appear in the Q&A section of the newsletter.
---
Back Issues
Are you a new subscriber, or have you missed some of the previous newsletters? Don't miss out; all of the issues for Volume 5 through Volume 17 are posted on our web site.
---
Newsletter Contributions
We welcome your contributions. If you would like to contribute an article, a web site review, a speed tip, or a pinewood derby memory, please e-mail us.
---
Subscription Information
The Pinewood Derby Times is a free e-newsletter focused on pinewood derby racing. It is published biweekly from October through March.
If you haven't already done so, please forward this issue to your pinewood derby friends. But please don't subscribe your friends. Let them decide for themselves. Thanks.
If this newsletter was forwarded to you, why not subscribe to receive this newsletter. There is no cost, and your e-mail address is safe, as we never sell or share our distribution list.
To subscribe, send a blank e-mail to
pinewood-derby-times-on@mail-list.com
You will receive a confirmation e-mail. Reply to the confirmation e-mail and you will start receiving the Pinewood Derby Times with the next issue.
---
Randy Davis, Editor, Pinewood Derby Times
E-Mail: info@maximum-velocity.com
(C)2018, Maximum Velocity, Inc. All rights reserved. Please do not reprint or place this newsletter on your web site without explicit permission. However, if you like this newsletter we grant permission, and encourage you to e-mail it to a friend.
Maximum Velocity disclaims any personal loss or liability caused by utilization of any information presented in this newsletter.
The Pinewood Derby Times is not specific to, and is not affiliated with the Boy Scouts of America, YMCA, Awana, or any other organization.
(R)Maximum Velocity is a registered trademark of Maximum Velocity, Inc.
(R)Pinewood Derby is a registered trademarks of the Boys Scouts of America.
(R)Awana is a registered trademark of Awana Clubs International.
All other names are trademarks of their respective owners.