Land Speeder – Martin Zeppetello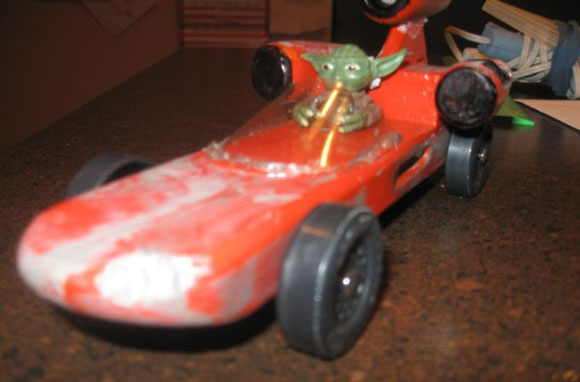 My son wanted an X-Wing fighter, but we settled on a Land Speeder with Yoda as pilot. As you can see by the paint job, this Land Speeder has seen some Imperial action! I somehow miscalculated the lead in the jet pods and had to remove 1/2 ounce of wood after we had already removed a considerable amount. But we got to 5 ounces, and then took 2nd overall out of 54 cars (and our design was enjoyed by all).
'49 Mercury – Don Hales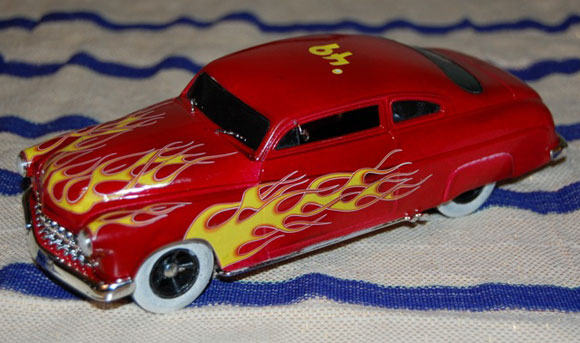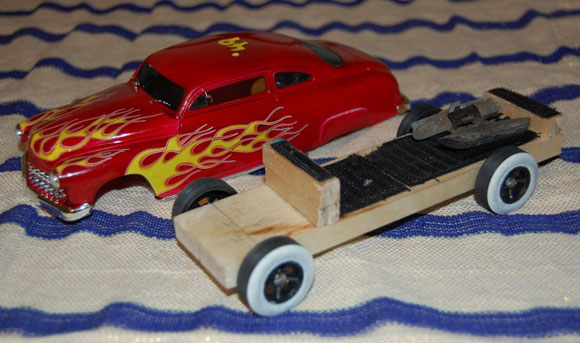 This is my 1/24 scale 1949 Mercury Coupe (Lead Sled) "Door Slammr" that I entered in the Sunset Speedsters Cup Race. The basic premise of a "Door Slammr" is to marry a 1/24 or 1/25 scale plastic model car body (your discretion) to a pinewood frame and use BSA, PineCar, Awana, etc. standard wheels. The maximum car length is 8 inches unless the plastic body is longer (like a '59 Cadillac Eldorado) and the maximum weight is bumped up to 6 ounces. There are many ways that you can choose to attach your car body to the frame; I chose to use three pieces of square wood rod for body supports. Then I used Velcro pieces on the top of the supports and on the inside of the body to firmly hold the body in place. The windows are painted black on the inside to give the windows that "Tinted Limousine" look. The car setup and weight placement are similar to standard pinewood derby cars.
The "Door Slammr" division has been a hit with the parents at our races. I encourage all you men and women who have the urge to race in a derby to build a "Door Slammr" of your all-time favorite car and start a "Door Slammr" division for Adults; or start your own racing league (like I did) and run four or five times throughout the rest of this year!
Model "Tea" – Brandon, Dawn, & Michael Jones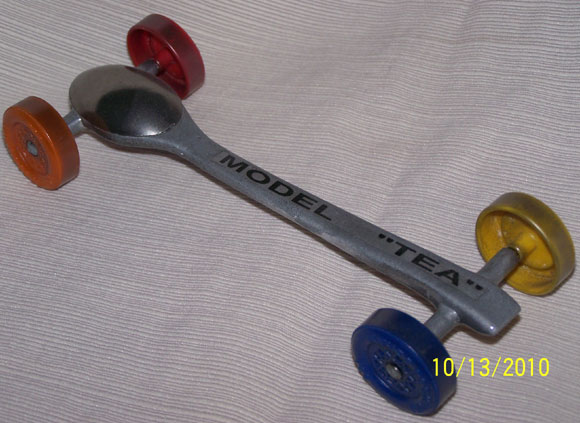 Our Model "Tea" was a play on words of the Model "T" car and a "Tea" Spoon. My son, Brandon came up with the idea when I showed him a tungsten canopy. We placed it in different positions and then he thought of it being the underside of the bowl of a spoon. Brandon's mother, Dawn, came up with the name. The design of the car was to keep it narrow and thin, like a spoon, while having the bend where the bowl is. The weight is a 3-1/2 ounce tungsten canopy, plus a 1/2 ounce tungsten cylinder, and some tungsten putty and beads. It was very difficult to get the car to five ounces considering how thin it was. The Model "Tea" placed 1st in den and 2nd Overall for speed, and "Most Aerodynamic" for design.
From Pinewood Derby Times Volume 10, Issue 4
Subscribe to this Free Pinewood Derby E-newsletter
(C)2016, Maximum Velocity, Inc. All rights reserved.
Maximum Velocity Pinewood Derby Car Plans and Supplies