Some cars using our Tungsten Canopy.
Tungsten On Wood – Glen Stowers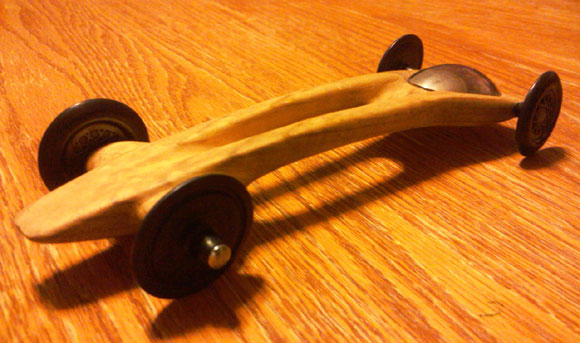 I came into your store to buy a tungsten canopy and some tungsten putty in late May.  As an adult, I was preparing for my first pinewood derby race in 30 years.  I had looked forward to this for over a decade … running designs around in my mind and making sketches of what I thought would work best. I entered a stock derby competition with a weight limit of 5.5 oz with a car I specifically designed for use with your tungsten weight products. The rest of the car was built from a stock BSA pinewood derby kit, from which I was allowed to modify the wheels.  Not only did I win the speed competition, I also won the "Best Paint" category with my stained wood finish.  I call it "Tungsten On Wood!" or "WOW!"
Not only did I beat every derby car in the stock category, I took my car over to the pro stock track and had an informal race with the fastest cars of the night (all gravity driven). The winning pro stock car was owned by a man who said his car had never been beaten in a single heat in years of racing.  We raced twice… I beat him twice!
Purple Haze – David Keith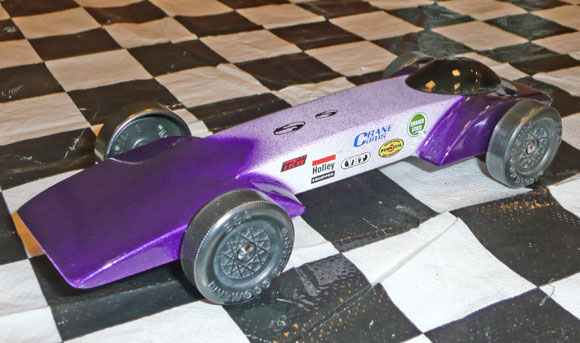 I helped a friend's son (Christian) design and build this car that bested 200 cars last Friday and Saturday. He also won his individual pack on Thursday. He was so excited! Thanks for all you do. Our cars would be nothing if it wasn't for your expertise and help.
Blue Racer – Terry Duke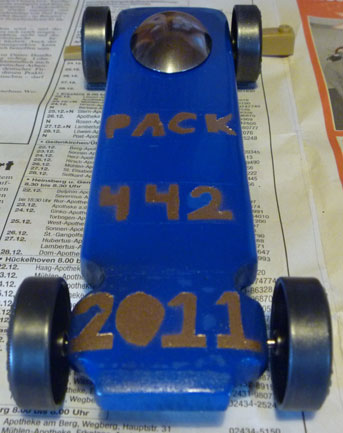 While buying supplies through Maximum Velocity for our second year of building Pinewood Derby cars, my son and I ran across the new "Vaccinator" kit. We both thought it looked pretty cool, and from what we learned of speed tips last year, we also thought it looked fast, so we chose to use that as a model for our design this year.
Since we've only been building PWD cars for two years, we don't have the tools or experience to completely mimic the Vaccinator, but we chose to follow the principals of making it thin, carving the sides around the front wheels, and using Tungsten for our first time.
The only weight on the vehicle is the Tungsten Canopy. After using lead last year, the switch to tungsten was immediately obvious and significant design improvement. We had a lot of fun building our cars, and Maximum Velocity has been a  huge help providing our tools, designs, and weights to improve our competitive abilities and improve our father/son experience.
Blue Light Special – Ron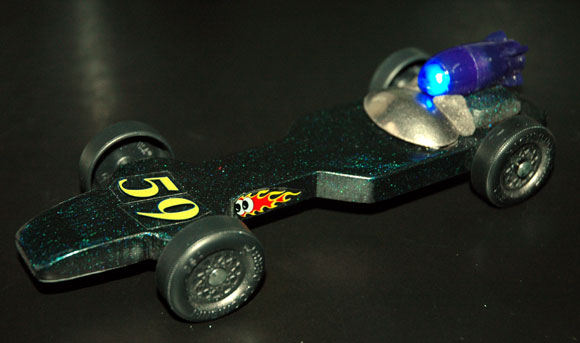 Here is our winning car: stock axle spacing, stock axles – polished of course – stock BSA wheels, a Tungsten Canopy mounted sideways to maximize the center of mass at approximately 9/10 of an inch in front of the rear axle. The car won 12 out of 12 races so we are off to districts.
From Pinewood Derby Times Volume 10, Issue 11
Subscribe to this Free Pinewood Derby E-newsletter
(C)2016, Maximum Velocity, Inc. All rights reserved.
Maximum Velocity Pinewood Derby Car Plans and Supplies