Cube Car: Greg Hayes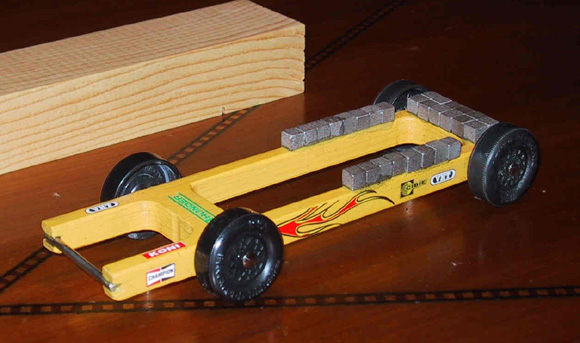 Here is our car from last year. Tungsten cubes add weight on the back/sides, and the front "bumper" is a soldering iron tip (we needed a front to the car to trigger the finishing system). The Wheelbase length is stock, but we moved the wheels back further on the car to help with rear weighting. The car took first in the pack (out of approx 45), and 5th in district (out of approx 50).

Battery Car: Timothy Davis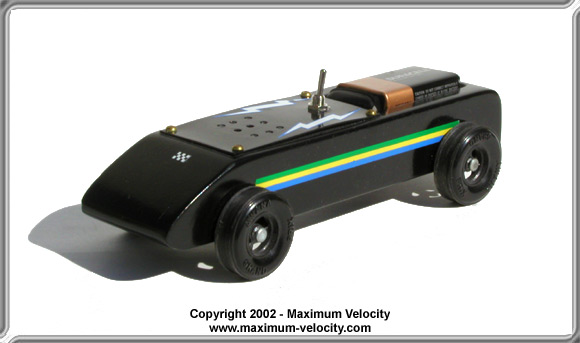 This car was entered in an Awana race in 1998. It took 1st Place for speed and 3rd Place for design. The battery not only serves as a weight, but it also powers a "beeper". A mercury switch causes the beeper to turn on when the car is on the angled starting section. It then turns off when the car is flat. The toggle switch is used to disable the beeper when the starting line officials get really annoyed with the sound! It's pretty loud.
Of course, these days I don't recommend using mercury in a car – live and learn.
From Pinewood Derby Times Volume 3, Issue 3
Subscribe to this Free Pinewood Derby E-newsletter
(C)2018, Maximum Velocity, Inc. All rights reserved.
Maximum Velocity Pinewood Derby Car Plans and Supplies