– Editor's Notes
– Humor
– Pinewood Derby Car Showcase
– Q&A
---
Editor's Notes
This is the last issue of the Pinewood Derby Times for the 2014-2015 season. The new issues (Volume 15) will begin in early October 2015. You will automatically continue to receive the newsletter in the fall, as our mailing list will remain intact. If your e-mail address should change before then, from the NEW e-mail account simply send a blank e- mail to:
pinewood-derby-times-change@mail-list.com
with your OLD e-mail address in the 'Subject:' line.
We have many of the articles planned for next season, but we are always looking for your input. So if you have an idea for an article, please send it to me at:
I would like to thank all of our readers and contributors. Your input is greatly appreciated and certainly contributes to the success of the newsletter. I wish you all a blessed summer. See you in October.
---
Humor
Six-year-old Angie and her four-year-old brother Joel were sitting together in church. Joel giggled, sang, and talked out loud during the service. Finally, his big sister had enough.
"You're not supposed to talk out loud in church."
"Why? Who's going to stop me?" Joel asked indignantly.
Angie pointed to the back of the church and said, "See those two men standing by the door? They're hushers!"
---
Pinewood Derby Car Showcase

Chima Eagle – Tony Jochman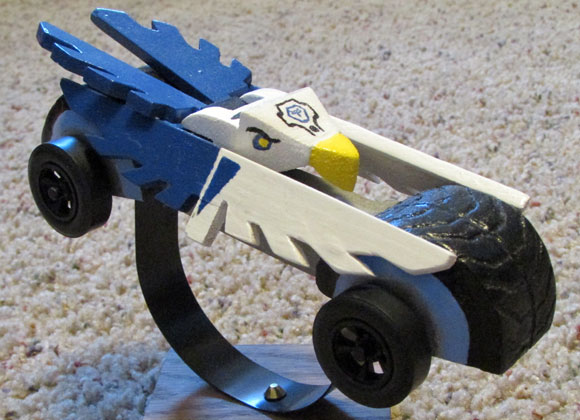 This is the car that my son and I built for the PineCar Derby last year. He wanted a car that looked like the Lego Chima eagle tribes motorcycle set he had gotten for his birthday. Well this was definitely a challenge, but we did end up tracing parts from his Lego set which helped a lot. After he got done painting, even I was amazed at how it turned out. He got 3rd place in speed (and 1st in craft) at the train level, then 4th place for speed at the district level. Now he is ready to go for gold this year (pictures to come). Thank You Maximum Velocity for all your help.

Awana Express – Ken Temple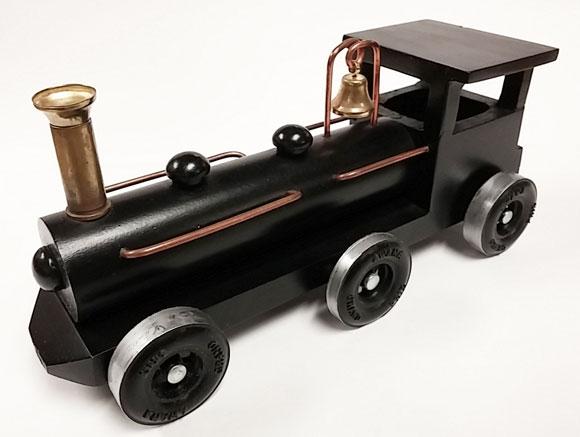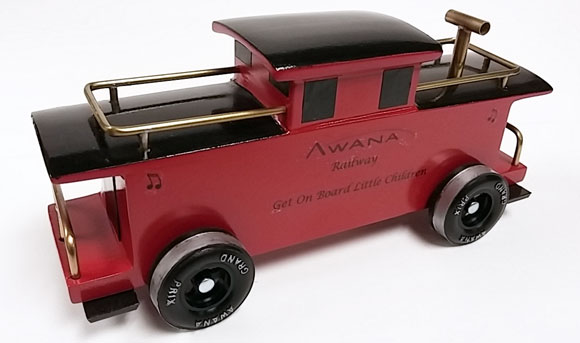 I have a couple of cars I would like to show-off. These are cars that I built two years in a row. I wanted to have my wife and kids make a set of four train cars as a family project, but sadly no one wanted to be the coal car. One is a locomotive, the other is a caboose. The center wheels on the locomotive are stationary, narrowed, and flattened so there is no possibility of contact. The smoke stack is a .44 Mag hand gun casing with a bell on top. For special effects, I put some dry ice in the stack after the race. The hand rails and smoke stack on the caboose are brass tubing that I bent and soldered. The steps are zinc weights painted black. And the wheels are actually sanded down to have an inner lip like a real train wheel and painted with a silver marker. Thank you again for all your help over the years.

BSA Big Rig – Eric Werner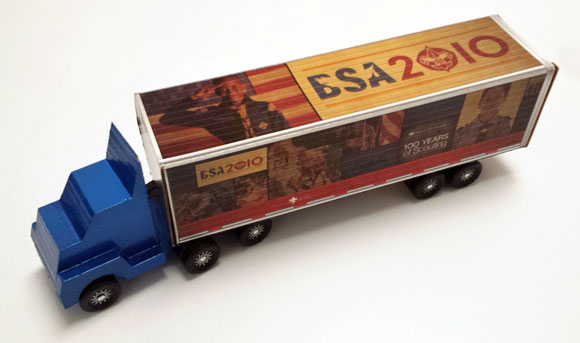 First up is the simplest, the 2010 BSA Big Rig. I was given this as a gift a few years ago, and finally got around to putting it together. It was pretty easy to put together, and served it's function well. We used the cab as our opening "pace car", since the track our pack uses couldn't accommodate the trailer and cab at the same time.

Blue Blazer – Eric Werner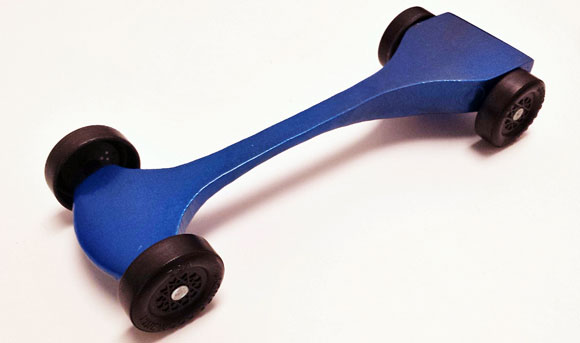 Next up is the Blue Blazer. This was my son Matthew's car for 2015. It's a body shape we have used for a few years now. The right front wheel is raised, and about 4 oz. worth of tungsten cylinders were stuffed into the back of the car. The extended wheel base is also drilled with an axle jig, to make sure everything is true. Every year, many of the Cubs will see one of these cars, and ask where all the weight is. And most times, I will hand it to them, just to see the look of shock as they find out how rear-heavy it is. The Blue Blazer didn't show as well as I had hoped, but that's probably because I found out later that the hub/body gap was too close, so I suspect there was a bit of wheel rub happening. We may run it in Open Class next year to see if that fix is all it needed.

Offset Outlaw – Eric Werner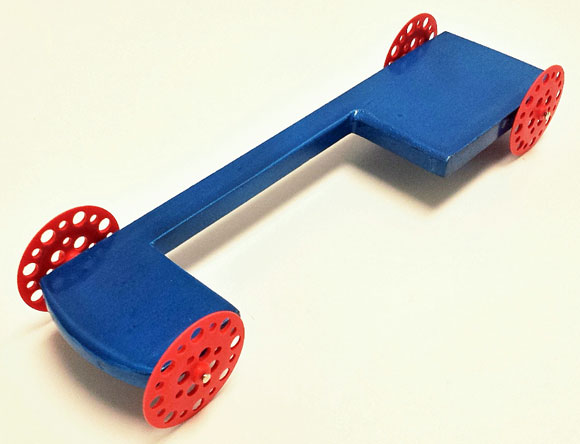 The last car is also the primary function that the BSA Big Rig held… literally. The Offset Outlaw was my submission for the pack Open Class. All the way until the running of the Open Class, the car was kept in the back of the BSA Truck, to heighten the sense of drama. As you can see, it utilizes the Outlaw wheels with needle axles. Additionally, it is also configured as a three-wheeler, with the right front raised by 1/16 inch. But the fun doesn't stop there! The left front is inset by approximately 1/16 inch, which is also configured to toe-in, making this a very effective rail rider, especially when the rear axles are set with a slight camber. With about 55, 3/16 inch tungsten cubes providing the weight (14 behind the rear axle, the rest arranged in front of the rear axle), the balance point is very aggressive, approximately 7/8 inch in front of the rear axle. Because the weights are also arranged with a bias to the left side, the rail riding was also very stable, with left-right balance just under 1/4 inch left of center, further ensuring that right front never touches. Due to communications issues with the track timing computer, I couldn't get accurate times down the track, but I would have to guess under 3 seconds to complete our 40 foot aluminum track. Hopefully, I can get good timing next year.

Vintage V – Wess Eslinger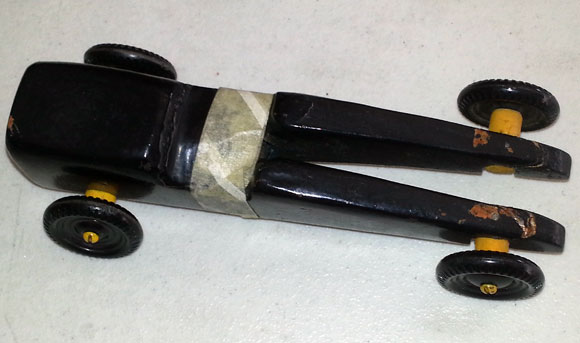 This is a car my dad made for a leaders race back in the early 70's. The deep V gives the car more than half a car length head start before the race begins. The back half is mostly lead, it weighs in right at 12 ounces. The car was fast and he won his race. Unfortunately, the design makes the car rather fragile, and it has not held up too well over the years and has been repaired a number of times. I have now placed the car into retirement. I may try to restore it someday. For now, I bring it out for display only at our Awana race each year.

Money Car – Brian Masek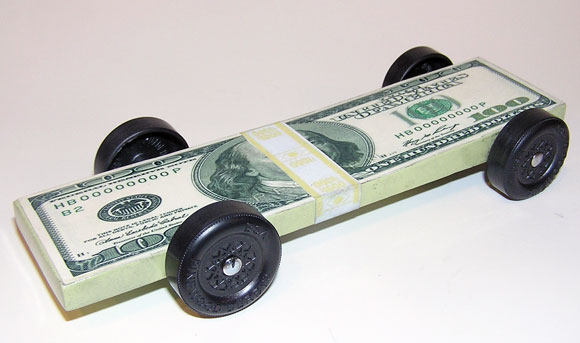 Money Car was built by my son Quinn (10) and I, and is based on the Wing.

Stampy – Brian Masek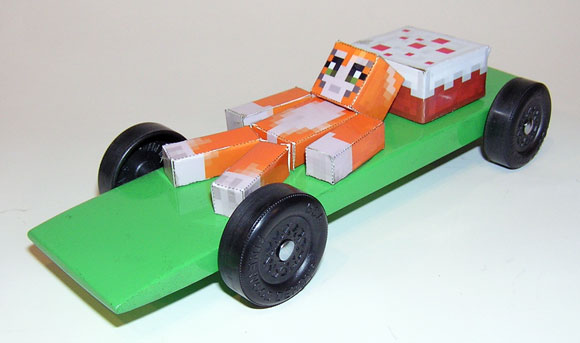 Stampy was built by my son Grant (8) and I, and is a Wing car.

Coke Duo – Brian Masek



The Diet Coke and Coke cars are also the Wing; I built them to test different axle preparation methods.

Lego Kra-Gl-e – Steve Miller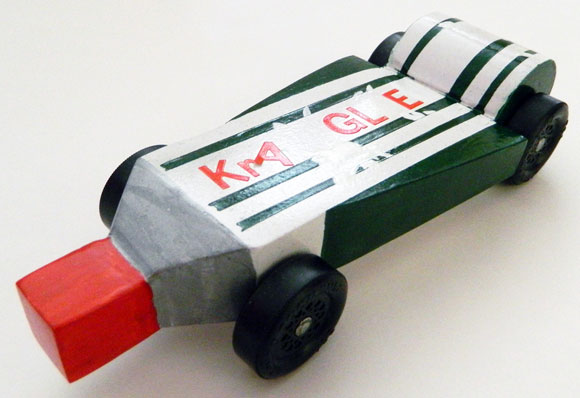 Like most boys, my son David loves Legos. We have seen many Lego block cars, but wanted to try something different. While we were playing one day, I looked at his Lego Kra-Gl-e (from the Lego Movie – Krazy Glue with some letters missing) and the shape just struck me as the ideal pinewood derby car. We had a lot of fun building it together and thought we might win a design award. Last year our car looked cool, but did not even make it down the track. With a few helpful tips from your newsletter, he not only won best design, but also first place in his division (Wolves). The look on his face was priceless.

Thrust 2 – Rob & Max Neitzke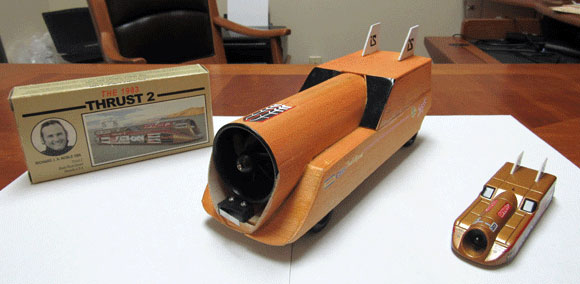 My son Max and I are from Indianapolis, so we naturally have racing on the brain. My son's annual pinewood derby race with his local Scout Pack has started to rival the Indianapolis 500 for us in terms of excitement each year.
This year his Pack added an open division race which was really fun for everybody. It drove some wild imagination, creativity, and some had some crazy cool cars. For this open division race we wanted to see if we could make a Jet Car in the spirit of the cars that race in the salt flats out west and go for land speed world records.
In researching various land speed cars and our ability to adapt one of these into a pinewood derby car version, we settled on Thrust 2 from 1983 as our inspiration. Using standard propeller car kit parts from Maximum Velocity (and a lot of balsa wood for body fabrication), we built the Pinewood Derby Thrust 2 car. We tried to keep the car as light as possible for maximum speed – the final weight was 3.1 ounces, and the car ran 0.200s faster than its nearest competitor.
We had a great time showing it around at the derby and explaining related concepts of thrust, force, acceleration and velocity to the kids. I found that getting their attention to learn is a lot easier when you have the fastest car at the show! Thanks again for helping us bring this dream car to reality

Jet Truck – Brian Masek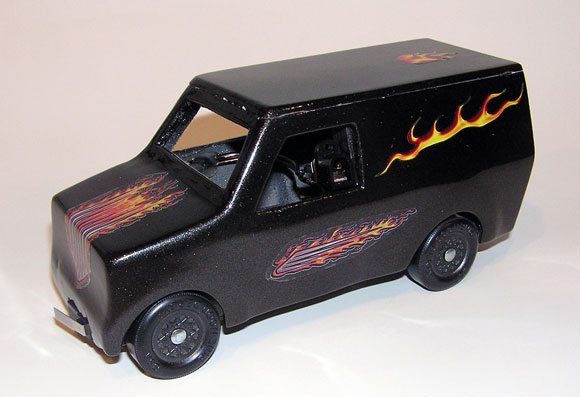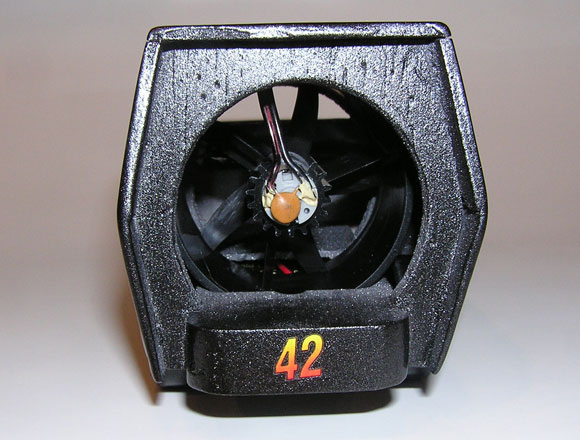 The Jet Truck was built using your propeller car kit. I modified it by moving the rear axle back to its normal location and relocated the charging jack to accommodate a built up balsa truck chassis. The windows are open to improve airflow; and even with the extra weight of the body it still smokes down the track faster than any other non-powered car.
---
Q&A

What tool do you use to cut the weight pockets in the bottom of your cars? They look very precise and clean. Nothing like what it looks like with multiple passes of a drill bit and/or chisel. Let me know.
I have a computer controlled router – not something you find in most garages! For typical shops, you have to use a drill and chisel.
If you have decent drill press, you can buy a mortising attachment. A mortiser is essentially a drill that creates square holes, and it greatly speeds up the process of making pockets.


I want to use your lead rod, but I don't know that I have cutting pliers to cut the lead wire as precisely as I would want. Can you recommend what cutting pliers I would want to purchase to cut the lead wire most efficiently?
If you are going to purchase a pair cutting pliers for the lead, consider cable cutters. They cut the lead much more square on the ends. Diagonal cutters and others tend to leave the end sort of V-shaped.
The pair I have are by HK Porter, but other brands would work as well. I bought mine at Lowe's but it looks like Home Depot has them as well.
You can go to either Lowe's or Home Depot's web site and search for "cable cutters".
Want Answers?
Do you have a pinewood derby-related question? If so, e-mail us your question.We answer all questions by e-mail, but not every question will appear in the Q&A section of the newsletter.
---
Back Issues
Are you a new subscriber, or have you missed some of the previous newsletters? Don't miss out; all of the issues for Volume 5 through Volume 17 are posted on our web site.
---
Newsletter Contributions
We welcome your contributions. If you would like to contribute an article, a web site review, a speed tip, or a pinewood derby memory, please e-mail us.
---
Subscription Information
The Pinewood Derby Times is a free e-newsletter focused on pinewood derby racing. It is published biweekly from October through March.
If you haven't already done so, please forward this issue to your pinewood derby friends. But please don't subscribe your friends. Let them decide for themselves. Thanks.
If this newsletter was forwarded to you, why not subscribe to receive this newsletter. There is no cost, and your e-mail address is safe, as we never sell or share our distribution list.
To subscribe, send a blank e-mail to
pinewood-derby-times-on@mail-list.com
You will receive a confirmation e-mail. Reply to the confirmation e-mail and you will start receiving the Pinewood Derby Times with the next issue.
---
Randy Davis, Editor, Pinewood Derby Times
E-Mail: info@maximum-velocity.com
(C)2018, Maximum Velocity, Inc. All rights reserved. Please do not reprint or place this newsletter on your web site without explicit permission. However, if you like this newsletter we grant permission, and encourage you to e-mail it to a friend.
Maximum Velocity disclaims any personal loss or liability caused by utilization of any information presented in this newsletter.
The Pinewood Derby Times is not specific to, and is not affiliated with the Boy Scouts of America, YMCA, Awana, or any other organization.
(R)Maximum Velocity is a registered trademark of Maximum Velocity, Inc.
(R)Pinewood Derby is a registered trademarks of the Boys Scouts of America.
(R)Awana is a registered trademark of Awana Clubs International.
All other names are trademarks of their respective owners.