– Feature Article – How to (almost) Win the Pinewood Derby
– Pinewood Derby Car Showcase
– Q&A
---
How to (almost) Win the Pinewood Derby
By Tiffany Gee Lewis
There is a strategy to this, you know.
In fact, there are entire web sites dedicated to Pinewood Derby success, and a few years back someone made a movie.
For a few weeks out of the year, fathers and their sons gather in the garage for some intense power tooling, sanding and painting. Distributing the weight is a science. Slicking up the wheels is a must.
Yes indeed, this is how the pros do it.
Then there is the Lewis Way. This technique involves a heavy dose of procrastination and some rudimentary wood shop. The only power tool we own is a blender, which is only useful if you want to make a pinewood smoothie.
We inherited a lone handsaw when we bought our house. It's too dull to cut even a stick of butter.
Thankfully a seasoned father in our ward took my husband Seth through a derby tutorial and graciously lent us his saw, electric sander, file and lead weights.
With that instruction under his belt, Seth and our oldest son Jackson gave the block of wood a severe, diagonal haircut. That was the extent of the shaping. Jackson sanded down the wood until it was smooth as a baby's cheek, then gave it two coats of spray paint in candy apple red.
This is as far as the father-son pair got until the morning of the race.
Let me state that again.
The morning of the race Jackson busied himself painting flames down the sides with a toothpick. Thirty minutes before we left for the church he and Seth hot glued three giant weights to the top, which officially plummeted the aesthetic beauty to ghetto-car status.
Five minutes before we left, the wheels went on. The wood around the axles snapped off. It was a tense moment while the wood was repaired.
I kept my mouth shut and thought, "This will teach them a lesson. Next time they will learn to start things earlier, try a little harder, have a little more vision."
On the way to the church (15 minutes late) Seth cleared his throat.
"Now Jackson, let's remember this is a learning year. You're there to have fun and learn how to make things better for next year."
"But I still might win!" Jackson piped up. Seth and I looked at each other and cringed. This ugly duckling of a car had "loser" written all over it.
The cultural hall was packed with jittery boys, excitedly ogling the cars. Some were sleek and streamlined, thanks to a few ambitious dads. Others were boxy and decidedly boy-made.
My boys claimed first-row seats. Forget professional sports; this was the event of the year.
The races began. In the first heat, Jackson's homely red car shot to the front and won by a full two feet.
Our jaws dropped. Jackson looked like he might burst into flames. The Lewis Family cheering section went crazy.
Another heat. Jackson won again. This was no fluke. By some miracle, this car was fast.
My stomach started to get all jittery. Suddenly we had a vested interest in winning this thing. I could smell victory on the horizon, and I wanted to eat it for lunch.
Jackson won all four of his heats. He moved on to the finals, where he went head-to-head against a sleek green car, a car so advanced they had actually flipped it upside down and repositioned the wheels. This car was built on strategy and technique, not on the adrenaline of a last-minute glue job.
After three heats, the results were evident: The green car was the clear winner. Jackson came away with a solid second place, which might as well have been the Nobel Prize in his eyes. He also walked away with the award for most colorful: a chocolate Hershey bar the size of an iPad (his words.)
We drove home in a car filled with chocolate and victory. While the boys planned out their strategies for next year (we'll have two cars to handle then), Seth and I did a little math. With four boys, we will be participating in the Pinewood Derby for the next 12 years straight.
"So what did you learn from this year's Pinewood Derby?" I asked Jackson when we got home.
Jackson didn't hesitate for a minute.
"I learned that next year, I'm going to do it exactly the same."
Twelve years, here we come.
Source: Mormon Times
Used by permission
---
Pinewood Derby Car Showcase
Tiptoe Through the Tulips – Bob Richardson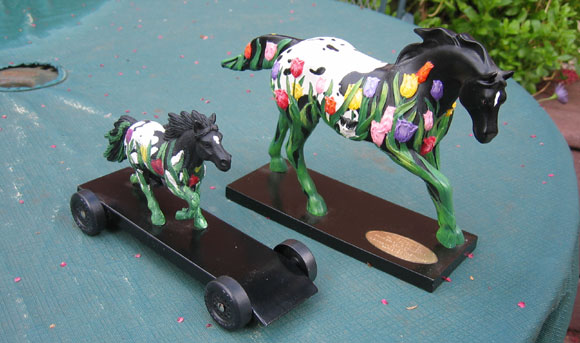 My wife Carol wanted a car to represent a painted pony. Our church has a family wide pinewood derby race each year, so with lots of ideas flying around I found a plastic horse that would fit on the platform. She named it "Tiptoe Through the Tulips". I drilled small holes in the three touching horse's hooves, then anchored them to the base with sewing pins and bent them under. The car was amazingly fast and took first place in the women's division. The wind resistance called for lots of help from 2-1/2 degree negative slanted axles, and good wheel prep. Amazingly, the center of mass is about 3/4 inch, and the car is set up for rail riding.
Batmobile – Paul Garner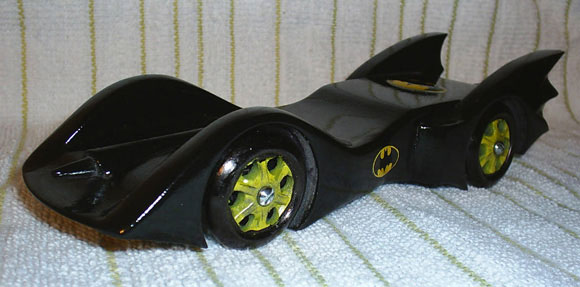 This is my 9 year old son's (Jeremy) car we built for this year's Royal Ranger race. Our troup's rule is you can only use the kit provided, no extra wood, action figures, etc., can be added. Other than paint, the only things that can be added are weights and decals. We are allowed to do anything to the block, axles, wheels, and axle placement as long as it's not an added part. This batmobile is basically a modified wedge design with the thickest part of the body being 1/2 inch thick. Both axles were recessed 1/8 inch deeper into the body, and the front axle was moved back 1/2 inch to make room for the nose. The four fenders were made out of the remaining 3/4 inch of the block. Even the jet engine was made by rounding the pieces that were cut from between the fenders. I lathed the inside of the wheels to the center of the hub, then drilled the 6 holes between the spokes. My scale only registers in 1/10 ounces, and I couldn't get a reading on the wheels after reducing their weight. They were made square and round, and the axle dowels and screws received the appropriate treatment as well. My son Jeremy picked the design, pulled the handle on the drill press for every hole and fender, did 90 percent of the sanding. He also assembled, painted and fine sanded between coats all by himself. I was very proud of the work he did. We were allowed one test run before registration to see if the car needed any adjustments. It ran 3.285 on our 32 foot aluminum track. Unfortunately, another dad picked it up off the staging table 10 minutes before the race and dropped it on the wheels. The official allowed me to look at it, but it messed up the hub of two wheels. I got it to roll straight, but it had that "bump, bump, bump, bump" on the flat spots in the hubs. Our best time was 4.015 after that, but it was still enough to take 3rd place out of 45 cars. (Editor's Note: make it clear during registration that the cars cannot be touched once they have been turned in for registration, and have an official posted at the staging table at all times.)
Wii! – Steve Urban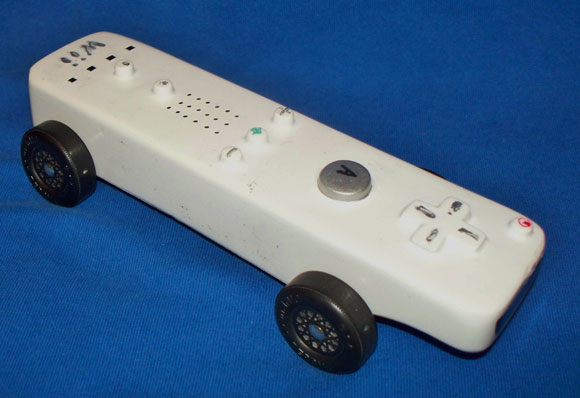 Here is a picture of my 10 year old son, Kade Urban's, 2011 Pinewood Derby Wii car, it was voted "Coolest Car" at this year's race.
---
Q&A
I've seen graphite coated axles out there. Is there any benefit to those over polished and powdered graphite lubed axles?
Graphite works well as a lube because at the molecular level the graphite is formed into plates which easily slide over each other. To make graphite adhere to metal it must be mixed with a binder (alcohol or similar). When the binder dries, the graphite is no longer in the plate form and can thus no longer slide over each other. Thus, it no longer lubricates as it should. Because of this, graphite coated axles generally do not perform as well as polished steel axles that have been properly lubricated with graphite powder.
Our rules are very specific that the section of the wheel that touches the track cannot be narrowed, tapered or rounded. Are your 1 gram and 1.8 gram wheels narrowed on the section that touches the track? At what width do they start and end up? Do they pass inspection with your wheel gauge?
Both the 1g and 1.8g wheels are very slightly narrowed (in order to true the inner edge). This is a difficult measurement to make, but if you use a caliper to measure from the non-raised letter portion of the sidewall to the inner edge, the original wheel has a width that ranges from .380 to .385 (nominal).
The finished width of the 1g wheel is .354 (which passes the .320 setting on our wheel gauge, but not the .360 setting).
The finished width of the 1.8g wheel is .372 (which passes both measurements on our wheel gauge).
Want Answers?
Do you have a pinewood derby-related question? If so, e-mail us your question.We answer all questions by e-mail, but not every question will appear in the Q&A section of the newsletter.
---
Back Issues
Are you a new subscriber, or have you missed some of the previous newsletters? Don't miss out; all of the issues for Volume 5 through Volume 17 are posted on our web site.
---
Newsletter Contributions
We welcome your contributions. If you would like to contribute an article, a web site review, a speed tip, or a pinewood derby memory, please e-mail us.
---
Subscription Information
The Pinewood Derby Times is a free e-newsletter focused on pinewood derby racing. It is published biweekly from October through March.
If you haven't already done so, please forward this issue to your pinewood derby friends. But please don't subscribe your friends. Let them decide for themselves. Thanks.
If this newsletter was forwarded to you, why not subscribe to receive this newsletter. There is no cost, and your e-mail address is safe, as we never sell or share our distribution list.
To subscribe, send a blank e-mail to
pinewood-derby-times-on@mail-list.com
You will receive a confirmation e-mail. Reply to the confirmation e-mail and you will start receiving the Pinewood Derby Times with the next issue.
---
Randy Davis, Editor, Pinewood Derby Times
E-Mail: info@maximum-velocity.com
(C)2018, Maximum Velocity, Inc. All rights reserved. Please do not reprint or place this newsletter on your web site without explicit permission. However, if you like this newsletter we grant permission, and encourage you to e-mail it to a friend.
Maximum Velocity disclaims any personal loss or liability caused by utilization of any information presented in this newsletter.
The Pinewood Derby Times is not specific to, and is not affiliated with the Boy Scouts of America, YMCA, Awana, or any other organization.
(R)Maximum Velocity is a registered trademark of Maximum Velocity, Inc.
(R)Pinewood Derby is a registered trademarks of the Boys Scouts of America.
(R)Awana is a registered trademark of Awana Clubs International.
All other names are trademarks of their respective owners.