By Andy Holzer
(Today, we have a combined Article and Memory from Andy Holzer)
I was a Cub Scout back in the early 70's. At that time, Cub Scouts was a 3 year program. You started out as a Wolf in 3rd grade, became a Bear in 4th grade and a Webelo in 5th grade. So, I made three pinewood derby cars.
Ever since my son Noah received his first pinewood Derby car to build in December of 2005 I had been looking for my old pinewood derby cars to share with him. Sometime back in 1992 I had packed them away when we were moving to our new house, and they were never to be seen again.
Every year I spent a couple of nights looking through some old boxes in the basement for the cars. Probably at that point, I had been through all of the boxes multiple times looking for the cars. So last week I was again looking through the same boxes (for the same cars), and I had an idea; maybe the cars were in the attic over the garage.
When I finally got a chance to look up in the garage attic, I found an old printer box that seemed kind of out of place. I was thinking, "this might be the box," but I had thought that before about some other boxes.
But this time there was success. There they were, thrown in with some other junk. So I brought the box down and took some pictures of the cars.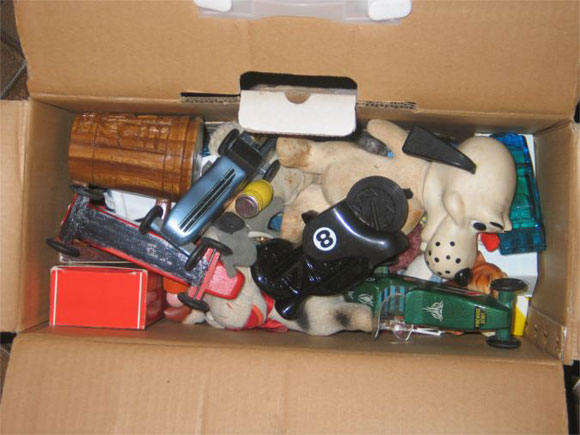 WOLF CAR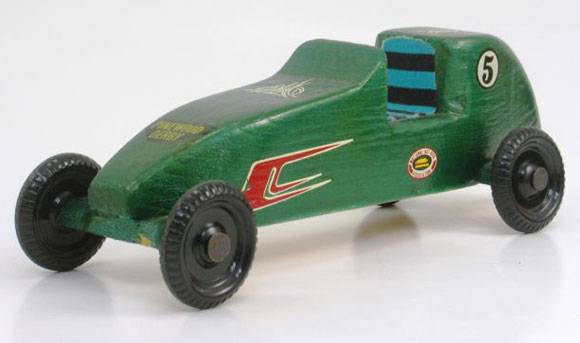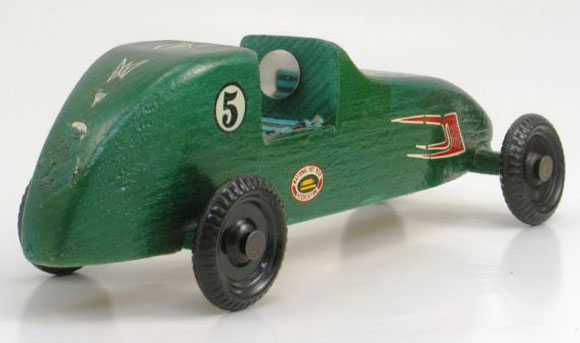 This was my first pinewood derby car.  Apparently my dad and I didn't worry about the 5 ounce weight limit as it only weighs 3.43 ounces. But of course the cars were measured on a spring type postal scale that wasn't very accurate.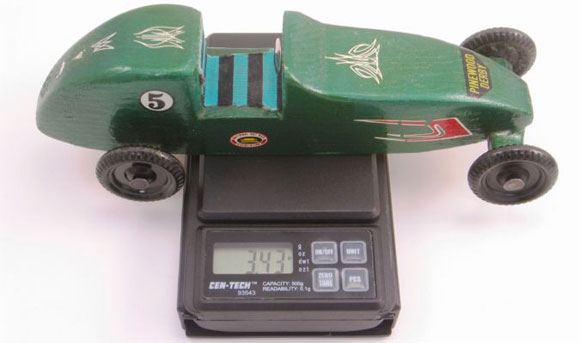 The car looked as if it could have been sanded better before the paint was applied; and the rear body is not very symmetrical. But it was my first pinewood car, and to me it is great! It was decorated with plastic model decals that my dad had and has a thumb tack as a steering wheel.
BEAR CAR
The Bear car is finished better (could maybe have used some better detail sanding on the edges).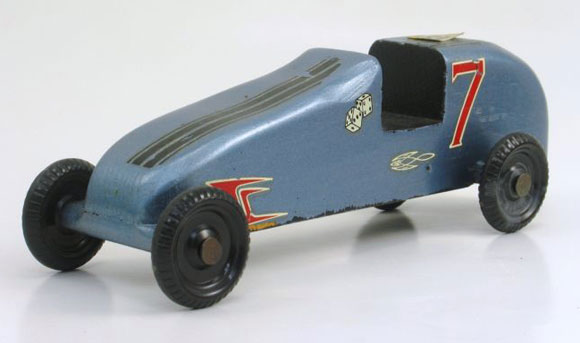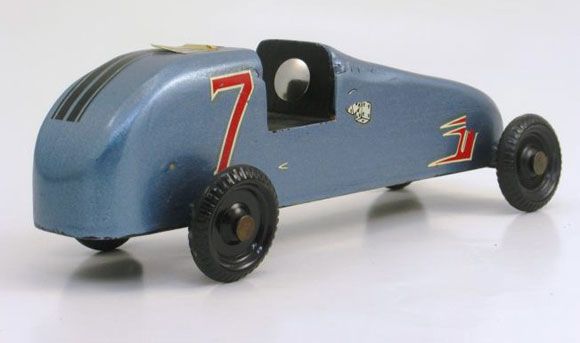 The Bear car has additional weights on the bottom of the car to bring up the weight (maybe a little too much – it weighs 5.35 ounces). This was the year when we moved into our new house and I moved to a new Cub Scout pack. I remember we needed to paint the bottom of the car black so the finish line sensors would pick up the car crossing the finish line (the new pack had one of those "electronical" sensors to determine the winner). On the car, the thumb tack accessories continue.
WEBELO CAR
The Webelo car is a lot smoother. I think I remember painting this car in a cardboard box with model spray paint. This car is way "advanced" as it actually has a wooden Fisher Price driver in it (back when they were made of wood). But it is also way underweight (3.63 ounces). And yes, the steering wheel cannot be seen so the thumb tack accessory is headlights.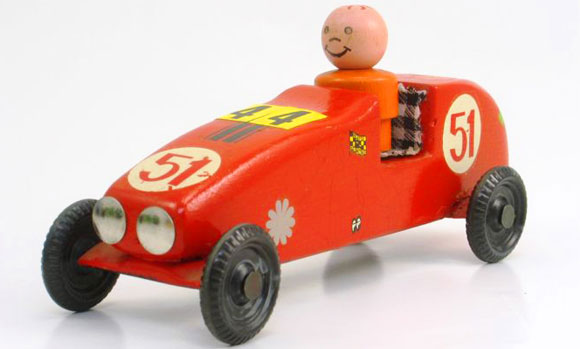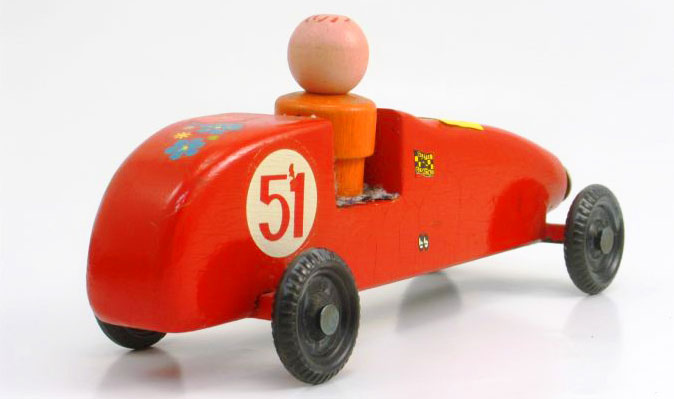 None of these cars ever had a chance at winning a trophy, but that is all right. Just looking at them today makes me very happy.
It is good to finally have my original pinewood derby cars back. Noah can't wait to put them with all of the other family pinewood derby cars.
I just want to thank my dad for helping me to build these cars (and all of the memories that go along with them). I guess that is indeed what this pinewood derby stuff is for. I guess winning is something, but it is definitely not everything.
Now a P.S. to the story …
On March 15, 2014, I left early in the morning to help run the Pack 306 Pinewood Derby. This derby was for a new pack at a new location. We were at breakfast before the derby and I used my phone to see where the church was located. It was at this moment when I realized what this church was – back in 1972 it was an elementary school named Crystal Heights Elementary. At the time I was a fourth grade student at the school and a Bear in Cub Scouts. The Bear car and the Webelo car were both raced in the same building and in the same room as the pinewood derby that was held that day.
Here is a picture of the track set up in the multi-purpose room; notice how the track fills the room.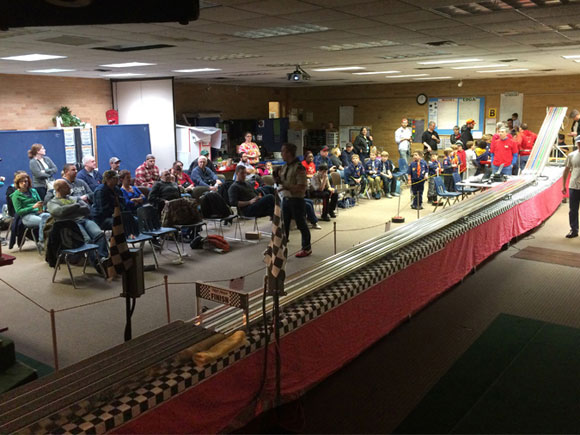 Here is a picture of my Bear and Webelos pinewood derby car on the track.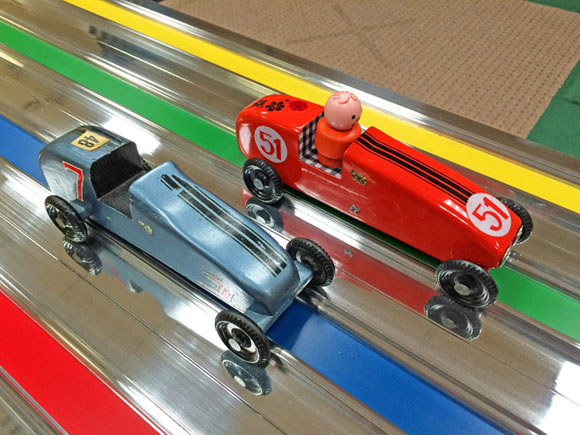 It was great to be in the same building; I even stopped by my old fourth grade classroom. What a great day!
From Pinewood Derby Times Volume 15, Issue 11
Subscribe to this Free Pinewood Derby E-newsletter
(C)2016, Maximum Velocity, Inc. All rights reserved.
Maximum Velocity Pinewood Derby Car Plans and Supplies