Editor's Notes



Guinness World Record Track

Chicago Tribune - 6/7/10

Screamin' Eagle Breaks Guinness World Record for longest Pinewood Derby Track By dpsabato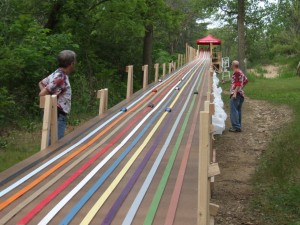 Pinewood Derby Cars setting a new Guinness World Record!

With checkered pennants and a large "Welcome Race Fans" sign greeting visitors at the entrance to Camp Crown nearly 2000 Cub Scouts, parents and siblings from Northern Illinois knew they were in for a different kind of Cub Scout event. What they may not have known was that they would become part of a new Guinness World Record.

After several months of planning and five weeks of construction, the Screamin' Eagle, the World's Longest Pinewood Derby track sponsored by The Home Depot was ready for racing. When the first cars crossed the finish line at 8:45 a.m. on June 5, having traveled 263 feet 2-1/4 inches on the Screamin' Eagle, they became part of history as a new record holder.

The world record was a highlight from an event called "A Race Through Time" which featured five "time portals" inspired from history. Each portal consisted of several activities that taught, enhanced or reestablished the leadership skills, teamwork, citizenship and sense of discovery that has made Scouting the nation's preeminent youth program for character development and leadership. The event was presented by the North Star District of the Northeast Illinois Council, Boy Scouts of America in celebration of Scouting's 100th Anniversary.

Cub Scouts landed in the Space Portal and carried a shrunken Earth through a constellation course and later observed an alien. "Howdy, y'all" was the greeting at Fort Wilderness, before the scouts climbed up and over Rattlesnake Pass to search for gold and wrangle snakes. At the Pirate's Portal, a climb up the ropes to the crow's nest was followed by a Raingutter Regatta where human wind moved sailboats down the course. At Swiss Family Robinson, scouts worked together to cross a river on a raft then climbed up a hill to set up camp.

When scouts and parents reached the Screamin' Eagle portal, scouts were almost speechless. "Whoa", "Oh-Ho", "Wow." The starting grid was far up the hill -- two stories above them and more than 263 feet away. One scout parent said, "Oh my gosh. That is unbelievable." Racing lanes were color coded and scouts knew in advance what lane their car would be traveling. When the homemade five ounce wood cars left the starting gate, some wobbled down the track, others screamed and some even lost a wheel or two. All cars crossed the finish line and it was sheer delight. "Mine finished!" said one scout. A parent was overheard saying to himself, "That's awesome!" followed with a child-like giggle.

Burlington, Wisconsin based independent engineering firm Baxter and Woodman surveyed the track and determined the start to finish distance to be 263 feet 2-1/4 inches. That far exceeded the previous Guinness World Record of 206 feet and made the "Screamin' Eagle" the official title holder. Lake County, Illinois County Board Chairman, Suzi Schmidt and Wilmot, Wisconsin business owner Dwayne Darwood signed off as official witnesses. Guinness World Record official notification is pending approval of all documentation in a couple weeks.

Dubbed the "Screamin' Eagle" because of the speed of the cars and Scouting's highest rank, the all-wood track was constructed entirely off site in 8 x 4 foot sections and transported to Camp Crown in Trevor, Wisconsin for the final installation. Each section consisted of twelve lanes. The entire track surface covered more than 1100 square feet and the entire distance traveled by the 1500 cars that raced was just under 75 miles -- just about the distance from Chicago to Milwaukee!

The entire track will be dismantled and the wood will be donated to charity for reuse in the local community.

Michele Bauman, the event chairperson, lauded the more than 250 volunteers, "I am honored to be surrounded by so many amazing people that believed in this event. It was more than the Pinewood Derby track, it was the whole event! The boys and the parents will always remember June 5th as the day they raced through time."

A sentiment echoed by many was summed up by a Wolf Scout from Pack 90, "This is the best Cub Scout event I've been to." There were lots of happy campers and a World Record to take home.

Editor: I believe there have been other attempts this summer to break the record. If another track has surpassed the "Screamin' Eagle", please send me the article documenting the feat.
Inventory Clearance Sale

We continue to clear inventory on several items including tools and car plan booklets. Click Here to find our clearance items.



Can We Help?

If we can help you in any way with your pinewood derby project, or if you have any feedback regarding this newsletter, please contact us at: info@maximum-velocity.com