MAXIMUM VELOCITY!
®
Guide Fin
for Pinewood Derby Cars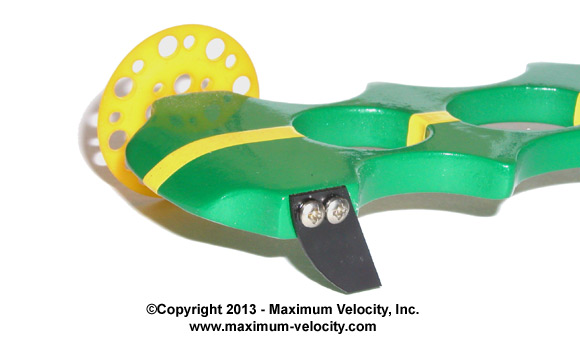 Time to step up the game? When rail-riding, the front raised wheel is just dead weight. Replace it with a Guide Fin, and add the saved weight where you want it.1

Our guide fins are laser-cut from a durable black plastic and mount with two small screws.2

Technical Information

Thickness: .034 inch ± 0.0005


Working Length (top edge to bottom edge): .681 inch ± 0.002


Weight: .02 ounce (.6 grams)
---
1Make sure to check your local rules to see if removing a wheel is allowed.

2Mount the Guide Fin so that it clears the track by 1/16 inch.




Copyright © 2016 by Maximum Velocity, Inc.
® Maximum Velocity! is a registered trademark of Maximum Velocity, Inc.
Awana is a registered trademark of Awana Clubs International
Pinewood Derby is a registered trademark of Boy Scouts of America
PineCar is a registered trademark of PineCar