Pinewood Derby
Products
---

New Products
For the 2017-18 season.

---

Speed to the Finish!
The most complete source for pinewood derby speed tips and techniques on the market today!

---

Kits & Blocks
Pre-cut pinewood derby car kits, blocks, bulk kits, and more.

---

Wheels & Axles
Speed wheels, speed axles, competition components, and more!

---

Pinewood Derby Weight
Tungsten, lead, and steel weight for your pinewood derby car.

---

Specialty Tools
Unique and innovative tools to get the maximum speed from your car!

---

Speed Supplies
Pinewood derby polishing supplies, lubes, and more!

---

Pinewood Car Plans
Detailed car plans, with templates and step-by-step instructions.

---

Decals, Etc.
Decals, Body Skins, pinstriping, and more!

---

Pinewood Accessories
Accessories, finishing supplies, paint stencils, DerbyDome, and more!

---

Race Management
Pinewood derby software, gauges, and more!

---

Inventory Clearance
Get great deals!
Diamond Polish
for Pinewood Derby Racing
---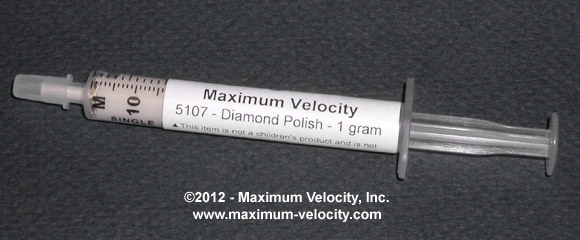 ---
5107
Diamond Polish
1 Gram
In Stock
$4.95

From Randy:
"Our Diamond Polish is a step finer than our Axle Polishing Kit. So first, use the Axle Polishing Kit. Then use the Diamond Polish for an extra fine shine on your axles."
---

For the highest possible shine, polish your axles with our 1 micron diamond polish after using the 5100-Axle Polishing Kit.

Polishing Instructions

Perform the following steps to polish axles. Always were safety glasses when using a rotating tool to polish axles.

Fasten a drill or rotating tool to a worksurface using a Drill Mount, clamp, or vise.

Insert an axle into the chuck of the tool, and start the drill.

Apply a small dab of polish to a clean, soft rag.

Apply the polish to the axle for about 15 seconds. Make sure to polish the portion of the shaft on which the wheel will spin, and polish the underside of the axle head.

Buff off the residue with a clean part of the rag until no more black residue comes off the axle.

Repeat the above steps for each axle.

Gently clean the axles with Isopropyl Alcohol, rinse with water, and then dry thoroughly.