Description
These car parts will give your car a realistic look without sacrificing performance. The parts can be used as is, or can be painted as desired.
Use a sharp knife to separate the parts, then trim off any excess plastic.
Assemble the three parts of the roll bar using small drops of epoxy. The ends of the Roll Bar Supports have both a short and a long nub. The short nub attaches to the Roll Bar, while the long nub goes into the car body (see step 4 below).
If desired, paint the car parts with an acrylic or lacquer paint. Avoid enamel paint.
To attach the roll bar to the car:

Set the roll bar in place on the back of the car. Move it slightly forward and mark the four mounting points on the car with a pencil.
Use a 3/32 inch drill bit and a drill (or a spare nail axle and a hammer) to create shallow holes at the pencil marks.

Attach all car parts with quick setting epoxy. (It is best to attach the parts after all other car preparation steps are completed)
Allow the epoxy to fully cure before handling the car.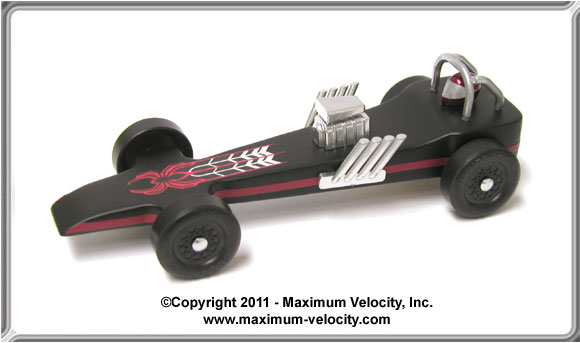 For this car, the body parts were sprayed with chrome paint. The driver's helmet was sprayed with red paint, and chrome pinstriping was used to make the visor.
From Randy:
"Use these car parts to make a realistic drag racer. They are light-weight, paintable, and attach with epoxy."