Description
Say "Goodbye" to burrs and crimp marks! Official BSA Pinewood Derby Speed Axles are BSA supplied axles that are ready to roll.
Benefits
Burrs and crimp marks are removed, eliminating tedious work
Axle head is slightly beveled using a lathe to minimize contact with the outside wheel hub
Axle head is trimmed round with a lathe
Shaft is partially polished; just finish the polishing with our Axle Polishing Kit, or with our metal polish.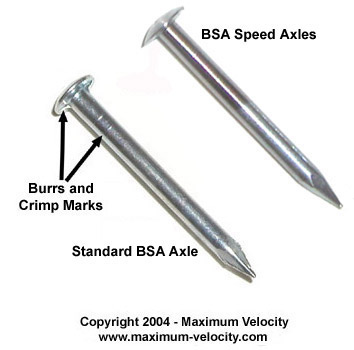 Technical Information
Shaft Diameter: 0.0850 inch ± 0.001 (BSA: 0.088 ± 0.002)
Shaft Length: 1 inch (same as BSA)
Material: Zinc-coated steel (same as BSA)