Whether you're an experienced racer or a pinewood derby novice, half the fun of participating in the race is designing your car for competition. At Maximum Velocity, we feature a variety of quality supplies, tools, kits and décor to completely customize your car. And our selection of pinewood derby templates features designs for award-winning cars, in addition to woodworking tips, timetables and recommendations for axles, wheels, lubricant and more. For everything pinewood derby, trust the experts at Maximum Velocity!
Pinewood Derby Templates and Plans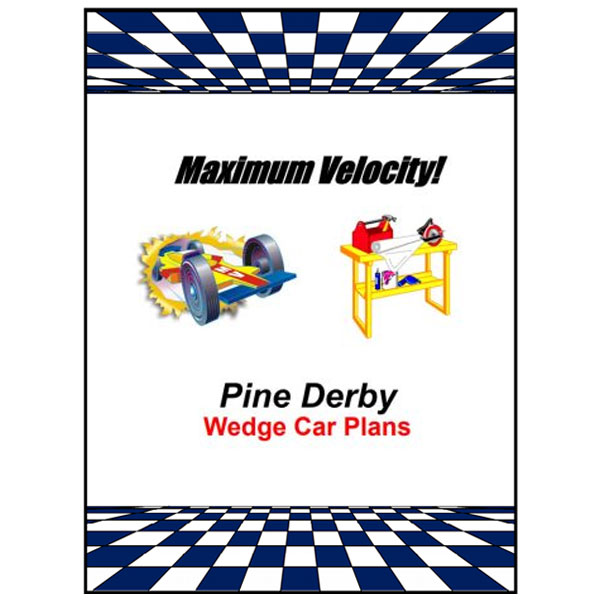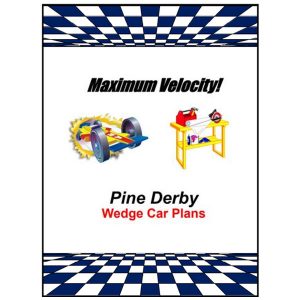 If you want to save time creating your next car – or need some guidance in crafting a winning design – check out the collection of pinewood derby car plans at Maximum Velocity! Each car plan collection features templates and detailed instructions on how to build three different award-winning designs. All cars are carefully designed for optimum weight location, and offer both the standard and extended wheel base designs.
Each car plan also features a comprehensive construction timetable, woodworking tips and weigh-in instructions, in addition to helpful drawings, diagrams and easy-to-read instructions.
We feature over 10 different beginner car plans, featuring three pinewood derby templates each. These booklets feature pinewood derby templates that are relatively simple to build, and are ideal for those who have limited experience with pinewood derby woodworking.
For more experienced car builders, we offer two advanced car plans. These templates require more advanced woodworking and car building skills, and are perfect for builders who still want guidance in building a race-winning car, but also want to be more involved in cutting-edge car builds.
Car Kits
If you want to be involved in the car building process, but aren't comfortable working from a pinewood derby template, consider purchasing one of our complete car kits.
Pre-Cut Kits save you both time and tool investment, as all of the wood bodies come pre-cut and drilled. They're also set up to accept the maximum weight at the proper weight position, so you don't need to invest in drills or research optimum weight distribution – we've done all the work for you! Each precision cut block is packaged with the required weights and detailed instructions.
Kit Bundles
For even more help crafting your competitive car, consider our Kit Bundles. These comprehensive pinewood derby solutions come with pre-cut car kits, as well as weights, prepared BSA wheels, axles and lube. Just assemble the bundles and you're ready to race!
Further Customization
Although a pinewood derby template, car kit or bundle may come complete with everything you need to build a race-winning car, there is always room for customization! Maximum Velocity features an impressive inventory of paints, decals, pin striping and accessories to deck out your car and improve its chances of smoking the competition.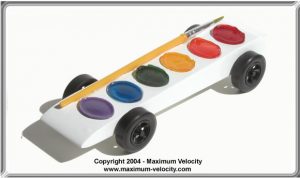 From body skins to dry transfer decals, we have everything you need to give your car a cool, eye catching design. Whether you're looking for fearsome flames or psychedelic swirls, we can help your car stand out from the competition.
If you'd rather adorn your car with one-of-a-kind artwork, we have a selection of acrylic paints and brushes that will allow you to decorate your derby car with your own custom design.
We also have a variety of car accessories to further customize your car, including black window material, plastic car parts, car canopies and aluminum wheel covers. Make your car as stylized as you want with our collection of car accessories. You can even increase your car's aerodynamics by adding fenders. They improve air flow over the wheels, resulting in a few milliseconds advantage over your competition.
Speed Kits
Even the simplest pinewood derby template can be made faster through our collection of speed supplies. From speed kits and lubrication to air guides and polishes for axles and wheels, we have everything you need to add speed to your design.
Speed to the Finish!
With Maximum Velocity's collection of pinewood derby templates, kits, supplies and accessories, we have everything you need to speed to the finish line. Browse our extensive inventory or contact us today with any questions, and we'll be happy to help you reach maximum velocity!