Whether you're an experience pinewood derby racer or are new to the sport, a pinewood derby kit is a great way to save time and funds when creating a new car for competition. At Maximum Velocity, we have a variety of pre-cut pinewood derby kits to choose from.
Pre-Cut Pinewood Derby Kit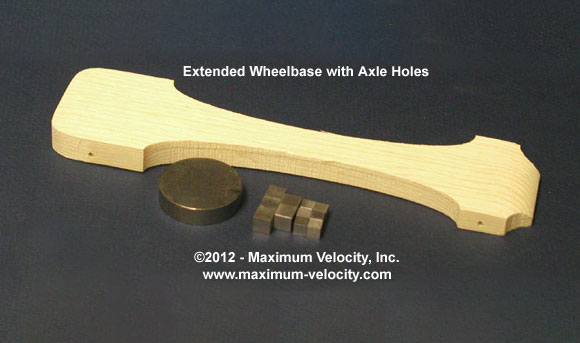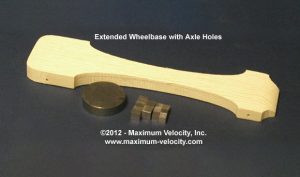 Our pre-cut kits are based on winning designs and are cut from precision blocks. Each block is set up to accept the maximum weight at the proper position, and feature drilled axle slots or holes based on the selected design. With pre-cut kits, you can save time and minimize tool investment while still building a competitive car!
Certain kits come with different accessories and pieces, like weights, car canopies and plastic car parts. But no matter what pinewood derby kit you choose, you can further customize your car with decals, body skins, speed kits or other fun accessories.
Kit Bundles
A pinewood derby kit bundle comes with everything you need to reach maximum velocity! In addition to a pre-cut car kit, you'll also receive weights, prepared BSA wheels, axles and lube. Just complete the car kit, install the wheels, and you're off to the races!
Official Pinewood Derby Kits
If you're participating in pinewood derby competitions with strict regulations, you can purchase official BSA or PineCar Kits through Maximum Velocity. Our BSA Kit comes straight from the manufacture; we do not modify the contents of this kit in any way. We also offer two PineCar Kits in Basic and Wedge options. Each kit comes complete with a pre-cut block, wheels and axles that meet the requirements of a PineCar race.
Maximum Velocity Kit
If you're racing in a competition that does not require a specific kit type, then consider using a Maximum Velocity Pinewood Derby Kit! Our kits feature soft pine blocks that are made of kiln-dried northwestern pine, cut to precisely 7 inches long.
Our smooth axles do not have burrs or crimps, and install without hub caps. Don't worry about filing off flaws – simply add a coat of polish and they're ready to race. Each kit includes five axles, so you'll have a spare.
You'll never have to worry about unshapen, oval wheels with our kits. We supply precision-molded wheels that are custom made for our kits.
Our pinewood derby kits are also affordably priced – even more so when you buy in bulk and receive a 10% discount!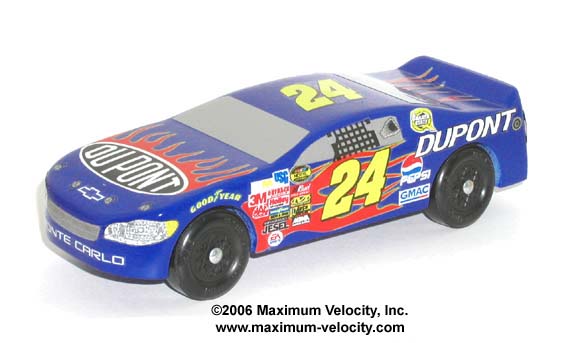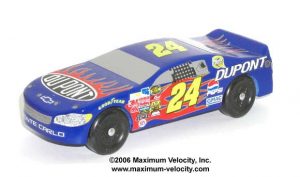 SuperCar Kits
SuperCars are among our most detailed pinewood derby kits. They're designed to Cub Scout/BSA specifications and include pockets or holes for weight distribution. There are two models available – the Stock Car and the Stallion, which is modeled after the Ford Mustang.
Blocks
For those who want to be more involved in their car's conception, you can purchase high-quality derby pine blocks, featuring precision cut axle slots or holes. We even offer a number of options to further customize your block, including wedge cuts, extended holes, and sliced blocks.
Pinewood Derby Experts
For over twenty years, the team at Maximum Velocity has been a leading supplier of pinewood derby kits, supplies, plans and tools. For quality products and comprehensive insight into the world of pinewood derby, trust the experts at Maximum Velocity.