Maximum Velocity offers a variety of pre-cut pinewood derby car kits and blocks that can both save you time and improve your car's accuracy. From kit bundles and SuperCars to official BSA and PineCar kits, we have everything you need to impress at your next race!
Pinewood Derby Car Kits
Car kits are a great solution for pinewood derby enthusiasts that don't have the time, tools or skills to craft competitive cars. Our selection of kits includes pre-cut cars, wheels, weights and axles– everything you need to create a winning car!
Kit Bundles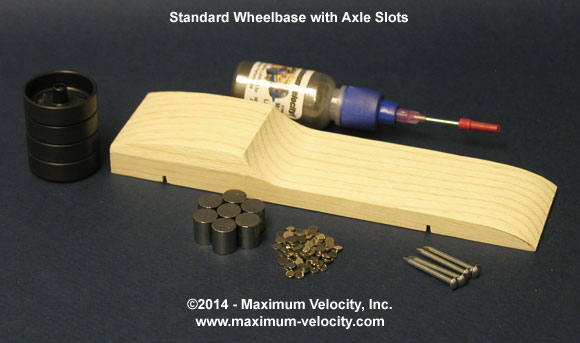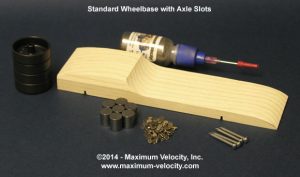 Maximum Velocity Kit Bundles are a complete pinewood derby solution! Each kit comes with a pre-cut car, prepared BSA wheels, weights, axles and lube. Choose from a selection of pre-designed cars that range from simple and straightforward to edgy and stylized. Our Wedge Bundle is one of our more simple designs, but the body boasts precision cut axles slots and it is fully BSA compliant. For a more stylish car, check out the Jaguar Bundle. With its smooth lines and subtle flair, this pinewood derby car is sure to turn heads as it races towards the finish line.
Pre-Cut Pinewood Derby Car Kits
Don't waste time or money investing in specialized tools with our Pre-Cut Kits! These kits are based on winning designs that are made to accommodate the maximum weight at the proper position, giving your car a competitive edge come race time. Cut from a precision block, these cars are then pre-cut and drilled per their specific design.
With 17 designs to choose from, you'll be sure to find the kit that fits your style. The NitroRail Kit is one of our more popular designs, which is a take on the classic slingshot dragster. The car's aggressive design makes it look fast – and move fast.
The Predator Kit is also a popular choice, as it's unassuming appearance often takes competitors by surprise. The car is designed to be low, sleek and fast, easily slipping down the track and producing top results. Paired with the Tungsten Canopy, the majority of the weight is focused in one area, which minimizes the rotational inertia of the car.
SuperCars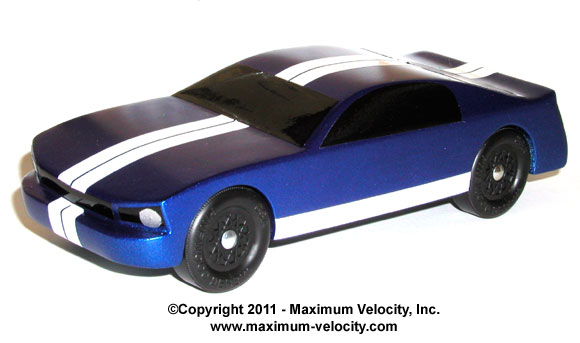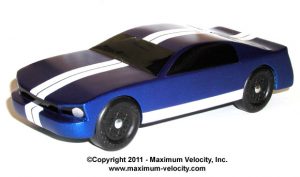 If you really want to make an impression at your next race, then you want a SuperCar Kit. These cars are designed to Cub Scout and BSA specifications.
The Stock Car Kit will be sure to catch the eye of spectators and judges alike. And with the right wheels, axles and lube, this car will fly past the competition! Although the car chassis is based on an official BSA block, the wheelbase is offset to better match the profile of a stock car vehicle. You can also add weight to the rear and underbody holes to bring the car to 5 ounces.
The Stallion Kit features a car modeled after the Ford Mustang. Like the Stock Car Kit, the car meets BSA specifications for height, width and length. But the wheelbase has been offset to match the profile of a Mustang. With the right wheels and alignment, this car will boast some real horse power!
Official Pinewood Derby Car Kits
Maximum Velocity also stocks Official BSA and PineCar Kits.
The BSA Kit comes directly from the Boy Scouts of America. We do not open or modify the contents in any way.
We offer two types of PineCar Kits: the Basic Kit and the Basic Wedge Kit. The Basic Kit comes complete with a PineCar brand block, wheels and axles. The Wedge Kit features a wedge body, wheels and nail axles. Both kits can be used in any race requiring PineCar products.
Blocks
For those who want the convenience of pre-cut kits – but also want to play a bigger part in customizing their cars – Blocks are a great solution. Maximum Velocity offers seven types of pre-cut pinewood derby blocks with precision cut axle slots or holes.
These blocks are ready to be shaped into whatever design you wish. Wheels, axles and decals are sold separately, allowing you the opportunity to choose how your car will look and perform. For further customization, we offer a number of options that can be applied to your block, including a wedge cut, block slice, or drilled axle holes.
MV Basic Pinewood Derby Car Kits
If your club doesn't require specific kits for competition – or if you're not satisfied with your current kit – then consider a Maximum Velocity Basic Car Kit!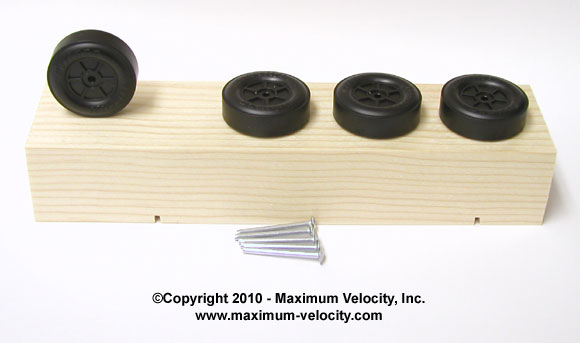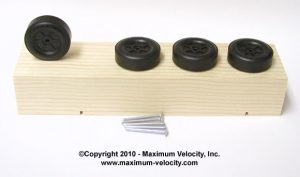 Our kits contain soft pine blocks, which duplicate the dimensions of Cub Scout/BSA blocks. They're also made from soft, kiln-dried northwestern pine, cut precisely to 7" long. Our kits also come with five speed axles with no burrs or crimp marks. You don't need to worry about filing off flaws or losing hub caps – our axles install without them! All of our kits also feature high-quality and precision molded wheels that are custom made for Maximum Velocity.
You'll speed past the competition without paying a pretty penny. All of our kits are affordably-priced and can even be purchased by the dozen at a 10% discount!
Pinewood Derby Experts
No matter your skill level, pinewood derby cat kits are a great way to enjoy the sport without investing in all the time and tools needed to make a fast, competitive car. With our impressive selection of pinewood derby car kits, you're sure to find the bundle that's best for you. Browse our inventory or contact us with any questions and we'll be happy to help. When it comes to pinewood derby, nobody knows more than Maximum Velocity!