Editor's Notes



Reader Feedback


From Tim Hellaby - Myrtle Beach, South Carolina:
Is a car running on one wheel faster then a car using all four?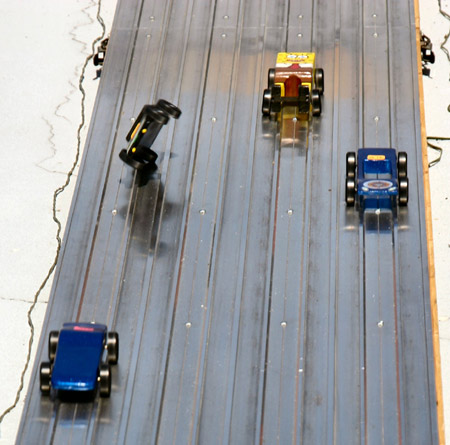 This photo wasn't staged - I just happened to get a chance shot. I was taking a photos of my sons car (the blue one leading in lane four) when the car in lane three just happened to jump up as it neared the finish line.

From Alan Williamson, regarding the article, "A Winning Philosophy" in Volume 8, Issue 1 - October 1, 2008:
I have basically eliminated the win at all cost theory from our pinewood derby. The first thing I recommend is that you have a derby workshop, and tell all the parents about the tricks -- the ins and the outs. Talk to the youth about winning and fair play. Create an atmosphere where the parents and the children are involved in creating the car. Even the worst defeat is a win.

One parent came up to me and said, "Well, looks like your boy's car suffered in this race." I asked why he said that. He replied, "He only came in third overall." I chuckled and told him something that I think really stung him, "Well this year I let him decide on how to do it; I only cut it out. He painted it, and then took what I had taught him the year before to finish it out. He thought he did his best, and that was fine with me. Furthermore it allowed me to have a hand in every car out there. How could I have lost?" I asked him if he saw any boy with tears in their eyes? He replied, "No." I then replied, "But I heard a lot of them saying they would win next year."

The next year, this parent was the first in line to help chair the derby and even bought a portable band saw to help with the cars.

It is amazing to me how my first pinewood derby race shaped my thoughts of winning and losing. Yes, seeing that car stop halfway down the track and losing hurt. But it made me more and more determined each time I have built a car. The determination for me now is to make sure each boy has a positive experience no matter if they win or lose.

From the Editor: In my experience also, the attitude conveyed by the race officials has a significant impact on the attitude of the participants.
Product Updates
With the uncertainty in the economy, most Americans are watching their spending more closely. To help get the most for your dollar we are offering two car kit bundles at over 25% off retail. These kits consist of a pre-cut car kit, weight, official BSA Speed Wheels, BSA Speed Axles, and Max-V-Lube Graphite. You can find these bundles Here.

In addition, we have placed some of our Official BSA Speed Wheels on Inventory Clearance. You can find these wheels Here.

Finally, the Official Awana 1.0 Gram Speed Wheels are now available Here.




Do You Have a Pinewood Derby Memory to Share?


We are out of memories to share with our readers, but I am sure that many of you have a story to share. So, please type up your humorous, unusual, sad, or heart-warming pinewood derby tale and send it to info@maximum-velocity.com

If your memory is used, you will receive a $10 coupon in May of 2009. Don't worry about literary polish. We will edit as needed. Also, please read our Submission Policy



Can We Help?

If we can help you in any way with your pinewood derby project, or if you have any feedback regarding this newsletter, please contact us at: info@maximum-velocity.com